Anna Smirnova (Kumertau, Russia)
My name is Jon and I'm a single father raising 2 children by myself . I was contacted through Yahoo personals. The first few e-mails I was hooked, bet when she wouldn't answer any of my direct questions, I became very leary. She never did get to the money question. Thank god I found this site in time. I did a search for her name, and I found it. The text in the other guy's post was exactly the same. The moral of the story is......."if it seems too good to be true, then it probably is" I also checked her IP and each letter had the exact same IP, kind of hard to do when you're logging in at an internet cafe. Sure wish this hadn't been a scam, the woman in the picture is gorgeous!!!! I wish I knew who she really is. her E-mail : lanacher@yandex.ru. I am a divorced father of 1, white American, 42 years old, and I work in Colorado. I got an email from this exceptionally attractive woman who said she liked my profile from yahoo personals. At first I wasn't thinking it was a scam but I should have known better. I didn't know where Kumertau was so I was searching for it on one of the internet search engines. One of the hits was about an Anna Smirnova from Kumertau and then the word, "scammer" was in bold letters. Needless to say, I investigated this and sure enough found almost the exact same letter on your blacklist! The pictures and e-mail address <waitbest@yandex.ru> have changed, but little else did. Fortunately I found this site so I will never receive a money request from this person, but I might have wasted a lot of time writing to this person. Thank you for your site. I wish more American men knew about it. Bill
Letters:
First (and only) letter
Hello my dear Bill, How are you? My name is Anna. I am pleased to receive your e-mail, I think, my letter to you too do not remain without the answer. I was very much interested with your profile. I want to tell to you that I have no computer at home. I attend Internet - cafe, therefore I cannot answer at once your letters. First of all, I should explain, that I live in Russia in city Kumertau. You know, I never was in the USA. I think, that it is the beautiful country with good traditions. I very much like to travel. When I was small, we travelled with my parents on Russia much. And how about you? I hope, that you are not so sad that I live in Russia. But I want to be with you honest, therefore I speak you at once whence I. My profile shows that I am in the USA, but I never made it earlier, I do it for the first time, probably I have made something incorrectly. At us in Russia it is now very cold. Today we have temperature -13С. And what weather is in your place? I have decided to place my profile in Yahoo because I want to find the special person. I am very lonely here in Russia. I have no my unique and favourite person, because I do not like mentality of Russian men. I heard, many Russian girls, have found the happiness and the love in your country. And I too have decided to try. My girlfriend has found the husband on Yahoo. He is from Germany, they have found each other and now they are happy together and they live in Berlin. I also want to be happy with my special person. I want to love and I want to find the person, which will love me. I want to be happy and to find the love. Well, I think, that you want to learn more about me and my family. My parents are gone long ago. I have not sister and brother. I feel lonely. I am one here, therefore I want to try to find my love in other country. I have no here any native to me people to remain in Russia. Now there is some information on me also that I like:
- I am a christian
- I love red roses
- My favourite color is dark blue
- My favourite music is Classical
- I love animals (everything, without exception)
- I very much like to prepare (my favourite dish is an apple pie)
- I like to read books (Bulgakov, Nabokov)
- I like automobiles, but I have no the personal automobile.
- I love silent lonely places
- I like to go to cinema, I look different films, but especially I like comedies and melodramas.
- I do not smoke and drink socially
- I have no any tatoos or pircing
You excuse me if, my letter has turned out big. But I hope, you have not got tired to read it!
By the way, I have the Medical higher education. I have graduated from Medical Academy. I am surgeon. Still there are some things which I do not love:
- I do not like to go on discos, there there are many people.
- I do not love winter because it to eat very coldly in Russia
I would like to learn more about you. What do you like and what you do not like? That there are your favourite things, your favourite color and everething. I hope, that my letter is not boring for you. Unfortunately it is time to me to go, already is very much late. Your new friend from Russia Anna.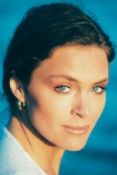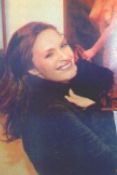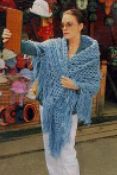 ---
My name is Mike and I live in Florida. I am single and forty six. I received an email from this lady who found my profile on Yahoo. When I emailed her back after the email in which she said she loved me , I asked her if she was a scammer and I stopped getting her emails. I believe her picture is in your sight under another name. I am sending this so that maybe she can't try and put someone else together. Thanks, Mike
---
Ekaterina Korobejnikova (Katya) (Samara, Russia)
Hi, my name is Craig R. and I recieved a message from this women through lavalife.com. It is by reading only three messages from her that things did not seem right, the messages I received sounded as though she was in love with me. Curious about her giving me here address I searched in internet to see if this address was real, when I read a message posted by anoth person, explaining this is a scam. I am confermation to the claims, that this IS A SCAM. With the simliarities to my and other reported incidents I am writing you to confirm the scam I have not reached the e-mail about sending money nor will I, communication between me and her will stop immediately.Here are her messages. CRAIG R.
Letters:
04/16/05
Hello Craig, I am glad to receive from you the answer. In this world there is a person who wishes with me acquaintance. Excuse me beforehand if my letter will be a little bit incoherent. I not able to begin acquaintance. But if I began, I shall write in this letter a little about me. Also I shall send one of my photos. I was born May, 22, 1978. And i have 26 years. It is a lot of. And I reflect on the future life. I want to have own family. I want to bring up own children. I was born and have grown in city of Samara. It is the big industrial city in the centre of Russia. Here nearby there is a huge automobile factory. The majority of inhabitants of Samara works at this factory. Including my father. My mum works also at this factory. She works there in a first-aid as medical sister. About my parents I shall tell in the following letter more. Now, as I spoke, I shall write about myself. As I spoke already, I was born in 1978. Up to 7 years i went to a kindergarten. As my parents could not be constant with me. Since 7 years I began to go to school. I studied very well. After leaving school in 1995, I have gone to the Samara medical institute. As I had the fine certificate after leaving school. I could study in Institute free-of-charge. In 2000 I have finished training in Institute. Since that year I work in children's hospital as the therapist. My task on work - to define the diagnosis of disease. If necessary I should send patients on various inspections. Work with children forces me to be more attentive. Work with children is more difficult, than with adult people. But I have got used. And more, my work is pleasant to me. And I have pleasure, that I can help children. Probably, the love to children has come to me with age. And I have understood, the children - our future. Therefore, I would like to have own children. You will ask me why I have chosen you? Why I shall not find the man in the own country? I do not know what to answer you. I already spoke, that I am not able to get acquainted. And simply in the street I can not strike up an acquaintance with the stranger. My girlfriend, the fellow worker, has offered me to find acquaintance with the help of the Internet. And now I write you from Internet - cafe. I have no own computer. It is expensive very much. And I can not allow this luxury. In own possession it is not enough computers in our country. Probably the level of our life does not allow to live so that to afford much. No, I do not complain of bad life in Russia. I earn enough to live in Russia. Well, I shall finish this letter. If you, having read my letter, agree to continue with me acquaintance. I was possible shall give for you one question: " You agree to have acquaintance with the Russian woman and if all will be good, you agree to have serious attitudes with her?" Yours faithfully, your new familiar Ekaterina (or Katya)

04/18/05
Hello my friend Craig. I am glad to receive your new letter. It means, that we can continue acquaintance. In this letter I shall speak about my parents as I promised in the first letter. My daddy was born January, 4, 1946. He also, as i, has grown and was life in Samara. I spoke already, that he works at an automobile factory. In 2 years he will be the pensioner. He waits for this moment with impatience. (smile) He works as the simple worker on assembly of automobiles. I do not know as you to explain, he collects any part of the automobile engine. And so 40 years he works on one operation. He speaks, that it has very much bothered him, therefore he waits with impatience of the pension age. My mum was born February, 22, 1954. She was born in Vladivostok.The destiny has resulted her to Samara on distribution after study in school. (College) Earlier training was free-of-charge, therefore graduates of educational institutions should work 2 years there where the state will consider necessary. It as the tribute for a permission to study. Here in Samara mine mum and daddy have met. Date of their wedding - April, 1, 1976.In one and a half year in their family I have appeared. Unfortunately, I am one child in family. I have no brother or the sister. I remember, as I asked in the childhood mum about brother or the sister. Mum then has answered, that she and daddy will think of this question. In a result, I have all the same remained one child in family. I think of my parents enough. Unfortunately, I have no photo of my parents on the computer. Now I shall speak a little about myself. My growth 5 ` 6, my weight it approximately 120lbs, I try to support a figure, Probably when or I can, prepare for you something tasty of Russian kitchen. I very much like to observe films especially about love, This fine feeling.love-such simple word, but in it consists so much,I very much want to tell to you that I think about it. If all people though for one minute will this feeling that in the world will not be wars, fear, murders. Probably I yet still have not has felt it. I had the person with which I attitudes were had, but it was finished, I now do not want to tell to you about it, probably then...I never left for limits of the country, probably to me it would be pleasant to travel. If you want shall ask me something is I glad to answer you on questions, but I not so well know English, therefore do not take offence if I shall not answer a question, I can, not understand it. Now, when I have told about my family, parents and about myself, I shall ask from you too it I shall be glad to find out about you more and more. If you will write about yourself the same, that I write about myself. It will help us with continuation of our attitudes. Probably our attitudes can proceed to more high level. Yours faithfully to my friend Craig, Katya
04/21/05
Hi my dear friend Craig! Thank for your answer, I very waited it I think constantly of you in free time of the work. I in a hurry in the Internet cafe to read your letters and to respond on them. To my Fortunately Internet cafe near of the my house. I can visit Internet cafe at any time. With each new letter we become more close to each other. That it is correct? I want to send you a card correct mail, you not against it? I think that it will be pleasant for you. I shall do it necessarily, and your address is necessary for this purpose. If you can give me your address that to write me it please. I want to warn you that the Russian mail unreliable very much The people speaks that the international letters very seldom reach addressee. And possible letters and photos will be lost. But I also shall give you my home address: Russia, 628401, Samara, Street Nagornaja, the house 22, apartment 17. Name: Ekaterina, Surname: Korobejnikova. At us today fine day, the sun shines very brightly, in the street is very warmer, it all attributes of spring. I love spring, it my favourite season, I like all seasons, but, spring for me unique, and when you go on park it is possible to see, people kiss. Today I went from work and have seen as the young male, looking at the girl as he speaks her something, he looked at her and it was clear that he speaks her about love.In my dreams, I go with my favourite person on a coast of ocean, we look each other in the face, and we are happy only because we together.I want, that when he came back from work I prepared for supper for him and we sat to have supper together. I have thought that everyone women wants it. I do not know there whether will be it when or, but I would like for it very much. I think that the Internet the fine invention if it was not, I could not learn you, I have got acquainted with such male as you, already because of it only I shall tell to the Internet many thanks! I know that many newly-married couple get divorced because do not know each other well, I do not want to make a mistake. You agree with me? I very much love flowers, especially red roses. But of them nobody already for a long time not give me. I dream that in such beautiful season I shall have the my love. hand in hand and shall be to kiss with my love all time. It is will be all so beautifully and romantically. I for a long time was not feeling this feelings and I want feeling it very! Now I alone and I search half of my heart. I want continue relation with you. I want believe that all may be very well. Though between us the big distance.I want see you beside with me and speak with you. While it only my dreams I also should return a reality. I want to wish you good mood these days and not forget me (smile). I shall wait with impatience your letter and miss you!!!! With all respect, yours Katya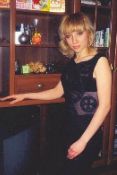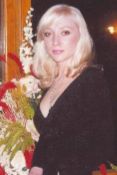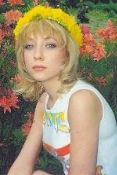 ---
Elena Alexseeva, Vladimir, Russia
Thanks to the blacklist I have been able to confirm my doubts about this woman. I was contacted by her through Yahoo personals. My first clue to her scam was our age difference. I am a 49 year old man and she says she is 29. Next is after only 4 emails she says she is in love with me! After she tells me that she has had sensual dreams of me I was convinced she is either unstable or lying. It took me a while to find this blacklist but when I did there she was. I am a loney man but not stupid or desperate. These pics are a couple of many she has sent and I have enclosed one in particular, the cat Murka. I saw she does not bother to change it's name with each scam. She also claims to be a graduate of a Vladimir school with a degree in ecology. I could not find her listed as an alumni. Here is her second letter, sound familar?
Letters:
Hello my new friend David. You would know how many pleasures to me have brought that you have answered me! Now I understand, that people in your country really responsible ! Today I came into computer club and have scanned some the images and with this letter I send them to you, I hope, that I to you like. I directly would like to learn more about you to learn your interests as you live as you work. I am very glad to have such friend, as you. I in life very cheerful person and at me very responsible work as I already spoke, I work to help the bookkeeper, and I not in what a case should not make a mistake, both in work and in life I not less responsible person, I think, that the person should concerns to associates as wants that to it concerned. In my life was a lot of pleasure, but besides it is pleasure always stood on a number with more sad events. I never was for the husband and I have no children, but I very much would like them to have, but from the person with whom our love would be mutual and that the child anything did not require. The main features of human character I think Sincerity, kindness, politeness and as I think, that the person it is necessary should be the respectable citizen with love to the country. I very much frequently see young pairs, I see as they are happy, I sincerely am glad for them, but thus I remain itself the person whom not loved At me when that was one friend, but it is little bit sad history, I was possible shall tell to you about it little bit later. I as like to be on a nature, there I feel quieter. As other my hobby is domestic animals and in particular as I already spoke you my cat Murka. On it I also shall finish the letter to you, and with impatience I shall look forward to hearing. Your new friend from Russia Elena.
Hello my kitten David. At me, as always it was cheered up at reception of your letter! I think, you not against, that I have named you a kitten, do not take offence, it I am tender so you I name. Girlfriends at work speak, that I became absent-minded, speak, that I have fallen in love, I do not know, that to them it and to answer, because I do not want them to deceive, even it seems to me, that I have already found, that person whom searched, and this person you! So it seems to me, what I too to like you, or it not so? Tell me please, it may be not mutual at us these feelings, and I very much would like, that the our love was mutual! Yes though I and hesitate slightly, but I should you tell all: I LOVE YOU DAVID! It is very interesting to me to learn, whether this feeling so, try to me is mutual at us to answer it as soon as possible! I very much ask you! Your kitten Elena.
Hi my love David I am very happy to read your letter, as always. I left school in the city of Vladimer. I think my dear that it would be more interesting if our first meeting will take place in the USA. You - mine beloved, my love, my palpation! Also, as you urgently require me, I too urgently need in you, to want be close to you, and to feel you, your breath. I want to hold you by my party, my lips in your lips and will kiss you, I feel your language, I feel your breath. Yesterday night, I had this remarkable sexual dream concerning you and me. I can not hold it to me directly. I should express it to you, divide it with you. I should find out, whether you also have dream of similar nature, or is only me. You and me, anybody still. We - near to the friend by the friend on a bed. We cover each other, we press our body against each other, our lips meet each other and synchronize in operation knowledge. I feel your body , you feel my body . You undress me, I undress you. I feel your sensitive body. You feel my basis. I lay at top of your sensitive body, listening your heart beat in double speed. We lay near to the friend by the friend to speak love to each other, caress each other. I study your beautiful eyes, you study my eyes both see love in the friend the friend. I will kiss you a breast, necks, everywhere. You also pay with your sensitive gentle lips. I love you very much. I want to hear your beautiful vote. I want to speak love to you. We now have a rain. The rain brings love. The love prospers in this weather. It - very romantic atmosphere. Please write the long letters to me. Inform me concerning your ideas. Inform me concerning work and friends. Love Elena. mailto:lenusik_lave2005@mail.ru.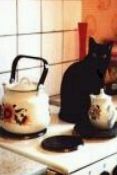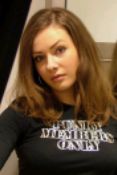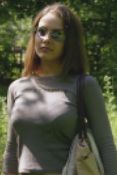 ---
Elena Slobodetskaya (Samara_Russia)
Iīm a 32 year old medical doctor living in Vienna/Austria.Iīve never been married and have no children. I have also been contacted by Elena Slobodetskaya.She contacted me at "Dream Mates" in the late december 2005. We corresponded over 3 month.In our correspondence we exchanged many photos.We also spoke about a meeting and she told me that it doesnīt matter where we would meet.On the 5th of April 2005 I discovered her profile on your website.I was completely shocked about Karstens story!Many emails I got from her were identical with the mails she had sent to Karsten.I also recognized the 3 photos.Nevertheless I couldnīt believe that this girl is a criminal.I must confess that Elena has never asked me for money,she only said that she has not much and she wants to visit me in Vienna.But possibly she would have asked me for money if we had kept in contact.When I read Karstenīs story I thought that maybe someone could defame Elena by adding something to her real emails.Maybe she had stopped the contact to a man and so he wanted to take revenche,so I thought.Everything is possible! So I confronted her with this story and asked her for her statement to this report,but she never answered since that,so now I must think that she really is a scammer and she also would have tried to scam me if I hadnīt discovered Karstenīs report. Fortunately I didnīt send her money and nothing would have induced me to send her a cent! I have attached 4 photos.I didnt save her letters,but many of them are identical with the letters in Karstenīs report. Best wishes, Roman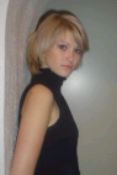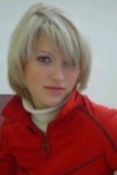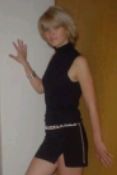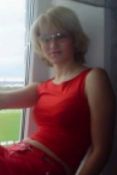 ---
Irina (Kokorevo, Tambov, Russia)
I'm james and I'm 38 and I had a yahoo personals profile she replyed to it. I got letters from what I thought was a wonderful woman. My story letter by letter is the same as some other guys in 2004 http://www.womenrussia.com/blackpage332.htm#Kuznetsova story Tatyana Sreberco (Anishino, Russia). The letters addressed to me were from Irina from Kokorevo she may also say she is from Tambov. I got letter for letter from her before I started to so some research. I only got to letter #7 before I started to check up on here. man was she good. She addressed some of my questions, the photos which were a lot seemed real. and she seemed interested in me. such a shame. her photo is attached.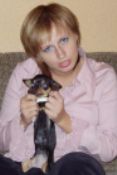 ---
I am a single 42 year old white male. I hae been getting these messages from Yahoo Personals.I decided to answer and looked on your scam pictures and found Maria under the name Tatsiana with the same picture. I told her I was involved with someone and still got another letter. here are the letters. I have sent pictures so you have. Thank you, Patrick P.
Letters:
Letter 1
Hello!!!How are you? My name is Maria. I am very glad to see your email in my mail box. First of all i would like to wish you health and sucsess. Sorry, it takes a lot of time to write you back,cause i dont have a computer at home. Sometimes i use it in internet cafe. First of all i have to explain you that i am from Russia,and i live in Snezhinsk Its very good city. Its about 100 km from Chelyabinsk. Unfortunatly, i have never been in USA. But i think its very good country with a good traditions. I hope you are not very sad that i am from Russia. My profile shows that i am from USA cause Its my first time, i have never done it before and maybe did something wrong, but i want to be honest with you thats why i am telling you where i am realy from. It this letter i would like to tell you about myself as much as i can and you can see who i am. Today we have -5 (temperature) and its very cold. What about in your place? I desided to put my profile on Yahoo. And find someone from another country, because i am very lonely in Russia, and i could not find someone special for me there. And i know that many russians girls found their love in your country and i am also decided to do it. By the way my friend has found her husband on Yahoo, he is from France, and now they are very happy together and they are living in Paris. And i also want to be happy with someone spesial for me, and who will love me. And age doesnt matter for me at all, the main thing is to be happy and find love. I ve told my friends about my desision to write to you and they are supporting me, cause they worry about me and wants to see me happy. Some information about my family, my parents past away and i live alone now. And i dont want to be here alone. And i dont have any brothers or sisters. Thats why i want to try to find my love in other country. I have nothing here to stay in Russia. Now some special information about me and what i like:
- i am Christian
- i like roses
- my favorite color is blue
- my favorite music is Classical.
- i like animals (all animals)
- i like cooking very much (my favorite dish is apple pie)
- also i like read books (Bulgakov, Nabokov.)
- i like cars but i dont have it.
- i like quiet places.
- i like go to the cinema.
- i dont smoke, and drink - socialy
- i dont have any tatoos or pircing.
Sorry for long letter i hope you are not tired yet.!!!! It was what i like, there are some things a dont like:
- i dont like go to disco, cause there are a lot of people i hate it.
- I dont like winter, cause its very cold in Russia.
- i have high grade education i finished The Medecal Academy, I am a Doctor, Pediatrician.
That is all for today, now its your turn to ask me a questions. Tell me what you like, and dont like, your favorite things,and evrething you want to tell me. I hope my letter is not boring for you, good buy for now i have to go home cause its late. If you write me back i will answer as soon as i can. Your friend from Russia, Maria
Letter 2
Hello my dear Patrick How are you today? I am very glad to see your email. And would like to see all of your pictures, cause its very intresting for me. It makes my day. I am happy to read your emails. I see we have a lot of common thing and i like it very much. I think we are becoming more closer to each other. Ive choose your profile cause i like you very much, when i read your rofile i think you are very interesting person. And i think i am always looking for you. By the way i have something more to tell you about me. I didnt tell you that i like travel.I have been in Moscow,i ve been there some years ago with my friends. Also I have been in St.Pitersburg. It was wonderful to see good places. But unfortunatly i had no chance to visit any foring country very often, i think its very intresting to know about culture of other countries. I ve been only in Turkey 2 years ago. Some more information about me:
- i have a grey eyes
- i am 5'8
- i am 55 kg
- my size (88-63-92)in cm.
Also i would like to tell you that i work in a hospital in my town. I am a Pediatrician. But
i earn not much in our country. About 200 - 300 USD in your money per month. Its very little money. Now i would like to tell you about my last weekends. It was - 10 C digrees ( this is a teperature in Celcius), and i with my frends went to the forest for a camping. And it was very funy. Do you like camp? By the way, I will be 36 years old soon. My birthday 25th of april. Can you belive it!!!. But its nothing special for me in this day, cause i will stay at home this day.I am very lonely in my birthday cause i dont have a man who love me. Now i am very sad that you are so far away from me, cause we couldnt be together on my birthday . I have a dream to have a family, to take care about my housband. Its all i want in my life, i just want to be happy.And its doesnt matter in what kind of country my future husband is living. I will be next to him, and i will find any job i can to help have a good style of life. Ok there are some more questions for you:
- what did you do on weekend
- what did you do for fun
- what do you fill about such relationships as we can have.
Please answer this question, cause its very inportant for me. I will be waiting for your replay very much. Goodbay for now i have to go for a work. Yours,Maria
P.S XOXOXO Sorry if iam not answer all your question cause my English is not very good.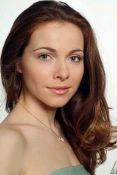 ---
Marina Bogomolova aka Maria Popova

Hi, I had been contacted by a young woman sayinging to be from Russia via throught Yahoo! Personals. I replied to a woman whom at first told me her name was Maria and provided no last name. Curosity got me but I played along with this for a while, and finally found the very same person on Black List - page 353: UPDATES March 09, 2005 - page 3 as Maria Popova. I haven't been solicited for money by this person but she had stated that I could invite her to visit and she'd except my invite to visit me. Fat chance of that happening, I have read the requirements of applying and obtaining a visa and have checked out the prices as well. The same emails I have received can be found posted by another gentleman on the above mentioned page. She is now using the name Marina Bogomolova. I have asked her about her profile listed with Yahoo! Personals since when she emailed me there were no profile provided to view and each time I asked she never asnwered. I have a email address that is being used by whomever she/he, it is kolliriza@rambler.ru. I have also received the same pics submitted by the other gentleman. Just was looking over the list and saw her, thought I'd provide everyone with a bit more information. Best regards, C. White
---
Oksana Mayorova (Kazan, Russia)
Hi my name is Emilio and I am 30 and I live in California in the United States.As of today, April 14,I am currently e-mailing a woman named Oksana Mayorova.But after looking at your web site today I have noticed that she goes by another name,Irina Kondrateva.You see I was trying to find someone in my area threw Yahoo Personals.And I recieved a message that this woman named Oksana Mayorova wanted to write me.So on March 24 I decided to write to her.And after about a week and a half she said she loved me and wanted to be with me.Afew day later she began to ask me to send her money to come to America.She had asked for $390 and she has asked me for money about 5 times already but I told her it will take me some time to save the money.I really thought that this woman really cared about me but I am so clad I found out the truth before it was too late.So here is the information she gave me so anyone else does not get scamed:
name:Oksana Mayorova
address:Kazan 467000
Street Dekabristov 169 flat 62
Rusian Federation
e-mail address:oksanaklychek@inbox.ru
birth date:November 20,1775
age:29
height:5'6"
weight:125 lbs.
mother:Marina
father:Pavel
sisters:Katya and Masha
She said that she went to Kazan Polytechnical University and that she was a Book Keeper and Auditer.Basicly she has told me exactly everything that she told the other guys under the name Irina Kondrateva.I don't know precisely what I am going to do but I do not want any other guy out ther to be scamed or hurt like I have been. Thank You For Your Time, Emilio
---
Svetlana Muravyeva (,Zelenodolsk, Russia)
My name is Jon and I'm a single father raising 2 children by myself . I was contacted through Yahoo personals. The first few e-mails I was hooked, bet when she wouldn't answer any of my direct questions, I became very leary. She never did get to the money question. Thank god I found this site in time. I did a search for her name, and I found it. The text in the other guy's post was exactly the same. The moral of the story is......."if it seems too good to be true, then it probably is" I also checked her IP and each letter had the exact same IP, kind of hard to do when you're logging in at an internet cafe. Sure wish this hadn't been a scam, the woman in the picture is gorgeous!!!! I wish I knew who she really is. her E-mail : lanacher@yandex.ru
Letters:
April 8,
Hi! I am glad, that you were interested by me and have written to me e-mail. I shall be very glad if you will write to me also other letters. I for the first time have acquaintance through the Internet. It was very difficult to me to place my structure in a service of acquaintances, because I am in Russia, the service of acquaintances does not accept the members from this country. I had to specify in a structure, that I am in to other country. In this letter I shall inform you a little information myself and if the dialogue with me will be interesting to you, I shall tell about myself in more detail in the following letters. My name Svetlana, my age 27 years. I have work and I am engaged in sports. I the very romantic woman also try to do my life interesting. I dream to meet in my life of the good man, which can understand me and love. I send you a photo me and I ask, that you sent me some pictures from your life. As it will be interesting to me to learn about your life, family, work and entertainments. Write to me, I shall wait your letter. Sincerely and yours faithfully. Svetlana.
April,10
Hi Jon. Have good day. I waited your letter and was very much Is pleased, when you have written to me. To me very much to like a photo which you to me to send. Your structure and I was interesting to me Is pleased, that we begin to learn each other more well and to develop Our acquaintance. I think, that it is an interesting thing, to learn someone Far through the Internet. It is unusual to me, because I a little Is familiar with the Internet. Jon, I want to inform you, that I have no the computer At home also I go in Internet - cafe, in free from work time. That To translate my letters to you I use the electronic program The interpreter, because for me is faster and it is convenient to write for you In Russian, and then to translate the letter on English. I hope, That you can understand well my letters. I studied the English language Earlier at school, and after that in college and I understand your letters very well. Only please do not use Reductions of words. While I did not establish the computer in the house, therefore That I have no there telephone. Jon, I want To tell to you it is a little about itself. I live in city Zelenodolsk and I have Very good family. Because of my work I take off a small apartment and I live in it separately from my family. But I very much frequently reach to them and I spend with them weekend. we frequently we are chosen together on a camping and We have other entertainments. Mine the city not of the large size, and in it is a little The people. Basically at us in city various factory and factories. Is present Some restaurant and bar. The city is constructed not by high houses till 3-5 floors. About 20 kilometers from it there is a very large and modern city Kazan. I with the friends frequently get out there to buy some Things or fashionable clothes. I work in small shop, which sells products. Tell to me about the work. She is pleasant to you? To me My work is pleasant. I very much love to laugh and I respect the people with good By humour. I like to travel. I yet was not far from mine At home, but I dream in the future to visit in different places. I 2-3 times in Week go to be engaged in sports hall, to hold my body in The order. And you Jon, have any sports in the life? You love Entertainment on a nature? A hunt? fishing? A camping? Some inform me Things about the entertainment. It will be very interesting to me to learn about it. I I wait for your letters. Sincerely yours Svetlana.
April,13
Hi mine Jon. How you today? I am glad to receive yours e-mail. I think, that I more seriously now think of acquaintance through the Internet. Jon, when you established the structure in a service of acquaintances, you thought of an opportunity to find the man for the serious relations? Be you can did it to have a small entertainment? Inform me about it please. Inform me, why you have decided to get acquainted in the Internet, instead of in the street. I in the life had no good acquaintances in the street. I think, that if the man specially uses a service of acquaintances, it has serious intentions to find the special man for himself. To me told about many games on the Internet, but I hope, that you the serious man. I to want to tell you, that I know that the man in America more seriously to concern, to family, and on this I placed my questionnaire on the Internet. I very much to love children, but I have no children, but I very much would want to have children. I have bad English. I studied it at school and institute too. It is imperfect, certainly. But I can understand that me speak and I can speak that I think. But for me to write difficultly still. I not when to not go on Harley, as in my city there are no such motorcycles, but I to hear that it is a very good motorcycle. Dear, unfortunately I have no a home telephone number what to call to you. I live in new area of city and yet does not work for us in one quarter telephone station. I have for communication only pager. I at work have telephone, but the administration does not permit us to use the telephone in the personal purposes, differently there can be some problems at work, and at us very strict rules. I very much to love to prepare, and I to love to prepare different meal. I to not smoke and I to not drink any spirits drinks. Jon, I would like, that you wrote to me the small story, how the usual man in your country lives. At our peoples different culture and life, and I think this story will help me better to understand you. I already informed to you, that I have a work, which takes away from me a lot of free time. My salary not so large, but suffices to me for life and I frequently am helped by my parents. I plan in the future to study to raise the level for work. Earlier I already studied on special occupations for reception of a trade. It was after I finished school. It was the quite good college, but I would like to finish university to have good education. Jon, what you have opinion rather importance of education in life? Together to me please opinions. Dear now it is time to me to go home. I shall write to you tomorrow. I wait for your letters. Yours Svetlana.
April 14,
Hi dear Jon. I am pleased to receive e-mail from you. Your letter had the interesting information for me. Today at work I thought of you and these ideas were pleasant for me, it was pleasant to me to realize there is a man, which reads my ideas and writes that that specially for me. I as would be very glad, to speak with you on the phone, and I to want to tell you, that I shall learn as I can cause you, and I shall inform it to you, little bit later, I as to want to tell you, that you to send me the telephone number. Jon, write to me what foodstuffs to you it is pleasant. Mine parents very much love the foodstuffs, which I prepare on kitchen. There can be sometime I can prepare for you yours favourite foodstuffs. To you it was pleasantly? Me very much like different sweet things, such as a pie, cake, sweet. But frequently I do not permit itself to have it to not be thick. Still I love beautiful clothes and different things of light colours. I like of light tone, such as light-blue, pink, beige. And what your favourite colour? I love modern music of the different countries also I love to dance. Jon, what music it is pleasant to you? You dance? My friends speak, that I not bad dance. I love to go on a discoteque, very much I love to be in a bar with the friends and look at cinemas various films with a strong sound. To me as film very much is pleasant to look the Brazilian teleserials about love, these lovely and romantic. And, what you love to do in free time? You love evening walk? Today with the mum I did small travel on shops, we did some purchases for houses. I told to the mum about our acquaintance, she has told, that would like to see you. For my mum it is important, that I got acquainted with good man also was happy. Yours the family has special opinion concerning yours personal of life? Or, probably, you think, that it only your personal business? Now I finish the letter and I shall be expect your letter. Yours Svetlana.
April 16,
Hi lovely Jon! I today waited the break at work to come in Internet - cafe and to read yours e-mail. tell me honourly, and you wait for my letters? To me would like to learn about your ideas concerning our acquaintance. Whether you have any ideas on learning me better. I very much would want to learn more close about that with what you the man. Probably you have to me any frank questions? You have now any woman or you the lonely man? I consider you as the good man and I think, that you to like many women. You want to me to tell about the last experience with the women? I had in the past some relations with the men, but they brought to me only one disappointments. I have lost hope to meet the good man in the city for creation of family. Our men accept a lot of alcohol and at all do not respect the wives and children. At them on mind only entertainments and they can not well care of family. Jon, Write to me please, what you are good family? What you would want to have family and relation in it? I with impatience shall wait yours e-mail. with each your letter I more well understand with what you inside man, what at you ideals. I like to read, when you tell about yourselves. Always I wait for your letters. Kiss you. Your Svetlana.
My lovely my address: Russia.
City: Zelenodolsk, 422540.
Street: Gagarina 2.
Mine a complete name: Svetlana Muravyeva.
April 18,
Hi mine lovely Jon. How you today? I hope, that you OK. are pleasant to read me your letters. Earlier I was sure, that is unreal to have attachment to the man and mark to it the large sympathy, if not met it and did not carry out with him together time.Lovely I to read your letter, and very much much to understand, that is done on ground and as other people suffer from it. I you see understand that in a world a lot of evil, not of the truth and fraud. Yes, anywhere from it will not get to. It very much and very bad. Many people to care only of the profit and do not think of feelings and experiences of other man. They do not reflect, how it will be then bad, it is the very mean and malicious people. On mine they to not have anything sacred in the heart. It is a lot of such people in a world and in Russia certainly too. I you was very good to understand and to respect for that that you to not be afraid to tell me about it. Yes certainly people should trust each other, at what even if they to be far apart. The all this truth is very not usual. I even itself when to write to you first time, too very strongly doubted to find the love. But I to select you, because you to me to show by which that man I to search all life. I to not look at age, I to feel yours throttle. I wanted to find the love and I not so that trusted that it at me to receive, but only after an occurring with you I have understood, that you that man, to which I should return all yourselves completely. I can not without you and without your gentle words. Please trust me and all at us will be good. But now I feel pleasure, when I have yours e-mail, I think of you and sometimes I have sadly, when I think, that we far. I very much would want, when I come back from work to come to you in the visitors, to bring with myself any tasty pie. We could drink tea, and then together to go for a walk. Probably it would be wonderful. I feel sadly, because we have the relation only through the Internet. Sometimes there is a desire to embrace and to be near to the man. I frequently, when I be in cafe I see various pairs people, I look as they embrace each other, nice talk and then I am sharper I feel the loneliness. I do not know, whether you have feeling of loneliness. If you too feel it then you understand me and know, that frequently there is a desire, that a line was the man, which will support always and to understand you, will help at any time you and to console you. Jon, I would like to learn your opinion doing our acquaintance by more serious. Probably, we could meet and carry out some time together. It would be very good. What you dear Jon, think concerning it? For me it is very important to know, whether you want to have more serious relations with me, than letter. Inform me please ideas concerning it. Kiss and embrace. Yours Svetlana.
Here's a copy of the full e-mail headers;
mta194.mail.dcn.yahoo.com from=yandex.ru; domainkeys=neutral (no sig)
X-Originating-IP: [213.180.200.18]
Return-Path: <lanacher@yandex.ru>
Received: from 213.180.200.18 (EHLO mx18.yandex.ru) (213.180.200.18) by mta194.mail.dcn.yahoo.com with SMTP; Mon, 18 Apr 2005 03:16:30 -0700
Received: from 13.214.dialup.mari-el.ru ([195.161.214.13]:4874 "EHLO 13.214.dialup.mari-el.ru" smtp-auth: "Lanacher" TLS-CIPHER: <none> TLS-PEER-CN1: <none>) by mail.yandex.ru with ESMTP id S3375645AbVDRKQQ (ORCPT; Mon, 18 Apr 2005 14:16:16 +0400
X-Comment: RFC 2476 MSA function at mx18.yandex.ru logged sender identity as: Lanacher
Date: Mon, 18 Apr 2005 13:36:36 +0400
From: "Svetlana" <Lanacher@yandex.ru> View Contact Details
X-Mailer: The Bat! (v3.0.2.7) Home
Reply-to: Svetlana <Lanacher@yandex.ru>
Organization: Internet cafe
X-Priority: 3 (Normal)
Message-ID: <1893914183.20050418133636@yandex.ru>
To:
Subject: How are you today
MIME-Version: 1.0
Content-Type: multipart/mixed; boundary="----------9F76251C194BD1"
Content-Length: 33876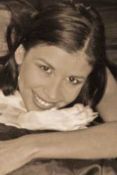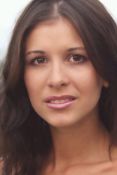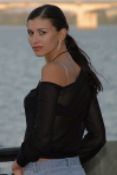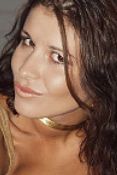 ---
Tanya Isaeva (Cheboksary, Russia)

Hello My Name is Delroy I'm 37 Single and a teacher from United Kingdom, I was checking your scam Black list out of Curiosity and came across a little gem who's been so nice to me until my suprise their she was. Tanya to Me. She is still in contact with me emailing me each day for the past two months managed to get 80$ from me Via Western Union already!! I'll expect to speak to her soon again online again maybe tomorrow. She found me through Yahoo. I have not got a copy of you Anti-Scam Guide, But I'll contact the correct Authourites and make sure she's the one who gets Scammed!!! You might Recognise THIS ANGEL!!!! Delroy B.
Letters:
Hi Delroy!!! I want to tell you something about myself in this letter. My name is Tanya. I live in Russia. In Cheboksary city. It is about 800 km from Moscow. My height is 171cm and me weight is 57kg. My eyes are brown. I don't have children. I am feminine and tender inside of my heart. I like a home comfort, warmth and calm in family relation. I was born on 10 January 1977. In 1994 I finished the school and entered to the economic faculty. Studying 5 years I finished the university. My specialty is the bookkeeper. I learnt English at the university. I work as saleswoman as it is difficult to find the job of my specialty. I sell clothes for the men. I live with my granny now. We don't have a telephone. I write from an Internet cafe, as we don't have a telephone at home. My parents live in the country. My father works in the local farm. He is the tractor operator. Every summer I come to my parents and help them. I like to work with ground. Coming to my parents I rest from the town. It is very bad that it isn't occurred often. Write me more about you. What do you like? Have you got a family? Children? What is your job? Do you like nature? Have you got pets? Can you send your pictures? I am waiting for your letter. Tanya.
Dear Delroy, How are you? I hope you are all right. I'm writing to you because I miss you greatly. This morning I was walking about the town with my friend Irina and her boy-friend. The seemed so happy. I even envied her and wished you had been with me there. They laughed, kissed and walked hand-in-hand. They payed attention to me spas modically. I'm upset as I want to be by your side. I went to the travel agent today and learnt that I need 500$ to obtain the visa and the foreign passport but I have only 100$. And to collect the rest I should work for 7 months. I don't know what to do? But I don't want to lose you. And I know you won't wait for me for so long. Or would you? Please, email back what you think of it? Love you, Your Tanya
P.S.: If you want to send me valuable gift you can to use Russia, Cheboksary, p.o.box 62 zip 428003 I much love valuable gift.
Dear Delroy!! Yes, you understand me right! If you help me with money, I shall come in Moscow, and I finished all documents. I shall remain in hotel, I hope that you will help me with all expenses. It all will take near 700$ USD. I count on and completely I trust you. I shall try to save in everything, on time of stay in Moscow. I do not have bill in bank. I was in the bank and knew that if you want to send me money you have to make it in Western Union for ISAEVA TANYA, send me your full post adress and the MTCN(10 digits) which will give you in the Western Union. Also you have to send me how much you have sent. The address of the bank where I will get money is VNESHTORGBANK, IVANOVA STREET 80A, CHEBOKSARY , ZIP 428018. As soon as my visa will be ready. then you could buy the tickets . I will wait your answer Tanya
Dear Delroy!!! If love and say it to each other both in words or by doing nice things to each other like giving each other a good kiss, or some beautiful flowers, - a nice dinner, - or a warm hug, - or touch the head softly like you do with small kids to tell them that you love them and appreciate them more than everything in the whole world. Then I think we both will be encouraged to have an everlasting competition in making each others hearts smile and make each other feel real happiness deep inside where it does good grows strong and start to float around in every part of our bodies making us smiling from top till toe for everyone to see it and for ourselves impossible to hide. Then we will have a safe and strong feeling of real lasting love and happiness inside our hearts, and find strength and support in each other which will make us able to withstand troubles and bad times both as ownstanding persons but just as much as the couple we make together. I think it is very important to not be to careful in showing each other that we love each other a lot of physical contact hugs, kisses, smiles holding each other close and...I did not thought I would write this and having sex together is the most beautiful and ultimate way to show each others that you appreciate the other one more than anyone else in the whole world. I hope these thoughts is something nearby the thing you appreciate in a woman, if it is I just wanted to tell you that I really really like you very much. Lots of hugs and kisses and love from me I feel so good and warm inside my heart when I think of you. Kiss You, Tanya
P.S. : I am very glad that you have sent me 40 $. Now I can buy all that you want at our meeting. But I want to you say that I can not to make the visa now, as I should at once pay all. That is I should now go in Moscow and pay all. And then I shall come to take away all necessary.
Hi dear Delroy, Sorry that I could not write to you. The Internet of cafe was closed for technical reasons, but today cafe has opened. I missed for you. I went in travel agency and has heard that visa can give for period: 3 months, 6 months, 12 months. If you want I am able to take the visa for 12 months. And else. I shall not be able to accumulate the money to although a little pay the expenses. My salary forms 100$USD These money I am enough only on existence. I do not know that me to do. I hope that you understand me. It's so nice to feel your love. I still can't believe in it. I often recall the day, when I got your letter for the first time. It seemed to me that we would just e-mail each other and be friends. But now I'm so thankful to God that he has sent you to me. As is known, Heavens make sweethearts match. I think you're my better half. By the way do you believe in fate? I hadn't before I found you. If I and got on some other site, we would have never met. From now on I believe in "by-chance". Love you, Tanya.
---
To send your own story, please click here
Click here to support Black List
READ ALSO: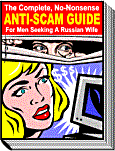 Met a Russian woman over the Internet?
Thinking about finding a Russian wife?
Russian woman wrote to you? Don't move any further until you read The Complete, No-Nonsense ANTI-SCAM GUIDE For Men Seeking A Russian Wife. Too many men were caught up in a scam and lost great deal of money - want to be one of them? Ensure your safety and peace of mind - read the ANTI-SCAM GUIDE.




Scam-free search - GUARANTEED! - Looking for somebody truly special but have had it with scammers and scam agencies? Let professionals to do the job for you.

The Universal Crib On Finding A Russian Wife - the most compressed, step-by-step guidance on finding, courting and marrying a Russian woman.
Dating Scams - The real picture of international introduction industry
Reliable Dating Services - where to look for a Russian wife
The shocking truth about Russian Brides - E-book by Marina Smiley. Find out things about Russian brides that marriage agencies will never tell you.
Why Russian Women? - If you decided to find yourself a Russian wife, you would be inundated with questions of the type "Why Russian Women?" from everybody you cared to share your idea with. Surprisingly, every Russian woman you are writing to will ask the same question: "Why do you want to find a wife in Russia?" After a while, you might start questioning your own sanity in doing the thing which everybody, including your dates in this Internet rendezvous, consider strange enough to request explanations. Here you will find some ready-to-use answers for your family, friends and Russian women you are writing to.
Cheap Russian Translations - Russian-English/English-Russian translation: fast and comprehensive. You are not sure she understands what you mean? Translate your letter to Russian! Reasonable rates and highest quality.
---

JUST RELEASED! New E-book by Elena Petrova:
"How To Find And Marry A Girl Like Me"
Comment from the reader:
"This may well turn out to be the best purchase I have made... I hope not too many of my competitors find this book!"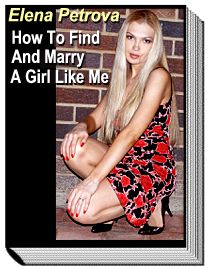 Discover how to find, court and finally marry a beautiful Russian woman!
This is the only book written by a beautiful Russian woman married to a western man - for more than 5 years! - and who is also the owner of a highly successful Internet dating agency.
Find out once and forever what Russian women are really looking for, why they are looking for it and how you can give them exactly what they want!
Get responses on your letters to beautiful Russian women - 9 out of 10, GUARANTEED!
With "How To Find And Marry A Girl Like Me" you'll learn knock-out techniques that will instantly boost your success rate in dating Russian women - online and in real life. You will have more beautiful girls that want to be with you than you can handle!
And not just ordinary girls! They will be beautiful, intelligent, but most of all - honest and sincere! You will be the one to take your pick!
STOP wasting your time and money in search for a Russian wife... Get it done - painlessly, easily, and certainly! Moreover, have lots of fun along the way!
Yes, you too can marry a girl like the one on the picture... Click here!
---
New e-book by Marina Smiley (the author of famous "The shocking truth about Russian brides"):

"Sex and Love With Russian Women"

Discover where so many guys fall short when visit their girlfriends in Russia;

Learn how you can dramatically improve your success with Russian women and win when others fail.

Most intimate questions answered by a Russian woman - Medical Doctor.
---
Comments, suggestions? We want to hear from you!
Click here to Contact us
Seek a reliable Russian Dating Agency? Why not check www.elenasmodels.com - RECOMMENDED
---