Anna Shabunina (Sterlitamak, Russia)
I was scammed by Anna Shabunina Sterlitamak, Hubaiberdina Russia 45-88 I am an adult and I knew that if I couldn't afford to loose the $1000.00, then I shouldn't fall for it. I just don't want anyone else who can't afford it to get the shaft. WesternUnion can send money to Swift accounts. I should of got the message when Swift Accounts: SEKARU4EXXX and VTBRRUMMXXX didn't show up. The invoice number is the same 27-345-336. I have included all the pictures I have. She has been known to changer her email address, but the pictures should tell it all.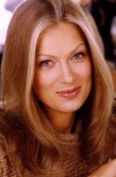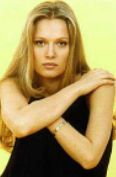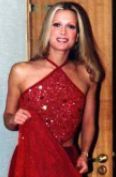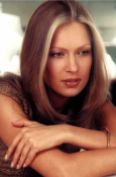 ---
Arina Vladimirovna Gourkina (Stavropol, Russia)

I am a single father of 1, American/Latino, 40 years old, self-employed. I was contacted through Yahoo Personals around 1/30/5 by "Arina". She informed me that she was looking for a "kind and gentle man", that my profile attracted her attention and that if I was interested in contacting her to reply directly to her e-mail address arina@postdom.com. I did just that and requested a photo of her. "Arina" responded to my request on 2/3/05, directing her e-mails to my yahoo address and sent me pictures of herself, along with the long e-mail you will find below. I exposed the scam on 3/18/05 when I confronted "Arina" about some facts and information she had shared with me that did not make any sense. She admitted to the scam when I told her that I would expose her name and address on your Black List and report her to the Department of State. I am including her final e-mail (along with the first one she sent and the "money request" one) in which she is confessing to what she did, pleading with me to understand why she had done it.This is a successful scam prevention story thanks to your web site, which alerted me of such a possibility. I did not send her any money. The money was requested to be sent via Western Union to the following bank address: Bin Bank, 8 MARTA 3/1, Stavropol, Russia 355002, for Arina Gourkina. The amount requested was $247.00. A couple of interesting facts to point out and be aware of: "Arina" actually called me on the phone one day (she had previously requested my phone number and I gave it to her) to say hello and to tell me how excited she was to meet me; she also sent a picture of herself in front of a computer that had my picture in it; and last, she sent a picture of a forged "visa" that was supposedly issued by what she called the "anti-emigration department" in Russia, with whom she had an interview to obtain it. I am including that picture for your inspection. Also, shortly after the initial contact she had with me through Yahoo Personals, her profile was deleted from that web site. Again, all further correspondence was done via my yahoo address.
Letters:
Initial letter dated 2/3/05:
"Hi Oscar! I was so glad to receive your letter! Thank you. You have answered and it means that your heart is open for new friends. I think it's Great, because the friendship brighten life of people. The new events, new people, any changes, new ideas and thoughts are refresh soul. That is why I was so glad to see that you again have written to me. Probably you have already noticed that I'm not able to keep my emotions inside of me. Of course I am talking about joy, about good mood, about all good and positive things that can be in my soul. I always try to share my joy with other people, I try to give my smile and good mood to all people. I try to never show to people that I am grieved or I have any problems in a life. Therefore all people, with whom I work and communicate are sure that everything in my life is perfectly, that I am a happy woman, that I have no any disappointments, that all my dreams always come true and success always accompanies me. But unfortunately it is not so, because when the person is lonely, nothing can cure sadness. And if you ever felt the same, of course you understand what I am speaking about. Oscar, I must tell that I try to write in English as good as possibly (within my knowledges). But I don't know how you perceive my English. I hope you understand all what I write. I study English already for more than 18 years, but taking into account that I study this language in the Russian-speaking country, I understand that my English is not quite correct. Therefore I ask you to not punish me for my mistakes (Smile). Earlier I dreamed to be the linguist or the translator. Well, I've become the dental specialist, but I always was studing your language with the big pleasure. And I am happy that I have chosen the English language for studying, because the knowledge of English has allowed me to estimate the full luxury and beauty of wonderful poetry of English-speaking musicians. I very much like the western music. Pink Floyd is a Greatest band. And each of soloists of this band is unique. I like Dire Straits, Sting, Kylie Minogue, George Michael and many other delightful musicians. In Russia as well there are many good musicians, but probably you don't know about it (smile). Well, I think that there are many others things about myself that I must tell. Thank you for your picture. It is a fine picture. You are a strong and handsome man. I very much like this picture. It is wonderful, when a man combines force and charm. It happens so seldom. Forgive me for my frank words. But I always speak what I think. I think there is nothing bad in it. You have pleasant appearance and it is wonderful. In general, if to speak about my nature, I must tell that I'm the versatile person. I have various interests. I like sports, I like reading, I like to listen to music, to watch movie. I like Sixth Sense, Rainman, Stepmother, A Perfect World, Scent of a Woman, Ladder 49. Of course, I can't list all movies I like - too many good films have been made in your country. I like to cook, I knit warm clothes. Actually, here in any settlement almost each woman can knit. And I'm not exception. I like camping, swimming. I have no children and I was never married, though of course I was in relationship and even thought that it will lead me to the happy future. But now I haven't anything except of bad and painful memoirs. But I live with a smile on my face and with hope in my heart. I think I am optimist. And maybe my optimism has helped me to dare to write you. I do not need many things to be happy. All I need is a man, friend, soul-mate. My life has led me to the fact that now I seeks it in such a way. And I do not think it is bad. Oscar, what are the basic features of your character? I never tried to describe to somebody my character in the letter. And I have no idea how to do it. But if there is anything you want to know, I will tell you with pleasure of course. I really can tell that I have the kind heart, and I am the good listener. I'm an absolutely kind person though at the same time I am a proud woman; I always appreciated sincerity, honesty and frankness; I am a loyal person and I always have respect to people. I am able to forgive and I do not recognize anger. All this are the obvious features of my character,- the features, which I self can see in myself. Oscar, what you are looking for in a woman? How often you tried to find a friend or soul-mate via Internet? Probably you have many female friends in the Internet. What else to tell about myself as I have a little time? I use computer at the clinic. I work from Monday till Friday. But sometimes I work Saturday and Sunday. Therefore, maybe I will be able to write letters in weekends, if you want (smile). This computer is located in cabinet of medical analyses. We get the access to the Internet only few times in day, for sending analyses and receiving result. Well, now this computer will be used for my dialogue with Oscar! (smile). I wanted as well to ask you about your family, Oscar. I miss my family too much. I hope to receive your letter soon. I send you two my pictures. I hope you will like them. Sincerely and with the best regards. Arina."
Letter dated 3/17/05 with money request:
"Hi, my Oscar. I even do not know what to tell first. I simply hope that you will be happy! The most i mportant, finest news - I did it! I got the visa! I am very happy!!!! I as well have found out that I will get vacation April, 1, 2005. I have been to the company that reserves airway tickets. I asked them how I can reach Miami (MIA) and how much it costs. They have offered to me the ticket that costs $1119.80 USD. I asked them to find cheapest ticket, because this price is expensive for me. They have answered that they have a cheaper ticket and the beginning of the flight April, 5, 2005. It costs $834 USD. It was the best variant for me. I asked them to reserve a ticket. But they refused, because they can't reserve the ticket without advance payment. I must pay full cost. I have asked if I can pay a part of money now, and the other part later. They have told that it is possible, but I will be limited by term. And if I will not pay the full cost of the ticket within of this term, I will lose already nested money. I have agreed because it is the only chance for me, because I must give to anti-emigration committee a data about my payment. By this moment I had only the concrete sum of money which I had after all my expenses. I paid $ 480 USD. But it was not enough for them. In a panic, all what Natalia and I could do - we pawned our gold earrings and rings and I got $ 107 USD. That is all I could do. The number of the flight on which I will get the ticket is 2545 Air France The time of departure from Moscow is 7:15 am. The time of arrival in Miami is 2:20 pm. I will change a plan in Paris (CDG), number of the flight 8348 Delta Airlines. After this I will fly to Miami, to you. I know that probably I simply must tell that I can't come to you because I haven't the remaining sum. I know that I promised to do all by self, and I was sure that I can. I did not want to ask you. But after I did everything I did, I cannot simply tell that I will not come to you. I have passed through so many difficulties, and I have overcome the most difficult. But all the same I have disgusting feeling that I could not fulfill the promise. I am always ready to do all what is possible,- to fulfill my promises, but at the same time I understand that any person could get in such a situation. To get the visa I have spent much more money than I expected. But people were ready to help me only if I will pay them. I paid more than 300 dollars to get all documents, I paid in municipal committee, in the ministry. Even officers in army garrison have compelled me to pay for their help. I did not expect all this, but up to the last moment I was sure that I still can make everything. I expected that I can get a vacation payment. We get a vacation payment after ending of a vacation. I asked to give me this money now because I need this money urgently. But, at the last moment I have got the answer that I can get this money urgently only in case of serious illness or for example in case of death of the relative. I feel so guilty. I was sure that nothing can prevent our meeting. But I must pay remaining sum. It is $ 247 USD. And I must pay money before March 23, evening. Otherwise I will lose my nested money and our jewelry will be sold out simply in vain. I know that I should not ask you, and I am very ashamed to do it. I understand that probably you are not interested in me too strongly and you have no very strong feelings towards me. And I understand that it is a big money. I know it and for me twice difficult to address to you. But also comprehension of my position convinces me, that any person could get in similar situation. I want to meet you and I say sincerely that I need your help. I understand that I put you in inconvenient position. But I am simple person, I am the simple woman. I am not the wizard. Any person could get in a similar situation. And maybe I really simply had to tell you that I can't meet with you because I could not provide my travel completely. But I cannot simply refuse our meeting because then all my diligence, forces, nerves, means will be spent in vain. I understand that for you it is too big sum to lend me. You are not obliged to help me. And 300 dollars which I have spent to get the visa, and 587 $ that I have given for the ticket are huge money for me. But I want you to know that I have given everything not for the sake of myself, but for the sake of us, for the sake of you and me. And I was happy all this time. If you want to meet me, to help me to make our meeting, please, send money to the help before March 23, evening. I want you to be confident in my sincerity, - that is why I send you the view of my visa. I want you to see the result of my efforts. If you can help me I will tell you what I have found out. Natalia said that you can help me with the help of remittance system. So I have addressed to the nearest bank. I have been told that they use the system ''Western Union''. They have told that it is very convenient office for me; and this system works always and reliably. I give you necessary elements for sending money with the help of ''Western Union'': Bin Bank 8 MARTA 3/1 Stavropol, Russia 355002 for Arina Gourkina. In bank I have been told, that to get the money, I must tell to employee of bank your full name, your full address, exact sum which I should receive and some confidential numbers - Money Transfer Control Number. You will get this number in your bank if you will send your help. Only with presence of all this information I can get your help. I do not know what answer I will get from you. I very much am afraid that you will not help me. But I want to tell, that I really need you, and I simply can't endure the thought that I did almost everything, but I will not meet you. I understand that it is big money. I have given all my forces, but together we are stronger. I really ask you to help me. I will give you back all your money at the earliest opportunity. I have written you honestly and sincerely. Are you with me? Your Arina."
Letter dated 3/18/05, which "Arina" wrote after I told her I knew about her scam and that I would take steps to expose it:
"Oscar. My child lies under the device for maintenance of ability to live. If you would see his eyes when he with tears in these eyes say to me that he loves me and wants to live to be with me, if you would hear how he say by shivering voice: mom, I will die? If you would see he, if you would see how he loves me and wants to live, if you would know how I love him, maybe you would understand me more though I know that my place in a hell. But if I will not find money he will die. And he knows it. I tried all means. I addressed to the government, I addressed to people. Without results. What must I do? I know that I should be damned. But people which have offered me such a "work", have promised me big money. I know that it is dirty money, but I do not think of anything except of my boy. I did not think that I shall have feelings to you. But I have. But what can I do? I know that I do not deserve to live in this world, but my baby deserves. I tried all ways, but, our damned Russia, and our damned Russian government are at all does not pay attention to such small destinies. So judge me." Oscar.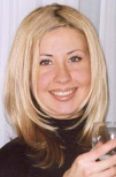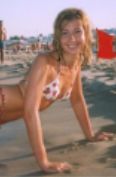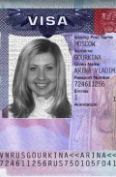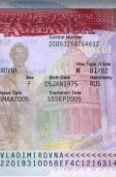 ---
Ekaterina (Ussuriysk, Russia)

Hey folks, I am a 45-year-old unemployed single male from New York. On 3/16/2005, Ekaterina (katysha2005_05) sent a note to my Yahoo Personals! mailbox suggesting I email her at katyshenka@list.ru so it will be more convenient to write and send me pictures. The note she sent to my Yahoo! Mailbox was identical to the one Bob Hughes received from a person calling herself Marina Kushakova from (Ussuriysk, Russia). So someone (or more than one person) is still using this story to try to attract older male targets. As of this writing (March 20, 2005), I have received four letters from this person, one a night. It struck me as unusual that the person answered almost none of my questions. I figured 'she' (assuming it is an actual female) was just learning English and needed to find someone to help translate my letters and help her draft replies. I was a little skeptical about a pretty 29-year-old woman writing me and reminded her I am 45 but I figured maybe things were bad in Russia and she actually couldn't meet anyone there. Right I should have known better. Anyway, as of now, there has been no talk about money but I intend to stop writing this person. Since the first letter that I received was identical to a letter that was used to try to scam someone (as reported on this website), there is no doubt that the person currently calling herself Ekaterina will eventually try something similar to me. Oh well she seemed like a nice person. Bob
Letters
Here are the contents of the first letter on 03/16/2005 06:42 pm EST, "katysha2005_05" wrote:
Hello, Me name is Ekaterina. After birthday of my girlfriend after all my girlfriends have left to meet with the husbands and guys I has decided, that the friend with whom I might connect all further life too is necessary for me, but such person with whom I would not be happy is not necessary for me. I shall tell to you slightly about myself, me 29 years, I live in city of Ussuriysk in spite of the fact that it is very beautiful city, here very difficultly to find the good person with which it is possible would be to connect the life, the purposes of people in our city very much low, and the girlfriend has advised me to look same people as well as I in the Internet, I and have made I have gone to the Internet of cafe and have found a site which to me the girlfriend has advised, at her mum as has got acquainted with the person from Germany. From all countries which were offered me on a choice, I have decided to choose, on films and under stories I know, that people for which his personal honour and decency is appreciated more than any petty interests live in this country. After short viewing structures I have seen yours which most approaches me, and have decided to write to you in hope that I shall receive from you the answer. Excuse I has distracted from the story about itself slightly. As I to you already spoke me 29 years I live in Russia, city of Ussuriysk, my weight makes 64 kgs at growth of 172 centimeter. At me higher education on a speciality the ecologist, but on the trade I do not work, as on it it is very difficult to find work. I work to help the bookkeeper in the company which is engaged in sale of home appliances. I live one without parents, my parents were lost at a fire of 6 years back, my grandmothers and grandfathers communists, my relatives were noblemen when Russia king corrected earlier, but there was it for a long time. I never supported ideas communists, they have resulted the country which once was great power, in full route. But about it I shall not continue to me this subject not so it is pleasant have shot. I live together with mine cat Murka, she my best friend! She also likes to ask to have a meal black color at me, in exchange on it she may sit next hours me and purr. Unfortunately I badly know the English language so I the first time shall be to use the translator, but I go on rates, on studying language. With impatience I wait from you for the answer. Your new friend Ekaterina. Please write me on my personal e-mail: katyshenka@list.ru. So it will be more convenient to me to write to you and I can send you the photos!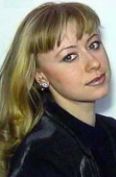 ---
To send your own story, please click here
Click here to support Black List
READ ALSO: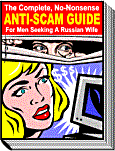 Met a Russian woman over the Internet?
Thinking about finding a Russian wife?
Russian woman wrote to you? Don't move any further until you read The Complete, No-Nonsense ANTI-SCAM GUIDE For Men Seeking A Russian Wife. Too many men were caught up in a scam and lost great deal of money - want to be one of them? Ensure your safety and peace of mind - read the ANTI-SCAM GUIDE.




Scam-free search - GUARANTEED! - Looking for somebody truly special but have had it with scammers and scam agencies? Let professionals to do the job for you.

The Universal Crib On Finding A Russian Wife - the most compressed, step-by-step guidance on finding, courting and marrying a Russian woman.
Dating Scams - The real picture of international introduction industry
Reliable Dating Services - where to look for a Russian wife
The shocking truth about Russian Brides - E-book by Marina Smiley. Find out things about Russian brides that marriage agencies will never tell you.
Why Russian Women? - If you decided to find yourself a Russian wife, you would be inundated with questions of the type "Why Russian Women?" from everybody you cared to share your idea with. Surprisingly, every Russian woman you are writing to will ask the same question: "Why do you want to find a wife in Russia?" After a while, you might start questioning your own sanity in doing the thing which everybody, including your dates in this Internet rendezvous, consider strange enough to request explanations. Here you will find some ready-to-use answers for your family, friends and Russian women you are writing to.
Cheap Russian Translations - Russian-English/English-Russian translation: fast and comprehensive. You are not sure she understands what you mean? Translate your letter to Russian! Reasonable rates and highest quality.
---

JUST RELEASED! New E-book by Elena Petrova:
"How To Find And Marry A Girl Like Me"
Comment from the reader:
"This may well turn out to be the best purchase I have made... I hope not too many of my competitors find this book!"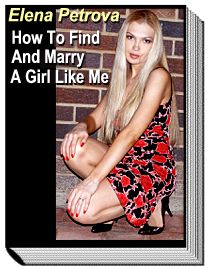 Discover how to find, court and finally marry a beautiful Russian woman!
This is the only book written by a beautiful Russian woman married to a western man - for more than 5 years! - and who is also the owner of a highly successful Internet dating agency.
Find out once and forever what Russian women are really looking for, why they are looking for it and how you can give them exactly what they want!
Get responses on your letters to beautiful Russian women - 9 out of 10, GUARANTEED!
With "How To Find And Marry A Girl Like Me" you'll learn knock-out techniques that will instantly boost your success rate in dating Russian women - online and in real life. You will have more beautiful girls that want to be with you than you can handle!
And not just ordinary girls! They will be beautiful, intelligent, but most of all - honest and sincere! You will be the one to take your pick!
STOP wasting your time and money in search for a Russian wife... Get it done - painlessly, easily, and certainly! Moreover, have lots of fun along the way!
Yes, you too can marry a girl like the one on the picture... Click here!
---
New e-book by Marina Smiley (the author of famous "The shocking truth about Russian brides"):

"Sex and Love With Russian Women"

Discover where so many guys fall short when visit their girlfriends in Russia;

Learn how you can dramatically improve your success with Russian women and win when others fail.

Most intimate questions answered by a Russian woman - Medical Doctor.
---
Comments, suggestions? We want to hear from you!
Click here to Contact us
Seek a reliable Russian Dating Agency? Why not check www.elenasmodels.com - RECOMMENDED
---