---
Maksimova Ksenia Mihailovna (Yoshkar-Ola)
A Russian woman recently scammed me. Her name is Ksenia Mihailovna Maksimova, 424007 Russia, Republic Mari-El, city Yoshkar-Ola Street Petrova, house 42, flat 81. She asked me for money for a visa, which I sent her. Then she replied with an urgent request for money for an airline ticket. When I politely delayed, she disappeared. So I paid $350 for a hard lesson in the reality of Russian woman and she lost the opportunity to have my love - we both lost, but I got the better deal *L*.
David, USA
---
Maksimova Ksenia Mihailovna also uses the name Oksana Maksimova. "Oksana", or someone claiming to be her even telephoned me. Using poor English she seemed to be prompted what to say. She did not give me her phone number, she said she does not have a phone at home.

I really should have known better. I am not usually so stupid.

The letters from her were said to be via software translation. She said she lived with her mother since the father left them at age 3. She spoke about her grandmother living nearby, an aunt in Moscow working for KLM that could get tickets and an agency that would do all the visa application work. She also said a girl friend had just gone to the United States so she, "Oksana", was familiar with the procedures to do the business at her end. Also after proclaiming her love to me in several emails, including poetry, she was very insistent that the money come right away. It was as if she had misunderstood my letters. She said she had instructed her aunt in Moscow buy tickets. All the while she gave the impression that her "mom" was helping with advice. That is what she said. Then she was in an embarrassing situation because she thought I was paying. All throughout her email she discussed trust. She asked me to send her money via Western Union to
424007 Russia
Republic Mari-El
city Yoshkar-Ola
Street Petrova
the house 42
apartments 81
Maksimova Ksenia Mihailovna
Then after receiving the money ($3000.00) she said she had to return via train from Moscow and would email again in two days.

She never did.
Dennis, Canada
---
Svetlana Glushkova
Another scammer from Yoshkar-Ola:
Svetlana Glushkova
Russia
Republic Mari-El
city Yoshkar-Ola,
Prohorova street
house 34 A
apartment 76

Tony
---
Natalia Tsarova
Another scammer:
Natalia Tsarova
Russia
city Syktyvkar
TRUHER street 34 - 90,
email name: natalia1111@inbox.ru
Dennis
---
I also was scammed by someone named Galina (Galia) Alexsandrova who claimed to be from Kirov, Russia, but actually lives in nearby Yoshkar-Ola. *She* found me on FriendFinder and succeeded in taking over $1000 of my money before I realized that it was a scam.

Here are the clues that should have raised my suspicions:

1. She changed her email address after her first message from Galina2000@nm.ru to Galia2000@yandex.ru, claiming that her old email account was working badly.
2. Her first message contained someone else's full name (a Westerner), making it appear as though my name and a few sentences had been added to an existing message.
3. She never gave specific details about her life, claiming that she lived with her "mum" and that her father had left her at the age of 3 (sound familiar?)
4. She consistently relied on her "mum" for advice and described very realistic conversations with her and also her grandmother (sound familiar?)
5. She was incredibly beautiful and as I later found out, had sent me a photograph from when she was much younger.
6. She knew more about the workings of Western Union than I did.
7. She already had a passport, which was very surprising for someone who was so poor and lived so deep in Russia (Kirov).
8. She claimed to have an aunt who worked for an airline in Moscow and who could get tickets for her at a discount, even though I wanted to buy them myself (sound familiar?)
9. She required $350 for her visa application because she claimed to be using the services of a firm in Kirov (sound familiar?)
10. She did not own a phone.
11. She very quickly proclaimed her love for me and included poetry, which she claimed to have written for me, in several of her messages (sound familiar?)
I finally became quite suspicious after she insisted that she required "insurance" before she would come to America. She promised that she would somehow pay it back to me after she arrived, but never explained how. Then she declared a deadline date for the "insurance" payment, after which her visa application would be delayed by several months. That deadline seemed to "stretch" further and further out, at which point she would only reply to my messages when I indicated that I might be sending her the money (which of course, I never did).
One of her photos showed Stockholm harbor and the Swedish Royal Palace in the background. Although, she claimed to have never been outside of Russia and that the photo had been taken in Kirov. The last picture I received showed her sitting in front of a modern personal computer with a nice stereo and a large collection of CD's by her side. She had earlier claimed to only have access to a computer at work or the Internet Cafe. By the way, she declined when I suggested she sell her PC and stereo to pay for the "insurance".
I slowly began trying to get her to reveal more information about herself. She vehemently refused to send me a scanned copy of her I.D. and did not want me sending any money directly to her apartment. I found a picture of someone named "Galina" in the Euroladies and European Connections dating services who was identical in age and appearance and occupation (a psychologist-teacher), but lived nearby in Cheboksary.
I notified the US Embassy in Moscow that someone by her name may be attempting to get a visa to enter the United States. I also indicated that anyone using my name on their application was likely doing so under fraudulent circumstances. Here is the false address in Kirov that she gave me:
Galina Alexsandrova
House 65 Apartment 81
Puskina Street
Kirov, Russia 450000
Factually her passport is registered at a different address: this is the address she wrote down on the Western Union receipt:

Galina Nekolaevna Alexsandrova
Building 32, Apt. 90
Ekalova Street
Yoshkar-Ola, Russia 424028
She may also go by the name Ekaterina and mention a friend who is very
sick from cancer (does that also sound familiar?)
Finally, I was able to track *her* emails back to a phone number in Yoshkar-Ola that is registered under the name Evgeny Borisov, Building 21, Apt. 39, Antsiferova Street, Yoshkar-Ola. The phone number she uses to access the Internet is (+7-8362) 72-89-08.
Dan, USA

PS Those are the pictures that she sent me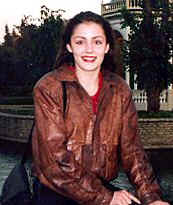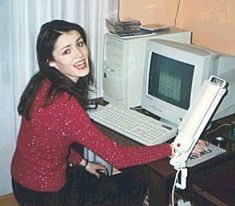 PS: The unbelievable end of the story
Finally, after posting my story on this website, I received a message from "Galina" several weeks later stating that "she" was returning $1000 of my money, in the hope that I would remove all references to her and Evgeny Borisov from this site. Lo and behold, almost in disbelief I actually did receive the $1000 from Western Union that "she" had sent back to me. Apparently, she or Evgeny did not like having their names, addresses, phone numbers, and even photographs displayed in this Blacklist for everyone to see. This should encourage anyone who has been the victim of a scammer to reveal as much information as possible about the individuals who are behind the scam. The Blacklist works! And soon there will be nowhere at all for these "predators" to hide.
Dan
---
Hello,

You have an excellent and informative website. You anti-scam book should be a must buy for anyone who is searching for a foreign bride.

Anyhow, here is a scam artist with two pictures! Her e-mail address is
kasal@aport2000.ru and is listed on Love@aol.com

Unfortunately, I confronted her with her request for $350 for a visa early
before I could get more information about her (I should have played along
with the game and get more information).

Here are the e-mails. You may or may not include them in your website.
Please note, they are quite generic and do not have my name in it anywhere.
Jack

LETTER 1

Hi,

Reading your letter I have not begun to cry nearly with happiness.
That there are such perfect people as you I very much, is very glad.
That I have got acquainted with such man as you.
You such lovely, kind, clever man.
Why we have not met you earlier?
Can be at us already there was a large happy family
Yes I very much love to prepare, is tasty to prepare
And if you would be a number (line) I with pleasure prepared for you
Would bring coffee in bed
I love to prepare various sweetness
The Ukrainian, Russian kitchen
Especially I love to prepare on a nature a shish kebab
In cinema I go about 2 times per one week
And on discos I in general seldom go
Yes life without love it not life
You see love this very perfect feeling
You see when you have favourite man
You become by the happiest man on light
And when you are happy at you all always well in life
I am afraid acquaintances through the Internet slightly
But nevertheless I have small hope that I on a correct way
The truth now when I almost has left in holiday
And on a nose at me birthday
I do not have means, money to arrive to the lovely man
And as I for a long time dreamed of arrival to the lovely man
Where I would be met by(with) the favourite man
Also I hope by this man there will be you.
Than I am engaged now - I prepare to holiday
I want this holiday to make unforgettable.
I hope that you will help me in it
I rise at 6:00
I accept a bath
I prepare to have a meal
And by 7:00 to running on work
I work as the hairdresser(barber) in a female hall
I do(make) any colouring, chemistry of a hair
Well and certainly I cut
Especially to me to like to select hairdresses to the clients
I love when they leave from me happy and beautiful.
After work at 12:00 I usually go (running) to the girlfriend and I write
you the letter
And if I see from you the answer that I write down your letter on a
diskette and running home
Where nobody will prevent me it(him) to read and to dream about perfect
I hope, I wait, whole
Yours Ekaterina

Merry Christmas
Ekaterina mailto:kasal@aport2000.ru
LETTER 2
Hi favourite
I miss on you
Excuse for this letter when I wrote it(him) to me it was very a shame rather
Money
If want that can not read this letter
I went in travel companies, airport
Me there have not pleased
The visa in your country costs(stands) 350 $
And about the tickets already and to speak there is nothing 1100 $
I have gone round all familiar, native, close
I searched for money to the tickets, visa to arrive to you
All that I could find it only 70 $
This money will suffice me only on a road to Moscow
You see to you I can take off only from Moscow
I very strongly am anxious that I can not to you arrive
To me is very sick
You see for these of our separation I on the present have understood that I
can not without you
I think of you constantly I think as you there without me
There can be you to me will prompt as me to be,
As is faster to you to arrive
You see all that to me is necessary it to buy the visa and tickets
I do not want at you to ask of money to me it very much, it is very
inconvenient
But at me except for you more anybody would be not present who has helped me with it
Excuse if I have afflicted you to me very very inconveniently to me it is a
shame before you

Whether you probably want to know there was at me a friend
Yes the friend at me was
We have parted from for that that it(he) to me changed
I some times forgave it(him) but it(he) continued to me to change
I tried to make all that at us with it(him) all was adjusted
Besides it(he) frequently of saws and even beat me
In a result we have parted
Excuse but me unpleasantly it to recollect

And you had girl?
Tell if want to me it will be very interesting

I very strongly love you I love as anybody never loved
You are constant in my ideas I think of you each minute, each hour
When I lie down to sleep I dream that you were a number(line)
I want to love, to kiss, caress you
For the sake of you I would leave though on edge(territory) of light
You see where we would not be I always was happy with you

I frequently re-read your letters
Very much grieved for you and when I saw your new mail I became most
By the happy man on light
From all heart I send you millions and millions kisses
With impatience I shall wait for your answer

With LOVE yours Ekaterina
Merry Christmas
Ekaterina mailto:kasal@aport2000.ru
LETTER 3 (WRITTEN AFTER I CONFRONTED HER ABOUT BEING A LIAR. I TOLD HER THAT A VISA DOES NOT COSTS $350 AND SHE WAS DISHONEST. THIS WAS ALSO THE LAST LETTER)
Hi lovely
To me is very sick and you are insulting that so badly speak about me
Lovely I do not buy the visa in embassy. The visa to me is done(made) by(with) a travel company. Which takes additional money for that that it is a travel company. You see she(it) does(makes) all documents an advice. You excited only with money. You do not trust me. You do not love me.
So who among us a deceit???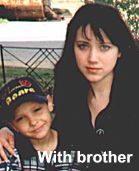 ---
Salnikova Ekaterina Evgenevna - 1
Hello there

I am just so happy for finding your site. My great mystery "Is she a scammer or not" is no longer a mystery. Today I read a report by a Jack who spoke of the same girl. To his pictures I add one more. She IS a knockout. Also to his two e-mail addresses I add another. His were kasal@aport2000.ru, love@aol.com, and mine Katusha-2000@yandex.ru (Salnikova Ekaterina Evgenevna).
I have sent copy of one letter. Actually we exchanged many. I was really loving her love talk I must admit. In fact I was hoping against probably reality that it was true. No she did not get me for even one dime. I sure wish she had been true. Ha Ha. Really do.
Again your service is much appreciated.
Sincerely
Stanley
Hi Stanley .
You hunting probably is very good? You are not right on the bill of the tickets a little. My aunt works in travel agency and she did(made) a bookmark on the ticket. The ticket is already suspended it(him) it is necessary only to buy and my aunt has familiar in embassy and she has said that The visa is possible to do(make) during 1 week. If it is a little try we can be together already on a holiday new year. The cheapest way up to Moscow it began the bus change a train, it will borrow about 1-2 days it will cost 50 $. To reach Moscow it is possible to use the plane it costs(stands) 150 $, it is convenient but dearly. The visa costs(stands) 350 $. This The visa is possible to prolong for one month but her(it) free-of-charge in America. The reliable plane the company, ticket middle class, costs(stands) 580 $. I already thought of us much. But as I can not pay it to decide(solve) to you. As you say and will be, but I I ask to take into account my opinion. What you want to know about travel? I can learn(find out) about all. My aunt so is glad for me that she does(makes) all that our meeting was as soon as possible. I think you the idea of my arrival has liked. Write what you think of it? I wait for your letter my prince.
--
Best regards,
Katusha-2000 mailto:Katusha-2000@yandex.ru