---
Diana Arbenina and Ekaterina Belyh (Riga, Latvia)
I am a single 23 y/o male from Australia. A few months ago a woman from Latvia contacted me through an Australian site www.findsomeone.com.au and I could tell from the English that the person didn't live in Australia even though she didn't mention it. I went to view the profile, but the profile was cancelled before I could see, so I just emailed and then started corresponding from there. We were in correspondence for at least three months, and along the way there were a few signs that something was not right, one of them was that she sent me a letter and it had a photo in it which had written on the photo part "to (my name)" and I thought that if you were only corresponding with one person like she claimed well you wouldn't need to put who the photo was for. I looked past that, and then she requested money to a bank account and I basically ignored the request. After a while longer she looked in to costs for airfare and visa etc and she told me them and they were extremely expensive and I checked in to it and the Visa cost was far more than any visa cost on the Australian Government website. So that had more bells ringing. I didn't think more, until a letter that I had posted returned to me and it said no such address and then I knew something was not right. She even had an excuse for that but a very poor one. But that was all the evidence I needed to prove that she was a scammer like I was kind of suspecting after the photo was sent about a month in to our correspondence. In total she requested money to three different accounts, one was a business account, so I made the excuse that I could not pay in to a business account using Western Union which is true, and then she sent me another account which had a name Ekaterina Belyh. I did some research in to that name and that person was a well known scammer and had an address just down the road from where I had been told with the same apartment number (137) and even had a C after the street number. I did more research in to it and found that the woman had quiet a few alias's and email addresses. Beneficiary`s Bank A/S "Akciju komercbanka "Baltikums". "M.Pils iela 13, Riga LV-1050, Latvia. SWIFT code: CBBRLV22. Beneficiary PROXIM LLC. Beneficiary`s Acc No. LV85CBBR1320173900020. That was the first bank account. The second was: Intermediary bank: Deutsche Bank Trust Company Americas, New York, USA. SWIFT: BKTRUS33. Beneficiary's bank: Latvijas Krajbanka, Riga, Latvia. SWIFT: UBALLV2X. Beneficiary: Colindale, INC (beneficiary's name) IBAN LV43 UBAL 1500 1118 9800 2. Then the third one which had the name of a well known scammer but she claimed it was her girlfriend was: Snoras Bank. Address: 7 A.Vivulskio. LT-2600 Vilnius. SWIFT/BIC: SNORLT22. Beneficiary: BELYH EKATERINA. Acc. 336710671. Beneficiary Bank: AB bankas Snoras, Bank code for transfer 260101758. Intermediary Bank: Acc. 2000193009631. WACHOVIA BANK, NA (USA). SWIFT: PNBPUS3NNYC. They are all the different bank account details that I had been given over the time of our correspondance. Ekaterina Belyh is known on numerous Russian scammer sites and is the supposed Girl Friend of the person who I was in correspondence with Diana Arbenina. So make sure you avoid a person by the name of Diana Arbenina her Aunt supposedly owns a travel business in Riga. Her birthday is August 31st and she was 25 this August 31st that has just gone. If she says she has an Aunt Marina who owns a travel business and can get cheap airfares, well you will know it is her. The person I knew as Diana Arbenina, had a job in Advertising and now is working supposedly in a shop like a convenience store sort of thing. So maybe you might get either of those as her job. She starts work at 8.00am. So if you were to ask what times she works and she says she starts at 8.00am well then that is another thing. Good Luck in not getting caught. Her email address is Diana24Arben@mail.ru and her postal address that I got told was Diana Arbenina, Latvia, Riga, Mascavas Street 56-C, Appartment 137, LV-1615 her supposed girl friend's address is 220-C Mascavas Street, Appartment 137 so there is a great similarity between that. If she sends you a letter it will have lip marks where she has kissed the paper with lipstick and she will include a photo and it says to (your name) on the actual picture part of the photo. Here emails will probably be every day Monday to Friday for quiet a while and then they will drop off after a couple of months to about twice a week. I received about 43 emails and 1 hand written letter but her initial letter was: So hope all of this helps you stop corresponding with this criminal woman or very feminine man.
Letters:
Hello. I am glad to hear from you. Your letter gave me much joy. I derive lots of interesting and fascinating things from it. I feel pleased to know you liked my letter as well. I will be happy to get on with our correspondence. I work as the advertising agent. There is no I there are no time not abroad though like to travel. You asked that the young girl may wish about dream, certainly is, first of all, about loved(liked) and true to the man, and with it(him) as at us it is spoken, paradise in a tent. Besides, I saw the friend of my childhood today. She talked to me a good deal of time. She took her child from kindergarten after work. I confided my joyful news to her. I said I have a new pen friend I am enthusiastic about and take a real great interest in him. We went into the memories of our childhood when we were young and careless. One day in summer the mother of one lass took the children and set off to gather berries and mushrooms. We had such an experience so that little blobs were upon the skin. One can past laughter. We got lost and fell behind others. We were hungry and cold running up and down but in vain. The wood opened before us many mushrooms and berries that didn't draw our attention. We had longing for finding the way to home. By accident we came across the path leading us to the road then. We were so happy to be lucky. It turned out that we went 15 km from the town. Can you imagine how much this is? Two girls without water and food were in the woods. Writing this now I get laughing again. Perhaps, this is joy to have been safe and sound. My friend invited me to her daughter's birthday party. She is going to be 4. She is a lively, easygoing and funny girlie. She runs after cats in the street and pulls by their tails. Cats scratch her reducing her to tears. After calming down she has things her own way again. Once she was bought a bike but instead of riding it she stands at the yard and just stares. I am pondering over what I can give her so that she would be interested in. This friend and I have trusting relations. The main thing is that she understands my inner world. We may talk to each other on any topic. Everything said remains between us and won't go out. I think it Is wonderful to have such a friend. I hope you catch my idea. Every person should have a reliable friend. Do you have congenial people? How long have you been in friendship with them? What do you think relations should develop between people? I stop writing my letter now. I really have pleasure in corresponding with you. Bye-bye. Diana.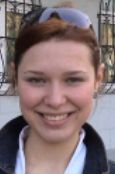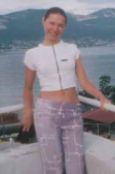 ---
Ekaterina Gribkova, (Sosnovskoye, Omsk, Russia)
Ekaterina Gribkonva, 25 Lenina, Sosnovskoye, Russia 646811 ekat@nc.ru near Omsk Russia. My name is Richard W Fraser and I am a divorced single father age 59. I am semi retired with a good savings to support myself and a wife and or children. I am in good health and I excercise daily, so I feel I am physically fit. I am a Christian man with strong belief in God. What happen was I signed up with a Christian agency then copied my information and posted on a few free web sites such as the one iMatchup.com. I was contacted by Ekaterina Gribkona at least that is what I was told. She said her service with iMatchup.com was going to end so use her personal e-mail address ekat@nc.ru, which I did and we corresponded. She wanted to meet me in person to see if we would want to pursue a closer relationship. I told her I would pay her airfare, and she would make the arrangements to get her visa and come visit me this month, October, and then she would go back home for a few months and then later would decied if we wanted to pursue marriage. So that was the plans. I sent her two money grams to pay for the airline tickets. She later wanted so called "pocket money" so she would be allowed to leave. The money gram people would not allow me to send her any more money for she was under investigation for fraud. I told Ekaterina what Money Gram people said, and she said to go to Western Union. I told Western Union what had happen at Money Gram, and they adviced that I get proof of her visa and airline tickets, and she could not or would not do that, so now I haven't heard from her since. This correspondence lasted over a month time period. Boy was I a fool! I am too trusting of people. I talk too much and I assume others mean what they say. Sigh! Live and learn. I am embarrased, but I hope to find a lady later on. I am a very trusting and not a jealous person, and I like to give to others especially a lady whom I might think could be right for me. I was a fooled by Ekaterina Gribkova or who ever the person was I was writing to. The pictures that I have may not be the same person who was writing to me. Name: Ekaterina Gribkova. Address: 35 Lenina Sosnovskoye, Russia 646811 near Omsk Russia. Job: Ekaterina Gribkova suppose to work at furniture store in Sosnovskoye. Relatives: Lives with Aunt Irina. Cousin Nadia of Moscow. Father Evgeniy Gribkova works at local hospital in delivery. I sent her two Money Grams in the amount of $800.00 and $650.00 to purchase a round trip ticket from Omask Russian via Moscow then London to Denver. She purchased the visa at Omsk Visa center. She said she would have to have travleing money in the amount of 700 euro dollars or about $850.00 American dollars. She said If I would give her that much "pocket money" she would return it to me when she arrived in Denver. I had sent her two previous money gram from Thornton Colorado Albertson's store #851. When I tried to send the third money gram yesterday, October 1, 2004 for the amount of #850.00 through money gram agent # 647 she tried to question me about the risk of sending money to Russia and there had been some problems, and I told her I had sent two money grams before, and she wanted to konw Ekaterina Gribkova's name and why I was sending the moeny. She said was I sure I wanted to do this and she said okay and gave me the confirmation number of 50395662 and the fee would be $56.00 and the total to pay at the service counter would be $906.00, and I then waited in line for quite a while and when I got to the counter Shawn the clerk told me after I was wanting to pay for my money gram, and Shawn said he got a call from the money gram people saying I could not send a money gram to Ekaterina Gribkova, for she was under investigation of fraud. I was shocked and very suprised. I ask why I wasn't told this from the beginning or when I first purchased the first money gram, and then again while I was on the phone with agent 647. Shawn didn't have a good answer. I wonder if they were telling me the truth? Anyway I need help in how and what to do to check this out? I have the receipts now and the reference numbers were: 66854428, 17461053, 5039562. 66854428 $800.00 plus $56.00 ='s $856.00. 17461053$650.00 plus $53.00 ='s $703.00. 5039562 was to have been $850.00 fee $56.00 =s $906.00, but was turn down on this one at the counter by Shawn at Albertson's store #851 in Thornton, Colorado 80229 phone 303-289-4831. Omsk Bank info: SIBERIAN MUTUAL CREDIT BANK, 63 LERMONTOVA STR, OMSK, RUSSIAN FEDERATION 644070, Phone: 0073812321326. Flight Info: Depart Omsk (OMS) 7:10 am, Arrive Denver (DEN) 6:20 PM , 9 Oct, Airlines: Aeroflot-Russian International Airlines 728 / 241, British Airways 219, Connect in Moscow (SVO), London (LHR). Omsk Visa info: OIVA. 1) Tourists visa. It allows me to come to you. I will give you a copy of my messages sent out to other agencies. See sent out information to the Money Gram people below. I have felt that Ekaterina Gribkova was an honest person and I still do, for I haven't had real proff yet that all is not okay. If you can help or give advice in how I can reslove this peacefully I would appreciate that help, okay? Thanks! Richard.
Letters:
Fri, 3 Sep 2004 03:00:06 +0400
Dear Richard! I was very surprised to get your answer! Unfortunately I don't know a lots about you, but I hope to know more! I did not have a lots experience in using computers and communicating through Internet with another people. But I hope it will work. First of all please let me know can you understand me or not. I don't sure in my English. I was not best student in our group learning English, but I hope you will understand me and may be help me to study English more. So, something about me: I am Russian woman, I live in town Sosnovskoye. It's a very small town, its situated about 3600 km from Moscow to the east. There are no much big cities near it. The largest is Omsk. And what about your city? I am curious about it, about culture of your country. I am 29 years old, my birthday is 7 July. And when does your birthday? How do you spend it? I graduated from our States University, which is situated in Omsk. My specialty is economical managment. I did not like this science a lots, but it was very popular in Russia when I was ready to choose specialty after graduating school. So, about a reason why I am here. I will write you more later, now I just would like to check does it work or not. I search for my soulmate, to share with him all my happyness and troubles. And love. I do not searching for long extended correspondence, and I dont like to play in any soul games. I need to find real man for love and I hope its you. That's a little about me and I hope to know more about you. Unfortunately I don't sure did I done all fine to send you this letter and will you receive it or not. Its will be so pleasant for me to get answer from you! I will be waiting it with impatience! Ekaterina P.S. My photos are attached. I am very curious about you. Please send me more of your pics. Even if you dont have it, please do it, its so important for me! ekat@nc.ru. Ekaterina
Date: Mon, 13 Sep 2004 02:55:07 +0400
I am so happy to get your letter and I am so happy that we becoming closer to each other. All night I thinking about you and about us, I turned on few times the light to read and reread your letters. Its very great that people can meet each other throught Internet and write letters to each other just every day which can let them know more about each other, to make fellings and empathies. I am so gald to meet you in my life and I am planning to meet you in person. I am very serious in my choice. I dont think that longterm correspondence will help us as much as personal meeting. I dont like to speak about financial, it does not good in Russia, I dont brought up such, and my parents teach me to consult with it only by myself, and if I ask someone about something, it mean that I thought a lot about wheather to do it or not. So I thought a lot about is this good or not to ask you about help, but I hope for your understanding because I do it only for both of us and for our happyness. My dear, during the time of our communicating, I understood that we have feeling to each other that I can call LOVE. Such feelings between people become not only from nothing and from lots of thought, analyses of relations, understanding and mutual help. With every day I am becoming surer in my choise and in you. And I sure those if I do some mistake you will understand me and forgive me and I can say it about myself too. Looking for our relations I understood that only destiny of my heart is to meet you in person. And I believe in mutual feelings. Flat it is apartments. My father just want to present it me. I do not know when I will do medical tests. I was at cash of airport department today asking about cost of the tickets. I dont think that tickets can cost so much! I dont sure in choice of date, but I asked about cheapest tickets that exists. Its costs about 790 US dollars. So, here is information about ticket: Depart Omsk (OMS) 7:10 am Arrive Denver (DEN) 6:20 pm , 9 Oct. Airlines: Aeroflot-Russian International Airlines 728 / 241 British Airways 219 Connect in Moscow (SVO), London (LHR) Unfortunately for that moment its really big money for me. As you know, I saved up some money, its about 100 dollars for the ticket and all money for the visa. So I need about 690 dollars more. Its really hard for me to find now such money by myself, it will take about half of year more. I thought a lot about how I can get such money to make us be together. The best idea was to sell a coin, but when I come to pawn shop, a man there said me that maximum price is about 220 dollars, that he can give me for it. He advise me not to sell this coin, because it costs more money that he can give me. He asked why I need to sell it and I told him about you and about my visit. He was surprised, and said, that I have to take this coin with me and in America this coin can cost more then 2000 dollars depending a place of selling. And he advised me to ask money from you. I dont know now where I can get such money. Will you help me with it? Its really unpleasant for me to ask you help, but I its seems I have to do it for both of us. I will take a coin and will present it to you so you can do what you want with it. I dont know a lots about how to send money but if you are interested I will ask it from my cousin, she sent money few times for my aunt from another countries. What do you think about a date of our meeting? Which is the best? The easiest for me is to take vacation at the next month. Please write me your opinion. I am waiting your responce with impatience and I hope for soon meeting. I am sure that meeting in person will be better then thouthands of letters! And I cant wait to see you in person! Most sweet kisses, yours Ekaterina.
Date: Wed, 22 Sep 2004 21:41:29 +0400
Hello my love! Thank you very much for all hot letters you wrote me and for your care! There are nobody at this world, only you and me now, you are my one man for that moment! And I am sure that my feelings are mutual. I feel, that our feelings became stronger and we getting new step in our lifes which we chose and this is my dream and most important for us! I do not want to meet so much nobody but you! I would like to thank you for your understanding, care and support, that are so great for me! I so much want for our meeting, but unfortunately, they make me a little worry. I will try to call you today! As I said, I was at agency asking and answering some questions for making visa. I bring them and show a ticket that I bought. They said, that its ok, and copy it and wrote register number of this ticket. But they said, that its not enough to leave my country and I have to have with me return ticket too. I was really surprised to hear it and answered, that I don't know about a date of my return and I would like to buy ticket at USA, when I will decide with you about my flight back. But they said, that its not a problem of visa agency and I have to show the ticket to American custom, else they will not let me to enter your country. Its a rule of American Embassy and everyone know it so I have no another way. The ticket costs 650 dollars and I don't know what to do. I am very worry about it and I would not like to make you worry too, but its seems I have to do it, I have no another way. I was very worry at visa agency and I asked why they did not tell me about this first day, they said that everybody knows it. As they can do is to fire that manager that did not tell me all information. I think whole day about this all, but I understand, that we anyway have to buy it. Thats really unpleasant for me to ask you about any more help, but I have not know any more but you and this all is necessary for us, for our luck. I sure that we are both worthy for it. My love, if you wishe we can change a date of this ticket when we shall be together or we can sell it in your country. I asked about it, they said, that they will return us 95% of costs of ticket. Please write me what do you think? How to do the best? I will do anything for you and for us for our luck but, you have my heart, now I am a little worry. I am waiting for our meeting with so much impatience! I love you, forever yours, Ekaterina

Date: Sat, 25 Sep 2004 18:39:38 +0400
My sweetheart Richard! I have great news! Today I bought return ticket, and it seems I have all necessary for us to be together! I have foreign passport, ticket to you and return ticket! This is informayion about my flight again: Depart Omsk (OMS) 7:10 am Arrive Denver (DEN) 6:20 pm , 9 Oct Airlines: Aeroflot-Russian International Airlines 728 / 241 British Airways 219 Connect in Moscow (SVO), London (LHR) This day is one of the best days that I had! I so happy for all your care! The smile does not leave my lips! I love you and waiting for better day - day of our meeting in person! Please write me more about weather at your country, what is temperature there? Which clothes people wear there? I just would not like confused when I will come to you! How often rains there? Today I asked at cash of airport department what I can take with me and what I cannot take with me. I cant take food and animals, and this make me a little sad, but this is not a problem. The reason is I will not meet you with my hamster. But I will meet you later with him. So, how is your mood today? What do you think about our meeting? Do you prepare for it? Do you have video cam, I just dreaming to make film of us, about how we spent time together and then bring and show it to my father. What is your opinion? I will take pics of me and my father with me to show it to you. I have no much pics, but there are pics where I am very young, and at school. Do you have such pics? Its very interesting for me. Dear Richard, I heard that this airport is big enough. I guessing how we shall meet there? How do you think? Please tell me your plans and plans for our first date of our meeting. I so dreaming about it! I would like to take coin that I found and to present you. I hope, you will like it! So, I will go to my aunt and will tell her about news, and I would like to speak to my father too! Happiness is overflowing me! Kisses, yours Ekaterina.
I ask Ekaterina for a copy of her visa and airlines tickets, and this is what she told me below: Date: Tue, 28 Sep 2004 00:40:57 +0400
My love, You correct information about my tickets. I cannot send you a copy of visa because I have no it now, also my tickets are in agency. I never assumed that my life so strongly to change. When I have found out you the world around of me began more colourful. Every day we become closer each other. Every day my feeling to you grows. I feel that we have been created the friend for the friend. I am ready to shout all that I love you. Earlier I did not know that on light there is such big love. It seems to me that I searched for you all life. Each person on the Earth should feel it. I am grateful to destiny that it has connected our hearts together. Now I think of that time when I yet did not know you. My life did not differ from life of other person. And I do not know why the destiny has made to us this gift. Such chance is given to people only once in life. And I am happy that we have not missed it. Your Ekaterina.
Date: Wed, 29 Sep 2004 00:24:20 +0400
My love, I am so much in love with you! You have made all my dreams come true! Because of you...I feel like a new person who had been born all over again. I do many things to get ready for my flight. I will give all my documents (also visa and tickets) October, 6. I will go to the airport the morning of October 8, 2004. Yes, I have about a 24 hour trip. Oh my beloved Richard...we must get to each other soon! The sooner our happiness together begins...the longer it will last. We will have so many happy years together! Thinking of you makes my heart explode from my chest sometimes. You are there in my dreams when I close my eyes. I close my eyes and think of the times when we will fall asleep holding each other and wake up the same way! We shall wake up each morning with sweet passionate kisses and caresses. You will make such a wonderful husband. I hope we shall have a beautiful life! Your Ekaterina.
She is talking about Western Union sending the $850.00 so called "pocket money" below: Date: Wed, 6 Oct 2004 01:36:39 +0400.
My Love Richard!!!!! I am very sad to hear about all problems. I so sad but I cannot give you information that you need. I am sure Western Union will send money without any papers. They must to do them work but not make problems for people. I woke up this morning and rolled over to give you a big hug and a kiss. It was the most wonderful dream I have ever had. You and me were laying next to each other in each others arms. We were kissing each other with so much passion, this was such a real dream it woke me up and I found my self looking for you my heart was pounding so hard I thought you were really here with me. I know it wont be long and we will be together like we want to be. We will be able to feel this passion for real. A dream like this makes me miss you even that much more. And I already miss you so much now. I can't wait for to be with you so our hearts and soules can be united together as one for the rest of our lives. I LOVE YOU VERY MUCH!!!!!!!!!!!!! And my Love for you grows stronger every day. I know it is just a matter of time and we can be together and show each other the love we have for each other. I MISS YOU VERY MUCH!!!!!!!!!!!!!!!!! Your Ekaterina.
Date: Wed, 6 Oct 2004 19:39:45 +0400
My love, Today I have visited agency and I have told that I have no pocket money. The manager has told, that I cannot get aboard the plane without this money. I do not know what to do! Tomorrow I shall try to sell some my furniture. But I do not think that it will give me much money. I love you, Your Ekaterina.
Ekaterina <ekat@nc.ru> wrote: My love,Of course I will come to you! I cannot change my feelings for 1 day!700 euro it is about 850 dollars. I have thought many times how itwill be when we finally get to meet! I imagine we will not be able tostop holding each other for a long time. I imagine when we first kissthere will be fireworks going off in my head like never before. Isometimes think about how it will be and I get really anxious and warmall over. I know that you are the one I have hoped to find my wholelife and the experience of being with you will be one of the mostprecious memories I will ever be able to get. I will want to gaze intoyour eyes, into the depths of your soul and share the love I have foryou forever. I will never want this moment to pass. I am counting downthe seconds until that me will come.Your Ekaterina
Ekaterina's requests for pocket money. Ekaterina <ekat@nc.ru> wrote:
My dear Richard!I so glad to receive your mail, which I just have read. Your letters always bought (biulds up) up my mood, its very great, that loving each other people can show their feelings through e-mails, we can understand each other and becoming closer, knowing each other better, but its not as great as personal meeting! You have so much questions!!!! My dear please forgive me, my English is not so good to answer all! We will talk about it when I arrive, Okay? My love, I just come here from agency. I paid for return ticket, ticket to you and visa. If you wish, we can change a date of return ticket when we shall be together, I asked about it. I filled today questionnaire for people leaving to USA, and read all information and things and documents that is necessary for anybody going to America from Russia. I showed them my place for living here, there, my work,social status and a lots of others. At the end of this blank was question about pocket money, and there was showed that at least I have to take with me at least 700 euro (dollars). I was very surprised about it and I asked manager what does it mean!? He answered that this money called "Pocket money" and everybody who leaving Russia knows it! I asked why I have to get such sum with me. He answered, that its not rules of Russia, its rules from USA, and this sum is necessary to they be sure that visitor can afford living at USA with any situation and was on the tramp. There is such sum in any country to enter but in every country its different. I asked what I have to do if I don't have such money? Its seems I can be detained and not allowed to enter your country. Even in Russia they allow visitors with sum only. I tried to say him, that I already bought ticket and paid for visa, and I have all documents which is necessary to come to you and you will help me to be at USA. And that I have no such sum of money. But he said, that he cant help me and the rule is the rule and its not his rule. I asked to talk with director but it did not make results. They said, that if I have no chance to borrow such money, the best way is to ask money from you and then to return it when I will be with you. I will notneed any money when I will be returning to Russia. Thats all makes me really sad its seems I cant do anything without your help once again, so I have to ask you once more. Its not pleasant for me and I feel very confused, but I am sure that its all for us only. I will not have to spent this money so I will back all it to you. Also I spoke with my father I asked can he borrow money for the house, but he said, that this house under privatization and it could not be borrowed and borrow money for his flat is impossible. But he began to prepare documentsfor ability to sell house, and I hope we shall not have such problems soon! My love, I am so tired from all this problems and only one thing that I would like to to fall in love with you and to fall in your hugs, I would like to meet you and enjoy your society. Please write me your opinion! I waiting your response with impatience and I think we have to do all for our future. Kiss you sweetly and hug you,yours Ekaterina.
Web site: http://ww4.imatchup.com/mail/view.html?id=94385109
http://ww4.imatchup.com/index2.htmlekat@nc.ru
Dear Ekaterina: I got your response from iMatchup.com. Your message below: http://ww4.imatchup.com/mail/view.html?id=94385109&frominbox=1
Message from: krasivo.
Hi! I just saw your profile and I like it. I would like to correspond with you! I do not play in games and I search only serious relations. My name is Ekaterina and I live in Russia, I am 29 years old and I am ready to settle down now. That's why I am seeking for serious partner for my life. I would like to know more about you. Write to me if you are interested, if you wish, I can send you more my photos with me! Please do not write to my profile, we will able to correspondence only if you write me on with e-mail: ekat@nc.ruIf this is your message please respond back to my e-mail address. Richard Fraserrichard_fraser2005@yahoo.comekat@nc.ruEkaterina Gribkova35 LeninaSosnovskoye, Russia 646811 Richard W Fraserrichard_fraser2005@yahoo.com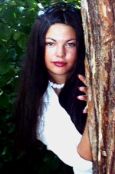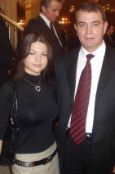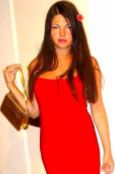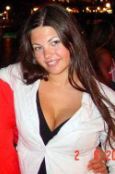 ---
To send your own story, please click here
Click here to support Black List
READ ALSO: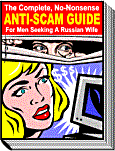 Met a Russian woman over the Internet?
Thinking about finding a Russian wife?
Russian woman wrote to you? Don't move any further until you read The Complete, No-Nonsense ANTI-SCAM GUIDE For Men Seeking A Russian Wife. Too many men were caught up in a scam and lost great deal of money - want to be one of them? Ensure your safety and peace of mind - read the ANTI-SCAM GUIDE.




Scam-free search - GUARANTEED! - Looking for somebody truly special but have had it with scammers and scam agencies? Let professionals to do the job for you.

The Universal Crib On Finding A Russian Wife - the most compressed, step-by-step guidance on finding, courting and marrying a Russian woman.
Dating Scams - The real picture of international introduction industry
Reliable Dating Services - where to look for a Russian wife
The shocking truth about Russian Brides - E-book by Marina Smiley. Find out things about Russian brides that marriage agencies will never tell you.
Why Russian Women? - If you decided to find yourself a Russian wife, you would be inundated with questions of the type "Why Russian Women?" from everybody you cared to share your idea with. Surprisingly, every Russian woman you are writing to will ask the same question: "Why do you want to find a wife in Russia?" After a while, you might start questioning your own sanity in doing the thing which everybody, including your dates in this Internet rendezvous, consider strange enough to request explanations. Here you will find some ready-to-use answers for your family, friends and Russian women you are writing to.
Cheap Russian Translations - Russian-English/English-Russian translation: fast and comprehensive. You are not sure she understands what you mean? Translate your letter to Russian! Reasonable rates and highest quality.
---

JUST RELEASED! New E-book by Elena Petrova:
"How To Find And Marry A Girl Like Me"
Comment from the reader:
"This may well turn out to be the best purchase I have made... I hope not too many of my competitors find this book!"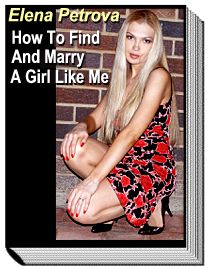 Discover how to find, court and finally marry a beautiful Russian woman!
This is the only book written by a beautiful Russian woman married to a western man - for more than 5 years! - and who is also the owner of a highly successful Internet dating agency.
Find out once and forever what Russian women are really looking for, why they are looking for it and how you can give them exactly what they want!
Get responses on your letters to beautiful Russian women - 9 out of 10, GUARANTEED!
With "How To Find And Marry A Girl Like Me" you'll learn knock-out techniques that will instantly boost your success rate in dating Russian women - online and in real life. You will have more beautiful girls that want to be with you than you can handle!
And not just ordinary girls! They will be beautiful, intelligent, but most of all - honest and sincere! You will be the one to take your pick!
STOP wasting your time and money in search for a Russian wife... Get it done - painlessly, easily, and certainly! Moreover, have lots of fun along the way!
Yes, you too can marry a girl like the one on the picture... Click here!
---
New e-book by Marina Smiley (the author of famous "The shocking truth about Russian brides"):

"Sex and Love With Russian Women"

Discover where so many guys fall short when visit their girlfriends in Russia;
Learn how you can dramatically improve your success with Russian women and win when others fail.
Most intimate questions answered by a Russian woman - Medical Doctor.
---
Comments, suggestions? We want to hear from you!
Click here to Contact us
Seek a reliable Russian Dating Agency? Why not check www.elenasmodels.com - RECOMMENDED
---