---
Julia 247 - North West Club (Arkhangelsk, Russia) - 2
Beautiful idea, I am very happy to have found your website. I hope you will continue with it. Regretfully, it is necessary in this world. I have been scammed by Julia 247, send by the following address nwc_dating@fromru.com After filling in the two words of this address I came on your page and found the same letter addressed to someone else.
Greetings
JB from the Netherlands
---
My name is John, single male, Joined kiss.com 1 year ago (good site; met a lot of women). One Russian girl contacts me, within the 5 month period I really started to fall in love. I sent her 300.00 Western-Union. I deleted all her letters but read the letters here and you basically know what mine were like. I have read almost almost all the letters from many people on this site and others, and have come up with these clues that about 90 % of scams use words like:
1 Trust or -We must trust each other
2 Love or Yes I do love you
3 Money or I need 300.00 more or less for Visa
4 Marriage or I want to marry and have a good life for our children
5 Necessary or It is necessary to send the money soon
Those are photos of "Maria Rogova"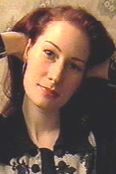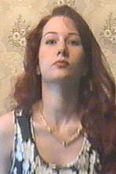 ---
Myriad of Hearts (St-Petersburg, Russia)
I ANSWERED A PERSONAL AD FROM A WOMAN, IRINA KISELEVA (acct K-104), WHO REPLIED VIA THE "MYRIAD OF HEARTS INTERNET CLUB" AGENCY, ST. PETERSBURG, RUSSIA. THE WOMAN AND I AGREE TO MEET IN MY HOME. SHE WAS SCHEDULED TO ARRIVE THIS PAST WEEKEND, SATURDAY 08/11/01 OR SUNDAY 08/12/01, AS PER THE AGREEMENT WITH HER AND HER AGENCY. SHE WAS PARTICIPATING IN A "STUDENT EXCHANGE PROGRAM' THAT THE AGENCY WAS HELPING HER WITH IN TERMS OF SECURING A PERSON/FAMILY WHO WOULD TAKE HER IN. IRINA CLAIMED THAT SHE WAS INTERESTED IN COMING TO AMERICA TO STUDY AND FIND A "SOUL MATE" THAT SHE WOULD EVENTUALLY MARRY. ALL SEEMED WELL UNTIL AFTER I MADE FINAL PAYMENT. I MADE TWO PAYMENTS; THE FIRST IN THE AMOUNT OF $1850; THE SECOND IN THE AMOUNT OF $1,200.00. IRINA WAS SUPPOSED TO TENDER TO ME THE $ 1,200.00 UPON ARRIVAL, AND THE REMAINING $ 1,850.00 WAS TO BE PAID BACK TO ME AFTER SHE WAS HERE FOR TEN DAYS. THE MONEYS WERE SUPPOSED TO COME FROM THE US DEPARTMENT OF EDUCATION THROUGH A SPECIAL GRANT/STIPEND THAT SHE WOULD BE GETTING. IRINA AND THE AGENCY CONTACTED ME BY EMAIL AND TELEPHONE (THEY ALWAYS CALLED ME) EVERYDAY, SOMETIMES SEVERAL TIMES PER DAY AND NIGHT, UNTIL ALL THE FUNDS WERE PAID. AFTER THE MONEYS WERE RECEIVED IN FULL, IRINA AND THE AGENCY DISAPPEARED. I HAVE MADE SEVERAL ATTEMPTS OVER THE PAST SEVERAL DAYS TO CONTACT THEM BOTH IN AN EFFORT TO RECOVER MY MONEY, BUT TO NO AVAIL. THE AGENCY'S EMAIL ADDRESS IS NOT WORKING ALL THE SUDDEN AND THE TELEPHONE NUMBER GIVEN TO ME BY IRINA ALSO STOPPED WORKING. I HAVE TRIED CONTACTING WESTERN UNION AND MY CREDIT CARDS (I PAID WITH CASH ADVANCES FROM MY CREDIT CARDS AND BANK) BUT THEY COULD DO NOTHING ABOUT THIS. I AM VERY UPSET, DISAPPOINTED AND ANGRY AT WT THEY HAVE DONE TO ME AND WOULD LIKE TO PUT A STOP TO THEIR SCAM AND PERHAPS FILE AN ACTION AGAINST THEM FOR INTERNATIONAL FRAUD, BUT I DO NOT KNOW WHOM TO CONTACT AT THIS TIME. PLEASE SEE WHAT YOU CAN DO TO ASSIST ME IN GETTING TO THE BOTTOM OF THIS MATTER. PLEASE ADVISE ME AS TO HOW I CAN PROCEED. THANK YOU FOR YOUR ANTICIPATED SUPPORT AND COOPERATION IN THIS IMPORTANT MATTER! (P.S., PLEASE FEEL FREE TO CALL ME AT ANY TIME OF DAY OR NIGHT.)
YOURS VERY TRULY,
JORGE LOPEZ
240-305-5358
Letter
Hello Jorge!! YOU ARE VERY HANDSOME!!! thank you for very nice letter. ) I sorry be late with reply and thank you for reply to my ad. I speak and write English pretty good, but not perfect. I learning very fast. I do not have a computer at home. I can not click to hyperlink either. I use agency to send and receive e-mail. When I not able to reply quickly, this is problem. Please not worry about I forget to you ok. J I am look for a sincere relationship. Men my country are mostly drunken or do not want to make commitment and to have family. I only 23 years, but I very mature and I help with home of my parents and my brother. I would like to start a new life and have family of own. I speak to my parents and they wish best for me, but don't believe its possible sometime. They think I silly find love on internet. They think no man in other country will send for me and that man only to play internet. This has not stopped me. I have talked with agency that can make for my documents, visa, tickets, etc. This my dream! I told my father of what I planning, and costs, and he cannot afford for costs. Agency can make for me visa and plane fair under special program. It called foreign student exchange. I would be allowed into foreign country for 3 months. If I become married or obtained a work visa, I could stay longer or always. I don't want to scare you away with marriage of course. But I want to be sincere and honest with you of what I want in life, and hopefully, we match. I think i need only look in you eyes once, and I think then I know for sure :~). If it not work for us, I would atleast make chance meet you and try make a life with you. I would really like to come to you country and meet. I have friend who put ad like this and meet for her soulmate. She then fly to other country to meet he. They since become married and plan for family together. They live California. I would love for this to happen me. I am very dedicate, honest and treat love with great sincerity. I hope that you sincere. I would love to meet you. I have enclosed a photo for you. If you are sincere with meeting me and want woman with good value and respect to you, and to know her place as woman, I would hope that you reply to me again, and that we can meet very soon. I don't have any doubts or hesitation about my choice to make this step in life. I know this what I want. And if could, I would leave today to meet for you if I could. :~) I also ask if you interest me, that you not to write for other girl. I not very jealous, but I give all my heart and effort to decision and want same from partner. I am client at agency that can help me with leave Russia. I have cousin who work this agency and am wait for hope to meet my soulmate and leave very soon. Once my account pay, I can leave less 2 weeks. J So you see how to serious I am I hope. Please send me you address, and all name. I would like try send to you a souvenir from my country. Where exactly you work? Do you have telephone i can to call. I do not have phone, but I may have chance to use friend's phone or phone at agency. send you number and I will try to call you soon.
Love Irina,
_________________________________________
Myriad of Hearts Internet Club
Gerasimova St 101, 2nd floor
St. Petersburg 871331 RUSSIA
--------------------------------------------------
Svetlana Morozova
Account Manager
--------------------------------------------------
Pavel Alekseev, President
Please contact Myriad_of_Hearts for more information
---
Natasha Jitinkina (Yoshkar-Ola, Mari-El, Russia)
Same story, same photos, but I did not believe her. But I did send her some money, as a small token of my good will. And I have some new email address.
Letter
Hi my love Peter! I have sent you the letter with the information yesterday. You to not receive it? Well, I shall write to you once again. I to study I (find (from) all concerning my arrival (achievement) in you by mine love. I - necessary need (requirement) visa and passport, and also document concerning insurance and hospital. It costs 342 $ USA. I am written down on reception in the transport company on Monday. I shall give back back return documents concerning registration. To me to require(demand) by Monday the next week to pay my documents in embassy. You will send to me this sum of money by Monday? If it is possible, by Friday of this week, then I will not need excitement about payment in time! My documents will be registration in time 10 days. It is good? I shall take the tourist visa. For arrival for 90 days. It I to think very well for us with you mine love! I have given you the address, on which you through branch bank Western Union should send me money! I very much to want as soon as possible to arrive in you my love. I to give you the address of my bank, where there is a system of remittances Western Union. Mine a complete name Natalya Jitinkina. My home address. Russia, Republic MARI-El, city YOSHCAR-OLA, street Chkalova, house 32 an apartment 78. I give you the address of bank! Guta Bank, Street Vashskaya 8, city Yoshkar-Ola. I also need your exact complete name without mistakes and address of the nearest urban airport. It is very important! I very much to wait on your fast answer! We have not enough of time. Your forever Natasha.
Her address:
luchic75@amigos.com
She replied to an add in which I was looking for a pen pal to help learn Spanish. I personally believe that she is a doctor, or at least very intelligent. this person is very evil, for I rapidly asked her to simply be honest, stating, that I had disposable income, and would assist her, but I did not believe her claims of love or her intention. No hard feelings for her, but I am concerned for the next guy.
Peter
---
Marina Fedosina aka Natasha Kuvshinova
This woman is now going by the name of Marina Fedosina as listed in Slavonic Beauty (url is http://agenstvf.boom.ru/ ). People should be aware that she has apparently changed her name.
Charles
---
Olga and others - ads on Excite
Hi, Lately in personals.excite.com you can find the following ad:
My name is Olga. I enjoy my life, my family and my friends, but it is not quite complete, because it is missing that someone special. I am honest, passionate, affectionate, spiritual, intellectual and optimistic. I would like to meet somebody who shares those qualities. I love laughter, so a sense of humor is definite must in partner, but knowing, when to be serious is just as important. As for me, I have been told that I am sexy, because of my smile, my eyes and my legs. I am seeking a soulmate, who has similar interest as I. A wonderful guy who is very intelligent and handsome, strong and healthy in both body and soul. I want to find someone who is not afraid to look at me, with all of his heart and all of his soul, and I will know it, when I look into his eyes. I am seeking a man for long-term relationships and marriage.
This part is the eye-catcher:
"I am sexy, because of my smile, my eyes and my legs. I am seeking a soulmate, who has similar interest as I."
The ad is always the same except for the name and the picture. The woman are too beautiful to be true. It is probably a scam, but I have NO evidence that it is. However over 20 girls with an identical ad? Fishy me think!
Lawrence
---
I have to admit, Olga Sivkova pushed all the right button to hook me and did until me and a friend found this web site. I found the same pictures and letters she sent to Todd. I did get taken for her visa cost and a flight cost. We found this site one day late, so if you get an e-mail from Olga Sivkova or any girls from Russia, check this site out, it helped me
Greg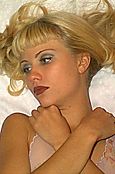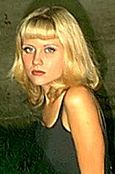 False "visa"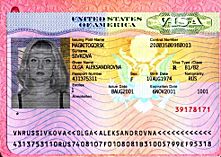 ---
Rondez-Vous agency / Aleksandr Kuleshov (Lugansk, Ukraine)
Rondez-Vous agency in Lugansk, Ukraine is a total scam. The "director" Aleksandr Kuleshov is scamming people by posting fake girls on Adultsingles.com. "Alla Vasilenko" is the name of the girl he used to scam me. Photo attached. Please post this on your site to keep other from being scammed like I was. The rest of my story is typical. He uses Western Union to receive money in his name, as a travel / translation / computer service for the girls. I confronted him and have received no response to my many letters. Warn anyone against contact with any rondez-vous.XXXX.com, randevu.XXXX.com or randez-vous.XXXX.com e-mail addresses or contact with this so called Alla. If you correspond with anyone at this address you will be corresponding with Aleksandr Kuleshov, not a woman.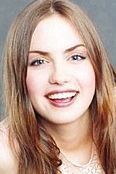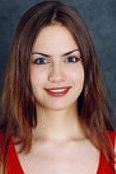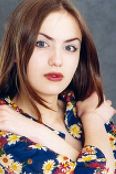 ---
After reading your page 24 about Svetlana Gausheva - she is without doubt a scammer. I haven't been scammed by her - but i know that she was about to. She advertised on her Absolutelyagency.com asking for $900 for her little sister's operation. At my first thoughts, is she a scammer or not? So, I am going to try and pretends to make an interest in her - I asked her what is the matter with her little sister and am happy to pay the $900. Her reply wasn't a genuine one. She wrote "My little sister hurt her leg..I don't know what it is called...you know..she cannot go out there..." And she put her Western Union details in for me to fill in. I replied: "I will be very happy to meet you and your little sister and I will bring the $900"
NEVER RECEIVED ANY REPLIES!!!
RED FLAG:
she doesn't know about her little sister;
never received any replies when I offer her to meet her and her sister;
Western Union details - her name but not her parents (bit strange!)
Thank you
I am very shrewd about scammers
Graham Johnston
---
Svetlana Ivashenko (Nikolaev, Ukraine)

Scammed me, and I want everyone to know about how. She said her parents are dead, and her boss will pay her only if she has sex with him. The story is she is now homeless because she couldn't pay her rent, and the landlord put her out. She needs 336.00 dollars to pay him. Her only friend's husband doesn't like her, so she is sleeping in a post office. By the way the post office has a Western Union office. It is at Nikolaev, Lenin Street in the Ukraine. I was amazed at the speed she was able to find a Western Union office here in the United States that I could go to.
Roger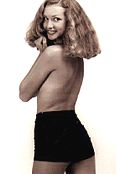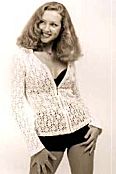 ---
Svetlana Popovich - aka Mila (Odessa, Ukraine)
Svetlana Popovich
Birthday 20/11/1971
st. Shilova 40, apt 17
Odessa 6500, Ukraine
I am Louis Ducoudray, architect, beach hotel owner in Costa Rica, early 50's. I met Svetlana -she uses Mila for a name- at www.Adultsingles.com her ID: D327706. And is also at www.absoluteagency.com ID A868194. I became suspicious since her second letter. I have also reported this scammer to Adultsingles, ukramur@yahoo.com and Western Union and to Costa Rica police authorities. In Mila's first letter, June 20, the introduction is identical, a literate copy of profile A551203 in Absolute Agency. Mila says:
I am not perfect but I do like the person I have become threw all my mistakes. Over the last few years now I have been serching for my soul mate just have not had much luck so I decided to try the marriage agency. Someone who is sincere understanding and kind. Someone who will take me and my faults and will let me see theirs. Someone who will walk with me down life's road, while we go threw and the wonders and trials that life has to offer loving each other all the while.
Absolute Agency Profile A551203 Oksana, says:
I am not perfect but I do like the person I have become threw all my mistakes. Over the last few years now I have been serching for my soul mate just have not had much luck so I decided to try the marriage agency. , I want someone how is romantic, pasionate, vey affectionate as I love to hold hand and cuddle. Someone who is sincere understanding and kind. Someone who will take me and my faults and will let me see theirs. Someone who will walk with me down life's road, while we go threw and the wonders and trials that life has to offer loving each other all the while.
Absolute Agency Profile A551223 Zanna says:
I have a strong sense of adventure, and I LOVE to travel and see and try new things and meet new people. I enjoy learning about other cultures. I am very spontaneous, but can also plan ahead when the situation calls for it. I definitely have taste for and appreciate the finer things in life such as good food, wine, music, and most importantly, good company., What am I looking for. Love, true love
Mila's 3rd letter June 26, Mila says:
I have a strong sense of adventure, and I love to travel and see and try new things and meet new people, but unfortunatelly didn't get much of a chance to travel in my past. I enjoy learning about other cultures. I am very spontaneous, but can also plan ahead when the situation calls for it. I definitely have taste for and appreciate the finer things in life such as good food, music, and most importantly good company.
I sent a copy of these paragraphs to Natali Romanovskay, manager of Ukrainian Marriage Agency, ukramur@yahoo.com:
"I'm sending you an attachment of extracts of Mila's letters and those of another lady. The paragraphs, as you can read for yourself, are identical. Do you have an explanation for this, Natali, other than SCAMMING?"
I also saw her profile and photos at Ukrainian Marriage Agency (Amour of Ukraine) ukramur@yahoo.com, whose manager is Natali Romanovskaya. Svetlana appears as Mila 251. I sent Natali $60 by Western Union MTC 0372392776 08/06/01 which Mila asked for correspondence. I wrote this message to Natali July 6:
"Natali: I'm addressing you as manager of the site. Read this message carefully, please. As you have confirmed, I have paid $60 for correspondence with Mila#251. I am notifying you, in advance, of a very serious complaint. The letters of Mila are full of inconsistencies (they lack continuity); they are contradictory and lack coherence with her other letters. I have all my letters and her original letters to prove it. It is completely evident I am being SCAMMED! Her letters are not replies to mine. Since you are the manager of Ukrainian Marriage Agency, and you have received my $60 through Western Union, I urge you to take immediate action on this matter. Either Mila#251 is a scammer or someone on your site is doing the scamming in Mila's name + photos."
One of Natali's replies:
Hello Louis,
I have to tell you that I have no right to look at what the girls are writing in their letters in order to excplane you this situation. I have no control over it and you have to understand it. I can tell you for sure that Mila does exist and I have seen her with my own eyes. And there is no way that someone else will use her letters to write instead of her. We are pretty aware over here that there you can got into much problems with scaming over the internet so we would never do something like this. So, what you get from Mila is complitelly comming from her. So, if you have any doubts about her letters, you be better ask her if you have any confusuions with the letters.
Best Regards, Amour 2000.
I followed Mila's game, completely aware she is a scammer and invited her to Costa Rica. This is an extract of one her 16 letters, July 13
Dear Louis,
I write to you tonight with my heart in my hand, it is an russian way of saying that I am being very honest and true... I would love to meet you in Costa Rica. I think it would be right and wise to finally meet each other there... To get done my international passport for two weeks will cost 250 USD... I have been talkign to the travel agency today and they told me that the best and easyest way for me to get visa is through the travel agency, it will cost 380 USD and will be done in two weeks... And we will be able to buy a plane tickets from this travel agency with the student discount, which should be 370 USD two ways. Will you be able to take care of those excpencives?
I had previously informed her that visas for Costa Rica are given immediately at the Moscow Costa Rica Consulate, for FREE!
An excerpt from her August 20 letter:
"I don't know the exact price to Costa Rica, I think it is about 850$ from Odessa, but 370$ with the student discount. It is AeroSvit airlines. The name of the agensy is ODESSA-AIRPORT. That is airport darling Louis, they don't have an e-mail address..."
After these and other letters, it was absolutely clear she was trying to scam me for +$1000. No Aerosvit airline flies into Costa Rica, and the Odessa Airport is not a travel agency! I wrote several times asking about flight route, to please explain her contradictory information and today, August 22, she sent this letter:
Dear Louis,
Thank you for all your sweet letters, but I really cannot handle all your questions to me. I have got tired Louis of that empty talking. Everything that I said in my letter regarding the prices it correct and I am not going to excplane you so many times why is this and why is that. So I think we be better to stop here, because we will get to nowhere. Wish you luck, Mila.
Here are some of the photos they use. Beware, they are really beautiful (the photos). Thanks for you wonderful service and congratulations on your work!
Louis Ducoudray
Costa Rica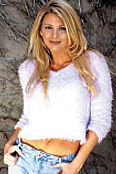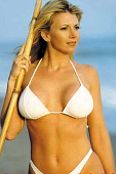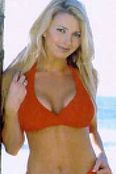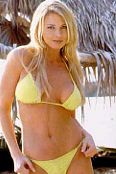 ---
Tatyana (aka Natalia Kuvshinova)
Hi Elena, My name is Darryl, I wrote you last week about a Tatyana (aka Natalia Kuvshinova). After reading many of the other stories on the blacklist, I realize as much 40% are the same person(s). Only the names and pictures (and address's) are different. This person(s) makes a good living from American men. I'm sure you will receive even more letters about her, him or them by the time this one arrives. I'm not sure how to go about it but this person must be stopped. I thank you for providing a great service and saving me from falling into the web.
Darryl
---
Tatyana of Irkutsk (different pictures) - Kusnetcova?
I am a single American, 34 who placed an ad on Matchdoctor.com last month. I had corresponded with this Tatyana from Irkutsk for about a week and a half. I never sent any money since I suspected a scam when she failed to answer personal questions. After reading Daryl's second letter he had received, I went back and checked my second letter, it was verbatim right down to the Rottweiller. Only a few name changes were different. This person did however send different pictures. The address is different from the one sent to Daryl. I've added a couple pictures since it may be multiple scam of some sort.
Dale

Tatyana (Kusnetcova?)
Russia
678876 Irkutsk
Koneva st. 23-98
This is letter #5:

Hi my liked friend!!!
I am very glad to receive your letter. I hope that you can understand my letters. Today At us solar weather and it is very wonderful. I have pleasure in life it Your letters. Yesterday with me there was a unpleasant case. When I went evening from The Internet - centre me nearly was brought down by(with) the machine. The driver was drunk. I was in a shock. I All night could not fall asleep. Well that a number(line) was the parents. They have calmed me. I went in church and only there to me became quiet. I christian and always go in Church. Our churches very beautiful, walls and ceilings a list by icons, everywhere The candles cost(stand). In church so quietly and there I always I find a peace of mind. To me to like to listen as sing songs, as read Prays. I love your letters, when I read them I feel as we approach. We are Far apart. But it does not prevent our dialogue. Though I already thought, that It is absolutely enough of dialogue through the Internet not to understand each other more strongly. What you think of it? I would like to see you not only on a photo. But I not I know as it probably, because we very much far apart. You to like me And I think that our attitudes(relations) can be deeper. I do not know as to explain It is by words. I simply feel it. Your letters do(make) my mood high. To me It becomes joyful on soul. I want to ask you to write to me your address, I am possible I shall write to you the letter. I I do not remember you wrote whether or not, I can not keep your letters, because them can To read somebody another. My address Russia, 678876 IRKUTSK, koneva st. 23-98 But I think that it is not necessary to write to me because can has stolen The letter, and would not be desirable for me that who knew that about that about what we with you we think. I I hope you me understand. I shall wait your letters and I hope that you will write to me soon. I think that Sometime we shall meet you. I would like to arrive to America, to meet With you to look as you live. I want it because I begin to understand that Between us there is something greater than the friendship seems to me that this
feeling Trust each other, it seems that it is love, you seem that to me too Feel it. I wait for your answer, it is very important to me to know that you think of that that I have written
To you. Your friend from Russia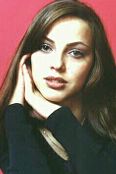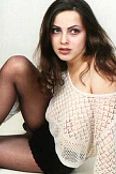 ---
I came across her profile in Kiss.com. She also has a profile on Friendfinder.com, and many others (can't remember all of them). Her photo is always the same (a photo of her is attached), and in her profiles, she always provides a link to her website. I sent an introductory message to her on her personal website, and received an auto-reply requesting $50 via Western Union, "to continue our correspondence". I replied by requesting that she send snail-mail via postal service, and of course she never replied. There are many profiles like this, so beware guys...
Terry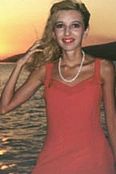 ---
Yulia Sukhodoevskaya (Severodvinsk, Arkhangelsk region, Russia)
YULIA SUKHONDYAEVSKAYA
Severnaya Street, 9-27
Severodvinsk
Arkhangelsk region
Russia 164509
I am a 43 year old single man who has never married. I met Yulia just before the New Year through a reputable agency. After a few months of using regular post for our correspondence I grew weary of the waiting and suggested that I would help her have a telephone installed in her apartment. I also sent her information on where she could find internet access in Severodvinsk and suggested she try e-mail. Suddenly she had a co-worker/friend that would let her use her e-mail and she was willing to hook up the phone if I was willing to help. The cost would be $140.00 but the wait would be 10 years. To avoid the wait the cost would be $580.00, and her uncle was willing to pay half. I ended up sending her about $450.00 after which she informed me that the phone company would not be able to install because her apartment building wasn't wired for it. I suggested she have it installed at her mothers house. Again it could not be done. She suggested that she use the money to get a visa so she could come and visit me. I told her that this would be next to impossible and to not bother trying as it was a waste of money. Meanwhile, I had grown suspicious after the phone did not get hooked up and one day on a whim I put her name in my search engine and was surprised to actually get a hit. There it was, a letter describing her as a scammer on 1st-international. I was shocked and started looking for other postings, I found her photos at http://members.tripod.com/warningwithlove/profiles5.htm, she is #89. So I was now convinced she was a scammer but I did not let her know that I had found out. I tied to get her to send my money back with no results. She told me she had to go on a work related trip and would e-mail me in 2 weeks. After 3 weeks I e-mailed her to find out what had happened, during this time she had also rejoined the agency that I found her on using a different photo. So I now confronted her with the evidence and she replied stating how sorrowful she was and that she would save money from her salary to send back to me (she supposedly used the money to apply for a visa through a travel agency that was rarely turned down but it would be a difficult procedure to have them refund the money). I told her that I didn't believe her story and demanded she send my money back, which she has not, so here I am. I had informed the agency once I knew she was a scammer (they already knew and had removed her from their listings and had credited my account for her address, but they do not inform members when they find a scammer). I also informed them of her second photo and they removed her immediately. I do not have a scanner or the computer savvy to send her letters but you can see her photos at the link above which someone else has provided. Also the e-mail address that she used was olgapetrova@yahoo.com. I will be reporting her to all of the suggested sites.
Robert
---
To send your own story, please click here