---
Ekaterina Polushina (Cheboksary, Russia)
Hello Iīm a single 31 year old male nurse from Austria. I had conversation with her in August/September 2003. I found her on a single-website (sorry, donīt know which one). Her name is Ekaterina Polushina, in Cheboksary (In a report posted on Feb. 20, 2003 she was from Yoshkar-Ola). Her mail was polushinae@mail.ru She fell in love after 2 mails (as usual) and wanted to come and visit me. She only wrote about love, but never about something personal and didnīt answer questions. She also didnīt ask about my country (which should be interesting for her if she really would come to visit me). She asked for money for visa and tickets. I did send her the money, but not with Western Union (as she wanted), but with a normal, registered letter. From the moment on that i agreed to send her the money her letters became short and only about "When will the money arrive?". My good luck was to send the money in a normal letter because after 3 weeks the letter came back as undeliverable (i think, i cannot read russian). She stopped conversation when i told her that other girls write more about themself in 2 mails than she had done in one month. Greetings Thomas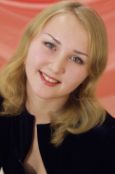 ---
Iīm a single 31 year old male nurse from Austria. The story is the same as posted on Dec.11, 2003. To me it happend in Nov 2003. She wrote to me and thanked for a mail i have never written to her, she never answered direct questions, but sent pics every day. She even wrote her first name in a few different ways (Julia, Yulia, Yliana). Very fast she fell in love and wanted to meet me. She asked for money for the visa and ticket and after i replyed that i could send the same tickets very much cheaper she stopped conversation. I have no letters from her, because i deleted them - i wished i had known this page before, - but they are generally the same as in the story about her posted on Dec.11, 2003. Greetings Thomas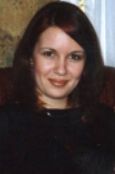 ---
I am single father of one, 38 year old caucasion American. After 7 letters, Olga said she was in Love with me, she never answered any of my questions, which threw a red flag up, and by the 10th letter, she asked for $360 to buy a Visa from a US Embassy that did not exist. Here are her letters:
Letters:
Hello my friend! I am called Olga, me with 27 years. I the modest Russian girl who searches for the true love in this big world. I live in remarkable city Vladimir which is not far from Moscow. I very cheerful and sociable person, love the good companies, cheerful parties, also like to go to cinema and theatre. I like to listen to music which is romantic. I have some hobby - I adore being going and I really good cook, I know many the various refined dishes. I search for the person who would have the following qualities: Nobleness, honesty, trust, responsiveness, the help a difficult minute, care of the near person, love, diligence, understanding, possession sense of humor. Among men in Russia I to not find to myself the man which would be for me as desirable, I not so trust to men in Russia. The person whom I shall grow fond also which will love truly me and the care of me, this person learns me all and I always shall try to make so that this the man was the happiest the man on light! I dream in the future to have children: the boy and the girl, and the happy family to live in the consent and the world with loved by the man. I have seen your announcement and you have very much liked me, I would like to learn about you more. Please write to me on my personal e-mail: gotika@ticklemail.com

I shall inform you more about myself and I shall send you a photo. I wait for your letter, my friend. Yours faithfully Olga!

Hello my dear Dan!!! I with understanding treat your letters. I always to wait for your new letter with impatience. I always to read your letters am attentive to not pass the most important about you. I to study you under letters, but it seems to me, that it is not enough of it. Most likely it is necessary for us will meet in the person. I completely trust you and I hope you to me too in all trust. I begin to fall in love with you and it is pleasant to me. Now I each day to think of you. You always in my ideas. I to worry about you, you to me am very expensive. There may be it our chance. And we should not miss it. Today at work we with girlfriends to talk about you. And all my girlfriends speak, that you very remarkable and considerable person. All of them envy me. I would like to ask you, to you do not prevent, what I the Christian? If I to arrive to you what you me to show first of all? At our first meeting what your first words would be? First of all we would go to your parents or there would be with you houses? I hope, that I to ask very little. I shall not take offence at you if you will not answer these questions. I always try to answer your questions. When I to receive your letter, I have feeling of hope, pleasure and excitement. I think, that for that time that we with you are copied we very much pulled together and between us the feeling has appeared, I think, that we are necessary each other. I constantly think of you, you have taken a place in my heart. At work I became slightly inattentive also my girlfriends speak, that I on myself am not similar, whether joke you have fallen in love. I do not know that to them to answer. I was never so am happy. I have absolutely changed about it my girlfriends and familiar speak. It is all because of you. I as though fly in heavens as at me the person to which has appeared is possible to trust and which it is possible too to me trust. I do not know, how you will react to my letter, may, will count me more thoughtlessly. But I wrote to you, that I am very romantic and impressionable also I think that I LOVE YOU! We became frank with you, and I think, that you want to learn about my sexual experience. In Russia all men only dream to drag you in bed, but I do not want it, I to not want to be given to the first comer that he has taken pleasure. It something from above it gives love to the person to learn happiness in this life, and men represent her only as sex, I think, that it is not correct also I hope, that you with me agree. I want to be with the only thing the man with whom I shall feel like loved. I shall give myself to him completely both a body and soul. We together learn all depths of pleasure. Our passion will be poured out for limits of love, and we shall enjoy the friend the friend all life up to last moment of our existence. Today we with the girlfriend walked on city, went shopping I waited for the moment, that you will write to me the letter, and I have waited him. I feel, what our hearts are beaten in one rhythm, and you feel it? I wait for your letter, whether it is important for me to know you share my ideas. Forever yours...... Olga..... P.S. I congratulate you with the Valentine day. I hope that you will be my Valentine and my second half. At you very beautiful daughter which will not prevent in any way to our dialogue. I very much love children.
Hello my love Dan!!! Much it is pleasant for me to receive your next letter it full emotions of heat and sympathy to me. I begin to understand, that my life is not meaningful without you because I love you. I think, that during that time, that we with you write, each other we have very much gone through together and between us the feeling has appeared. I think, that we are necessary each other. I constantly think of you. We should belong each other always because we are created for this purpose. I spoke with my parents about that that, probably, I shall leave, she only were glad for me, she thinks, that it and is my happiness. Today I all day thought only of you, how we shall meet you. I to represent it to myself as you meet me at the airport as we search, each other eyes, we find and we rush in embraces each other. I would like that all looked at us and were pleased. I would like that all knew that the love exists also she present at us. I went to embassy and at once have decided to write to you that there have told me. Unfortunately, I can not arrive to you some time because for application for registration of the visa and registration of some documents, such as the passport for travel abroad, the medical information and other documents, money in the sum of 360 $ of the American dollars which now at me are not present are necessary. This month to me promised to pay out wages. And if you might send me money to registration of the visa when I to receive the salary I shall buy at once tickets. I shall arrive to you under the tourist visa which will operate during 90 days. I can not receive the visa of the bride how with you it is necessary for us all over again though time will meet. And then, when I to arrive to you we shall make out together the visa of the bride. Today fine day, but me it is sad, because we with you so far apart. I to dream, how you meet me at the airport with a bouquet of colors. I not minutes to not think of you. You always in my ideas. For that term, that we with you to communicate through the Internet, I am very strong to grow fond of you and my love can not live without you. Between us huge ocean, but in the ideas I with you. I to love you and for ever in your ideas. I wait your letter it important for me. Forever your Olga...
I sent this reply which basically said that I had been expecting this and wished whoever I had been mailing luck in the future. Dan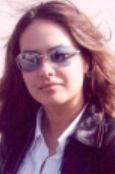 ---
Yulia = Lyuciya Sabiryanova (Chelyabinsk, Russia) = Natalya Butakova (Omsk, Russia)

Iīm a single 31 year old male nurse from Austria. Itīs the first time that i found this website. It happend to me 3 months ago, so i donīt have any more information about her, i deleted the mails, but they are generally (some word for word) the same than the ones from Lyuciya Sabiryanova, Chelyabinsk , and Natalya Butakova, Omsk. In my case her name was Yulia (mail: Yulia_NET@mail.ru), the contact was from November 2003 until January 2004. She never answered questions i asked, she wrote about love and devotion - after 2 mails. She sent nearly nude pics of her and wanted to be the "mother of my children". She wrote about the eternal love and how she would like to pleasure me. She asked me for money for visa, passport, insurance and "within only 2 weeks iīll be there", because she had asked in an agency and she also knew the detailed prices of everything. Immediately she knew the adress of the Western Union office and how to send money, but personal questions after family and that she answered only very global. She stopped mailing after, i think, she recognized that i took too long time to send money. Thomas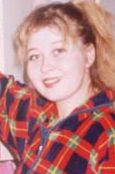 ---
To send your own story, please click here
Click here to support Black List
READ ALSO: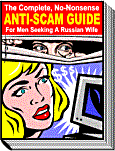 Met a Russian woman over the Internet?
Thinking about finding a Russian wife?
Russian woman wrote to you? Don't move any further until you read The Complete, No-Nonsense ANTI-SCAM GUIDE For Men Seeking A Russian Wife. Too many men were caught up in a scam and lost great deal of money - want to be one of them? Ensure your safety and peace of mind - read the ANTI-SCAM GUIDE.




Scam-free search - GUARANTEED! - Looking for somebody truly special but have had it with scammers and scam agencies? Let professionals to do the job for you.

The Universal Crib On Finding A Russian Wife - the most compressed, step-by-step guidance on finding, courting and marrying a Russian woman.
Dating Scams - The real picture of international introduction industry
Reliable Dating Services - where to look for a Russian wife
The shocking truth about Russian Brides - E-book by Marina Smiley. Find out things about Russian brides that marriage agencies will never tell you.
Why Russian Women? - If you decided to find yourself a Russian wife, you would be inundated with questions of the type "Why Russian Women?" from everybody you cared to share your idea with. Surprisingly, every Russian woman you are writing to will ask the same question: "Why do you want to find a wife in Russia?" After a while, you might start questioning your own sanity in doing the thing which everybody, including your dates in this Internet rendezvous, consider strange enough to request explanations. Here you will find some ready-to-use answers for your family, friends and Russian women you are writing to.
Cheap Russian Translations - Russian-English/English-Russian translation: fast and comprehensive. You are not sure she understands what you mean? Translate your letter to Russian! Reasonable rates and highest quality.
---

JUST RELEASED! New E-book by Elena Petrova:
"How To Find And Marry A Girl Like Me"
Comment from the reader:
"This may well turn out to be the best purchase I have made... I hope not too many of my competitors find this book!"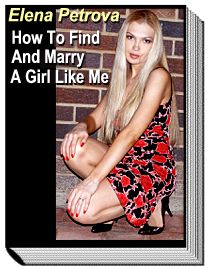 Discover how to find, court and finally marry a beautiful Russian woman!
This is the only book written by a beautiful Russian woman married to a western man - for more than 5 years! - and who is also the owner of a highly successful Internet dating agency.
Find out once and forever what Russian women are really looking for, why they are looking for it and how you can give them exactly what they want!
Get responses on your letters to beautiful Russian women - 9 out of 10, GUARANTEED!
With "How To Find And Marry A Girl Like Me" you'll learn knock-out techniques that will instantly boost your success rate in dating Russian women - online and in real life. You will have more beautiful girls that want to be with you than you can handle!
And not just ordinary girls! They will be beautiful, intelligent, but most of all - honest and sincere! You will be the one to take your pick!
STOP wasting your time and money in search for a Russian wife... Get it done - painlessly, easily, and certainly! Moreover, have lots of fun along the way!
Yes, you too can marry a girl like the one on the picture... Click here!
---
New e-book by Marina Smiley (the author of famous "The shocking truth about Russian brides"):

"Sex and Love With Russian Women"

Discover where so many guys fall short when visit their girlfriends in Russia;
Learn how you can dramatically improve your success with Russian women and win when others fail.
Most intimate questions answered by a Russian woman - Medical Doctor.
---
Comments, suggestions? We want to hear from you!
Click here to Contact us
Seek a reliable Russian Dating Agency? Why not check www.elenasmodels.com - RECOMMENDED
---