---
Unfortunately I didn't find out that the woman I was corresponding with was involved in Internet scams until after I had sent her money. I attempted to find out about her beforehand and found nothing. After sending her money in losing contact I looked on the Internet extensively and found your site with a letter from a man from Australia that had her picture connected to it. Of course I feel rather foolish, but thought I would write this letter in the hopes that others won't fall into the same trap I did. I too was a member of the Internet dating site a yahoo.com. Elena wrote to me and we corresponded for a few weeks and even talk over telephone a few times. She sent me pictures of herself(none of them inappropriate), her family, and every town in Russia (Ekaterinburg). To make a long story short I was sucked in and sent her money totaling $1700 in order for her to come to the United States. The name she used with me was Elena Revtova..The name on the site was Elena Berillo.... I hope this will be helpful to prevent her from taking advantage of anyone else.
---
I had my profile on a free online dating website and was contacted by her. We corresponded nearly daily for about a week. In the last correspondence she asked for $400. I then found your website and realized it must be a scam. I asked her to send me a photo of herself in front of a famous site in Kazan together with her mother, but she never again wrote back. Anonymous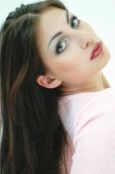 ---
I am a pale white single father of 2, age 36, a computer programmer. I received a message on Yahoo personals and started emailing Inna. There was no agency involved. Luckliy, I found the black list looking for visas for my trip over to Russia on business. I had emailed her for about 2 weeks before finding her listing on the black list.
Letters:
How are you? Probably, if you have guessed, this is Inna :) I'm very glad to get your answer, Doug! First of all, please let me apologize for the delay in my response to you, Doug, but I was busy in last time. I'm happy so much that you have written me, believe me, Doug! Also, I'm hoping that my e-mail was so big surprise for you too, really? But most important, I would like to say to you that I have decided to write you through the Internet thanking to my best girlfriend Natasha. My girlfriend Natasha have met a good man through the Internet from Germany, Berlin City, by the the Internet too. Her boyfriend is Frank. Natasha and Frank are very happy together! I see that they are happy so much together, and I have decided to find a man from other country too, as Natasha did it :) Possible, you can ask me, why I didn't find a russian man? I will be very serious, I will answer to you, that I had a boyfriend from Russia from my City, I loved him very much, but he has thrown me in last time. He found an other girl, as I have understood. Also I have seen that he liked to drink an alcohol very very much, as many men in Russia do it, may be you know about it. I don't like this when men like to drink so much as my last boyfriend did it! I am non-drinking and non-smoking girl! Simply, I don't have a harmful habits! Also I want to say that on the words of my girlfriend Natasha, the men from other countries, especially from Germany and USA, are very good, and they can to appreciate and to respect women as considerable men too. It's the opinion of Natasha, and I want to agree with Natasha completely. Natasha has chosen her boyfriend Frank from Germany because she know German language a little. I don't speak German language, I can speak and write English language, and I have decided to find the man from USA and I have decided to write you, Doug. Well, Doug, let me to tell to you about me more... As I said you earlier, I'm 29 years old, I am "Aries" on Zodiac, I was born on April, 11, 1974 :) And when you was born? What's an exact date of your Happy Birthday? Tell me, ok? I'm White Russian girl on nationality. On religion, I'm Christian (Russian Ortodox), and I believe in God Jesus. I have never been married and I don't have any kids, I am a single girl. I'm a sensitive, a kind-hearted, a thoughtful and easily amused. On opinion of my close friends and relatives, I'm a kind, jolly, clever and intelligent, purposeful, sociable. About my City where am I live? :) I would like to tell to you that I live in Tolyatti City here in Russia. Tolyatti is situated around 1,000 kilometers from our Russian Capital Moscow City. The time zone of Tolyatti is GMT+4. Our City Tolyatti is one of the beautiful cities of Russia, I like my wonderful City very much. There are many beautiful streets, squares and other sights in our city. But it's so cold here, the frosts force the people to go on the streets in the warm clothes, and what about your weather? Is it for cold or warmly? Most of all I want to say to you that my favorite season is the summer! I like when the sun shine on the streets, it are many votes of birds, it's romantically so much. And do you like summer? :) Also I would like to tell to you about my education. I have studied in a Tollyati Polytechnical University. I have ended the university in 1996. Also I want to say to you that I have learned the English Language when I have studied in the university, I can speak English without any problems, I think so... But I can see that I'm making many orthographic mistakes, I think so, I hope that you'll can to understand my English without any problems? Really, Doug? Please, tell me about this in your next e-mails, ok? Also I would like to tell to you that after the finishing of the university, I have gotten a diploma of a speciality "The Book Keeping And Audit". But unfortunately I didn't need my education yet, because here in Russia, as in many other countries, it's very difficult to find a good job on a good speciality. Now I'm working as a waiter in the bar. I like to work here in our bar, and our visitors are a good clients. Also I want to say to you, that I have an access to Internet by the computer which is situated in an cabinet of our boss here in our bar, because I don't have a computer in my home, and I have asked the sanction at our director for my using of the Internet, and he permitted me to use the computer in a free time from my job. Wowww, I have written so much! I didn't think that I can to write about myself so much, really. Probably, I'm finishing my e-mail to you. Doug, I'll be grateful so much, if you'll write me about yourself so much, as I did it. I would like, if you'll tell me, for example, about your family, is your family large? About your city where are you living, I have never been in other countries and in USA too, and I'll be glad to know about your country. Ok, let me to finish my e-mail, I hope to see your answer soon! I'm attaching my photo, I hope you will find my photo good. Ok, good bye, Doug, hoping to see your message soon! Take care, Sincerely, Your new russian friend, Inna. Doug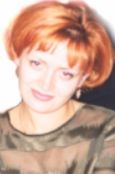 ---
I'm German, single male, living in Berlin, Screenwriter, met IRINA NOVIKOVA from Ekaterinburg over MSN.match.com. last year in May, age 23, Ekaterinburg, Malysheva 102-51, no phone. Email "Novikova Irina" libraries@list.ru

She scammed me. I lost 3.800.-Euros, stupid as I am ! After all I used the service of the russian detective agency Michael Muinov: NO such woman in Ekaterinburg with this Date of Birth, NO police report, NO Hospital report after claiming, to be robbed an beaten in Moscow. Typical love letters, very good English, mother English teacher... She booked the flight, didn't show up in Berlin. Russian Aeroflot information at the counter: Flight canceled. No reasons. Next step. She took the train to Moscow, obscure: to meet an "official" at the russian Ministry of Foreign Affairs, who would "under the table" sell a fiancee visa in about 6 days... She wanted to inform me in a couple of hours.. I didn't hear anything... sent a telegram to her Ekaterinburg address. Got an ugly and threatening response from her aunt: Her niece was attacked in Moscow, heavily beaten and robbed, in coma in a moscow hospital. All this is my fault and she will take ME to court... hahaha... Two times before I accused Novikova in personal mails, to be a fake, a scammer. She denied and was crying on the phone, she used at her girlfriends flat. Over and over I was ready to believe her again. In September she broke up everything., claiming, she is halfblind after this incident and want to commit suicid. I didn't care anymore. But a few days ago I got an information from the German Ministry of Foreign Affairs: She NEVER applied for a visa. Watch her: behind all this very clever working criminals are doing an excellent "job". At least I'm writing a screenplay about it, and already got a producer.. Title: "The Scammer"... (My job is screenwriting...) I would appreciate more informations of "victims" , who where involved with a girl from Ekaterinburg. Must be a center of a big scammer industry! But.. we will get them all!!
Letters:
Hello, dear Mr. Costals44! My name is Irina, and I want to confess that your ad bewitched me and I could not resist writing you. I understand Deutsch a little though I prefere to write in english hoping you will understand me. I like your smile and the way you tell about yourself. I feel you are a very interesting man, a strong and unusual personality and I want to know you better. It seems to me that we can find the common language easily as we have a lot do discuss and to do together, because we share the same interests. I am reading your profile and it seems to me that you are a very kind and mature person, that you know what you want from your life and you know how to get it. You are a very unusual and attractive man, and I believe that the man of your kind must have a lot of admirers. Anyway, perhaps that is my chance, who knows? now I am to tell you anything about myself, but I do not know how to start, as I do not have any internet dating experience, so I beg you to be indulgent to me. I`m 23 years old, I work as a librarian and I graduated the university the last year. I like my work as it is interesting and I can learn a lot of new things there. I am single with no kids as I didn`t find the right man I want to have such a serious relationship that I could create family with. I live together with my mom, she`s a wonderful woman and we love each other very much. I have a lot of hobbies, most of them are similar to that of yours plus several which are considered to be originally women`s (cooking, knitting, and so on). I love life and I enjoy it, I try to live in harmony with myself and I feel I succeed. I have many friends, I like to smile and to make people smile in return. I like to spend my time differently - I can stay at home and read good books or listen to favourite music, or I can go out and dance all night with friends, or we can go to the countryside and have picknicks if the weather is fine, and so on. I enjoy my life and I think I can be happy with it. The only thing missing, the key thing for me, is the man I can love. Perhaps I am a very selective person, but I do not want to waste my time with guys that play around, I look for serious relationship only. I want to love and to be loved, I want to understand and to be understood. I hope I do not ask for too much. I hope I will find that special man. Who knows, may be I have already done it? I hope I did not bore you with my letter and hope to get your reply soon, looking forward to have your letter in my mailbox, sincerely yours, Irina.
We changed a lot of love letters... until she requested the money for visa, passport, ticket and in addition 2.700.- Euros to show at the customs. (Tourist-visa, 90.-§ per day!! living expenses..
After her flight to Berlin was canceled, for what reasons ever, she wrote:
My love, I`m so tired now, but I have some pleasant news!!! I had visited a lot of places and departments today, and my aunt contacted her friends and got a very confidential information!! There is a possibility to do the fiancee visa myself and without any other difficulties!! there is one official in our miniistry of foreign affairs who can make a fiancee visa in a week!!! he does it for sure, the only thing needed is money. period of drawing is only 7 days!!! but there are several recent examples of girls married abroad happily with his help without exausting waiting for many months!! Yyes, my Love, you are right, it`s called a bribe, but besides it`s a payment for the work, but just imagine, that in a week we can be together finally with a real fiancee visa and we can have a permission to marry!!! because now we can not do that! to mmarry here now we have to wait for 4 months, before we will get the permission to registrate our wish to marry - I was in the special department today and I have got the information abiut the marriage procedure fir the women wanting to marry the foreigners here, we need to get special permission for that. it`s a very complicated procedure, and I was told that it`s rather easier to marry a foreigner abroad if I obtain a fiancee visa, I was advised to do it that way if possible. My love, do you thinl we need to apply to that official? I need to be with you so much!! We can make that fiancee visa quickly via that very official, because he is an important person there and has an access to secret information. My Love, I believe that is the solution for us!! I`m waiting for your reply!!! I sit here for you waiting for your letter! kkisses, Irinka full of hope again!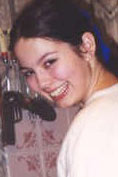 ---
How are you? I have ordered your services before, both the weekly list and your starter package. I wish I could be writing to you today with better news, but unfortunately I need to report a scam artist to you. This is one who has already been on your list, specifically the URL is: http://www.womenrussia.com/blackpage78.htm and the name there is "Natasha Machihina (Cheboksary, Russia)". Her most recent alias is "Marina", no last name was ever given, which made me very suspicious. She is also listed on www.russian-detective.com and has apparently been at this a while, or at least whomever is using the photos has been doing this for a while. I write to you so that you will have the most current information, she/it/whomever has apparently resurfaced under a different name and e-mail address. Other names used are: Moskvich Ekaterina, Musa Vorona Machinina Natalya, Sergeeva Tatyana, Saleeva Maria, Komarova Natalya, Zahareeva Elena, Zvereva Anastasia, Malysheva Anastasia, Elena Kildyrova, Katya, Natasha. Per your directions for scam report submittal, I am a single male, white 35. I do not know where this person/people got my e-mail address, but it had to have been one of the websites that you sent my information to via your starter package because that is all I have used to advertise myself. We have written about 3 months now, which appears to be the MO for this person/people. Nothing has happened in terms of money exchanging hands, I learned about this from your website long ago, before I ever corresponded with a Russian woman. I would not have given her money, had she asked, which she hadn't yet. Her schemes are becoming more sophistocated it appears. Photos of her are attached, one you have the others you don't. The e-mail address she/it/whomever uses is marishka_2003@front.ru - guys please avoid this person, they are widely used as a scammer. DO YOUR RESEARCH!
Letters:
I shall try to tell briefly about myself. My name is Marina. I live in city of Volgograd. It almost in the south of Russia. . To me 24 years. Has received a trade of the designer of an interior. I am fond of dances, photo. When there is a free minute I usually I go for a walk on a nature, I go in cinema, to discoteques. I very sociable and sociable. I adore different concerts, performance. In the given moment I work in coffee by the waiter. The design is most liked hobby. Though all began is very banal. In childhood of any given away features behind itself did not notice, drew is banal, as all. And here as if something has found. Has brought in school a graphic sketch, and me have not believed, that I author of this activity! Since then began to draw with such ecstasy and in such rate, that in 12-m a class could arrange at school the personal exhibition, but I was interested by design of interiors and has taken a great interest in it with a head. The first experience was inspired with I has received many recalls, including from the artists - professionals, I have decided that I should continue the education and I have entered university, which has finished. The activities I embody in life on the orders basically for the friends. « Whence I scoop inspiration? Probably, from here, I show on heart. " Unfortunately, even becoming the professional designer, i is difficult to achieve a worthy material rule. But unless design not the present creativity?! Say to me please, unless it not so? I adore animals. The houses at me nonpredatory symbiose a wavy parrot of Rum. The friends respond about me so: « she cheerful, sociable and completely not disputed. The excellent psychologist as soon as arises any intensity, Marina here begins to speak compliments and all like of itself is abirritated. ». »I have told not much about the past. I as would like to learn on more about you. About your addictings, tastes, employment. Good-bye, I wait for your answer. Marina
Hi my friend Jerry It was very pleasant to me to receive from you the letter. With you I communicate with the help the Internet of cafe. I have grown not far from cities Volgograd. He to be on a coast of the river Volga. It is the largest river in Europe. On a mark a horoscope I ñapricorn. I like to go for a walk on its coast in the warm summer evenings. When I have finished school, I have entered institute and when it has finished has remained to work in city. The truth on a trade will be arranged I was not possible also has gone to work in cafe. In free time I go to go for a walk on a nature or on dances. And still I like to listen to music and to prepare. My liked dish this ice-cream, well it from desserts, and so I much that I like. And you what like? I a romantic nature, like tenderness and caress. Itself was fond of massage and not poorly it I am able to do. In turn I send you some photo with me. Unfortunately it is time to me to go home write I shall wait for a fast reply from you. Your friend Marina.
Hi my friend Jerry It was very pleasant to me to receive the letter from you. How are you doing Today? What at you weather? At us the winter began. In the street of ice and Coldly. Today at us it is snowing, in the street so it is beautiful. At has appeared Break at job also has decided to write to you by all means. I liked your photo. I too send you. My eyes green - dark blue, they at me change colour depending on My state of health. I like the strong and formed men. You To this correspond, it is pleasant to me. By the way thanks that you so In detail have described about itself. You now fly by the plane, it so is perfect. I very much like the sky, I even once jumped with a arachute, this such perfect feeling when fly above ground. You with me agree? I at me have appeared representation about you, you Me have liked. I think that our attitudes can get stronger in the future. I very much like to joke, speak that the humour prolongs life. You Like family, it is good for me. Me would like that near to Me was liking, gentle and kind man. What at any moment I Felt from him support, protection and tenderness. I shall tell not much About the city. Volgograd is located in the south of Russia. On a coast of the river Volga. It is the largest river in Europe and she very beautiful. I to you Then I shall send a photo with its image. City at us old with the population About 3 millions the man. It is city the hero. During second world Wars in him be ordered severe fights. In our city is a lot of beautiful Places. I shall try to send a photo then. There is no I not ïðîåêòèðóþ at home I am engaged in an interior of rooms. But while it can be only as hobby. As the job on ïðîôôåññèè at us is difficult for finding. In the morning when I prepared breakfast I thought of you thought of that as you perceive me and that about me Think. You like is tasty is? I very much like to prepare and much I am able. You like me. I think we shall make friends with you. To me would like To receive from you a photo. In turn I send the photo. Write, I shall wait for the prompt answer from you my friend. With kind wishes......... Your friend Marina
Hi my dear friend Jerry I was very glad ïîë÷èòü from you the message again. Thanks for your photo, she has liked me. To you very much there is a form of the pilot, you in her are well looked. And niece at you nice. Pass her hi and brother too. I spoke that I work not on the trade, and my present trade while is my hobby. And I work while in cafe, but I think in due course I shall search for other place of job. Unless I did not speak you that I live in Volgograde, and if you have in the house whether or not. Habitation I take off at other owners. To buy the habitation, it is expensive also me yet on forces. You ask concerning a marriage, I with this purpose and search for the man, therefore I have found you. You see family most important in life of the man and me will is to be found the man which to like me. And as will like children which at us with it, to like them and to care of them. I very much like children, is especial when they small they such perfect. How you think? And you like children? I think that if I would get family in Russia, I do not see the good future for my future children. Therefore I want to find the husband from other country. Especially change of places of residing for me is good. English I know rather not poorly, but I still want to pass the profound rates of English language to know it in perfection. Simply while it cannot be made because of financial reasons. On the bill of your opinion about the woman, you are absolutely right. Certainly woman should not argue with the husband, you see he the chapter of family. The wife should store the family center both care and grow children. Both partners should support each other and help to each other in all. Come back from flight and successful landing to you always is faster. Write, I shall wait very much..... I hope our attitudes will get stronger. Your friend Marina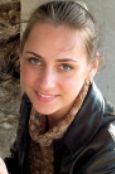 ---
My experience was in Feb. 2001. I live in Southern California and, at the time, was 53 years old. I guess I had an ad in AOL and "Oksana" replied. I thanked her for her interest but said I wanted someone who was a bit closer to me than the Ukraine. Second letter:
Letters:
Darling, there is never enough for anyone that he has at the moment. That is humanity. Some days ago, I was so glad that I've found you but now I realize that we need more than just writing. We need to talk to each other face to face, to see each other, to be together. Virtual love is good but the real one is better. Of course we could continue this way for mounths (sic) or years but it will not make us closer. Let's meet. I felt it from the very beginning but today I've seen the omen. I've walk in the street and seen the announce about the advertising action of one travel agency. They provide flight tickets to America for a double less price. It's just $750. But the most important thing is that they open an American visa during 3 days for $200, which is usually costs $500. From the first sight I've thought it's very expensive, but when I siented (sic) the offers of other agencies it's really double up to three times cheaper. But the most increadable (sic) thing is that this action is going to be only during one week. Like it was done specially (sic) for us. We have not to pass this perfect opportunity. If you will send me the amount now - in one week I'll be in your arms, my dear. And we will finally fulfill our dreams. Do not delay with the concrete steps. Send me the money via Western Union Money Transfer organization www.westernunion.com to my name as soon as possible. I have so much to say to you in person than I can hardly wait to meet you, my love. PS If you haven't understood something, please, ask quick because the time doesn't wait. Mariya Fedorina Slavyanskaya St. 54a Ap.12 238005Chernigov 5 Ukraine
I didn't send the money and never heard from her since. I also made a not to myself: It takes only two letters for Oksana to ask for money for Internet bills. This lady comes out of nowhere, is instantly my darling and wants $950 to come to America to see me. Even if this was legitimate, I wouldn't do it. But what if it's just a hoax? Can you imagine all the lonely men across the world sending this person (could it really be a man?) money in hopes of finding someone to love? Martin
---
I am a 41 divorced father of 3, white American. I had posted a profile in Cupid Junction and after a few months was contacted by a Russian women whose name was Mila and listed her as from Russia, New Jersey. I replied back and she wrote back saying her name was Svetlana from Uralskiy, Russia and couldn't explain why her name and address had been listed differently. She tells the story of her mother dying at child birth and her friend marrying a man from the USA and how she knows I'm the right one. After about 3 letters she was using love in her letters and wanted to come and visit me. She said she had only the money for about half of the cost for visa and plane ticket and she need $580.00 US dollars She said I could wire it (Western Union) and needed it soon because she could take vacation in Feb. The corresponding has been taking place for about 1 month. I thought things were suspiciuos because the letters seemed like form letters and she seemed to fall in love very fast. I checked into it and found in a Google search her name. A guy from the USA was asking information on her. I e-mailed him and he told me that at least 10 other guys e-mailed him with the exact story I was told by her. Luckily, I found these stories before I sent her any money. Below are a couple of the letters she wrote me. I have informed Cupid Junction and am writing here back to let her know that no money from me will be coming her way.
Letters:
Dear Tim! I was very surprised to get your answer! Unfortunately I don't know a lots about you, but I hope to know more! I did not have a lots experience in using computers and communicating through Internet with another people. But I hope it will work. First of all please let me know can you understand me or not. I don't sure in my English. I was not best student in our group learning English, but I hope you will understand me and may be help me to study English more. So, something about me: I am Russian woman, I live in town Uralskiy. It's a very small town, its situated about 2000 km from Moscow to the east. There are no much big cities near it. The largest is Perm. There are big river near my city. It is Kama. And what about your city? I am curious about it, about culture of your country. I am 29 years old, my birthday is 5 May. And when does your birthday? How do you spend it? I graduated from our States University, which is situated in Perm. Its very famous university its takes 7 place in Russian universities by education and experience. My specialty is economical management. I did not like this science a lots, but it was very popular in Russia when I was ready to choose specialty after graduating school. So, about a reason why I am here. I will write you more later, now I just would like to check does it work or not. I search for my soulmate, to share with him all my happyness and troubles. And love. I do not searching for long extended correspondence, and I dont like to play in any soul games. I need to find real man for love and I hope its you. That's a little about me and I hope to know more about you. Unfortunately I don't sure did I done all fine to send you this letter and will you receive it or not. Its will be so pleasant for me to get answer from you! I will be waiting it with impatience! P.S. I am very curious about you. Please send me more of your pics. Even if you dont have it, please do it, its so important for me! Svetlana
Today after I wake up I had only one dream. It was to check a mail from you and to receive news from you!Thank you for all nice pics. I so attached to you now! I run to Internet club before work but there are no any free computers there. It make me a little sad, so I decided to go to my father to tell him about us at launch brake. I prepared launch for him, he does not at business trip now. At a lanch I tald him about us and about our correspondence. He was really surprised to know that I meet you through Internet. He asked me how I did it and asked who are you? He asked where you work and asked a lot about you. He asked if I wrote you first or you first wrote me. I answered for all his questions I sayd him, that I make my choice by myself and I am very happy that I did it. He was really shocked and surprised because he knows that I am modest woman. He likes you very much and he askes me to say hallo from him. My dear Tim! What do you thinking about our relations? What does it mean for you? Please tell me, it's very important for me. How do you imagine our relations at the future? How much does it serious? Please say true for me, as you know, I like always true, as bad it can be. As for me I think, that I found a man which I seeking for all my life. You looks like very seriouse, intelligent, reliable and responsible man. A man of my dream. I understand that may be I mistaken, but I believe that you are that man that I imagine from your letters. I am so sad that we have no any other communications that e-mail. I so would like to hear your voice!!! But I hope that soon I will make a business trip to Perm and may be I will have a chance to call you from there. I so cant wait for that moment! Today I baught a book about your country, about your culture. And I found a map of you country and I searched for a place of your living. I know that we are at another parts of earth now, but it did not make my feeling less. Its seems for me sometime that we so close! And I saw that dream about lake once again! Kiss you, your Svetlana
Tim I hope that you are well. Still no letter from you. Seems I'm early today. All night I thinking about you and about us, I turned on few times the light to read and reread your letters. Its very great that people can meet each other throught Internet and write letters to each other just every day which can let them know more about each other, to make fellings and empathies. I am so gald to meet you in my life and I am planning to meet you in person. I am very serious in my choice. I dont think that longterm correspondence will help us as much as personal meeting. I dont like to speak about financial, it does not good in Russia, I dont brought up such, and my parents teach me to consult with it only by myself, and if I ask someone about something, it mean that I thought a lot about wheather to do it or not. So I thought a lot about is this good or not to ask you about help, but I hope for your understanding because I do it only for both of us and for our happyness. My dear, during the time of our communicating, I understood that we have feeling to each other that I can call LOVE. Such feelings between people become not only from nothing and from lots of thought, analyses of relations, understanding and mutual help. With every day I am becoming surer in my choise and in you. And I sure those if I do some mistake you will understand me and forgive me and I can say it about myself too. Looking for our relations I understood that only destiny of my heart is to meet you in person. And I believe in mutual feelings. I was at cash of airport department yesterday asking about cost of the tickets. I dont think that tickets can cost so much! I dont sure in choice of date, but I asked about cheapest tickets that exists. Its costs about 850 US dollars. So, here is information about ticket: it is costs: $845.80 Depart Moscow (SVO) 10:00 am Arrive Minneapolis (MSP) 7:37 pm Fri 20-Feb Airlines: Aeroflot-Russian International Airlines 317 Northwest 1263 Unfortunately for that moment its really big money for me. As you know, I saved up some money, its about 290 dollars for the ticket and all money for the visa. So I need about 560 dollars more. Its really hard for me to find now such money bymyself, it will take about half of year more. Will you help me with it? What do you think about a date of our meeting? Which is the best? The easiest for me is to take vacation in next month. Please write me your opinion. I dont know a lots about how to send money but I will ask it from my cousin, she sent money few times for my aunt from another countries. I am waiting your responce with impatience and I hope for soon meeting. I am sure that meeting in person will be better then thouthands of letters. But it big money and if you cannot help that I can understand you . It my mistacke. Everything is Allright. Yours, Svetlana
---
I am a 53 year old white male, single father of 4. Svetlana contacted me through webdate via an email. She gave me her email address, and we never went through the webdate service at all. Very typical story as the other stories I have read. They are very good. What 53 year old man wouldn't find attractive to a 27 year old girl. And Svetlana came right out with it mentioning that age was not a factor. What was important was "creation of the family unit". But I was alway suspicious from the beginning. Reading articles at this web site was the clincher. Relationship grew, and finally the request for money for a B2 visa an then the airline ticket. Follows a typical pattern here. What I was impressed with, she had an accomplice, who supposedly work for a travel agency, and would help he with the visa. Very convincing. I even email and asked questions to him. Sometimes he was gone to Moscow, and wouldn't get back to me in a few days, and that would also be confirmed by Svetlana. It was pretty good. Even this travel agent, whose name is Sergey Demidov, said he was doing me a favor giving out this information, which was against company rules. He was also very convincing. The name of the travel agency was TurFlight. Sergey said there were 9 locations, headquartered in Moscow. Nobody I contacted with had ever heard of this company. And they don't have a web site, but they were hopeful that soon they would. I also researched and found out that it is very difficult for a single girl in Russia to get a B2 visa, because of the thought she would not be coming home. Made me even more suspicious. Nothing they said was coming together at all. Svetlana even told me that she was fine with me paying directly to travel agency the money for the visa and airline ticket. That didn't quite fit my logic here, because then I was looking for a different agency to use. One that had a web site and better credentials. But I hadn't told her that yet. So I had my suspensions, but some things seemed to be fine. Here is what did it for me. I thought I would send a small amount of cash, $50 for valentine, and use Western Union. It is amazing how well they know the procedure for using Western Union. One thing I learned, even though she gave me the bank to send cash, once money is in Russia, they can use ANY Western Union agent to get there money. They do need positive identification though. But because this was my very first on-line sending money with Western Union, I had to call them for verification. And this is what they told me, that Svetlana Motovilova had been receiving numerous money transfers, and they warned me of the possibility of this being a scam. They were very helpful. So I cancelled my transfer, and wrote back to Svetlana and gave her the bad news. I have not heard of her, or Servey since. And by the way, Servey sent to me a different email address, this one being Ian. That also made me suspicious. Here are some letters and pictures I received. I hope this can get out to those unlucky guys corresponding with this girl and guy. She had some great stories to tell, very believable. I know this is long, and maybe more than you want, but quite a few pictures that I hope will help. I would really like to see this get on your blacklist web site. On a more humorous note, I am a little irked because some of the other girls on the blacklist are much better looking. Svetlana's email address is svetlanalove555@mail333.com.

Thank you, and I hope this will be helpful for someone. Let me know if there is any other information you need. I would not mind anyone contacting me if they are getting this same person's pictures. Maybe we could catch her/them.
Letters:
Hello!!! I congratulate you with Christmas!!!!!!!!!!! My name is Svetlana. To me 27 years. I live in Russia. I am attentive and withinterest has read your data and profile on Service of acquaintances on Webdate.com .To me would like more to learn about your country, about her traditions, places of interest. Also it is important to know more about you, your family and job. I hope that in the letters you will tell to me about it more. I am very much confused, when I write you this letter, because for the first time I correspond with the person from far and unknown to me of country. Also I absolutely recently have learned about the Intenet and his opportunities and while to me very difficultly to get used to this system. I work in a children's garden as a teacher, and very much I like children. I like my job. I attend take care of small children in the age of from 4 till 7 years. They very interesting, it is good to observe of them. if I you have interested that write to me svetlanalove555@mail333.com. If it is not difficult for you, write from the real address of an e-mail, instead of from Webdate address because the Russian e-mail it will be bad to work with expansion@webdate.com, it will be better yahoo or aol or hotmail. I wait for your letter on my e-mail. Thanks. Svetlana
Hello my new friend mcera829!!! I was glad to see again thy letter. I closely(attentively) have read it him and I want to write to thee the answer. I live in city Krasnodar, which there is in a southern part of ussia on the river a Kuban. Our city is in relative affinity to the Black and Azov seas. He very beautiful and in a nem there are a lot of places of interest. But we, at Russian population have many problems. As Krasnodar territory is on a neighbourhood with the Chechen republic and Dagestan. There are many national problems, the conflicts between the Chechen population and Russian are often. I want to tell to thee more about the family. We live together with the mum only. My daddy was lost in airaccident, when to me there were 2 years. I at all do not remember him. It is heavy to me to speak about it. To my mum 62 years and she on pension. Earlier she worked the teacher of Russian at school. I have finished Pedagogical institute on the teacher for small children. To me 27 years and mine day birth of March 26. I one child in family and at times happen very sadly to know, that no by a number(line) of the close and liked person, except for the elderly mum. Therefore I am always glad new familiar. I with impatience shall wait for thy following letter and pictures. Tell what news at you in city? Tell more about the childhood? Bye!!! Your new friend Svetlana.
Hello my friend mcera829!!! I very much like to receive your letters. It is very interesting to learn about life of the person living on the other continent. I am very glad to our acquaintance and very much I hope for the further friendship, and it is possible also large attitudes(relations). I want to tell to thee more about the addictings. I very much like to prepare. One of my liked dishes is a fried potato with champignons. For a dessert I like to prepare an eclair and honey pie. This very tasty(delicious) dish. Also I like to play sports. I go to occupations of gymnastics. Some times I tried to jump with a parachute, it very much was pleasant to me. You tried to jump with a parachute? In youth me very much carried away of volleyball. I very much like classical music, especially concordance Baah. Also I listen to classics Russian fate and tool music. From films I like comedies as, " One at home ", " the Difficult child ". From classics me have liked: "Titanic", " Perl Harber ". It is very sincere films. When looked them, I cried. Tell to me more about the addictings and interests? Today at us was good solar and we with children from a kindergarten went to walk in a wood, and collected beautiful fallen a sheet of trees. It was very fascinating also to children it it was pleasant. Therefore I have come today from job home in good mood. I wait for your following letter!!! Bye!!! your friend from Russia Svetlana.

Good day dear mcera829! I rejoice when receive the letters from you. I always wait your response letters, because it's important for me, I think that I have found real, near friend, who I can tell about myself and find out him with pleasure. I hope that it's mutually. I have higher education, but I work in a kindergarten. I like your picture. Do you have a real friends? Do you often meet with them? What do you occupied in your free time? Almost all my friends are married, but my best friend is not married yet too. We learned in Pedagogical Institute together and spent many time for our education and rise of qualification. But now I want to create own family very much. I want to love and to be loved. I want worry about my future husband and our kids. I want to divide the gladness and sorrow with my beloved. There are many unembezzle, unaffected and unbounded senses in me and I feel that soon I'll have met that man, which I'll gave my love. I'm finishing now. With great impatience I'll wait thy following letter. Your girlfriend Svetlana.
Hello dear Michael!!! Again I write you the answer to your letter. I always with impatience wait for thy letters. They become important for me. Because they please me and lift mood. When I read thy letters I understand that at me the person, close to me has appeared. I hope that thy friendly feeling mutually. I never was in America and in other countries. Our weather is very cold. I like sports, a nature and children. I like theatre. The population of city about 500 000 persons. My English well. I shall be glad to help you in studying Russian. At me small problems with spelling in English. Therefore to me is passed to use the help of the computer interpreter. I hope that the sense of my letters completely is clear to thee. Almost each day I perfect the knowledge of English language. I hope that soon I can write in English without the help of the interpreter. Thee probably surprises that per the 27 years I do not have husband and children. It because all spare time I spent for the doctrine and job. But now I have a desire to create the family center. This question becomes very important for me. I want more to tell to thee volume as I conduct the spare time. It in basic my days off. These days we try to meet the girlfriends and to conduct cheerfully time. For example we arrange a party on which we prepare many tasty(delicious) dishes, we listen to music and socially we drink home Tinctura Araliae from berries, in Russia him name Klukovka. This tasty(delicious) weak Tinctura Araliae, with beautiful colour. Sometimes we visit(attend) theatres and cinema halls. This very entertaining time. I would like more to learn about you target and working days? About that how thee are engaged home facilities(economy)? As of today I shall finish the letter and with impatience I wait for your answer. your girlfriend Svetlana.
Hello my lovely friend Michael!!! The reception of your letters becomes necessary for me. I wait with impatience of each you letter. I am very glad that your write me as it is possible more often. At me begins warmly in douche and very good status. I e mail does not understand Russian, therefore has no a seal in Russian. My full name Svetlana Motovilova. my 350002 address, Krasnodar, street Youth 23-212. I shall be glad to see your coastal line. That we could see in our douches more heat, it is necessary to us to know about each other more. I would like to know all thy habits and desires. I am very much stirred, when I write thee it, because never reflected earlier on creation of own family. I never tried to study the man, but now I feel by the female intuition, what is it it is necessary. There can be I speak silly, thee are possible at all do not understand me. But my female feeling speaks, that probably thee will mine beloved. In old emails I tried to tell to thee maximal about myself and family. I think that your already know many my addictings and habits. But if thee would like to learn more, ask me about it. Now I think to tell to thee more about the country. Russia is country having many natural resources. Such as coal, gas, petroleum, gold and many other things. But standard of living at us very low. Therefore my wages suffices only on nutrition and payment of municipal services. Money to clothes and petty expenses is given me by(with) the mum. Because she receives the very large pension, it is 60 American dollars per one month or 1800 Russian roubles. Our life is very difficult. It is necessary much to refuse itself to purchase a large thing. For example, to pay for services of the Internet (it is 15 American dollars per one month), I should give lessons to small children domiciliary. Sometimes it is tightened(delayed) till the late evenings and I come home sick. I shall not upset more thee concerning our life. I would like to say, that ours with thee the dialogue abirritates and gives me to forget about realities. Today I shall finish, but soon again I shall write to your. With impatience I wait for your letter. Svetlana.
Hello likeable Michael! I'm very glad to read your letter.I wait your letters all time. I don't know that happened with me, but I think about you and your letters all days and even nights. I want to know more about you, your dreams, wishes and many others. I like to know the news about you and your life. I hope that it's mutually. I shall necessarily the story to you Russian joke. I have sense of humour. I had problems with the Internet, therefore might not write to you earlier. I very much missed under your letters!!! I very much hope, that I shall not have more problems with the Internet. I think that you know about me almost all. So I'll write to you about my country. Russia is a very large and beautiful country. In Russia very beautiful and at the same time various nature. But a standard of living of some layers of the population is very low and many people live in poverty. And it creates some problems for them. As for me my wage suffice only on a meal and some clothes. Often to have to refuse itself in something or to earn additionally in the evenings after job (I make massage to ill people including children). Let's not be about sad. I overlook about all difficulties and weariness when I think of you. It became necessary for me. I wait for your answer with impatience. Your Svetlana.
Hello my boyfriend Michael! I'm agitated at those moments when I look a mail. I'm afraid of unfinding the letter from you. I re-read your letters some times. I'm very glad that our relation increase. I hope your senses are such sincere as mine. I like you very much. I'd like to create my family with such man as you. Yesterday I have told about you to my best girlfriend. She had rejoiced for me and my senses to you very much. She sympathized with that we are far apart. But the Love doesn't know borders and spaces. Are you agree with me? I think about you and our liaison every day at home, at job, everywhere. You are always in my mind. tonight I'm going to tell about you to my mum. I think that she will have liked you too. Tell me more please about your habits, your desires. I want to know about you as much as possible.Up to fast, mentally with you, Svetlana.
Hello my dear Michael! How are you? I have said to mum about you. Yesterday I have told about you and have described you to my mum. She delighted as I supposed . She has said to me that if two persons have liked to each other on correspondence that after their meeting they will be unseparable. I think of you constantly, I dream of our meeting, I present our first a meeting. I very much wait for this moment. Since we began to correspond I always have a high mood, even employees at my job notice it. I so am pleased, that have met you. You are very necessary for me. Now I at all do not present the life without you. I thank the God that he has sent me you. I want to admit to you in something: earlier I never thought that I can so strong be fond of man. My feelings are increasing every day, so it becomes difficult to pass them only through letters. Therefore I wait for our meeting more strongly with every day. I wait for your letter with huge impatience. Good-bye, your Svetlana.
Hello my boyfriend Michael!!! My heart starts, when I read your letters. I feel, that our friendly relations pass in love. During our correspondence I have understood, that you the person with which I want to create family. I am very much stirred when I write you about it, as I do not know thy relation to my love feelings. I dream, that our feelings are mutual. I spoke about you with the my mum again. She is glad, that I have found the person, with which I can create family. I have described you to the mum, and you very much have liked to her. She is happy to our relations, but the mum is afflicted with that we with you far apart. We with you are separated by ocean, but I think that for love it not problem. If the people like one another, they always will be together. Today at job, all day I dreamed of our relations. Now I have understood, that I have person with which I dream to be together. But while it is impossible. I shall transmit the feelings through the letters. It is very important to me to know, what thee think of my feelings to thee? Also tell about more about the character and dreams? It is important to me to know about your much!!! I very wait for you answer!!! Love !!! Svetlana.
Hello my love Michael!!! I want to begin the letter from that, this night the dream has dreamed me. In this dream we have met thee on a coast of ocean, there was an evening we went on an occurring one another. The sun came for horizon, we have stayed the friend opposite to the friend and long looked in eyes. In the morning I have woken up happy and I had very good mood. At job I all day thought of this beautiful dream. I very much would want that our occurring has taken place not in dream, and is real. I have told about our correspondence to the employees at job. I have told about my feelings to thee, that we very much like one another, but our occurring large distance prevents. The women at my job have told such case, when the girl from our city has met under the Internet the man from America. As a result of correspondence they have grown fond one another. And this person has helped to her, to leave for America. They live together two years and they are very happy. This story very much has pleased me and I have believed in a reality of our occurring. I with the large hope shall wait for your letter. Kisses!!! Your love Svetlana.
Hello my beloved Michael!!! Today I had perfect mood. Mine familiar speak me, that I was changed. I began to smile more often and to be pleased. It occurs because, at me the feeling of love has appeared. The friends are glad, that at me the liked person has appeared. Each day I with the large desire wait for thy letters. I would like to see thy letters more often. They warm my heart and give me hope, that we shall be together. It becomes heavy to me to be far from thee. Each day I think of our occurring. Tomorrow I would like to go to learn that is necessary for my arrival to thee. I have learned the address of travel agency, in which me will give the complete information on the necessary documents and cost of flight in America to you. I am very glad, that at us the opportunity has appeared to be together. When I shall receive this information in travel agency, I at once shall inform thee about an opportunity of arrival to you. I have no a problem with our distinction of age. My basic purpose this creation of family. We have beautiful places. We have mountains. I can move on the automobile, but I have no it. I put on a dress for job. I would like to arrive to you in America. My heart becomes transfixed with an idea that soon we can concern one another. I very much hope, that for our occurring there will be no handicap. I want to see more your pictures and letters. Kisses and Love!!! Svetlana.
Hello my love Michael!!!!! Today I visits travel agency "TurFlight". Me have given the detailed information on arrival in America. The agent of a travel company has explained to me, that the best visa to arrival in America, is the tourist visa B2. This visa is good by that its(her) registration without delay other types of the visas, she is made out about 3 weeks. Also this visa is convenient by that at its(her) registration there is a minimum of problems. In travel agency to me have said, that cost of the visa B2 makes 350 American dollars. This cost is included all services of a travel company in registration of the documents. It is awkward to me about it to speak, but my wages are very small for purchase of the visa. My wages make only 45 American dollars. In a travel company to me have said, that if you can to me help in purchase of the visa, the best variant for transfer(translation) of money, will be system Western Union. This system allows fast and safely to send and to receive a remittance. If you will help me in money, for my arrival to thee, thee will need to be sent money in Western Union.The address of bank: in Krasnodar.The address of bank: PROMSTROYBANK OKTYABRSKAYA, 44 KRASNODAR, 350020 Also for transfer of money my complete name will be necessary for thee:Svetlana Motovilova. For reception of thy remittance, the code MTCN will be necessary for me are ten numbers, which to thee will say in Western Union. Also data on thy complete address and thy complete name will be necessary for me. After reception of transfer(translation) I shall order the visa to arrival to you.I shall be glad to see your pictures!!! My mum will be glad if I shall arrive to you for creation of family. I might remain from 3 about 6 months. I might take a vacation on job. I understand your Russian. I am very happy, that at us the real opportunity for an occurring has appeared. Therefore I am sure, that our love will find happy continuation, and then we will have opportunity for creation of perfect and happy family. I am very much excited by ideas what be speed we can together. Each day I do not finish to think of our love and it gives me forces to wait for the moment of our occurring. I with the large excitation wait for your answer!!!! Love!!! Svetlana.
Hello my dear Michael!!! I am very glad, when I receive your letters. Reading your letter, my mood is lifted. My love to you grows with each day. It is very bad without your presence near to me. All time, which I a presence at job and house, in ideas on you and about our occurring. It is very heavy to know, that there is a liked person, and I have no an opportunity a touch with you. I am pleased with that is possible soon we can give love one another, were beside. When I meet the in love pair in the street, at once present us with thee. I am glad, that the registration of the visa will not borrow a lot of time. It means that, an opportunity for purchase of the visa and ticket of the plane as soon as will appear, in short time we shall meet, and we shall present one another embraces and kisses. Tomorrow I shall learn in aircash departments about cost of the ticket, for arrival to you. It is very bad to understand that an obex to our occurring is the problem of money. Cost of the visa dearly, I agrees with you!!! But it gives the big guarantees and protects from problems, because a travel company directly cooperation with the American consulate in Russia. The consulate takes 330 dollars from cost of the visa. The travel agency takes only 20 dollars for the help in registration!!! It is a total cost and any more there will be no payments for the visa!!! The tourist agent has said, that it is not meaningful conversation by the phone because of distinction in time and a barrier of language. The Internet the best way to decide(solve) all questions. I shall be glad to remain with you during several months, it is good for me!!! I have not badly studied English and I shall not have problems for dialogue with you. Our meeting will help us to study each other, it is good chance for creation of family together!!! I very much get tired at job now because it is a lot of children. I like driving on the horse and much another a kin! d of sports. I would like driving on the horse often, it is good for me. Telephone lines in Russia very bad, it will not make success. But my number(room) on job is 8612 982321. I has no the phone of a house. I think, that these obexes will strengthen our love and will strengthen our trust one another. After our occurring we can find much in common in us and our love will be most perfect in the world. Excited by ideas on you!!!! Your Svetlana.
Hello my love Michael!!! So is perfect, that our relations of steel strong and at us has appeared more trust to one another. To me very hardly be far from you. I am hardly stirred about it and I very wait for our occurring. Each day I think of you and about creation of our family. I hardly trust to thee and I believe that we shall be together. We shall make all that will meet. I am sure, that our occurring hardly will change our life. We shall have the large love and happiness. I would like to receive more your letters, because they help me to wait for our occurring and love. I am very excited now. I like sports. I my mum am glad, that I shall arrive to you and to create family!!! She is a little excited. I they should receive money for the visa before they will start it!!! You may write to the tourist agent on e-mail is turservis_questions@land.ru. I had no access to the computer in days off. Also you may ask the prices for the ticket of the plane. I shall be glad to study your sights. We shall have a lot of time for this purpose!!! Love!!!
Hello my the future husband Michael!!! I constantly present our occurring, as I leave from the plane, and you meet me. We conclude in embraces one another. Then we have acquaintance to your family. After that we remain alone one another and we shall lose the invoice of time. These ideas very much excite me. I constantly think, how we shall create our family. We will have a lot of pleasant time. I dream to look to you in eyes, to see in them love to me. I want to feel your tenderness and love. This very pleasant feeling. My job goes well, but even there I do not get tired to think of us. At job I have said, that soon I shall leave to beloved. I have no access to the computer in day off. I was born in 1976. I shall be glad to take pictures of me. But you can not send me anything by mail, because mail in Russia very bad. My employees are very glad, for me. All of them wish to us happiness and strong love. With ideas on you!!! Kisses!!! Your future wife Svetlana.
Hi!!! Our company is very glad to your interest and we with pleasure shall answer your questions. Our company is branch of a large firm which is in Moscow. We work in the market of travels 9 years. We have many business contacts in many cities of Russia and outside also. Basic our activity is registration of visas to travel and work for limits of Russia, also selection of optimum flights of the plane and the bus for travel for limits of Russia. Now we have no to a regret of page in the Internet, but we job above it is fast. Now concerning details of travel. Official cost of tourist visa B2 for Russia is 330 dollars, also the travel agency takes 20 dollars for official registration of papers and for the help to the client in interview. Thus a total cost of the tourist visa of 350 American dollars. Also it is very good, that you think of travel at this time year when the tourist season is completed. At this time the visa is made out much faster.Earlier we accepted payments from credit cards from the countries of distant foreign countries, but now we do not make it. Because laws in our country of steel are very difficult also tax service takes very big interest from a remittance. Also there are many other problems because of which we have ceased messages monetary bargains with credit cards because of limits of Russia. But we accept money cash or also through the western union from any countries. We may not to accept money from your credit card under number. It only we should give you essential elements of the credit card and then you may transfer money to her. This process takes about 2 weeks. But it is usual essential elements of a map make many symbols, words and numbers. Money before to come on our credit card pass some banks in cities of Russia and USA. Therefore if any employee of these banks does(makes) any mistake money will not come to us, and will come back to you again. It really very long process. Use of a credit card in one country is very simple, but it is very difficult to translate money from one credit card on another. You should understand it. We are difficult for answering very personal and intimate questions a little. We will are glad to help you certainly. We are completely sure, that to us the real person has addressed for the help and we saw his passport, it Svetlana Motovilova. if you send her pictures to us, we shall be confirmation to you about this person. We shall try to send you a copy of her visa after it will be ready. Hope, that we can help you in some questions for this purpose. I am not sure, that to us well conversation by the phone. Language barrier, also distinction of time zone, therefore is difficult to plan our conversation. Also Svetlana each day at job, its(her) job comes to an end, when we no at office. We often conversation by the phone with her from its(her) job, but he has no the international line for conversation. Also I not often am on a workplace, it is a lot of job in consulates, agencies and the airports. .You may send money addressed to our client it Svetlana Motovilova. If you will inform us answers to these questions we may inform you more exact information. Good luck. Sergey Demidov.
Hi dear Love Michael!!! I so am happy, that you have written to me.I had problems with a letter box, therefore might not receive your letters, also write to you. I very much like reception many letters from you!!! I like your pictures!!! I am sure, that we shall be happy together!!! I shall be glad to start the visa very soon!!! You already have the full information for the western union, you already know my full name and my address. When you will send money in the western union to you will speak 10 numbers, it is identification, she is called code MTCN, you should inform it(him) to me together with the address and the sum of translation. You already have the full information on the western union. I am really very much excited, that our meeting will be very fast, I am very glad that you have money for the ticket also. My mum will never leave(abandon) Russia, I think that when we shall be married we shall come to see her(it), you not against? I reach, from job home about one hour. At leisure I like ! sports, walks, and also homework. I might have one child, but all over again I want advice(council) with you, we should solve these questions together!!! I shall be really very glad, when we shall be walk together!!!! I am ready driving on the automobile. I shall do(make) for you a honey pie, it is very tasty(delicious)!!! Very much I wait for that moment, that moment when I shall find myself In your strong and hot embraces. I want, will meet you as soon as Possible. I am very strong because of it to test. My mum to feel already it Good, and she transfers you greetings. My mum speaks me, that you so worry, everyone will be Good, I so worry, that I shall see you, I shall be pressed to you. I Directly the fly with happiness, in me there - is a lot of energy, which Ready to sing and dance my love. On work I enter into good mood, me As again to be given birth. I think, that between us should be a To tell the truth, I have written, that all as. But it is good while all. Write, Very much I wait the answer from you mine. KISS!!! KISS!!! KISS!!! With LOVE Svetlana.
Hello my pretty man Michael!!! How are you today? I am very much afflicted with your last letter!!! It really began to change much in my ideas. Up to this letter I only thought of that when I shall be with you to have pleasure of ours love. having read your last letter I have understood, that all not so is simple and not so it is good as I thought. You want many guarantees and is cautious, and I am confused really very much with it. I the usual girl who is interested in creation good family, I not the machine. But I have made all necessary that we were together. I could find the information and gave it to you. Now, when business remained only in you to help me, you have stopped. Well. It only my ideas!!! Now I shall write to you in essence. I heard about a deceit from Russia. It is very bad, when people play feelings of other people. I hate it!!! But I also heard many histories about which do not speak because everyone are afraid to speak it much. I heard how the girl arrived in America for creation of family, but she appeared in hands of the maniac and a vein so about one year and might not call to the aid in the another's country. I heard a history when the woman arrived in searches of love, and she(it) was raped by some men and have expelled from a house. She returning to Russia. It is a lot of histories of a deceit when your people do(make) badly, but these histories are not published, they are more confidential, that was not scandal. Then if to understand the given situation it turns out that you risk some money, and I was possible the life. What is more dear(expensive)? Answer, it is interesting to me!!! What it is more important for you, it is life or money? But I trust you and found the information, having spent a part of the salary on a fare to travel agency and consulate. You yet have not made anything for our meeting, and already are afraid to lose something!!! Why? These questions very complex(difficult) for me!!! For me does not matter, to whom you will send money for documents is me, agency, though to the God. It is not important for me, for me to be important the purpose it with you. I want to achieve this purpose and I shall do(make) all for this purpose, that I can. I shall not do(make) to you a parcel(sending) of any documents that I am really real, because I have shown you, what is it not a deceit. I found so much information and expenditure what is the time for this purpose, that any person seems to me can understand, what is it there is no money. It is more money. You are really very important for me and I want to be with you. But nevertheless I am glad to this test. If you can understand it(him) and feel it then I am sure, that we can be happy together. If you do not understand it I shall never write to you more and I think, that I shall live all life one because it will be my last disappointment in men. I trust you very strongly, therefore want to arrive not thinking about bad cases. You do not trust me and put bad histories above than feelings. I have more strongly given the feelings to you and I have no doubts. It it is impossible to say about you. I wait for your decisions on last barrier, also it really is very interesting to me very important to me as you will overcome it!!! Our life and the future depends now only on you. I should understand that you trust me, only then we shall be lucky enough, while I do not see and I do not feel it. I love you. I even dream how I'm with you we go for a walk together, that we sit in restaurant at candles, it is very perfect dream and I want, that it was on the present. You think that too? I know, that you too so think, I love you and I want to be only with you!!!! I to feel your body near to mine, I want, that we to be kissed and to be embraced, I want you, I know, that at us all will be good. I at you want to ask, and what we shall do(make) in the beginning, when I arrive to you, we shall go somewhere and to look something, to travel? I very wait for your answer, I think of you always when I sleep and when I work and even when to eat! Bye bye!!! I love you!!!! Your love Svetlana.
Hello my love Michael!!! Your words are very beautiful, you speak very well, it is very pleasant to me to read your letter, it is wonderful!I am happy to receive your letters!!! Also I am very glad, that you understand me and good things with me want many. I also want to do(make) care and tenderness to you. You may be sure, that never there will be a deceit from me. It low and I do not want it. My purpose simply creation of family. I many years saw families in Russia where men constantly drink, and women cry, their children very nervous and to them(him,it) it is bad. I for a long time dreamed to create family outside Russia. When I began correspondence from you, I have understood that you mine the man and have given this all forces, only to be with you. For me really it is very necessary a meeting of you and attitudes(relations) with you. I each day dream of it. I never did(made) a deceit of you at our correspondence, also I shall not do(make) it when we shall be the husband and the wife. I feel many feelings to you and I want a meeting that our feelings and attitudes(relations) became stronger. But you should understand, that now the meeting is necessary for us, she will decide many our questions. The Internet now will give us very little for development of attitudes(relations). I have very few pictures on the computer at job, it really has some complexities to place pictures in the computer. I have the big hope, that you will have trust to me now. Also I hope, that now you will help me for documents. I trip to travel agency today also wanted conversation with Sergey about registration. But he again in Moscow also will be tomorrow in the morning. Tomorrow I again shall be driving in travel agency and there will be a filling some papers if now you have trust to me. I told, that I'm with you soon shall together, because I love you! I am happy from one only idea, when I think of you, I am very glad. My mum too is pleased, when looks at my happy face, you understand me? I hope, that yes. I earlier, how it seems, did not trust in destiny, and now it is simply interesting, if it not the destiny has reduced us together, then who? Probably it is destiny so to make, that we have appeared together, it is perfect!!! I wait with impatience of each your letter. I shall wait your letter. I think of you always. Bye bye my sweetheart! Your lady Svetlana.
---
I just found one of the photos used by "Elena Koldyreva" at www.bride.ru. She is listed as Veronika #99985. I just wanted to alert everyone. I have already reported her as a scammer to bride.ru. Here are the photos that this person used. Larry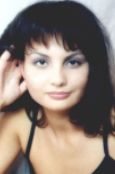 ---
Hi, I'm Roy and I live in the U.S. My story involves a woman who called herself Yulia Babikova, whith whom I had a 2-month email-based "relationship". I had posted a profile on friendfinder.com. I never followed up with it and soon forgot about it. Then, after several months, I got an email from them stating that one of their members had left me a message on their private messaging system. The message (from username "vejkonty") opened with a Mark Twain quote about love and then continued on to reflect that she was looking for that someone special in life. She closed by giving me her "real" email address, which was "yulichka@mail333.com". She broke her email address up over several lines so it wouldn't be detected and filtered out by the friendfinder.com messaging system. In other words, she had obviously gotten around this before. She closed her initial greeting by promising to send a photo of herself (attached) if I replied. The first email I got from her was in October. Wanting to know more about my new-found "friend", I logged on to friendfinder.com and did a little research. The profile for the username "vejkonty" claimed that she lived in town on Long Island in New York. This was obviously the first red flag, because in her next email she claimed to live in Russia. Her second message came from a different email address (yulinka@fromru.com). This was the second red flag. She claimed that her other email address didn't work anymore. This message was very introductory. She told me she was 29 years old, lived in Magnitogorsk, Russia (Chelyabinsk area) with her mother, had never been married, and had never had children. She then went on to tell me a little bit about her home city. She mentioned that she was an accountant by trade, but worked as a waitress since she couldn't find accounting work. She told me that her father had died some years ago and that her mother was on pension. She then asked some pretty standard questions about me (where I live, what I do, etc). She also explained that she didn't have a computer at home since she couldn't afford one. Instead, she went to and Internet cafe to use a computer. Her next email claimed that I was the first foreign man she had ever communicated with and she was very excited about that. She told me that she dreams of finding a man who will love her, but that there are not many good men in Russia because they drink "much vodka" and don't appreciate Russian women. In her subsequent emails, she told me that she had only had one boyfriend in the past and that she had only had sex with him (yeah, right). She hinted that it was a bad relationship and promised to tell me more about it later. She also told me that she really liked getting emails from me and that her friends told her they had seen a change in her for the better, which they attributed to me. She gave me her mailing address so that I could write her an actual letter if I wanted to (I never did, not wanting to give out my own address). The address she gave me was: Yulia Babikova. 8, 13 Botkin street Magnitogorsk, Chelyabinsk area, 455020, Russia. She really tried to endear herself to me with several different tactics. She told me a story of a dream she had where she was in my bedroom in a red dress and we shared a night of "deep passion". She also told me how she desperately wanted to cook meals for her man, including breakfast in bed. Yet another tactic she employed was to tell me that she loved children and wanted to have a family, but that if she didn't have her husband's "consent", she wouldn't have children. During all of this "courtship", she laced her emails with short little explanations of her poor situation, presumably so that I would feel sorry for her. She told me that she only made $73 a month as a waitress (a reason she would use later to ask for money). She told me that her customers were rude and that it would put her in a bad mood, but that finding an email from me would lift her spirits. She told me that men in Russia drink and use drugs too much and that they didn't treat women well (which is why she couldn't find a husband there). She told me that the only man she had ever had sex with hurt her deeply when he cheated on her, which is why she didn't trust men. Of course the very next sentence she claimed that she could sense I was not like that and could trust me completely. I made it a point to tell her that I was dating someone and that it was potentially serious. I fully expected her to reply, asking questions about my relationship, but instead she never even acknowledged it. Yet another red flag. Finally, after all of this, she made her first hint that we meet. She didn't sk for money yet (which surprised me), but she said that she could come to me in the States and stay for maybe 10 or 15 days. She claimed that now was a good time to get a visa, although she didn't explain why. Suspecting that I was dealing with a scammer, I played along. I replied to her saying that it would be nice to meet but that now wasn't a good time. I suggested some point (never really mentioned a date) in the future. She replied telling me that she missed me and loved me and wanted to feel my "warm hands" on her body. Keep in mind that she had never even seen a picture of me, much less met me to know what kind of attraction there might (or might not) be. We continued to email back and forth. At one point she told me that she was going on a road trip to see her grandmother, so she was gone for a few days. But other than that, she usually responded to my messages within 2 days. She continued down the path of wanting to meet me. She explained that she could get a visa and come visit me. She even said that she could stay for the rest of her life if I wanted her to. Finding that odd, I asked how she could really consider leaving everything she knew (her mother, her very good friends she had told me about, her entire life), go to a foreign country to be with a man she had never met, and quite possibly never return. She downplayed it, claiming that her mother and her friends wanted what was best for her and that she really didn't have much to leave behind. Yet another red flag. Finally, she asked me to send her money (red flag). She wanted $192 (US) for the cost of the visa. I replied, asking that if she couldn't afford the $192 for a visa, how could she possibly afford a much more expensive plane ticket? She claimed that her mother would buy her the ticket (red flag: her mother was on pension), since her mother knew how much she was in love with me. She went on to say that her mother wanted me to pay for the visa, however, to prove that I was really serious about her. She further explained to me how Western Union worked (red flag) and told me I could send her the money with a credit card red flag). I responded telling her that I simply couldn't afford to send her any money. She tried to extract it from me a couple of more times before giving up and telling me that her mother would pay for both the ticket and the visa. Pretty nice of "mum" considering she's "on pension". In another email, Yulia told me hat she had started the process of receiving a visa. I told her to stop and wait a little longer, but she didn't. A few days later, she wrote to me (calling me "Darling") and told me she had flown (red flag) to Moscow to visit the embassy et the visa. Next, she needed to know what airport I was nearest, so she could buy a ticket. I was rather surprised at this. First, we hadn't actually come to any agreement about meeting. Second, I was sure that she would soon find another excuse to ask me for money, but I wasn't quite sure how. I told her that it simply wasn't a good time for her to come visit. It was December and with the holidays approaching, it would have to wait. She replied saying that she looked forward to meeting me and couldn't wait to see me and touch me soon. When I told her that our meeting would have to wait, she replied and told me that she couldn't wait since her visa was only good for one month. Again she asked me for the name of the airport nearest me. And again, smelling something very rotten, I neglected to do so. She picked up on this and responded by saying that she simply wanted to meet to see if we could "have more a close acquaintance". At this point, I suspect she thought I was feeling that our "falling in love" was a bit premature and she was back-peddling. Again, she asked for the airport. I responded, telling her that it wouldn't be possible for me to meet until after the holidays. I suggested (never expecting her to take me up on it) two different weeks in January that I could take off work. 4 days later, I got the following email:
Letters:
You do not tell to me the airport??? You do not want me to see??? It is very a pity!!! Yulia.
I responded to her, telling her that it wasn't that I didn't want to meet her (I never actually thought I would), but that it would have to be when it was a good time for both of us. When she didn't reply after about a week, I sent another email. This time it was my turn to "pretend":
Yulia, I'm sorry I haven't heard from you. I'm guessing at this point that you weren't truly interested in me in any way. Maybe you were just looking for a way to get into the US. Or maybe it was a scam to get me to send you money. In either case, I'm truly disappointed. Roy
I actually expected a response from this. I figured she'd make up some story as to why she hadn't responded, but instead she didn't reply at all. Still morbidly curious as to what her true motives were, I sent another email. This time it bounced. The fromru.com email server replied saying "user unknown". I sent the same message to her original email address (yulichka@mail333.com) and it too bounced for the same reason. I still wonder what her real motives were. I don't delude myself into thinking she was anything more than a scam artist. I simply wonder what the scam was going to be. I strongly suspect that she was serious about coming to the United States in order to extract herself from what might be a less than desirable life in what might be an economically depressed part of Russia. She probably figured that she could marry whomever brought her over here and "trade up" if he didn't turn out to be what she wanted. I wouldn't want to scare anyone away from finding a Russian wife. I know a guy who married a Russian woman and has never regreted it. I would simply suggest caution and good, commmon sense, as one should employ with any relationship.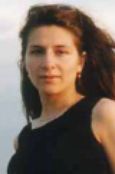 ---
To send your own story, please click here
Click here to support Black List
READ ALSO: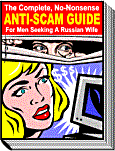 Met a Russian woman over the Internet?
Thinking about finding a Russian wife?
Russian woman wrote to you? Don't move any further until you read The Complete, No-Nonsense ANTI-SCAM GUIDE For Men Seeking A Russian Wife. Too many men were caught up in a scam and lost great deal of money - want to be one of them? Ensure your safety and peace of mind - read the ANTI-SCAM GUIDE.




Scam-free search - GUARANTEED! - Looking for somebody truly special but have had it with scammers and scam agencies? Let professionals to do the job for you.

The Universal Crib On Finding A Russian Wife - the most compressed, step-by-step guidance on finding, courting and marrying a Russian woman.
Dating Scams - The real picture of international introduction industry
Reliable Dating Services - where to look for a Russian wife
The shocking truth about Russian Brides - E-book by Marina Smiley. Find out things about Russian brides that marriage agencies will never tell you.
Why Russian Women? - If you decided to find yourself a Russian wife, you would be inundated with questions of the type "Why Russian Women?" from everybody you cared to share your idea with. Surprisingly, every Russian woman you are writing to will ask the same question: "Why do you want to find a wife in Russia?" After a while, you might start questioning your own sanity in doing the thing which everybody, including your dates in this Internet rendezvous, consider strange enough to request explanations. Here you will find some ready-to-use answers for your family, friends and Russian women you are writing to.
Cheap Russian Translations - Russian-English/English-Russian translation: fast and comprehensive. You are not sure she understands what you mean? Translate your letter to Russian! Reasonable rates and highest quality.
---

JUST RELEASED! New E-book by Elena Petrova:
"How To Find And Marry A Girl Like Me"
Comment from the reader:
"This may well turn out to be the best purchase I have made... I hope not too many of my competitors find this book!"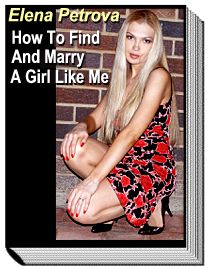 Discover how to find, court and finally marry a beautiful Russian woman!
This is the only book written by a beautiful Russian woman married to a western man - for more than 5 years! - and who is also the owner of a highly successful Internet dating agency.
Find out once and forever what Russian women are really looking for, why they are looking for it and how you can give them exactly what they want!
Get responses on your letters to beautiful Russian women - 9 out of 10, GUARANTEED!
With "How To Find And Marry A Girl Like Me" you'll learn knock-out techniques that will instantly boost your success rate in dating Russian women - online and in real life. You will have more beautiful girls that want to be with you than you can handle!
And not just ordinary girls! They will be beautiful, intelligent, but most of all - honest and sincere! You will be the one to take your pick!
STOP wasting your time and money in search for a Russian wife... Get it done - painlessly, easily, and certainly! Moreover, have lots of fun along the way!
Yes, you too can marry a girl like the one on the picture... Click here!
---
New e-book by Marina Smiley (the author of famous "The shocking truth about Russian brides"):

"Sex and Love With Russian Women"

Discover where so many guys fall short when visit their girlfriends in Russia;
Learn how you can dramatically improve your success with Russian women and win when others fail.
Most intimate questions answered by a Russian woman - Medical Doctor.
---
Comments, suggestions? We want to hear from you!
Click here to Contact us
Seek a reliable Russian Dating Agency? Why not check www.elenasmodels.com - RECOMMENDED
---