---
Julia Gorodnicheva (Bryansk, Russia)

I AM A 39YO SINGLE MALE WITH A BUSTED KEYBOARD SO PLEASE EXCUSE THE ALL CAPS. I WAS CONTACTED BY A WOMEN NAMED Julia Gorodnicheva ON NOV 22ND. SHE THANKED ME FOR SENDING HER LETTER BUT I DID NOT SEND HER ONE. SHE WAS PRETTY SO I EMAILED HER BACK AND WE STARTED TO WRITE TO EACH OTHER. AFTER THE SECOND LETTER I STARTED TO SEE IN HER LETTERS THAT SHE WAS A CLASSIC SCAMMER. IN ONE LETTER WHEN EVEN GOT HER OWN NAME WRONG. SHE WAS WRITING AS JULIA BUT SIGNED ONE MARIYA. SHE NEVER ANSWERED ANY QUESTIONS I ASKED, SENT 1 PHOTO EACH DAY AND SENT A LETTER ALMOST EVERY DAY. HER LETTERS LED UP TO HER WANTING TO COME TO VISIT ME AND I NEVER ASKED HER TO. HER LAST LETTER WAS THE MONEY LETTER. SHE SAID HER MOTHER WOULD BUY THE AIRLINE TICKETS IF I WOULD HELP PAY FOR HER DOCUMENTATION. ONLY A $170 US....WHAT A BARGING. WELL SINCE I KNEW THIS WAS A SCAM I THOUGHT I WOULD HAVE A LITTLE FUN WITH HER. I SENT HER A LETTER STATING THAT I HAD PURCHASED TICKETS TO COME VISIT HER AND THAT I WAS FLYING OUT END OF DECEMBER TO STAY WITH HER. I HAVE SENT A COPY OF THE LETTERS SHE SENT ME AND THE LAST ONE I SENT TO HER. I HAVE NOT HEARD FROM HER SINCE I SENT IT. GEE...I WONDER WHY. WATCH OUT FOR HER...
Letters:
Dear, Thanks for sending me a message. I hope my small story about myself of you will not tire? Ok, to me 28 years old. I Was born and live now in city Bryansk. It is located in Russia. It is not so big city, but for me it native. I have not been married. Children are not. Very much to want to create family with the kind and fair person. I work as the school teacher. To teach chemistry in the senior classes. I live together with my parents and my younger sister. During free time from work I like to visit pool or to go to theatre. Today at me weekend and I shall go in theatre together with my girlfriends. Very much I like to prepare I peep. I think, that I not the bad cook. My favourite a dish - salmon baked with mushrooms and white wine. First of all to appreciate in people (honesty, wit and education). I hope, that you liked my story. I also send you the photo which I have accepted this week. Very much I hope for your answer as soon as possible. I wait for the letter. Sincerely yours. Julia.
Hello Dearest. How at you an affair? I hope, that all is good. Today in the street it is snowing and I think, that it will not thaw any more. Tomorrow it is necessary to go again for my work in school. I love the work, but of it very much to get tired. I work at school 7 years. OK, I shall try to speak little bit more about my family. Mine the daddy works as the driver of a trolley bus. My mum worked as the teacher. Has received the last year a rank of the deserved teacher of Russia. My sister to go to school. Then is going to act in pedagogical institute. I too have finished it with distinction. On it I shall finish the letter as I need to go to tidy up an apartment and to make a dinner. Write to me about the dreams and desires, and also about the plans for the future. OK? I shall write to you tomorrow from my work during the lunchtime. I send you a photo. On a photo I and my daddy. I wait for your letter. Kisses. Julia.
Hi sweet! Excuse what to not write to you yesterday. I yesterday carried out city control in chemistry at school. I shall check today a level of knowledge of my pupils. At me now is present a few time before my work and I to write to you from Internet cafe. At my place there is no computer as it is a little expensive for me with my modest wage payment of the teacher. But to me to like to visit Internet cafe. I to want to speak you about my city. My city Saransk is capital of republic Mordovia. It has been based in 1641. The population of 346 thousand person. Distance from Moscow of 346 kilometers. I think now you have a few representation about my city. By the way, I do not know why, but I would like to see your letter every day more and more. You to me are nice also I though poorly to know you, but I think, that you that the man which are necessary for me. Excuse for frankness, but it is the truth. I to want to know abou! t you all. About your last and present life. I very romantic girl also love all unusual and beautiful.Very much I love walks under the star sky. I look at hours already a lot of time and I need to go, but it is very good to me, when I to write to you the letter. I the first time to correspond through Internet, but I am glad, that have got acquainted with you. I do not like Russian men. They very lazy and egoists. I wait for your answer. I shall write tomorrow. Many kisses. Julia.
Hello honey, While the computer on my to work is free I to write to you this letter and to inform you, that with me all is good. To want you to inform a little more on itself. I very romantic girl. I like courageous, considerable, fair, true men. I think, what you such? I by the way all these days thought of you and to me was sad, that I was not capable to write to you. I hope, what it is mutual? Ok? I also very much like to look TV at leisure. Most of all I like to look sports and scientific programs. It will be fast winter, I have some from it it is sad, as there come colds. I prefer spring or summer more. In the winter to me to like to look at the star sky as during this period of a star it is visible more precisely. I hope, that we with you shall observe together this show. It is really romantic. OK? Now I will need to go to work. To me have entrusted to relate documents on other firm. My work of the courier to like m! e, as all time to have to be in movement. It is useful for health. Now I should go to write tomorrow. It is many kisses and hugs! Mariya
My love! Today when I have approached in the morning to a window it has been surprised. The present winter began. Today I to dress warm winter clothes when to go on street. Today at me weekend also it is not necessary to go for my work. I shall sit at home and to look TV, also I in the street am cold to go only in Internet cafe to write to you the letter. Now I shall go home and to drink hot tea with crimson jam, to not catch a cold. I spoke the parents what to have correspondence with you and that you from other country. They are pleasantly surprised, but they to approve my actions. My mum speaks, that we need to learn each other at a meeting as in a reality it is better to develop attitudes than through Internet. At me now while it is a lot of work, but I in a week will have a holiday from my work and there will be a lot of free time. Probably I shall be capable to arrive to you on a visit. I would be happy. OK? Now I shall go home. I shall write to you tomorrow. I wish good weekend. Love and Kisses. Julia.
My honey, dream today dreamed me. It was very pleasant. I saw you. You were very elegant and persevering simultaneously. We with you to dance and drink champagne, then we all the night long made love. But then I have woken up, as I was woken by mum. She has told, that I spoke your name in dream. It is very a pity, that it was only dream. Today to us visitors will come and I shall prepare for the firm dish. She is a salmon baked in mushroom and wine sauce. I the big gourmet, but do not allow myself of meal as it is necessary to keep the physical form in the order much. Ok, I should go now. I shall write tomorrow. Love! Julia
My sweetheart, how at you an affair today? Tomorrow I will need to go for work and to write the application on holiday. I two years was not in holiday. Tomorrow I shall try also to learn, that it is necessary for me to visit you. My mum will learn tomorrow on the work, than she can help me. She now works in the Ministry of Education 3 years. I think, that we need to meet as soon as possible as through internet it is impossible to find out much. I completely trust you and to want to be near to you, I hope, that it is mutual. I shall write to you tomorrow during the lunchtime when all I learn. I teach 4 years. I have 10 class. Children at me approximately 110 because I teach in several classes. And personally in my class 29 person. To me I was very awkward to admit to you, but still the virgin. I had no relations neither with the man nor with the woman. But I very much would like to test all of charm of sex with the favourite person. I wish you successful day. Love! Julia.
My honey! How are you??? Very good evening yesterday was. I to prepare for a fish with vegetables. It was very tasty. Also to my parents there has on a visit come her girlfriend. It was very opportunely. After a supper I to speak with my mum about you and that you very much like me and that I to want to visit you abroad. I did not expect, that my mum so will quickly approve my decision. She has told, that will help me with my visiting. I need to legalize only my papers (the visa, the passport and to receive the insurance document). Mums the girlfriend works in a travel company as the adviser. She was yesterday during a supper too. She has told, that problems are not present and that she can help to legalize papers in short term. She has suggested me to issue the visa for 2 months. This time will be enough to learn you. She has appointed to me date of reception in a travel company. It is necessary for me on reception on Wednesday. I will need to pay documents and! to pay promptness of their registration. Cost has made 147 Euro or 170$. My mum has told, that my tickets will pay through the Ministry of Education. She also has told, that you have helped me with my visiting too. We with my mum ask you that you have sent me 170 $ for registration of my documents as my mum will take other charges all on itself. I saw the announcement on TV about system of remittances western union. It is very fast and reliable. You can send me of money in any branch of Russia for my full name and a home address, but I also have learned the address of bank which is located not far from my house where is present western union. I allow to you the information which to you will be necessary by transfer of money resources. My full name - Julia Gorodnicheva. My home address - 241000, Emlyutina 6-38, Bryansk, Russia. The address of bank where is present: western union. Gazprombank Partizan SQ., 4 Bryansk. 241011, Russia. Tel: (7) (083) 2445622.
Also for me are necessary your information necessarily correct. Your full name. The name of the airport where you are capable to meet me. It perhaps everything, that is required. Next monday i shall make out the holiday for the period of two months but if you to want that I to leave back home earlier, it will be sad for me, but it will be your will. Nearly has not overlooked, please send me of money today or tomorrow that there were no problems with payment of my documents on Wednesday. I wait for your letter and ours with you of a meeting. Love! Yours Julia.
My last letter to her:
Hello my dear, I have wondefull news. You do not need worry about travel to me or to spend money. I am going to travel to you. I have recieved ticket from friend to Moscow for free. He travel very much and recieves many frequent flyer miles and earns free tickets. I just need to pay a small tax on it. I will come to you on December 29 and stay until January 25. I hope you will allow me to stay with you and you family. I have internet travel agency get my visa to come to you and will recieve it in 10 days. I very happy to meet you and you family. I look forward to hold you in my arms and to make love to you. I wish I had sexy and naked photo of you to look at and dream of until I arrive. I also want to spend day with you as you teach. I very iterested in how school in Russia is. Maybe some children can ask me some question about America. Well I must go now. I will write again with my flight info. Sincerely, jamie
I HOPE OTHERS DO NOT GET SCAMMED BY HER. IF ANY QUESTIONS FEEL FREE TO CONTACT ME. JAMIE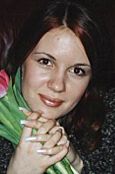 ---
Yulia Babikova (Magnitogorsk, Chelyabinsk area, Russia)
Hi, I'm Ken from the U.S., and have been writing back and forth with Yulia Babikova, AKA, "Julya", AKA "Julia", AKA "Natalia Butakova" The "home address" she has sent me is: 8, 13 Botkin St. Magnitogorsk, Chelyabinsk area 455020, Russia. Her latest email address is: yulinka@fromru.com

I read the letters other guys have gotten from her, and it all sounds so familiar.. nearly word for word. In the beginning, it all sounded pretty interesting and I thought corresponding to someone in another country would be fun and enlightening, then after the third or fourth letter she started professing her undying love for me, and how badly she wanted to come to me...but...being a waitress, she only makes the equivalent of $73 a month. So then the requests for money started to come. At first it was $217 for her visa. When I didn't repsond to that, she said she got help from family and friends, but needed money to travel to Moscow to pick up her Visa...which surprisingly only took a few days to get. Then she needed $412 to pay for the rest of her plane ticket, which she said she didn't have enough money with her to pay for. Ok, that didn't work either, so after miraculously coming up with the money for the ticket, she said she needed $500 or $550 in cash to prove they have enough money for a return ticket, and that she would return it to me as soon as she stepped off the plane. Here is the letter asking for that: (copied and pasted from original) My darling Ken, Again... There is one more problem. I can't leave my country without having $500 or $550 money cash with me. There is the rule of the custom. I think that is done only for Russian people and for the citizens of the third-party countries. A person should prove that he has enough money to come back to his country and that he has money for the back way ticket. That is very important. I will give this money back as soon as I meet you. I just need to have it with me while going through the custom. I already have everything, visa, ticket. That is the last thing we need to do. I hope you understand and will be able to help me. That is the last step on our way for the happy future. I love you and wait for your soon reply. Yulia
When I told her I wasn't sending the money, she wrote in her next letter: (copied and pasted)
Letters:
Sunshine Ken, I to call to you some times, but all this was unsuccessfully. I very much want you to see, but I cannot phone up to you. I need to have money or I should hand over the ticket back in the Airport. Please, understand me and help me!!! I really called to you, and I shall continue to try. But it is necessary to have money or all my works will be vain also I cannot arrive to you. I need you so much. It is so hard to be far from you. I need you, rally need you so much. You drive me crazy. I can't think about anything, only about you. How did I live without you my life before. I don't know what is going on with me. I just want to be with you so much. I can't wait till the time I will be with you. I need to touch you so bad. To understand that it is not a dream but you are real. My friends say that I am a weird one already. As I can speak only about you, about our future. I am sure the time will work for us and everything will be fine. That is my inside feeling, that it is our destiny and we will be happy. Just we need to wait for some more time. As soon as everything is ready, I will come to you and the new life will begin for us. I love you. And you are the only one I need in the whole life. Take care. Yulia
Also, another interesting note, the photos she sent with all her letters, are a different person from what the other guys have sent to you. Plus a few of the photos had been "doctored", i.e. the one of "her and her mother". Enhancement shows "she" was pasted into the picture. The resolution on "her" is much clearer than "her" mother. Attached are some of the photos she sent to me, so as to alert others. Thanks for you time, and thank you for your website. I hope you will post this letter to warn others. Ken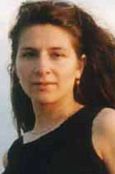 ---
To send your own story, please click here
Click here to support Black List
READ ALSO: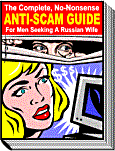 Met a Russian woman over the Internet?
Thinking about finding a Russian wife?
Russian woman wrote to you? Don't move any further until you read The Complete, No-Nonsense ANTI-SCAM GUIDE For Men Seeking A Russian Wife. Too many men were caught up in a scam and lost great deal of money - want to be one of them? Ensure your safety and peace of mind - read the ANTI-SCAM GUIDE.





Scam-free search - GUARANTEED! - Looking for somebody truly special but have had it with scammers and scam agencies? Let professionals to do the job for you.

The Universal Crib On Finding A Russian Wife - the most compressed, step-by-step guidance on finding, courting and marrying a Russian woman.
Dating Scams - The real picture of international introduction industry
Reliable Dating Services - where to look for a Russian wife
The shocking truth about Russian Brides - E-book by Marina Smiley. Find out things about Russian brides that marriage agencies will never tell you.
Why Russian Women? - If you decided to find yourself a Russian wife, you would be inundated with questions of the type "Why Russian Women?" from everybody you cared to share your idea with. Surprisingly, every Russian woman you are writing to will ask the same question: "Why do you want to find a wife in Russia?" After a while, you might start questioning your own sanity in doing the thing which everybody, including your dates in this Internet rendezvous, consider strange enough to request explanations. Here you will find some ready-to-use answers for your family, friends and Russian women you are writing to.
Cheap Russian Translations - Russian-English/English-Russian translation: fast and comprehensive. You are not sure she understands what you mean? Translate your letter to Russian! Reasonable rates and highest quality.
---

JUST RELEASED! New E-book by Elena Petrova:
"How To Find And Marry A Girl Like Me"
Comment from the reader:
"This may well turn out to be the best purchase I have made... I hope not too many of my competitors find this book!"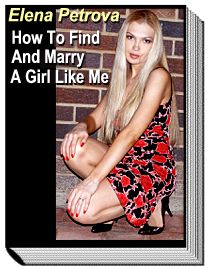 Discover how to find, court and finally marry a beautiful Russian woman!
This is the only book written by a beautiful Russian woman married to a western man - for more than 5 years! - and who is also the owner of a highly successful Internet dating agency.
Find out once and forever what Russian women are really looking for, why they are looking for it and how you can give them exactly what they want!
Get responses on your letters to beautiful Russian women - 9 out of 10, GUARANTEED!
With "How To Find And Marry A Girl Like Me" you'll learn knock-out techniques that will instantly boost your success rate in dating Russian women - online and in real life. You will have more beautiful girls that want to be with you than you can handle!
And not just ordinary girls! They will be beautiful, intelligent, but most of all - honest and sincere! You will be the one to take your pick!
STOP wasting your time and money in search for a Russian wife... Get it done - painlessly, easily, and certainly! Moreover, have lots of fun along the way!
Yes, you too can marry a girl like the one on the picture... Click here!
---
New e-book by Marina Smiley (the author of famous "The shocking truth about Russian brides"):

"Sex and Love With Russian Women"

Discover where so many guys fall short when visit their girlfriends in Russia;
Learn how you can dramatically improve your success with Russian women and win when others fail.
Most intimate questions answered by a Russian woman - Medical Doctor.
---
Comments, suggestions? We want to hear from you!
Click here to Contact us
Seek a reliable Russian Dating Agency? Why not check www.elenasmodels.com - RECOMMENDED
---