---
Nadezhda Vyacheslavovna Lomakina (Kazan, Russia)

I am a well-educated single man, 44, and unemployed. I placed several on-line personals advertisements including one at "One and Only Internet Personals" (oneandonly.com). On January 12th I received an e-mail through oneandonly.com from nadya1100@yandex.ru:
Here is Nadya's initial e-mail to me:

Hello I - Nadya from Russia. I -27 years, 170 sm, 58 kg. My trade the dentist, and I work to City hospital.I the cheerful and sociable girl who loves a nature and sports, Russian classics and kitchen. I want to get acquainted with the person than 36 years for creation of strong family are more senior. For me not important appearance, growth and age of the future husband. The main thing that I and he understood and trusted each other. I hope, that my elect will be you. Write to me to the address and I shall send you my photo: nadya1100@yandex.ru
With hope for fast reple Nadya"
I wrote Nadya back and sent my photo, to which she responded with a nice
e-mail and her photo.

We have corresponded every day since the 12th and it appeared that we were heading into a very serious relationship. She has sent 4 photos. Our e-mails became more and more romantic and involved, when on the 21st of January, in her 9th e-mail she said:
"hELLO MY LOVE , I want to capture you tenderness. I examine that the creation of the spiritual emotional basis of the man is exact and it is meaningful the purposes of formation of family. I want to you to inform that my feelings and words concerning you always were, I am sincere also always understood, that we put a lot of trust that our union would be, when it is real. Now I am sure concerning all 100 %, that I can to you to trust. And you, that the man, that to me is necessary. When I read your letter, I saw in it your sincerity and fidelity to me. I have made of your letter for me the directly large conclusion, which is possible is to expressed in three words " by I LOVE YOU ". Today I even felt so highly, in me by all was going so easily, because my ideas were directed concerning you. I as knew, when I think of you, and you think of me, and it to heat up my soul and body . You probably think, that I examine such not modern, but I that at first time I should have affinity with the favourite man. Now in me the large propensity to you, I do not know, why but it - truth. Sometimes such dreams dream me, that it is a shame to me to you to speak concerning it. This dream dreamed me today at night. " We have supper with you in you, at home and then we go to you in dream, and we begin to be engaged with you love. " But in life I know of rather very small floor , only on television films and would like to study maximal with you concerning it. The justification, that I speak with you so sincerely, but I think, that you should know concerning me only. I would be happy to visit you - limit of my desires. My favourite time of reception of the foodstuffs, which I do not know on any other business, I love everything, that is made with a fruit. I very much love you, and completely you I trust. Kiss yours nadya."
The following day I received from Nadya a letter requesting money:
"Hello my love, After your last letter I was convinced, that you the person for whom I waited all life and with you I would like to create family. You want that we always were together? I very much want it.. It should seems to me It only with you, I am happy also, we may Create the strongest family. I shall give you all tenderness and love, we Always will entrust each other. Together We may overcome all barrier and difficulties, we shall support each other Difficult minutes and we shall be very happy together. I was very happy to receive your last letter. For advantage From you I am ready on what, that you like, even To arrive to you, despite of the big distances. Today I have gone to embassy Also has learned it all over again I should do documents. To me have told, that the visa will be difficult for receiving, but it will be easy for me to make the visa because I am the medical worker and I can receive the visa without problems. Expenses of the visa 65 $ and 100 $ Necessary on the passport. Also money to the ticket to Moscow because the visa is done in Moscow and money on ???????? in Moscow while the visa is done will be necessary for me. On all this it is necessary to me 400-500 $. It is very expensive For me because I receive in hospital only 90 $ in one month. It Inconvenient For me to ask you, but you might help me? If you may send me money, I shall be Have the visa in 10-15 days. You represent, We may meet in one half moon! I shall be very happy so soon to see you. In one half moon all our dreams will come true And we may start new life together and never leave. If you may send me Money will send him in bank through monetary and credit The system the Western Union because so will be faster, so, and we may meet faster. About, I so am happy! I send you the address From bank to Kazan with system the Western Union where you may send money: Kazan, The Kremlin 18. To send money to my name , my full Name Lomakina Nadezhda. My address: Russia, Tatarstan, 420101, Kazan, Amirhana street, 11-9
To write please to me full your name, the address, the name The airport where you will meet me. And also do not pass to send me Number of the control of the account on which you will be Send to me money. I shall dream always of you and our meeting. nadya."
I responded this way:
"My sweet girl. But we still need airfare! I am not yet working! Even if I send you the money--which will be difficult right now, but not impossible--it will take one to three months to save airfare AFTER I AM WORKING. That depends upon how much of a salary I can get and how much plane tickets cost. I learned from a travel agent today that until the end of March airfare is about $1000-$1400. Airline ticket prices become much more expensive in April (they increase $500-$600) and increase again in June. They don't go back down until the winter season. I will send you the money, but not until I am working and have also saved airfare. Once I have airfare saved, then I will send you the $400-$500 (for your visa and passport) and a plane ticket. Okay? Love" I thought about her last e-mail for several hours, and was uncomfortable about it because I had read two areas of http://www.womenrussia.com concerning the absolute necessity to get a fiancee visa. So I wrote a followup e-mail to Nadya:
"My Dearest Nadya, On January 17th I was trying to find information about flying to Kazan (using the "google" search engine). One of the links that the search engine returned was for http://www.womenrussia.com/, an Internet site maintained by a Russian woman who successfully entered the U.S. to marry an American man. She maintains the site to help Russian women and U.S. men get together. I want you to know that I ACCIDENTALLY found this site. I did not go looking for information about Russian women. Anyway, in the Frequently Asked Questions (FAQ) there is a section about visas and Russian women coming to the U.S. It is the reason that I thought I would have to visit you first and why I did not think you could get a visa, other than a Fiancee Visa.The following is from http://www.womenrussia.com/faq.htm#woman_visit:"

Here, I quoted to her that whole section of the web page. I also wrote this: "I hope you can wait for me to do this the right way. A Fiancee visa takes 3-4 months according to http://www.womenrussia.com/fiancee_visas.htm. Please read that page. I want you more than anything. I am your man. Please say you won't give up on me. I am a real, flesh and blood man. I will visit you as soon as I can afford the plane ticket. I will find work soon and we'll be together in less than half a year. Can you wait that long for your true love? I love you'
She wrote me back this morning and said:
"Hello my love. I am very glad that you can to help me with arrival to you. I can not wait this moment, I want that it happened as soon as possible... To me it is lonely without you in this city, you are necessary for me, your words, your tenderness and kisses are necessary for me. I believe in that that I soon shall arrive to you and in our life all will change for the better. That day when I shall see you will be the happiest in my life. I miss on you. I ask, that you have sent me money on visa faster, that I not had any troubles with reception of the visa. Nadya."
This is my final e-mail I wrote to her today, January 23. I said:
"And your plane ticket? If I sent money for your visa right away, I could not afford airfare for 1-3 months after I am working. We must still wait to see each other. You will not wait for me? Love,
I see now that I have been foolish and will not continue to correspond with her.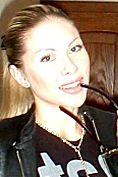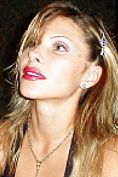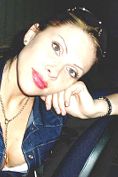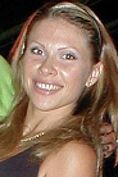 ---
Svetlana from Cheboksary, Russia -- sv03@smtp.ru

Howdy folks-- Been there, done that 1 1/2 years ago with Oksana Pirogova etal, and have read Elena's Anti-Scam Guide, so it was easy to spot this one coming. An unsolicited email came to my Yahoo email address, and I was bored so I answered to test out Elena's guide (it works!). I didn't say anything about her Father killed in Afghanistan and she replied with gratitude for my sympathy. The basic psychological conditioning they use is the same as the Oksana letters, but the stories are not as wild. I kept my eye on the Black List and now find the same sequence of letters under Ekaterina Zevenigovo - January 23, 2003. Now I don't have to write back to find out what "Svetlana" will say next!! No solicitation for money yet, but thought I'd post the photos to save any rookies a few bucks---Check-out the phoney horsetail used to look like long flowing hair (wrong color). Well here they are...
Letters:
Hi my new friend ______!!!I am very glad, that you have answered to me. I would like to begin concerning you more very much.Just for you to know…I really want to find the right personHello my dear friend ________. I am very happy each time when I receive the letter from you. I like when you show your sympathy to me. I begin to feel that we have a lot of common. Today I have read to my mum some words from you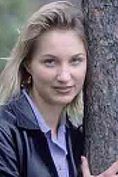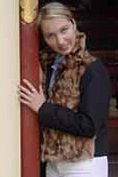 ---
Tatyana Opviso/Tender Hearts Club
Alena Feorovskaya from Ekaterinburg Russia has more aliases than we will ever know...Yes she is real lady, very articulate and well spoken, and very convincing. Her current name is Tatyana Opviso and says she is aquainted with agency called "TenderHeartsClub" that provides computer and phone services. She sent me the same for letter...I from Ukraine...that ok with you?..I 25 not much experience with men... I saw this letter and several others she has sent me. She also called me 8 times in 2 days to "convince" me of her undying love for me and that she will be here in less than 2 weeks!... Be aware! Her accomplice is using name Irina Filipova, supposed owner of TenderHearts club. Thank you for saving me and my pocket book $1790 is what they were trying to get from me! Thanks, but no thanks. Jack in Portland, Oregon. I am 38 and still looking...
---
This is another message from the scammer that used the name the name Tatiana. This was in responce to an yahoo personal ad I had posted. I was told about the blacklist before and this is the second time the same spammer trying to pull the wool over my eyes, but did not. Thank for your help.
Letters:
Hi. It is very pleasant, that you have answered my letter. I want to know more about you. I am not good with Internet and computer. And I am sorry if anything were wrong. My name is Lada. I am 28 years old. I live in Kostroma, Russia. It is the town in central part of Russia. I work as a teacher in a secondary school. I am very cheerful woman and very much love children. I was born at May 29, 1974. I am 5ft 5in (172 cm) height and 119lbs (54 kg) weight. I have blue eyes. I keep health life, and engaged in sports, I go on dancing. I love to listen to music and to read books. Also I take a great interest in cookery and knitting. I want to find the partner of life. It will be kind, sympathetic, tender and clever man. I would like, that such man will become my husband and live with me all my life. As for children, I don't have any. But I am not against them. I want to have strong, amicable family. I has never been married. I live with my parents. I very much love them, but I should start my personal family. May be, I am naive, but it seems to me, that with the help of Internet I can find the worthy man who is ready to share all my pleasures and problems. At school I studied English. And now I study English independently. But my knowledge of language is not yet enough to talk now. I think I can improve my knowleges with your help. Can you understand me? I want to arrange my personal life. I want to find the man, who can become my husband. I want, that it was the kind, sympathetic, decent and honest man. I am really tired from loneliness. The reliable support in life is necessary to me. As for me I am ready to become the fond and tender wife, good housewife for this man. I would like to learn your thoughts and intentions. I think they are serious. I can't promise you anything, let's be the friends. If you want to have fun, to play heart games do not write me any longer, I will finaly learn about it. I need the man with serious intentions. You know, it seems to me, that you are respectable and honest man. I think, that we can understand each other. I hope for your answer. Yours faithfully Lada.
P.S. I have written enough frank letter. I hope you are not confused. People must trust in each other.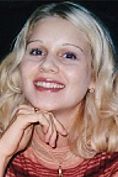 ---
Thanks for your web site. I was written an email by "Lada" <vlared@mail.ru> that sounded good but I was skeptical.<?xml:namespace prefix = o ns = "urn:schemas-microsoft-com:office:office" />
Sure enough, there was almost an exact duplicate email on your site from Tatiana Shishkina (<?xml:namespace prefix = st1 ns = "urn:schemas-microsoft-com:office:smarttags" /> Kazan Russia )
Here is a copy for your site:
Hi. It is very pleasant, that you have answered my letter. I want to know more about
 

you. I am not good with Internet and computer. And I am sorry if anything were wrong.


 



My name is Lada. I am 28 years old. I live in 

Kostroma
, 
Russia

. It is






the town in central part of 

Russia

. I

  

work as a teacher in a









secondary school. I am very cheerful woman and very much love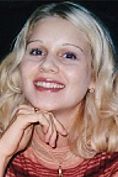 ---
To send your own story, please click here
Click here to support Black List

READ ALSO:

Scam-free search - GUARANTEED!

The Universal Crib On Finding A Russian Wife - the most compressed, step-by-step guidance on finding, courting and marrying a Russian woman.

ANTI-SCAM GUIDE - Secure yourself against Russian brides scams! Read how to make scammers to leave you alone, and choose the right girls from the very beginning.

Dating Scams - The real picture of international introduction industry
Scam - Article by Anatoly Neverov
Reliable Dating Services - where to look for a Russian wife
Russian dating agencies - how do they make their money?
Cheap Russian Translations - Russian-English/English-Russian translation: fast and comprehensive. You are not sure she understands what you mean? Translate your letter to Russian!