By Criminology Research Institute

For three months, CRI investigators between the ages of 21 thru 47 conducted a double-blind investigation into Internet Fraud. For the purposes of this initial investigation, we chose the Absolute Agency web site.

100 women between the ages of 18 thru 36 were sent 'controlled format' emails via the AA site from agents in the UK, USA, Germany, France and Poland. Investigators wrote to women of similar age to themselves thru to a 20-year age difference. In nearly all cases the correspondents replied that "age didn't matter".

43% of 100 selected profiles were from the Ukraine, 34% were from Russia, 15% were from the USA, Canada and the UK, and 8% were from elsewhere. A total of 67 women replied. Only correspondents from the Ukraine and Russia replied. There were no replies from women in Canada, UK or elsewhere. The one response from the USA turned out to be a male.

Of the total correspondents, 23 replied using other agencies linked to AA. All replied with either "real" or "phoney" photographs and standard-type letters. In 8 replies the wording was almost identical. After the first response our investigators returned emails, attaching several photographs, explaining that they were genuine about finding love via the Internet and that their profession was "law-enforcement related", and that they were prepared to immediately fly out and meet the woman. There were no further replies and in most instances, all from the Ukraine, a third email was blocked and bounced back. Three profiles were removed from the AA site. In 25 instances investigators were directed to another site and dubbed "the double whammy", having paid to join AA, men were now being asked to join another site so that they could write to the particular girl. None of our agents took up this splendid offer.

Of the remaining control sample (19) Ukraine 7, Russia 12, investigators started to "develop a relationship". They asked for a physical home address and telephone number. In return, the investigators offered to wire $100 via Western Union to pay for any out-of-pocket Internet expenses, and send a small gift for Christmas.

In six cases telephone numbers were given. In only four cases did anyone answer the telephone despite constant calls. One call was answered by a woman who was obviously in bed with a man, and in the other call, the woman, apparently 26-years-old and claiming to live alone, an elderly woman with breathing difficulties answered the phone which soon cut off. Two of the phone numbers were genuine - both were Russian.

Of the 13 who did not supply a telephone contact number, six of the responders, five Ukrainian and one Russian, started to claim financial hardship. Reasons for which included:
Illness.
General poverty.
Husband/boyfriend had left leaving money problems.
Car broken down and needing repair.
No money for food and clothes at Christmas.
Three women professed undying love, and the remaining 4 - all Russian - were genuine.
The CRI investigators have now written to the six genuine women and they have explained the true nature of their correspondence. Despite the initial disappointment, the relationship ended amicably and CRI has undertaken to pass on their details to a reputable agency. We have sent them each $500 for Christmas.
TOP STORY:
New Dating Book Becomes #1 "Love and Romance" Bestseller in Just ONE WEEK!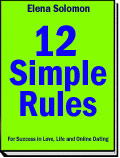 It took only one week for the new dating ebook 12 Simple Rules to become #1 'Love and Romance' bestseller in ClickBank, the word-wide leader in distribution of digital products.
12 Simple Rules is a dating makeover manual for men and women, with practical tips and advice on improving not only your love life but also your life situation in general, including money and career.
Simon Heong, the publisher of the first compilation ebook of 'dating gurus' 28 Surefire Ways For Instant Dating Success, evaluates 12 Simple Rules as "hands down, one of the best resources out there".
ANTI-SCAM GUIDE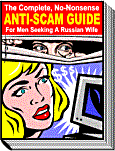 Met a Russian woman over the Internet?
Thinking about finding a Russian wife?
Russian woman wrote to you?
Don't move any further until you read The Complete, No-Nonsense ANTI-SCAM GUIDE For Men Seeking A Russian Wife. Too many men were caught up in a scam and lost great deal of money - want to be one of them? Ensure your safety and peace of mind - read the ANTI-SCAM GUIDE.
READ ALSO:
Reliable Dating Services - where to look for a Russian wife

Scam-free search - GUARANTEED!

10 simple anti-scam tips from a Russian woman

Men, stop breeding Russian scammers!