There are lots of stories about Russian dating sites on the Internet, and many complaints. I can tell you that some dating sites are not good, and some people you meet (even through honest dating sites) will be not good.

Let me first deal with honest dating sites. I consider that a website is honest if they are upfront with their policies and fees, and if they deliver what is promised. It is also essential that the Russian dating site does their best to help you to build a relationship, rather than hinder it.

I'll explain what I mean; some dating sites don't allow you to exchange your direct contact details with a woman - this is what I consider a rip off, they simply want you to keep paying them, so that you can continue talking to the woman you like. If they were here to help you establish a relationship, they would let you two talk directly, wouldn't they? But if they don't allow you to do that, then this is what I consider "not acting in the clients' best interests".

Of course honest Russian dating sites also are here to make money but they are not greedy: once you pay the membership fee, you can talk to women directly and they don't mind if you go offsite and start using Skype or MSN.

Truth is, the "greedy" Russian dating sites will often have it spelled very clearly in their Terms of Use that you can only talk to women through their site (and they want you to pay for it). If you ask why, they will say that they want to ensure your safety that you are not scammed. Thank you very much, I am smart enough not to send money to people I meet on the Internet, and I don't need someone to sensor all my communication with a woman I hope to marry one day. So, I steer clear of the "greedy" sites; as soon as I see I need to pay per letter or per minute of chat, I am taking off! I like websites with a membership fee, this is a much better value for money.

In regard to people who are not what they say they are (scammers), no dating site can guarantee all their members are 100% honest and sincere, because no dating site can get into people's heads. But good dating sites have rules and structures in place to remove such people as soon as they start creating problems.

What I want in a dating site is that they:
Have beautiful women;
Allow you to contact them directly (no agency middle-man);
Allow you to give them your email address and for women to write to you directly;
Have strong anti-scam policies and remove people who are not what they say they are.
Should not be "greedy" and all fees should be upfront.
I also look for websites that have proof that their service works; testimonials and success stories are great but they need to have dates on them and preferably photos. You can meet women in many different ways but can you meet the woman you really like and be successful with her? This is the key.
Wishing you good luck,
Norman Green (Belgium)
ANTI-SCAM GUIDE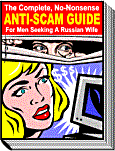 Met a Russian woman over the Internet?
Thinking about finding a Russian wife?
Russian woman wrote to you?
Don't move any further until you read The Complete, No-Nonsense ANTI-SCAM GUIDE For Men Seeking A Russian Wife. Too many men were caught up in a scam and lost great deal of money - want to be one of them? Ensure your safety and peace of mind - read the ANTI-SCAM GUIDE.
READ ALSO:
---
Comments, suggestions? We want to hear from you!
Click here to Contact us
Seek a reliable Russian Dating Agency? Why not check www.elenasmodels.com - RECOMMENDED
---
Check out our NEW, REAL ladies! (Click on the photo)
More photos