---
Elena Grineva (Kremenchug, Ukraine)
Hello, My name is JACK and I'm 49 years old and I'm American. I have 2 lovely daughters. The 'scammer' is named Elena Grineva. I remember writing her 2 years ago and saw her ad accidentally just recently. So I wrote her again to see if in fact she was still trying to scam people. 2 years ago I didn't know any better . She pretends to be a 'rookie' at this thing. She says she works two jobs day and night but her responses to me emails were almost immediate ... at least within a few hours and always during her work hours. GO FIGURE.
Any questions ... please write to me at " ritzar@aol.com"
JACK
LETTER #1:
Hello dear Jack!!!!!!!
I was so happy to get your message and I am very pleased that you are interested in me,hope I will not disappoint you. If only you could know how lonely I am now in this imperfect wolrd.I was disappointed in men in past.Maybe this is because in our country men forgot that there are some very important values in the life such as decentness,faithfullness,honesty,caring and respect.I think that a family,children and relative people should be most important and dear for each person.But in our society nowadays these all things have lost their value and meaning.
I was born and grown in such a family which was full of love,caring, mutual understanding and that is why I have always been thinking that in such a way it should be in this world. But unfortunately my life went in other way. But anyway life is going on and I do believe that everything will be fine.I am trying to be strong and overcome through the hardships in this life in order to fall in love again and feel and know that I am beloved as well.I am looking for my destiny,my second half in this world ,I want to be a good friend,a faithful wife and a passionate lover for my future only one man. I would like my man to be decent,loving,caring,tender romantic,real gentleman who will love me and respect me and we would be a perfect and the best couple in the world.
Maybe you are my perfect man whom I am looking for ? I smile. Dear Jack ,please tell me more about yourself and send me your photo. Looking forward to your reply.I send you my photo.Hope you will like it.
Sincerely
Elena
LETTER #2:
Hello dear Jack!!!!!!
Thanks for your photos,you look very well. You cannot imagine how happy I was to recieve your letter,it was like something turned inside me and I felt pleasant warmness which I am still feeling.I am really pleased that you wrote me because it means that you are really interested in me,i nterested in creating strong family with good children and caring ,loving wife. I would like to know more about you,your personality as soon as possible and that is why we should write each other as often as possible and make the efforts to meet in person and stay together forever.My dear,now I would like to tell you something about myself. I live in Ukraine in a small town Kremenchug which is 300km far from Kiev city,our capital. I have a son Hleb who is 7 y.o.He goes to school.He is a very good boy and I thank God that I have him in my life.Hleb is my only happiness proudness in my life for now,I love him very much .Yes,I would be happy to have even more children as children are the flowers in our life. I work on two jobs in order to survive in this crazy poor country.You even cannot imagine how we live here,maybe if once you come here you will see it by yourself and will be surprised how our people can live in such bad conditions.I do not want to stay here,I wish these grey everyday life go to the past and I have new interesting life I dream about.I want to have only one lovely man who will love me and take care about me.It is so pleasant when man takes care about his woman and is faithful to her.But for now I have nobody beside me to take care of,I am alone and has to take care about my son as well by myself. Dear Jack,I ask you very much to write me only in the case if you are really interested in meand have serious intentions towards me.I am trying to be careful with these marriage services.I heard that some girls are writing to several men trying to chose one of them.But I do not want to do in such way because I found you and I am interested in you,I am willing to meet you in person and make our lonely hearts in one big loving heart and be together forever.
I would very glad if you can visit me here,we would be able to know each other much better in person meeting,we can write all the words in the wolrd but it would not be equel to looking into each other eyes. I ask you think about it,understand your feelings,thoughts and wishes and after it if you decide that you have found that perfect woman for you in myself so I will be the happiest woman in this world. Looking forward to your reply.I liked you very much and it would be wonderful if we were together.
Kisses and hugs
With love
Elena
LETTER #3:
Hello my dear Jack!
I am so glad to get a letter from you.I am very pleased to know that you are thinking about me and my son.I like to read your letters as in such way I can know you better. You asking me would I like to have a daughter?Yes,I dream about having a girl because she would be a small princess,a beautiful doll.You are happy men because you have two daughters and they can brighten your life with their baeuty.I would like so much to get closer to them,to know them better.Of course I would teach them to be perfect and gorgeous and true ladies.
About my jobs,so in daytime I work in the shop as a goodskeeper and also I work in the firm as assistant of accounter in the evening time but this job is good because I can take some paper work to do it at home.But I am so tired already to work so hard and so much and the awful thing is that I cannot devote much time to my son.
My dear,I will be so happy if you visit me here because the personal meeting is much better than correspondence as we can write all the words in the world but it would not be equel to looking deep into each other eyes.I think we have found each other in this world and our first meeting will be unforgatteble and you will never regret about it.Dear Jack,I should end the letter.I am sorry I cannot write you big letters as I have to pay for it much money.It is very hard life here in Ukraine and nothing is free here.Our people have to work at two or more jobs to survive. My dear,I do not want to disturb you but I would like to ask you to help me in payment for our correspondence.I would appreciate you very much and we will be able to write each other often and without any problems,I do not want to lose connection with you. Looking forward to your reply with great hope.
Kisses and hugs.
With love
Elena
LETTER 4: MONEY REQUEST. (Note, this girl has been doing this for 2 years yet she pretends she is a rookie).
Hello my dear Jack!
I am so happy to get your letter and photo.But I see on the photo only one of your daughter,she is very nice girl,I hope next time you will send me photo of your second daughter,I am sure she is also nice. My dear,today it is St.Valentine's Day.I am so glad that we have aquainted closer to this holliday.I want to conratulate you with this wonderful day.I wish we could be together on this day as it is the day for people who are fallen in love.All my friends will be with their lovely men but I will be alone again.I will stay at home and all of my thoughts will be about you only.I want so much to see you,to feel your heart beating,to hear your breathing and laughing,to find myself in your arms. My dear,I want to tell you that Gleb's father is not involved in raising his son,I am doing it by myself with no help from the side.That is why I think that he will not object because he is not interested at all in his son's life and destiny.As I told you already men in our country do not take care about their families,they just try to escape from the problems drinking much alcohol,using drugs and so on.That is why I am not looking and do not want to look for my destiny here.Many of my friends got married with foreigners and left for different countries and when they visit their parents here they look so happy and full and strong families.Looking at them I came to this marriage agency and started to look for my destiny.I do want to believe that my second half I've been looking for is you.That is why,I am not willing to leave my country but I am willing to live in the place where my lovely man lives either in America. Honey,of course,I will be happy to meet you in Kiev as I do want to see you in person and you will be my guest and I will do everything in best way for you. My dear Jack,you know,I am a member of marriage agency.The marriage a gency's service costs per month 50$ and besides each sent orrecieved letter costs 2,5$. Approximately per month it will cost 100$.I talked to the women who visit this agency also and they advised to use the service of Western Union as it is the quickest and safest way of transfering money.You should go to the WU office and send me money through them using my full name and address:
Elena Grineva
d.8,kv.73
ul.Pavlova
Kremenchug 39600
Poltava region
Ukraine
Well,my dear,I am ending the letter. Looking forward to your reply.
Kisses and hugs.
With love Elena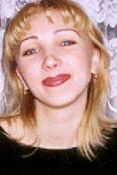 ---
Evgeniya (Jane) Kudakova (Lugansk, Ukraine)
-agency - Slavonic Beauty
I am a white male from the USA and would like to report to you a scammer Evgeniya (Jane) Kudakova from Lugansk and what appears to be a scammer agency Slavonic Beauty. Her e-mail address that she uses is Jane1@boxis.com.ua . I first wrote to her at Match.com under the profile of janekud. She also has a profile at friendfinder at Kud_Jane and Abslolute Agency under ID# A1073412. She uses an Agency called Slavonic Beauty http://sbagency.hypermart.net . The manager at this agency is Svetlana Litvinova I would be very careful in dealing with this agency as there are many well known scammers listed on their site, maybe they are all scammers! They tried to get me to send them money in order to talk with her. I did send her a telegram to the address that she gave to me but they were unable to deliver it as there was no such address. She has all of the makings of a scammer even though I did not get a chance to send her or for her to ask for money except for this Agency which I am quite sure is a fraud especially by the fact that almost all of the women listed there as known scammers.
Sincerely,
S. H. (Scammer Hunter)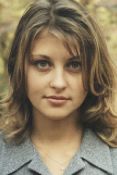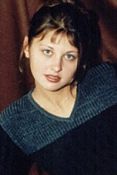 ---
Inna Biryukova (Kiev, Ukraine)
I met a girl: Inna Biryukova with Kiev@ukrainiantours.com, and had a terrible experience with her. She works with a man named Andre (he is the brains behind the scam) and I visited her last summer in Kyiv. What a shock! Firstly, she is not educated as her profile says. She doesn't write the letters, Andre does (I have had the same letters sent 2 weeks apart, I should have known immediately) She uses the address:
8 Boychenko St Apt 301,
Kyiv
252000,
but her phone number is the same as the agency's! There was no response. This man is terrible. When I met her there was no connection as she did not know whom I was after many months of writing, so I knew immediately, she never wrote the letters!
Sincerely,
Dale Mulford
---
Ira Socochan (Donetsk, Ukraine)
I am a white male in the USA and would like to report a scammer who is trying to get me to wire her money via Western Union for a visa, passport and airline tickets to visit me. Her e-mail addresses are Ira@uspeh.donbass.com and also Ira1@uspeh.donbass.com. I first contacted her by Match.com under the profile of Ira4 and she also has a profile listed at Friendfinder under the profile of lubok555, another one at Match.com under flower16234 and one at Absolute Agency under Ira ( ID# A1314678). Her current e-mail address is Ira1@uspeh.donbass.comShe is a definite scammer. Her name and address is:
Ira Sorochan
Sumskaya st. 27/2
Dnepropetrovsk
Ukraine 49035
Her date of births are Dec. 20th at Match.com and Jan. 14th at Friendfinder. Enclosed are several of her photos and letters which she has written to me. I have not sent her any money at all. Here is the address of her agency which is most likely bogus and I would be very careful in dealing with them: "USPEH" http://uspeh-tc.chat.ru The Informational Centre of translation "USPEH"
Pushkinskaya street 52 office 37
Gorlovka
Donetsk Region
84601 UKRAINE
E-mail: center@uspeh.donbass.com
Sincerely,
S. H. ( Scammer Hunter )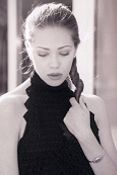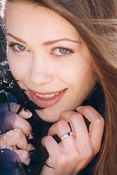 ---
Irina Smirnova (Nizhnevartovsk, Russia)
I'm a single father of 2, I'm 37 years old, I'm a systems administrator for a law firm. I was contacted a few weeks ago, around the 15th of January by someone claiming to be this Irina Smirnova. I even gave my phone number and did receive a phone call. That was about Tuesday 1/05/02, the call lasted about maybe 30 or 45 seconds her saying she could only talk for so long. Anyway I was lucky enough to have found your website, and located her picture under your blacklist. She is using a completely different name under the picture listed on your website, but that or those are the pictures I received. I just wanted to warn others that this person whoever they may be is using a new name for this picture now. I'm not sure if it's important but this is the last letter that I received from her or whoever it is.
First Email
Hi Bobby!
I am glad that you answered to my email. It's interesting to receive the email from man of another country. I want to tell you about me and my life. I am cheerful woman, I think that the people don't must be gloomy. I like camping,fishing (there are many men in my country who love fishing. I like to see movies. Usualy it's romantic movies, comedies. Now I want to tell you where I live. So, I live in Nizhnevartovsk, it's not small town in our country. There are many beautiful places here. Maybe you saw this places on the pictures in internet. Do you saw? Please tell me about your live place, your town. I want to know where you live. I have the purpose: I want to find my soulmate, I'm looking for companion of life with which I want to be. Of course I don't want to make mistake. My intentions are serious. You may think: why am I looking for man in other country? I think: Our country is beautiful of course, but there are some problems. There are financial problems in our country. It derivates drunkenness among the men, growth of number of criminal elements. I had two men, they are liked to drink alcohol. So, I decided to find my man in internet from other country, I choose the america because I think it's more successfull country. In future, if I shall have a children I want that they must live in normal society. I badly know the computer, I ask the internet center consultant from internet service for help to find the nominee, he show me 'match' service, I saw the profiles and I decide to write you. I decide that you quite worthy man. So what you think? You may ask about my english. You must know, our people learn english in school during five years. Then it learns in universities or college. By the way I finished the college of culinary. You know, I like to cook very much. My favourite dishes are italian and russian. I know english not bad. I can read and write english, I speak a little. Sometimes I use the dictionary to translate some words. I am 27 years old. I live in small flat which I rented. I have a mother. My father dead five years ago. He was taxi driver and he has got in failure (auto accident). I am very missed him. I havn't any brothers and sisters. My mother work in food-processing industries, she is casher of food store. I am work as bookkeeper in office of public catering. I make the receipts, checks and other. I think that you understand my english. Do you understand? I hope yes. I write you from work, we have two computers here for accounts department. I work five days per week. Sometimes I work in weekend. Please tell me about your life. What are you doing in weekends and free time? What do you do for a living? Do you work? I want to know more about you, and you? Sorry, I havn't pictures of me now, I shall try to scan it and send it to you in next email. If you will answer me, I shall write to you more about me and send my picture. So, please send me your pictures. I shall wait your email.
Irina from Russia.
Take care.
Irina
Latest Email
Hi my love Bobby!
Today is cold day here, I waked up at 6 o'clock and go to work. I go to work by bus, I stand on bus stop and I has frozen because the cold wind blows and I stand about 15 minutes there. When I went to work I looked tha email from you and I was very happy when I find it in my email box, Now I'm sitting and writing to you my love Bobby. When I was on bus stop I was frozen but when I think about you it's warm me and my heart. I Love you Bobby! I work here and think about life, I work on my work place and have about 1800 roubles per month, it's about 50-60 american dollars, the money is not important to me, I want only happy life, and it's enough to me. I want to ask you about your work. My work is not very hard, I like to work in general. I like to contain my house in cleanliness and order. Every weekend I make a general cleaning, I don't like the dust and dirt. I'm a clean women. And you must know that my love for you is clean and goes from heart. I think that the important thing is frankness, I totally frankness with you because I trust you and love you Bobby!!! I want that all people were honour, I like honour! We have the chance to embody our love and connect our hearts in life. I really want to see your face and talk with you Bobby! Tomorrow, I shall learnpossible ways of meeting, I'll write it to you and we must decide about our meeting, I beleive and hope that you want it too, do you want it Bobby??? I want it all my heart. I'll write you when I'll know about it. How are you dream our meeting? I dream about it every day and I think when I'm go from plane, I'll see you. You meet me in airport we make hug, kiss and we go like the happiest humans and speak... It's my dream. I love you Bobby, I'll write you more later and I'm looking forward your email today. I LOVE YOU, PLEASE DON:T FORGET ABOUT IT!!!!!
With love,
Irina.
p.s. I found out the rather visa. In our city there is a tourist agency. This agency will help me to make the visa to arrive to you. This visa is valid 90 days in America. I shall find out more rather visa.I enjoyed your words! It is very pleasant to me to receive many your letters after week-end!!!! I heard your music. It of SUPER!!!!! It is surprising! I like this music. I am very glad to receive many your letters after week-end!!!
I just feel that this warning might save someone else from some problems in
the future. Here are the latest photos I received.
Robert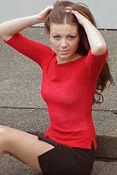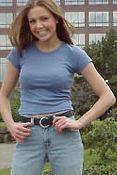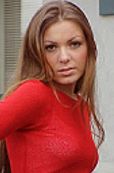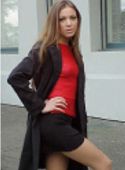 ---
I am a black male age 31 living in the United States. I placed a classified ad on the internet to see if I can meet someone because I had a hard time meeting a good woman. One day I received a response from a woman in Russia. She told me a little bit about herself, her family, and her career. I responded to her as I was interested in her. Over the past two months we would write to each other all the time exchanging more and more information about our lives. She seemed to have feel in love with me or I thought she did. I found it kind of unsual that she did seeing as though we never talked over the phone but I just thought maybe because where she comes from she was more concerned with a mans personality then what he looks like. Right around the first week of February she wrote me an email letter stating that her Aunt Olga has found a way to get her a visa in the same day and that she needed $299.00 USD to sent to here Via Western Union or we would miss this chance for her to come and be with me. I got really suspicious of her because out of the nowhere she would ask money from me and she would never answer any specific questions that I would email her. She was very detailed on how and when I should send the money but questions I would pose to her she would gave evasive type of answers. The place she told me to send the money is the same as the one posted on this site. It is:
ROSBANK
SPORTIVNY PROEZD 5A
OMSK
644042
RU
IRINA SMIRNOVA
Also the pictures I have are the same as was sent to G.L.G with the same email address at irina_voot@fromru.com. I really thought this woman really cared about me but it broke my heart to find out that she was a scam artist. She is still sending me emails claiming that she loves me and can't live without me but I know that it is all a lie. I like to Thank You for having this site up. It really saved me from severe emotional pain and financial liability.
Alonzo.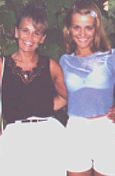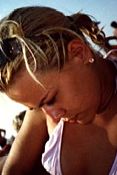 ---
Irina Tarakanova (Kiev, Ukraine)
It seems like this Person (who ever it might be) does not quit easy! I read the other men's "ad's" on her, But now she is saying that she's living in Kiev Ukraine, and the Agency working whit her is now "Paradise of Angels", and Tatyana Perlotva is the account manager! And she told the same thing after 2 emails, she needed $1850 to get to the USA, on a student visa and her deadline was on the 18 of February of 2002. She asked me for my phone number, and then she called me about 3 times in all, I got suspicious and I contacted my long distance phone company, and they tracked down Irina's phone call , and the company found out that the call was made from inside the USA, it was not an International call.......I already contacted the Consular Offices of the USA in Kiev and the Ukraine Embassy in Washington checking out the address they gave me! I suppose they are working on it! The money was intended to a Sergey Khomenko in Kiev. They are working with Western Union............Be smart, guys! don't be scammed!.....and thanks to the owner and manager of this webpage.
Sincerely
Jorge................Arizona, USA
---
Ukrainian Pearls (Odessa, Ukraine)
Email: ukrpearl@ukr.net

Victim: 49 year old, white American male, divorced with no children; high income professional seeking marriage partner from Russia or Ukraine

I met Tanya, a young Ukrainian woman with a 5-year old son, on the Internet in January 2001 through Dating.com, not Date.com. We began corresponding with each other through an interpreter who was employed by Ukrainian Pearls, an introduction and dating service based in Odessa, Ukraine. I paid a 3-month membership fee of $160 for unlimited translation of emails and interpreter for telephone calls. The dating service also provided flower and gift service at a nominal fee. I thought everything looked honest and respectable. I started sending money transfers via Western Union to Tanya for her travel and living expenses in preparation for our first meeting. I also sent her money for the purchase a home personal computer, so we could communicate easier in the future. I send $3500 from March - June 2001 through Western Union. She always "acknowledged" receipt of the money, but never told me how much she received. I was a little suspicious, but ignored it. We met in Odessa, Ukraine in July 2001. I paid Ukrainian Pearls another $2000 for apartment living accommodations, bicycle rentals, driver fees, and interpreter services. During our 2-week visit, Tanya never mentioned anything about the money she supposed received from me. Again, I ignored her silence, but I grew concerned that something was wrong.

I returned to America and continued corresponding with Tanya. In August, Tanya informed me by telephone in broken English that she never received the $3500 that I sent her through Western Union. She was so embarrassed about not telling me. She feared losing me. I inquired about the matter further. I emailed Ivan Kretchan, proprietor of Ukrainian Pearls and voiced my complaint. Ivan refused to discuss his business policies with me, even after being a "good customer" from January through August. I pressed the matter again by repeat emails. I also emailed our interpreter about the matter. The interpreter claimed that he translated every email and his boss, Ivan, told him to never disclose to Tanya how much money I had sent her by Western Union. I learned that Ivan always picked up the money at Western Union on behalf of Tanya and never gave the money to Tanya. Ivan also ordered Ruslan, our interpreter, to change the translation of my emails so that Tanya never knew the exact amount of money that I sent her. I ordered an investigation from Western Union, but they were unable to produce documentation that was sufficient to prosecute Ukrainian Pearls for attempted embezzlement. I never heard from Ivan again. He fired Ruslan for insubordination. He visited Tanya at her place of work and verbally chastised her in front of her co-workers for telling me the truth. Tanya was so embarrassed by the entire experience that we separated. I never heard from Tanya or Ukrainian Pearls again.

I will never send money again through Western Union for anyone because, in spite of Western Union's "strict policies" about "only designated recipients can receive funds," the truth is that ANYBODY can receive funds on behalf of someone else, if they have enough connections or corruption at the receiving center. Ivan terrorized Tanya into believing that if she told me the truth about the disposition of the money I sent her, she would never see me. This is emotional manipulation of the worst kind. It is evil and nearly impossible to identify until the damage is done.


Randy Volkening
rvtech@earthlink.net
---