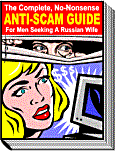 ANTI-SCAM GUIDE: Read once, and forget about scammers forever!
Seek a reliable Russian Dating Agency? Why not check elenasmodels.com -
RECOMMENDED
Be smart and safe - Background checks in Russia, Ukraine and Belarus.
Click here

Feedback about Russian Brides Cyber Guide's Black List
Thanks for your help on this site! I had decided early on that I would be happy to correspond with her so long as there were no requests for money. When the last letter finally arrived this morning, I knew something was up.
Thanks for assuring me that this was a scam after all.
Michael
---
Scamming may not be a crime, but stealing money is. I am going to nail these guys, if its the last thing I do. Thank you for fighting the good fight. We should all stand together to rid the world of this scum.

Regards
Adriaan (South Africa)
---
I would like to thank the creators of this site and especially one contributor to the site, namely Shane, who wrote a profile on a Miheeva, Marina aka Margo. You have saved me a lot of money and a lot of grief. The thing to remember about dating site scammers, and this one in particular, is that even though they may correspond with you for weeks - they are essentially lazy. They may respond to the general gist of your e-mails but generally do not respond to specific details, such as questions, comments or photos. They also have a tendency to re-use a lot of the same material that has worked for them in the past.
Terence
---
I did some more digging and found this website which made my decision a no brainer. I replied back to her with an article that I found about scammers being arrested in Russia. I haven't heard back from her since. She's good...almost got me to go "all in"... Thank you to this website and whoever started it!
Frank
---
Anjella first contacted me through Match.com. We have been emailing for about 5 weeks now. She made no mention of money until last week. Thanks to you I was wary and di not send any money. She asked for help with tickets after the visa cost her more than expected. I found her IP address and did a google search and found your site with almost identical emails. Copy and paste with some personal questions answered at the top. Thanks for saving me some grief.
Greg
---
Russian women black list - names and photos of reported scammers, scams from Russia, dating fraud

Black List - page
642

: UPDATES
October

22, 2010

DISCLAIMER: This page is compiled from visitors' comments only. All messages posted tell about personal experiences of their authors, and not necessarily reflect the position of Russian Brides Cyber Guide






Elena Ivanova (Donetsk, Ukraine)

I am an American man living in Ukraine for more than a year now. While I was living in Yalta over the summer months I met a woman named Elena (Lena) Ivanova from Donetsk on the Odessa Darlings website. I let my membership in Odessa Darlings expire so I donít have access to our first series of messages in July. Lena gave me her phone number on July 25, 2010 and we started communicating by phone and email at that point. (+38 099-237-31-63, kisskiss273@gmail.com) In a phone conversation she agreed to meet in person and wanted to come to Yalta. We agreed she should come for a week from July 31 through August 6, but she insisted she wanted to fly and would not take the train because it was too dangerous and uncomfortable. She wanted me to pay for the airline tickets and had a supposed travel agent send me the ticket information and itinerary. (Master-Tour, Head Manager Vitaliy Andrushin, Lenina 17b, Donetsk, master_tour@inbox.ru with the name Valentina Lopatkina connected to the email address) The round trip ticket was supposedly $264.
It was against my better judgment, but I sent $280.00 to Lena via an inter-bank transfer at Ukrsib Bank. As you can guess, she never arrived on July 31. In the next email I received from her she claimed she was stuck at Borispol airport in Kiev because she lost her bag (purse) there which contained her tickets, phone, money and her other personal items. As the story progressed, her bag was stolen and she reported it to the airport police. Then she called her parents and they sent her the money to return to Donetsk. I should have realized it was a scam because the itinerary was a flight from Donetsk to Kiev with a connecting flight from Kiev to Simferopol (closest airport to Yalta) instead of a direct flight from Donetsk to Simferopol. If she was really in Borispol and had her bag stolen, the airline would have replaced the ticket and given her a boarding pass for the connecting flight.
Since then, I have continued to communicate with her trying to convince her to return the money to me and debunking all of her lame excuses. At first she said she would return the money after her parents received their salary. She must have forgotten about this one because on September 25 she said I should be patient because September 22 was the one year anniversary of her fatherís death. She also continued to suggest over the last 2 months that I should come visit her in Donetsk and not worry about the money.
Below are some of the emails from her and the supposed travel agent.

Letters:

From: kiss kiss (kisskiss273@gmail.com)
Sent: Wed 7/28/10
To: Richard

Good morning Richard, dear steel no news from you, well, i hope you solve your problems, i think as if you can not find any information, i will do this myselfi told you in our conversation, about the cost, so i can going to the travel agency, and you will just book there the tickets, will be this OK?
it will be for me better too, you will book the tickets and i only will take them, OK, wait your answer, do not be sad, Lena


From: Valentina Lopatkina (master_tour@inbox.ru)
Sent: Wed 7/28/10
To: Richard

Hello Sir
I am the Head Manager of Travel Agency ,,Master-Tour,, Vitaliy Andrushin.
Thank You for the cooperation with,,Master_our,,
As we mentioned before ,You can pay with Your credit card, directly to the name of Head Manager,,Master_tour,,Vitaliy Andrushin, use the fast serves of transfer money, see please, this links
www.monegramm.com
www.westernunion.com
After we get the MTcn (payment for the tickets),we will invite Miss Elena Ivanova
and give to her the tickets
Administration,,Master_tour,,.


From: kiss kiss (kisskiss273@gmail.com)
Sent: Thu 7/29/10
To: Richard

Hello Richard, my dear, i got this moring email from the travel agent and tehy told me as they sent email to you too, anyway they told as they take only cash money but you can use credit card too, and pay with western union or Money Gram, i do not know haw this working as i never pay with credit car use this fats transfer of money, you need see your email box, the travel agent sent you email
anyway, i send you the copy passport, and my address is

Ukraine city Donetsk,
street Artema 14/77
Ivanova Elena

I understand as we need pay the tickets today or the earliest time tomorrow, but You tell as we will do this today, i trust You , Richard, i have no friends in Yalta and you told as you have where i will stay , with you, kisses from me and i wish you good day, kiss Lena


From:kiss kiss (kisskiss273@gmail.com)
Sent: Sun 8/01/10
To: Richard

Good day Richard, haw are you?
my daer i am steel in Kiev, anf i think si will stay hear else some time,
i was going to you and at 8 o'clock i was in the borispol, thsi is terrible, but i lost my bag, i do not know where it is. ui mean my woman's bag, the laggige, i have with myself little things with me, but my woman's bag was disappear, i went to the airport police and told as somone solen my thing, so now i waiting the result, as there in my beg was tickets, make up, my money and credit card, tehy, i have no possibility inform bank about this as i lost phone, it wa s in my beg, ok i will try inform you what is going, i hope a sif tehy find my beg i can going to you, may be already tomorrow, i am very frustrated, very much, this si not pleasant feeling when someone stolen your things, i ask dand from the police phoned to hone, my parents know about this....
i write you from Internet cafe, from airport,
very sorry, but i hope tomorrow we will meet, write me email as my phone is stolen, and write your
phone number again, in emails may be i will cal you from post ofess..
Lena


From: Richard
Sent: Sun 8/01/10 1:26 AM
To: kisskiss273@gmail.com

Hi Lena,

Sorry this happened. I had a funny feeling something like this would happen. Please try to call if you can. My number is ----------. The email system was not working until just now which is why I didn't write back sooner. The airline company should have your ticket in their computer system so they should give you a replacement ticket. Which airline is it?

Richard


From:kiss kiss (kisskiss273@gmail.com)
Sent: Mon 8/02/10
To: Richard

Richard am at home, i went back, my parents send me monet to Kiev, and i very frustrated, the polis told a they tried call to my number but no one answer, i will send you you money back, after 1 week, when my parents will got the salary, sorry as all this happened this way, but anyway i would like see you in Donetsk,

Lena


Date: Thu, 23 Sep 2010
Subject: Re: How are you?
From: kisskiss273@gmail.com
To:

i sent you today 25 doll

Lena


2010/9/23 Richard

Number 1 That is not enough.
Number 2 Where and how did you send it? You need to give me the code numberif it was through Western Union. By the way there is more than one scam list you could join.

Richard


Date: Fri, 24 Sep 2010
Subject: Re: How are you?
From: kisskiss273@gmail.com
To:

Richard please be man and paitient with me what i should send you i will


2010/9/25
Lena,

I've been patient! You said you sent $25.00, but I guess you really did not. Why? I'm busy now with moving back to Odessa so I don't have time to post you on the scam sites now. So you get a few extra days. Why did you say you sent some money when you did not? You must think I'm really stupid!

Richard


OriginalArrivalTime: 25 Sep 2010

you are very strage
sepetember 22 was 1 year after my father daied i told you this
waite little, and i will send you back, and all will be finished i sent 25 dollars, i have this copy of list, from wu, i asled u what i need send you in information, that is all
i never think u are stupied


From: kiss kiss (kisskiss273@gmail.com)
Sent: Mon 10/04/10 10:50 PM
To: Richard

meet with me Richard

kisskiss


From: Richard
Sent: Tue 10/05/10
To: kisskiss273@gmail.com

No!!!!!!!!!! Send the money back first and prove your story. When I return on Friday, if the money is not waiting to be picked up at western union I will post your passport picture on one of the Foreign Women Scam websites; probably the Black List one. That will be the end of the waiting!!!!!