Anastasiya Pushkareva ( Albrest, Russia)

Single guy got an email from someone claiming a friend of theirs let them use an online dating site and found me. Subsequently sent me an intro letter and proceeded to spin her web. Ultimately it came down that she wanted $950 US for a supposed plane ticket to the states, but I found a posting on this sight of the same person with a number of aliases. Thus I responded to her last email with a list of all her aliases, she then abruptly ceased all communication.

Letters:

First received email:

Hi! Thanks a lot for your answer!
I am from Russia. But its impossible to send any email on the site from "Russian" profile at all. Excuse me please for this misunderstanding. Telling from the beginning that profile wasn't mine, I know a woman who is on a dating site. It was a profile of that woman, but she let me find someone from the dating site from her profile. I don't know how to use the site, I'm not sure what could I write for the first time, I'm sending my photos... I have many photos, sorry I don't have any professional one, just usual photos. Let me know and I can send more pics! I'm looking forward to visiting your beautiful country and I would like to find a man over there who will be interested in meeting me! I've never been abroad before and I would like to visit it so much! I'm looking for a friend, lover or maybe even something serious... I'm a free bird now, I don't have a boyfriend and I'm open to anything!!! Please send me your photos and write me about yourself!!!! I would like to have a serious relationship although I don't know if that's possible in internet so I'm looking just for a good man who can show me over there and....... we will see!!!!!!!! I hope you like my pics! I'm 27 years old, I hope my age is ok for you?? My height is 5.6 live in Russia. In small town near Ekaterinburg. May I hope that you will write me back? I hope so much! Also I hope I'm your type of girl, I'm not sure you like Slavic appearance!!

OK, I will wait for your answer. When I hear back from you I will write more things about myself and send more pics! Anastasiya (this is my real name)

----- Original Message -----
From: Ruben
To: forestnymph91@yahoo.com
Sent: Monday, June 28, 2010 8:57 AM
Subject: message

Hi,
I read your message, but you do not have a profile posted on Match. There was no record of your user name, so I can't really respond to your message.


fifth message:

Hello Ruben! I don't have enough time to write a long email I'm in a hurry.... Please write me the name of the closest Airport to you (possibly International) and it's code (if you know). For example the closest Airport to me is Ekaterinburg and it's code is (SVX). I already started to pack my things and I want to start my trip so I will go to Moscow from Ekaterinburg. I have so many worries and I'm so afraid to start everything but if I don't start it now I will never do it!!!!!!!!!!!! I will go to airlines office now and will buy a tickets to Moscow, its very expensive, but I have some savings so I have money to pay for plane ticket to Moscow and to pay for renting room in Moscow. As soon as I will arrive to Moscow, I will finish my documents to travel, as work permission, medical insurance etc. I'm waiting a confirmation of airport from you, so I will buy ticket to your airport. I know it won't be cheap, but my mother will receive a salary for last 6 months (her work detained wages) and will send me money when I will find out the cost of tickets! I will know this info in Moscow. I asked my sister to take a naked photo of myself because I didn't have any naked photos and I thought I will need them and it was my choice. Also I didn't want all men to look at this pic.... and now I know you little more and I will cross my fingers I'm not wrong in doing this and I will make a show of trust and send you my naked pic to you hoping it will be for your eyes only and you will not show it to someone. I was not comfortable to pose for such pic and I tried to smile, I think the pic is nice. I don't want to chat about sex or something like that, I just wanted to show you how my body looks like... and that's all. Maybe I shouldn't do this but I will click "send" button and close my eyes! I hope you will be not mad on me because I sent this pic for you, I'm a good girl, really!!!!!!!!!! Please don't show my pic to anyone and please don't ask for any naked pics in different poses or something like that. I'm a good girl and I'm not info taking naked photos! I really apologize if you think now I'm not a good girl... I hope you don't think so. I'm impatiently waiting for your answer! AAAAAAAAAAAh!!!! I'm so ashamed to send this pic!!!!!!!!!!!!!!!!


eighth message:

Hello dear Ruben!!!
Here is the info, about my flight, that I was given in agency:

Information for Anastasiya Pushkareva

Kind regards, "Mela Tour", 115162, Moscow, Shukhova 16,
office 21. e-mail: melatour@narod.ru

Please use our service. Manager: Sergei Vyazmikin
-----------------------------------------------------
Flight, July 19, 2010

1. Moscow/Frankfurt LH3189 Flight duration: 3h 20

Lufthansa
Departure
07:05 Moscow (DME), Russia , Domodedovo
Arrival
08:25 Frankfurt (FRA), Germany , Frankfurt International terminal 1
Change of plane required. Stop duration: 2h 25

2. Frankfurt/Houston LH440 Flight duration: 10h 35

Lufthansa
Departure
10:50 Frankfurt (FRA), Germany , Frankfurt International terminal 1
Arrival
14:25
Houston , TX (IAH), USA , G.Bush Intercont terminal D

Price: foreign passport, visa, tax, consulate fee, ticket Eco. Class. USD 1590.00
-----------------------------------------------------
I've got all the information and I'm resending it for you!! I am here after my visit to the consulate and to the agency I am so happy to say we will meet in few days!!!! I am really lucky girl to meet you. Honey the thing is that I booked the nearest possible flight but I have a little problem and I really hope you will be able to help me. You see I never expected I will ask you for such help but I have nothing else to do. You know my mom promised to send me money for tickets by western union as soon as I will find out prices but she was told on her work that because of economic crisis she will receive all the money she saved from every months salary only in a few months. So that's why she can't send me all the sum for tickets now and she was able to send only 200$ I have got it today. I was sure my mom will help me because she promised but now she sent a letter explaining it is possible only in few months or so because of economic crisis. I was in the bank to try to ask them a loan but they said I need to have a registration in Moscow to get a loan from their bank and I don't have it! I think it is not great problem for you to help me. I even hope maybe it will be pleasure to help me because you are my knight, right? I wanted to ask you to help me to pay for my tickets directly but they tell I can't use your help or ask you about sending me tickets because I have a permission to use the help of the travel agency only because they do all travel things and it is their business to arrange all travel things for my trip, such is the law. It is not possible to get a work visa without the help of the agency, they have too strict rules of getting visas. After all payments here and my flight from Ekaterinburg I have about 700 dollars of my own money and I need about 950 US dollars from your side because I have to pay for my tickets and few more things, and I have to pay in advance about 1590 dollars. This price includes all arrangements of documents and everything. I have to be sure that I will be able to book my tickets or I will lose all the money I gave them in advance. I'm not going to ask one more time for your help, you see I am in such situation... I will be waiting for your answer. I know it sounds like I am a poor outsider but you see I don't have enough time to find the money I need and find somebody to help me, you know my mom gave me all she could collect for my travel. I hate to ask but now I don't have any other choice. I need some help from you, please help me to leave Moscow and it is all I ask now. Kiss you, counting days and minutes before our meeting. You know it is only money, and I think it is not too hard for you to help me, you see I have such chance only once in my life. I know you are a kind man and I hope you will be able to help me. I promise I will return all the money and I will earn money because I am ready to work as hard as I can! You know my rent address here is Russia, Moscow, Montazhnaja, 53, flat - 11. Remember my full name is Anastasiya - (first name) Pushkareva - (last name). It is right writing in English, and you should put it on Money Gram or western union list and you can choose any bank in Moscow, they tell it is international service and I can pick up the money at any bank of Moscow. They said I can get only Money Gram or western union transfer because I have not any bank accounts in Moscow and I have only passport and it is enough to get it!
If you need the address of Money Gram or Western Union in Moscow is
MULTIBANK
Montazhnaja, 7,
Moscow, 115114
+7-495-660-5598

Actually I've been told you can send it to any of their offices. I can call you as soon as I receive the transfer to let you know about it. And please after you complete a transfer write me the number of your transfer, I'm not sure how it's call but they will give you a number of your transfer.

Million of Kisses,
Your Anastasiya

P.S. I am not sure I should tell this but I want to let you know if you don't like me when I come I will not bother you and it is only your choice to spend time with me or not. I know you may be too busy, and in any case I will return the money back. I can have a room for rent if I want, a job and I want to say please don't worry I don't want to use you just to reach my goal. I am sure when we meet we will have no regrets about it, I promise. Please, don't leave me alone I've done so much to start this trip and I don't want to give up. And I can stay more than six months, I can stay longer and I can prolong my visa. I want to get to know you better..... to learn more things about you, to touch your hand.. look in your eyes..


Final message:

Hello dear Ruben!!! I decided to change my e-mail address. I don't know what is wrong with my old e-mail. Maybe I did something incorrect. I don't know. I am not very skilled in computers. Right now I know how to use mail client and didn't work with other software for communication. Maybe sometime later. I will learn about other type of programs for communication but not right now. I hope you can understand me. This is my new e-mail address: ana.pushkareva@yahoo.com Please write me to my new e-mail address. I hope everything will be ok this time. I really hope for it. I miss and I want to be with you!!! I want to relax, but I can not relax. Please, do not leave me!!! There is only one step, and we shall be together. I have no any time for any games!!!! We should not lose this chance which has been given to us. Forgive me that I can not solve the financial question myself. I used all possible and impossible ways to find the necessary sum. Can I hope that you will not leave me alone, in this situation? I am tired to be alone. As it turned out It is a big problem to find a good man. Do you understand what I mean? I don't expect him to be some SUPERMAN (perfect body, fat wallet, smart and funny....etc.). I just want him to be a GOOD MAN, who can share with me all happy and sad moments of life, to be a friend, a lover, a moral support, to be a good listener and adviser in different situation. To be my half...These are simple things, don't you think so? I don't know if we meet or not, but I do hope that you will help me and we shall meet. Somehow you got deep into my heart and I know that it is too soon to talk about us, but we never know what can happen, right? I like you and you like me. We can try. Like I told you I will work hard as much as possible and give you the money back. I know that it is a lot of money for you. If only I could, I would never ask you for help. Oh, God! I feel so horrible and I am about to cry. I swear I return you the money as soon as possible!!! I don't want any misunderstanding or mistrust between us...I beg you, don't leave me!!!!

Your Anastasiya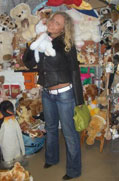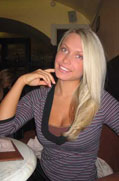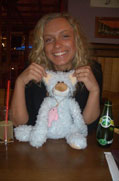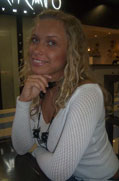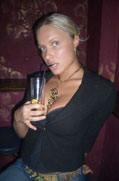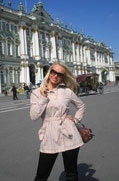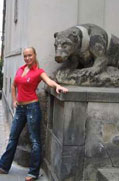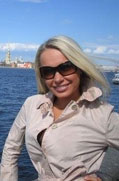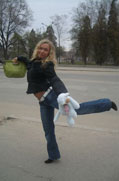 ---
Elena Marshanova (Suslonger, Russia)
I am a single father of 2 girls, 5 and 7 years old, white of german descendence, living in Paraguay, 59 years old, self employed.
The contact originated at meetic.com, she wrote me first sending me her e-mail address and asking to start a friendship privately. Immediately she deleted her profile there as soon as I answered. She wanted to get better acquainted and become closer as she was looking for a man to marry one day, since in Russia she could not get a good one. She's 26 year old. The contact started 06.18.10, almost 2 months now with the purpose of moving to my country and suposedly marry, first in portuguese, then in spanish and at my request in english, using probably a translating program.

The money request was asked via Western Union to be sent to Elenna Marshanova up to US$ 860.
I did not send the money and warned Western Union already about this possible scammer. The web site could not be informed as the profile was immediately retired by her.
I saw her photo listed in your Black List under the name Ekaterina Gordeeva from Cheboksary-Russia, thus I recognised the scammer.
Her present e-mail address is konfeti83@yahoo.com and when tracing the IP originating address I get these results: USA/NY, Brooklyn, YAHOO - USA/IL, Lockport, Inktomi Corporation - UK, London, Yahoo Europe Operations - USA/CA Sunnyvale, Yahoo! - for her different emails.
In the messages extended headings it says received from:
VASYA (konfeti83@94.232.59.33), Cheboksary-Chuvash, Infanet JSC
JOKER (konfeti83@94.232.59.33), Cheboksary-Chuvash, Infanet JSC
yakor (konfeti83@213.88.4.21), Cheboksary-Chuvash, Internet Center
172.19.3.114 8 (konfeti83@78.247.68.146), Saint-rémy-sur-avre, France, Free SAS. Looking at this they may use these hostnames to connect to Yahoo from one place or different persons connect to Yahoo and send their messages from different locations.
Gerardo
Letters:
First letter: on friday, june 18, 2010, 4:04 pm
Ola meu novo amigo Gerardo !
Hoje eu recebi sua primeira carta. Estou muito contente por ver de voce. Eu tenho um desejo sera melhor se familiarizar com voce, e para saber mais sobre voce, tanto quanto possivel. Peco-lhe que me escreveu, e tanto quanto possivel cartas. E nas cartas disse sobre si e sobre a vida mais. Como eu queria que voce pedir, que voce me enviou uma foto mesmo. Gostaria de ver a sua pessoa ea sua aparencia. Vou enviar-lhe as fotos. Agora eu lhe dizer e um pouco sobre mim que voce soubesse que eu como. Meu nome Elena. Agora, para me completa 26 anos. Eu nasci em Novembro, 12, 1983. Nasci na pequena cidade que se refere a Suslonger. Minha cidade fica no centro da Russia. Quero pedir desculpas a voce do fato de que levou ao erro. I apontar para um site que eu vivo no E.U.A.! Mas isso nao e verdade. Quando eu registrar o site eu nao poderia encontrar Russia. Eu tenho que fazer o seu perfil para outro pais. Espero que voce nao esta indo ser muito ofendido com isso. Eu acho que este nao e um problema. E muito pequeno, portanto, nao e apresenta-lo em um cartao. O que voce acha sobre o fim de comunicar-se comigo no MSN? Eu acho que e uma otima ideia. Voce sabe, mas eu nao tenho sempre tempo de diversao no trabalho. O que voce acha sobre isso? Ate agora eu vivo nesta cidade. Tambem eu nao reunir ainda para onde ir. Minha cidade muito bonita, especialmente no inverno e bom. Eu vivo junto com o pai em um apartamento de dois quartos. Eu nao tenho nem irmaos ou irmas. Eu uma filha da familia. Para mim muito doloroso dizer, mas eu nao tenho mae. Ele morreu. Eu nao tenho computador da casa! Eu deveria escrever-lhe cartas a partir da Internet de cafe. Eu trabalho no hospital infantil da cidade. Meu comercio medico das criancas. Ja ha muito tempo tem grownfond das criancas. Aqui, portanto, eu escolhi este comercio. E agora todos os dias eu ajudar as criancas. Mas enquanto eu nao tenho filhos. Mas eu gostaria de ter a crianca. Eu em tudo, nao sei quantos eu gostaria de dar a luz filhos. Mas eu sei exatamente! Eu amo criancas! Por toda a vida eu nao encontrar alguem que eu poderia crescer Apaixonado. Durante o ja muitas vezes eu mesmo nao tenho amigo. Eu nao poderia encontrar na minha cidade para mim digna do homem. Mas muitas vezes acontece, que os homens tentam cuidar de mim. Mas recuso-me a todos eles de uma vez. Porque eles nao gostam de mim. Agora eu decidi tentar encontrar o homem na Internet. Para mim, a minha namorada tem aconselhado a fazer. Eu decidi tentar. Durante o tempo livre de trabalho que gosto muito de ler livros romanticos. Para que esta escrito sobre o amor. Como eu gosto de ler livros ridiculo. As vezes, as casas que eu escuto a musica que me acalma. Acontece, que eu com as amigas que eu va ao teatro, cinema ou museu. Ao me muitas namoradas bom, com a maioria dos quais eu trabalho em hospital. Muito eu gosto de ir para o esporte. Esportes me ajudar a ser a pessoa saudavel. Por meio do esporte, apoio a figurar na boa forma. Durante uma semana, eu aconteco 2-3 vezes em um ginasio de esportes, estou envolvido em fitness. Quando ha um bom tempo, estamos com os amigos gostam de estar na natureza. E agora eu desejo a voce para definir algumas questoes a. Tambem eu quero que voce tenha respondido de forma justa: Por que voce decidiu encontrar o amigo na Internet? Ao que ele nao saiu para encontrar-se o amado na cidade? Quantos tempo de busca para si proprio para a menina na internet? Voce correspondem com as meninas da Russia ou com outras meninas? E importante para mim saber: Quantos anos voce tem, em que cidade voce vive, como seu nome completo. E eu quero que voce tenha em todos os detalhes por escrito sobre si mesmo. Agora eu termino a primeira letra e com impaciencia vou olhar para a frente a audicao de voce. Se voce escrever para mim a resposta e com prazer que eu escrevo para voce a seguinte carta. Em que mais uma vez vou tentar dizer sobre mim e sobre a vida. Pelo jeito que eu gostaria de saber: Em que sites voce tem ainda a sua estrutura? Quero olha-los como vou la ver suas fotos. Escreva-me por favor destes sites se eles, em geral, em que voce e. Seu novo amigo, Elena!


Last letter: friday, august 13, 2010, 4:11 pm

Hi my darling Gerardo! For me very important your each letter. And consequently I was very glad to receive from you the answer. I every day am glad to receive your letters. All this time, from the beginning of our correspondence, you always wrote to me fine letters. And each time in your letters I saw tender words. Which have been turned to me. Thanks you for this all the darling. For all time of our correspondence, I very strongly have grown fond of you. Now you for me "sense of all life". I love you Gerardo! I could fall in love with you almost at once. Because you present the man, I searched for you all life. And I am very glad, that could find you even now. Now we love each other and it is very good. But our love should be strong. I think, that we with you Gerardo can help each other with it. With this purpose we should be together. With this purpose I should arrive to you! In the last letter I have explained all to you. But while I cannot arrive to you. As I do not have documents which to me are necessary necessarily. To leave the country of Russia, and to arrive to your country. Without these documents me will not let out from the country. And the more so will not let in your country. These documents I can make all in travel agency. I wrote it to you in the last letters. I think, that you perfectly have understood it. Also there are no questions. But all this costs greater money for me. And I have not enough money. I have written to you, to be exact have asked your financial help. I asked you, whether you are ready to help me with money for a trip to you! And I am very glad, that first you will be glad to meet me at yourself. And secondly that you can help me with money. It seems to me, that already very soon we shall together. We shall not have time to buy at all each other gifts for our first meeting! I wish to be with you beside, as soon as possible. It is desirable within the next few days. Tell to me the darling, you are glad to all this to learn from me? I love you, and very strongly I wish to be near to you. Now at me all is normal, but it would be better, if you are not far from me. But now we are divided with distance and consequently I often miss on you. With health at me all is normal. Weather at us in city normal. But sometimes there is a little cool, but such season now in Russia. And how your vital business? How at you weather in the street? How health? I think, that at all of you is excellent. More precisely I hope for it because I worry for you. I want, that at you always all was well and perfectly. Today a free minute I dreamed a little, I think, you will be glad to hear it...... I have appeared on what that to the open glade in which center cost the beautiful house. I have approached to this house, have opened a door and have seen you the darling Gerardo! You sit at the covered table on which there is a bottle of a champagne and other dishes. I have approached to you. You have risen from the place and have kissed me. Also have invited to sit down for your table. I have agreed with pleasure. During some time we talked perfectly and write a champagne. Then you have risen from the place and have approached to me. (I have a little become agitated!) You have taken me on hands and have incurred somewhere. I have closed eyes and have started to think about good. We easy and easily have come into a room in which there was very beautiful and greater bed. You have put me on a bed and have started to kiss very pleasantly. I could not resist, and too have started to kiss your lips. It was romantic. We kissed very long and beautifully, we could not stop. But then you have started me to undress....... And here I could not something make any more. My small biases aside were simply useless...... And here the rough and passionate love has begun........
Gerardo, we have great weather in Russia. Now about 35 - 40. Very hot! We have not had rain. But in winter we have very cold days. It happens around -30! I liked this dream, I want that when I shall come to you that you as have made with me. You want to make it with me? I so want you to see faster.

And now I shall explain to you, how you can transfer me them. That I could start to legalize the documents, and as the necessary inquiries. Which to me are necessary to get to you in the country. And that I could order to myself the ticket in your country. But it will be after I will make all documents by means of my agency. You should go tomorrow to the "WESTERN UNION" and to transfer me of money. "Western Union" is the fastest and reliable remittance in the world. After you will send me of money I can already receive them through a pair of hours. Even earlier. Because money through Western Union is transferred easily and very reliably. you only need to write some of my data. I am sure that you have such a bank in the city. Western Union is almost everywhere, and it is always in your city. they have an excellent reputation around the world, very often people use their services. so we do not worry, you will be able to send money. If you do not understand my letter. then you tell us how to do everything. Do you write in the administration of money :

My name and surname - Elena Marshanova
City - Suslonger
Country - Russia.

But if you something will not understand simply go in any bank of the city. And there everyone will explain to you, if there there is a Western Union. In many banks of each country there is a Western Union. So and at you he should be necessarily. For reception of your money some your personal information will be necessary. Which you as will specify at departure of money. I ask you to write to me all data correctly. That your money could be received easily and simply.

Your full name and surname -
City (from which you will send money) -
Province -
Country -
Index (zipcode - postcode) -

These data I should specify all to receive your money. Therefore I ask you to descend in the beginning in western union and to send me of money. And already then to write the letter with all data. By the way, after you will send me of money, to you will give MTCN. MTCN - (money transfer control number). MTCN is a confidential ten-character code. (10) Which will be known only by you! It will be known only to you. And I ask you Gerardo to write the darling to me it. Because it will be necessary to me too necessarily. That to me to receive your money in the bank. Therefore after you will send me of money. That write necessarily the letter with MTCN and with all exact data. I shall wait for your letter with huge impatience. As I ask you to specify the exact sum of money in the letter. 630-860 $ USA are necessary for documents, therefore I think, that you can give me such sum. To me it too needs to be known then easier and easier to receive your money. Here now I think, you will not have any questions about western union. You will simply direct to the bank and will send me of money. And then at once you will write to me the letter. I shall easy receive your money, and then I shall give money for a trip to you. And we already very soon shall together, I love you Gerardo!!!!! I love you my dear and loved Gerardo! With love Forever your Beauty Elena! Kiss you darling!