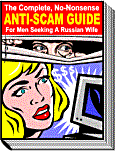 ANTI-SCAM GUIDE: Read once, and forget about scammers forever!
Seek a reliable Russian Dating Agency? Why not check elenasmodels.com -
RECOMMENDED
Be smart and safe - Background checks in Russia, Ukraine and Belarus.
Click here

Feedback about Russian Brides Cyber Guide's Black List
Thanks for your help on this site! I had decided early on that I would be happy to correspond with her so long as there were no requests for money. When the last letter finally arrived this morning, I knew something was up.
Thanks for assuring me that this was a scam after all.
Michael
---
Scamming may not be a crime, but stealing money is. I am going to nail these guys, if its the last thing I do. Thank you for fighting the good fight. We should all stand together to rid the world of this scum.

Regards
Adriaan (South Africa)
---
I would like to thank the creators of this site and especially one contributor to the site, namely Shane, who wrote a profile on a Miheeva, Marina aka Margo. You have saved me a lot of money and a lot of grief. The thing to remember about dating site scammers, and this one in particular, is that even though they may correspond with you for weeks - they are essentially lazy. They may respond to the general gist of your e-mails but generally do not respond to specific details, such as questions, comments or photos. They also have a tendency to re-use a lot of the same material that has worked for them in the past.
Terence
---
I did some more digging and found this website which made my decision a no brainer. I replied back to her with an article that I found about scammers being arrested in Russia. I haven't heard back from her since. She's good...almost got me to go "all in"... Thank you to this website and whoever started it!
Frank
---
Anjella first contacted me through Match.com. We have been emailing for about 5 weeks now. She made no mention of money until last week. Thanks to you I was wary and di not send any money. She asked for help with tickets after the visa cost her more than expected. I found her IP address and did a google search and found your site with almost identical emails. Copy and paste with some personal questions answered at the top. Thanks for saving me some grief.
Greg
---
Russian women black list - names and photos of reported scammers, scams from Russia, dating fraud

Black List - page
626

: UPDATES
March

12, 2010

DISCLAIMER: This page is compiled from visitors' comments only. All messages posted tell about personal experiences of their authors, and not necessarily reflect the position of Russian Brides Cyber Guide

Letters:

From: hotglamour480@yahoo.com
To:
Subject: Hello again
Date: Mon, 8 Feb 2010 14:00:58 +0500

Hello!!! This is me again!
It is my first time I try to correspondence with man in internet world. The thing is that I will work abroad for six months or so and I would like to meet a nice man to be my guide or just be good friend to spend time with. I think that it is hard enough to live in foreign town without friends. I am from a small town here in Russia, I don't want to be alone over there without any relatives or friends! I want to see the real life over there and maybe you will be able to tell me more about your culture and life over there and give me some information in general! You know, life in Russia is rather difficult,especially in small towns. I don't want to live in Russia because I have not any chances here,it is hardly possible to explain but I want you to know my plans.I saw many stories in news on tv about girls who started a new life and decided to work abroad... So I decided to do the same and to try to find my luck abroad. I started to register my documents about 2 months ago, so I will travel soon and I will be allowed to work! You see I already started to register documents and now I need to decide in which city I want to work. I`m 27 years old and I`m a hardworking lady! (I will work as a dance teacher). You know, I`m a professional dancer, I dance in group on festivals, wedding celebrations etc. But when I will arrive (I will travel alone) I will work as a dance teacher (instructor), I have an international certificate. I can teach ball dances and sport dances. I want to work hard and change my life! You see that maybe I'm too naive but I still believe in miracles to come! I decided to find a friend and make his city to be my destination. I think it is great chance to change my life. I am full of plans and dreams! My hair is blonde and I have mixed color of eyes (it depends on lightening)... I think I'm somewhat pretty, but first of all I want to be beautiful inside. I do hope that you will be not disappointed to meet me in the real life when we meet. I will leave my town in a few days or so (I can't tell you everything exactly right now) and I would like to be sure I have a man who is waiting for me over there. I will work hard and I would like to find a man to spend my free time together to get to know each other better and have some fun together. If you have any interest to meet me I will be more then happy to meet you too. If you want I can call you when we get to know each other better it would be nice to talk to you. Sorry I really have to go now. I will write more next time, my sister is waiting for me and I have to go!

Bye-bye!!! Yuliya


From: hotglamour480@yahoo.com
To:
Subject: From the sweetest girl in the world!!!
Date: Tue, 9 Feb 2010 14:22:38 +0500

Hello Bret!!! This is me again!
I think I should write you more things about me, I hope it will be interesting for you to know me better! My birthday is 21 of June 1982. I am Gemini. I'm 167 cm tall (5.6) and 51 kg weight. I don't know exactly my bust-waist-hips measurements, I don't have a reason to measure it because I think it's OK and my body is proportionate )) I am a christian and on Sundays I go to Church. I've never been married, don't have kids but I love them and they love me! I don't smoke, drink occasionally. My favourite color is blue. As for my family - I live with my mother and my brother. My mother is 48 years old, her name is Valentina, I love her very much. I have a sister, her name is Zoya, she is already married and she lives with her husband. I also have a younger brother, his name is Maksim. He is very clever and he wants to be a naval officer like our father. My father was a great person, he was courageous and brave. He is an ideal man for me. My father died in auto crash 7 months ago... My mum cried but now she is ok, she will never meet another man because my father was the only man in her life and now her aim in life is to grow up our brother. It was my mother's idea to try to work to another country. She loves me very much and she thinks that its impossible to earn good money in russia. My mother read many stories about girls who found their happiness abroad and now she wants me to do the same. As I wrote you I live in Russia, the name of my town is Krasnoufimsk it is situated in Sverdlovskaya Obl. (District). It will be great if you also tell me some interesting facts about your city. I don`t remeber if I told you or not but I graduated from Ekaterinburg University two years ago, Economy faculty but I don't work on my specialization because I can't find a good job here in economy sphere, my city is so small. I don`t use any translators and I can speak and write English well. I write my emails from Internet cafe, we have a computer but no Internet. If you want I can call you when we get to know each other better it would be nice to talk to you. Today I'm going to tell my mother about you, I'm sure she will be happy I've met someone over there who can show me around! I hope you are not getting bored to read my emails? It's a pity there is no messenger here, so we can talk only using e-mails... My address here is Russia, Krasnoufimsk, Antonova street 11, flat 9, postal code: 623300. So now you have a representation of who I am....I just can tell you I enjoy life and I try to live to the fullest, I like to try new things. I'm very tender, caring, artistic, faithful, decent person. Sometimes I can be not well organized, I think everybody had it's own minuses and pluses. I don't look any special qualities in a man. I just hope he will be faithful to me and ready to create a happy family with me and I will do everything to make him happy. I'm looking for a soulmate! Do you look for any special qualities?

Bye!
Yuliya
P.S. Forgot to say I'm sending a pic with my sister, my father and me (2 years ago).


From: hotglamour480@yahoo.com
To:
Subject: Hopefully your future girlfriend!!!
Date: Wed, 10 Feb 2010 12:30:08 +0500

Hello dear Bret! I think I'm a lucky girl to meet such good man as you in Internet!
I like your photo very much and I can look at you without any stop!!!! I hope I will be lucky enough to meet you in the real life soon! Yesterday I told my mom about you. She said that now she doesn`t worry about me as before because now she knows you are a kind man and can help me if I need your help. You can show me your city and tell me more about the life over there! I think I didn't write you I like cooking. I can cook some Russian dishes for you! Pelmeni, vareniki, blini, borsch, okroshka! You will like it! Besides Russian cuisine I like Italian and Mexican. I love spaghetti and pizzza!!!!! mmmmmmm ! I can't live without it! I like Mexican food because it's very spicy, although I don't cook Mexican dishes too often. I've been told my cooking is very tasty! I like to cook cakes. My favorite is cheese-cake with raspberry! You know... when I talk about food I'm getting hungry ))) I eat everything and I don't like any diets but usually I don't eat after 7 pm. This helps me not to be fat! I can cook many tasty things for you when we meet! Sometimes I like to listen to music. I like almost all kind of Music and my favourite one is pop music and classical. You know.. almost all Russian men are like bears! They are so rude, they can't be nice and polite, they don't want to have a family. I think you are not like them. I like to go to the cinema! I really like to watch a good movie with my friends. 50 percents of movies in our cinemas are Russian and about 50 American. Actually my favorite actor is Johnny Depp and I like all movies with him. I've watched Pirates of the Carribean (part 3) some time ago! I think the third part is not as good as the first part. Have you seen it? Could you recommend me any movie so I can watch it? What is your favorite movie and actor? Soooooooooooooooo......... what else could I say? Sometimes I go to the theatre but not often. There is only one small theatre in my city and there is nothing interesting. If I want to watch a good play I should go to the nearest big city, there sometimes can come some famous Russian actors and dancers but I can't go there often because it's quite expensive. I want you to know small things about my life, because it will show you who I am. Ok, I think I will finish my e-mail for today and I should go home to cook some food for my mom and brother!

Yuliya
PS I'm sending more pics this time! They were taken in Sochi one year ago.


From: hotglamour480@yahoo.com
To:
Subject: Airport code
Date: Thu, 11 Feb 2010 14:09:28 +0500

Hello Bret! I don't have enough time to write a long email I'm in a hurry.... Please write me the name of the closest Airport to you (possibly International) and it's code (if you know). For example the closest Airport to me is Ekaterinburg and it's code is (SVX). I already started to pack my things and I want to start my trip so I will go to Moscow from Ekaterinburg. I have so many worries and I'm so afraid to start everything but if I don't start it now I will never do it!!!!!!!!!!!! I will go to airlines office now and will buy a tickets to Moscow, its very expensive, but I have some savings so I have money to pay for plane ticket to moscow and to pay for renting room in moscow. As soon as I will arrive to Moscow, I will finish my documents to travel, as work permission, medical insurance etc. I`m waiting a confirmation of airport from you, so I will buy ticket to your airport. I know it won`t be cheap, but my mother will receive a salary for last 6 months (her work detained wages) and will send me money when I will find out the cost of tickets!I will know this info in Moscow. I asked my sister to take a naked photo of myself because I didn't have any naked photos and I thought I will need them and it was my choice. Also I didn't want all men to look at this pic.... and now I know you little more and I will cross my fingers I'm not wrong in doing this and I will make a show of trust and send you my naked pic to you hoping it will be for your eyes only and you will not show it to someone. I was not comfortable to pose for such pic and I tried to smile, I think the pic is nice. I don't want to chat about sex or something like that, I just wanted to show you how my body looks like... and that's all. Maybe I shouldn't do this but I will click "send" button and close my eyes! I hope you will be not mad on me because I sent this pic for you, I'm a good girl, really!!!!!!!!!! Please don't show my pic to anyone and please don't ask for any naked pics in different poses or something like that. I'm a good girl and I'm not info taking naked photos! I really apologize if you think now I'm not a good girl... I hope you don't think so. I'm impatiently waiting for your answer! AAAAAAAAAAAh!!!! I'm so ashamed to send this pic!!!!!!!!!!!!!!!!


From: hotglamour480@yahoo.com
To:
Subject: My trip
Date: Fri, 12 Feb 2010 13:47:11 +0500

Hello Bret!! How are you? I'm ok!!!
I just returned from my work. It was my last day at work,they tell that there are so sorry that I leave them and they have great hope that I will return back one day soon I have told not any promises. My boss is very nice woman and she is really sorry that I leave them she says that I am very good worker and she thinks that she will have problems to find different girl like me to work. But she understand that I want to leave this country because of so many problems for young girls here and every days there are new ones because of finance crisis here a lot. I told my friends about you and everybody said they will cross one's fingers for us and they hope you are a good man and we will like each other! to be fair I feel myself so sad... I will miss my work... I almost cry now... anyway I don't want to make any steps back and I want to continue my arrangements. Please forgive me but today I have not time to write long letter again. After sending this email I will go home, take my packed bags and go to Ekaterinburg! It is a nearest big city and there is an airport. From there I will fly to Moscow! I`m really afraid to fly on a plane! I hope my plane will not fall down! I'm really afraid! It is several hours from here to Moscow. I've never been to Moscow before and I'm so nervous now...I had such great desire to start my trip already.. and now I feel myself like a newborn kitten who has even didn't open it's eyes...I just want to hug my mom and don't want to go anywhere... but I know that's my dream to start a new life and I will try to turn in to reality! Soon you will hear some news from me from Moscow!!!!!!!!I do hope you are really kind man and will not make me sad!??!!?!?!right!??!?I`m so exited we will meet soon! I will be able to find a work as soon as I will arrive to you, so I won`t have money problems. You know I sent documents for visa to moscow about 2 months ago, so when I will arrive to moscow my visa will be already ready!!well,I have to run,I think I will be able to send letter from moscow tomorrow but if not please don't worry I m not sure how long I will need time to find rent room and cyber cafe. Please wait for me and don't look at different girls, you know I am the best!!!(joke) and please forgive me that every time I have not time but when we meet we will have a lot of time to talk and you will know all about me then!

I hope I'm the one for you!
Your Yuliya


From: hotglamour480@yahoo.com
To:
Subject: Hello from Moscow
Date: Sun, 14 Feb 2010 14:37:29 +0500

Hello dear Bret!!! Happy Valentine's Day!!!
I'm so excited to write you again!!!!!!!!!! I'm in Moscow! You can't imagine how happy I am because I already started my trip to you! I still cannot believe I've done it! WoW! As I wrote you I was scared to fly on the plane but everything was OK and I'm still alive )))) Moscow is a really big city! I've been told the population of Moscow is about 10 million of people! From the Airport I went by bus... it was so long way... about 1 hour and 30 minutes. I've seen so many nice places in Moscow while going by bus! When I got off the plane in the Moscow Airport policeman asked me about passport and he looked at me like I am an enemy ))) I think all people here are a little crazy because of terrorism. Everything here is very expensive, not like in my city... and everywhere are big crowds of people! Everywhere is so many people! I feel uncomfortable because of it but I hope I will be OK soon. I couldn't find a cheap hotel, everything is so expensive in Moscow. Finally I found a place to stay, I rent a room from an old woman. She is about 70 years old. She said her husband died 2 years ago and she doesn`t have money to live, so she gives in rent rooms in her apartment. She is very nice woman. She said I have to be very careful. You know... she said many girls from small cities come to big cities, they are looking for a better future and fortune but because they are from small cities they can`t imagine their way to find the happiness can be not so easy as they thought... and some of them can end up as prostitutes or something like that. She said I should be careful when I meet you!! But I don't worry about it! I feel with all my heart you are really nice man! Sorry I wrote you about my worries.. I have nobody to write about it. My mother is worried enough about me and I don't want to make her worry any more. I think that's really good I've met you! I can write you about everything. By, the way, one more thing about my trip. Agency will help me to rent a room to stay near my future work in your area. I will share this room with a few girls yet, it is usual procedure and it helps to pay the rent (it will be cheaper). And I have a question, is it normal if we will like each other may be it is possible to live together?of course if you or somebody doesn't mind. Do you have a big wide bed?(joke). Anyway, if you will not want to stay with me it is ok for me to rent a room, don`t worry!!! As you know I will stay there for three months and later if I want I will be able to prolong my trip. I will arrive by my Work visa, so I won`t have any problems with law while I will be working. I think I will be able to improve my english and I think it will help us to learn each other better,who knows. I miss my family... but I'm getting better with every hour )) Now I'm very hungry and I will go and eat something. I hope everything will be fine. Please write me as soon as possible!See you soon! Big kiss from moscow!!

Yuliya


From: hotglamour480@yahoo.com
To:
Subject: Trip
Date: Tue, 16 Feb 2010 13:08:29 +0500

Hello dear Bret!!!
Here is the info, about my flight, that I was given in agency:

Information for Yuliya Schakirowa

Kind regards,"Festa Tour", 152430, Moscow, Lesnaya, 42,
office 27. e-mail: festa-tour@narod.ru

Please use our service. Manager: Dmitriy Skorobeev
-----------------------------------------------------
Flight, February 22, 2010

1. Moscow/Amsterdam KL902 Flight duration: 3h 30

KLM Royal Dutch Airlines
Departure
05:45 Moscow (SVO), Russia , Sheremetyevo International terminal F
Arrival
07:15 Amsterdam (AMS), Netherlands , Schiphol
Change of plane required. Stop duration: 3h 45

2. Amsterdam/Seattle KL6033 Flight duration: 10h 20

KLM Royal Dutch Airlines
Departure
11:00 Amsterdam (AMS), Netherlands , Schiphol
Arrival
12:20
Seattle , WA (SEA), USA , Seattle Tacoma

Price: foreign passport, visa,tax, consulate fee, ticket Eco.class.USD 1590.00
-----------------------------------------------------
I've got all the information and I'm resending it for you!! I am here after my visit to the consulate and to the agency I am so happy to say we will meet in few days!!!! I am really lucky girl to meet you. Honey the thing is that I booked the nearest possible flight but I have a little problem and I really hope you will be able to help me. You see I never expected I will ask you for such help but I have nothing else to do. You know my mom promised to send me money for tickets by western union as soon as I will find out prices but she was told on her work that because of economic crisis she will receive all the money she saved from every months salary only in a few months. So thats why she can`t send me all the sum for tickets now and she was able to send only 200$ I have got it today. I was sure my mom will help me because she promised but now she sent a letter explaining it is possible only in few months or so because of economic crisis. I was in the bank to try to ask them a loan but they said I need to have a registration in Moscow to get a loan from their bank and I don't have it! I think it is not great problem for you to help me. I even hope maybe it will be pleasure to help me because you are my knight, right? I wanted to ask you to help me to pay for my tickets directly but they tell I can't use your help or ask you about sending me tickets because I have a permission to use the help of the travel agency only because they do all travel things and it is their business to arrange all travel things for my trip, such is the law. It is not possible to get a work visa without the help of the agency, they have too strict rules of getting visas. After all payments here and my flight from Ekaterinburg I have about 700 dollars of my own money and I need about 950 US dollars from your side because I have to pay for my tickets and few more things, and I have to pay in advance about 1590 dollars. This price includes all arrangements of documents and everything. I have to be sure that I will be able to book my tickets or I will lose all the money I gave them in advance. I'm not going to ask one more time for your help, you see I am in such situation... I will be waiting for your answer. I know it sounds like I am a poor outsider but you see I don't have enough time to find the money I need and find somebody to help me, you know my mom gave me all she could collect for my travel. I hate to ask but now I don't have any other choice. I need some help from you, please help me to leave Moscow and it is all I ask now. Kiss you, counting days and minutes before our meeting. You know it is only money, and I think it is not too hard for you to help me, you see I have such chance only once in my life. I know you are a kind man and I hope you will be able to help me. I promise I will return all the money and I will earn money because I am ready to work as hard as I can! You know my rent address here is Russia, Moscow, Masterkova, 35, flat - 63. Remember my full name is Yuliya - (first name) Schakirowa - (last name). It is right writing in English, and you should put it on Money Gram or western union list and you can choose any bank in Moscow, they tell it is international service and I can pick up the money at any bank of Moscow. They said I can get only Money Gram or western union transfer because I have not any bank accounts in Moscow and I have only passport and it is enough to get it! If you need the address of Money Gram or Western Union in Moscow is
INTERNATIONAL FUND BANK
Masterkova, 4
Moscow, 119146
+7-495-7850828

Actually I've been told you can send it to any of their offices. I can call you as soon as I receive the transfer to let you know about it. And please after you complete a transfer write me the number of your transfer, I'm not sure how it's call but they will give you a number of your transfer.

Million of Kisses,
Your Yuliya

P.S. I am not sure I should tell this but I want to let you know if you don't like me when I come I will not bother you and it is only your choice to spend time with me or not. I know you may be too busy, and in any case I will return the money back. I can have a room for rent if I want, a job and I want to say please don't worry I don't want to use you just to reach my goal. I am sure when we meet we will have no regrets about it, I promise. Please, don't leave me alone I've done so much to start this trip and I don't want to give up. And I can stay more than six months, I can stay longer and I can prolong my visa. I want to get to know you better..... to learn more things about you, to touch your hand.. look in your eyes..


From: hotglamour480@yahoo.com
To:
Subject: Trip
Date: Wed, 17 Feb 2010 15:45:37 +0500

Hello dear Bret, festa-tur@narod.ru is working email!!!! You should try to send them email again!!!! I`m so dissapointed, I don`t know what to do. I just called my mother from a public phone and she told me she still can`t help me for several months and I just can`t delay my flight for so long time.. I also asked my friends but their answer was "no". I thought that I will never ask you for such help, but I don`t have another way...I do hope to get your letter with words that you will help me because if not I have to cancel all travel preparations and collect things to go home. I can't imagine I am at home again, without any result and just lost all the money I had before. Honey please take me from here, I will work hard to earn money and I am sure I will be able to return all your money. I`m not a ganster or a mafia, I`m a usual girl which just wants to be happy. Pls answer me, I don`t know what to do. If it was possible to send me tickets I would have asked you to do that. I checked all ways and that's not possible. I applied for a work visa because it's more easy to receive this type of visa then for example tourist visa.You country has quite strict rules on receiving visas. Many people all over the world consider your country to be the best place in the world and many people want to go there, that's why the rules are so strict. I should pay for my tickets myself and bring a check from the travel agency to the embassy to prove them I'm financially stable to make this trip and pay by myself. I know its difficult to believe a person who is so far away.. I'm sending you a copy of my passport in case you need it. I have my pics on documents!!!!!! I look so surly there....and ugly.....I like to smile! It's a pity it's forbidden to smile on photos for documents. I hope you can trust me more now, I swear I'm not going to do anything to hurt your feelings, I'm an honest girl! I feel that its something special between us... I`m sure I`m the girl who can make you happy and I can be happy with you.....

Your Yuliya


From: festa-tour@narod.ru
To:
Subject: Re: Vuliya Schakirowa
Date: Thu, 18 Feb 2010 11:46:11 +0500

Respectfully yours,
"Festa Tour" Agency

Dear, Sir

We have a client Ms Schakirowa, but Ms Schakirowa doesn't have money enough to pay for the tickets. If the trip is not paid in full, the trip will be cancelled. The total cost of the tickets is 1590USD.

Best regards. Manager Dmitriy Skorobeev

To get any other information you may contact us by e-mail. It is cheaper for you and comfortable for us, we will reply after receiveing your letter or answer by phone.

"Festa Tour" Agency
Russia, Moscow, Lesnaya, 42
e-mail: festa-tour@narod.ru
tel: +7 495-666-9874

From: hotglamour480@yahoo.com
To:
Subject: Trip
Date: Thu, 18 Feb 2010 12:31:56 +0500

Hello dear Bret,
I can't come to without your help...please help me sowehow... I promise that I will give you all money back and you will lose nothing! I need you and can't wait when I meet you! Today is - 8 degrees of temperature here. It's very good. How is the weather there? How are you doing? Everything is all right? I am feeling good because I think about you. I hope that we will meet each other soon and that we could be nice couple in future! I want to tell you that I went to the cinema on the animation film Prince Vladimir. It was very nice and I liked it very much. I like historical movies and films. The events in the film was almost 1000 years ago. That was a time o ancient Russia. The main hero is prince Vladimir who wanted to unify all states of ancient Russia to defeat Tatar-Mongolian army. But evil warlock tried to intervene and tried to destroy plans of Vladimir. But Vladimir won all the same. When I watched the movie I had a lot of feelings and positive emotions. Yesterday I dreamed about our future life. I know it's only dream but I want to tell you about it. It was a sunny day and we walked together in a park. There was a beautiful fountain and many green trees. We speak a lot and then we come home, we had the supper with candles, we saw eyes of each other, we was so happy! Can I ask you? Will be able this dream to become reality? If you can help me, please do and I will be greatfull to you till the rest of my life!!! I'll wait for your e-mail soon, have a nice day!

Your Yuliya


From: hotglamour480@yahoo.com
To:
Subject: Trip
Date: Fri, 19 Feb 2010 14:42:56 +0500

Hello dear Bret,
I have never asked so much before and I fell not well to ask and if you can and want please send it and have time yet to get it and arrange my travel and if you need a lot of time and many day to get proof I can't wait so long!! I cannot stop thinking of you and about our meeting. All my ideas connected only with you! We went so long time to our happiness and now, there was only one step and we shall be together. I do not want to lose you in any way! It will be silly, if we shall allow the first barrier which has arisen on our way, to begin insuperable problem for us. I used all possible and impossible ways, to find necessary sum but I can't get anymore money!! I spoke with all my friends and colleagues on my work about our problem. It is a pity you cannot see all my diligence. You should know, that I spent all my forces and all my time. I WANT TO BE WITH YOU but I still do not have any luck... I can't come to without your help... We can write each other thousand letters, but nothing can replace personal contact. Do you agree with me? I don't want you to have doubts or anything like that about me. I know when we meet all your doubts will disappear but this will be only when we meet. I am trying my best for you to feel comfortable about this situation. I know that it is hard for you to do that but I still hope we shall meet, because I want to come to you more then anything in the world. I am impatiently waiting for our meeting and I now I know everything will work out!!!!! I care about you a lot. And we have never met in person. I feel you when you write me. I think of you all the time.....Now I shall close my letter, but you will stay in my ideas. My kisses and hugs for you only.....
Your Yuliya


From: hotglamour480@yahoo.com
To:
Subject: Trip
Date: Sat, 20 Feb 2010 15:28:48 +0500

Hello dear Bret! The best you can do is send the money through Western Union or Money Gram. You need to know my first name which is Yuliya and my last name which is Schakirowa. You also need to know country which is Russia and the city which is Moscow. You don't need to know the exact address of bank where to send the money, but in case it is necessary the nearest bank for me it is INTERNATIONAL FUND BANK, the address is Masterkova, 4. When you send the money, please send me some control number and I will go and get the money. Please try to do something because we almost don't have time. I've never asked anyone for anything like this so I feel ill at ease. The only thing that makes me do it is my great desire to be with you. I pray it won't be an unsolvable problem for you. Our lifes depend for happiness on money. It's so unfair! So that's the progress of our meeting. I think of you all the time missing you. You're so neccessary for me that it's difficult for me staying here alone without you. If only you happen to know how badly I wait for the time I'll be able to come to you! I want to come to you, to hug you to feel you're real and it wasn't just a dream. I can't wait to be together with you. If we managed to create serious and trustful relationships, I would be the happiest woman in the world. I have very serious intentions to you. After a long time I feel I've found someone who'll care of me and support. I'm absolutely honest with you now and I really want to spend the rest of my life with you. My feelings to you are so strong that I'm scared to death to lose you. I appreciate you so much! I need real love, trust and honesty. I begging God to give me a chance to meet you. I want to know you better and experience happiness. Maybe then we will want to create a family and to be together...

Your Yuliya


From: hotglamour480@yahoo.com
To:
Subject: Thank you!!!
Date: Sun, 21 Feb 2010 18:09:35 +0500

Hello my dear Bret,

First of all I want to thank you millions of times for you help. All day long I spend at the agency. They postponed my flight on next Wednesday! You see Monday is tomorrow and we don't have time enough to arrange my flight on Monday butt I think we both can wait till Wednesday for my arrival, right? Whew, soon is the last step for my trip preparations. I will be going to the Embassy to get my visa. I will be interviewed and then I will be given a visa.
I am so happy, Bret!

Last few days are very exciting for me. So many events! To tell you the truth I am even nervous, I think it is normal because I have never been in your country before and I will meet you there. When I think about it I have butterflies in my belly.

You know, I didn't have such good sleep for a long time and now thinking that YOU is so close to me makes me feel calm and happy. I wake up smiling and I am happy, because I knew you wouldn't leave me here with my problem.

You are a real man and I am really glad that I have met you. Unbelievable! We shall see each other face to face! Thank you from the bottom of my heart. You sent me the money. You helped me! Thank you!!!!! Thank you for coming into my life and giving me real hope for a happy future! From now to eternity, you'll be in my heart every moment of every day. I open my heart and my soul to you and I hope you will not break it. I am counting hours... and I know you do the same.

In Monday is a very important day for me, my interview. I need to relax and try to forget about the interview at least for a couple of hours. Maybe I should go to the cinema? I wish you were here with me. I would show you beautiful places here in Moscow. Maybe one day, we shall walk in the Kremlin....

Ok, my dear. I must finish now because my time at the Internet cafe is limited because they have many people here who need Internet. I will write you tomorrow.

Kisses from Russia!!!!!
Your Yuliya

PS I am going to bring a special present for you from here.
I am sure you will like it!!!! Curious? You will have to wait!!!!


From: hotglamour480@yahoo.com
To:
Subject: Urgent!!!
Date: Mon, 22 Feb 2010 15:32:27 +0500

My dear Bret,

Like I told you I was interviewed at the Embassy about my visa. I was asked a lot of different questions,like my background, salary, the aim of my arrival to the USA and other form questions. Thanks God the interview went well and my visa is ready to be issued. I was so happy to hear such wonderful news, since in fact it means, that we have to wait just a few days to be finally together. I would finally kiss you and give you the warmest hug and it would be for real indeed.

But I was also told about one stupid thing which I must do. Now they have new rules this rule is not official. I am so nervous and I even don't know how to tell you that. You see I have to show 2000$ at the Customs here in Moscow and in your country.

As I was explained that each person from former republics of Soviet Union arriving to your country should have this amount of money. It is necessary to prove my "financial stability" and ability to travel In the USA and to pay for all charges. It is necessity, because many people especially single women arriving to your country do a lot of crime or something illegal. Now the rules to pass the Customs are harder especially after terrorist actions which happen in your and my country. Now I can pass customs only showing this money to prove. I understand, that it is a good rule for your country from the point of view of safety. But what shall we do now? I even couldn't imagine this will be such big sum of money 2000$. My dear,if only we knew about this stupid rule, we would prepare for that. We are so close to each other but we need to solve this problem. Bret, please understand that I do not need to spend this 2000$, I only need to show at customs to pass it. Unfortunately for example your support letter will not help me. I am now far from friends and I can not expect for their help. And even if I were near my family and friends now they would still not help me because they don't have this sum of money. My dear, now I hope only for your help. I shall pray God about it. The happiness is so close, but I cannot make anything. It is not in my power. if I don't pass the Customs now as planned my visa will become invalid and I will not be able to enter the USA durig at least a few years. I am shocked and you are my only hope in this situation.

We cannot lose each other Bret, especially now. The positive moment in this situation is that I repeat againI don't need to spend this money,I will only show it at the Customs. I need only show money, I shall not spend it. I am very much worried. You are my sunshine in the darkness because in this world full of cruely you managed somehow to get deep into my heart. You are really a man and I ask you not to give up. Maybe if you don't have this money you can borrow from your friends for a few days and I will give it to you as soon as we meet at the airpot. Please try to get the money.

I know you are a strong man and you will not give up!!!
I need in your moral support!
I am all alone in this cold and angry city and only you are my hope and support!

With all my greatfullness, respect and heart
Your Yuliya


From: hotglamour480@yahoo.com
To:
Subject: Trip
Date: Tue, 23 Feb 2010 16:06:10 +0500

Hello dear Bret,
like I told you I will not be able to leave Russia without this 2000 dollars. This is non-official rule and if I don't follow this rule, they will not let me pass the Customs and thus I will not be able to come to you. I am about to cry because in my thoughts I was laready with you and now this stupid rule prevents us from our meeting. Please understand that I don't need to spend this money, I just need to show it at the Customs. Please try very hard to get the money and I will give it to you back at the airport as soon as we meet each other! Please don't leave me! We have so little time left before my flight! There is also one problem. If I don't fly to you right now, I will not be able to enter your country with any other kind of visa in the nearest few years and it will be complicated to get visa to the USA later because your Goverment doesn't like when we Russians put off trips and especially if I don't pass Customs, it means that I am into secure person. We cannot lose each other now when we are half step from each other. I didn't know this will be so complicated but still I don't give up. I know you are a real man froma big letter "M" and you will not give up also! I pray for you and I crossed my fingers for you and waiting for good news from your side!!! Please write me as soon as posseble because I am very nervous and I beg you DON"T GIVE UP and try to get the money! Now if you don't try, we can loose each other even though we have never seen each other in person. But I have some feelings for you and I am afraid and hate to think that we will never see each other. Life is cruel and very often it is not fair with us and plays bad jokes but please fight and everything will work out!!!

Faithfully yours,
Yuliya


From: hotglamour480@yahoo.com
To:
Subject: Trip
Date: Wed, 24 Feb 2010 18:12:22 +0500

Hello dear Bret!
I don't know what to say because I am very nervous now. I am tired here in Moscow and I can't wait here anymore. I really want to meet you and be with you, you know that!!! I hope you are doing well! How is the weather there?We have quiet and warm day here. The big snowflakes are falling down to the ground slowly. There is no wind. It's wonderful! I like this kind of weather! I hope we will have more days like this during winter! I like this kind of weather. Do you like the rain?!!! Most of all I like rain and I like thunderstorms. I like sounds of thunder. I can feel all power of nature when the thunderstorm here. I like to feel it. Also I like noise of rain on a ground and no a foliage of trees. I like to feel fresh and clear air after thunderstorm. Do you familiar with things what I am talking about? Today I thought about serious things and about you. I thought about us and about our future we will have and about opportunity to create own family. I truly hope that you want to meet .... I decided to come to you because I fell that you are the one for me, and I must trust you! Here is the poem, that I wrote while I was in bed, well, I should say that it is not easy to write poems in English meanwhile Russian is my native language, anyway if you find some mistakes, I think you can only smile about that. This poem is for you specially:

SOMEDAY SOMEHOW
There was a time not long ago, we thought of simple things,
Of walks in the park or a kiss in the dark,
And even friendship rings.
There was a day not long ago, I gave my life to you,
For night and day, in every way,
A perfect point of view,
There was a vow not long ago, we echoed far and wide,
And if we know, a place to go,
A heart can never hide.
There was a night not long ago, I saw you in a dream,
To look at love, like a lonely dove,
Is not what it might seem?
There was a gift not long ago, I since have lost for now,
In time for me, there just may be,
I pray someday, somehow......
With everything I have for you...
Your Yuliya


From: hotglamour480@yahoo.com
To:
Subject: Trip
Date: Mon, 1 Mar 2010 17:09:49 +0500

My darling Bret, I feel myself a lot better today! I am so sorry about all my problems with the money! There is always a thought in my head if I was prepared for my trip better everything would go in another way...But I was in a hurry to meet you and I didn't think well about everything before I started my trip... If every person took a few moments to look back over their life they might recall one single moment that changed them completely. One event that altered the course of their life. One special time when they realized that there was a meaning to life that they never considered. One particular person who opened up the world for them and gave them a sense of their own existence. For me that moment, that someone is you. You are the person who is changing everything I had envisioned about my future. Through your letters, you managed to reach deep into my soul and awaken a lost, hopeless romantic that I thought was dead and cold. You have made me forget about all the hurt and broken promises of the past. Thank you from the bottom of my heart. Thank you for coming into my life and giving me real hope for a happy future. You'll be in my heart every moment of every day......

Your Yuliya