Scammer details:

Surname: HuissesLD
Name: Daria Salnikowa
City: Moscow
Country: Russia
Postal address: Russia, Moscow, Suschevskii Val 56, flat - 26
Phone number: unknown

Agency details:

Which agency/website you contacted her through: True find
Is this agency a member of Anti-Scam Program: Unknown
Did you report the scam to the agency: No
What was the agency response: Unknown


I only wrote to her for 2 weeks, this is her money bagging letter:
I never send her any money.
Letters:
Hello dear Walter!!!
Here is the info, about my flight, that I was given in agency:

Information for Daria Salnikowa

Kind regards,"Versa Tour", 112054, Moscow, Yauzskaya 51,
office 21. e-mail: versa-tour@narod.ru


Please use our service. Manager: Mr. Ivan Lebedev
-----------------------------------------------------
Flight, September 16, 2009

1. Moscow/Amsterdam NW7727 Flight duration: 3h 30

Northwest Airlines
Departure
05:50 Moscow (SVO), Russia , Sheremetyevo International terminal 2
Arrival
07:20 Amsterdam (AMS), Netherlands , Schiphol
Change of plane required. Stop duration: 3h 00

2. Amsterdam/Seattle NW033 Flight duration: 10h 10

Northwest Airlines
Departure
10:20 Amsterdam (AMS), Netherlands , Schiphol
Arrival
11:30 Seattle , WA (SEA), USA , Seattle Tacoma
Change of plane required. Stop duration: 1h 30

3. Seattle/Spokane NW5197 Flight duration: 0h 59

Northwest Airlines
Departure
13:00 Seattle , WA (SEA), USA , Seattle Tacoma
Arrival
13:59
Spokane , WA (GEG), USA , Spokane International

Price: foreign passport,visa,tax,consulate fee,ticket Eco.class.USD 1590.00+
-----------------------------------------------------
I've got all the information and I'm resending it for you!! I am here after my visit to the consulate and to the agency I am so happy to say we will meet in few days!!!! I am really lucky girl to meet you. Honey the thing is that I booked the nearest possible flight but I have a little problem and I really hope you will be able to help me. You see I never expected I will ask you for such help but I have nothing else to do. You know my mom promised to send me money for tickets by western union as soon as I will find out prices but she was told on her work that because of economic crisis she will receive all the money she saved from every months salary only in a few months. So thats why she can`t send me all the sum for tickets now and she was able to send only 200$ I have got it today. I wanted to ask you to help me to pay for my tickets directly but they tell I can't use your help or ask you about sending me tickets because I have a permission to use the help of the travel agency only because they do all travel things and it is their business to arrange all travel things for my trip, such is the law. It is not possible to get a work visa without the help of the agency, they have too strict rules of getting visas. I was sure my mom will help me because she promised but now she sent a letter explaining it is possible only in few months or so because of economic crisis. I was in the bank to try to ask them a loan but they said I need to have a registration in Moscow to get a loan from their bank and I don't have it! I think it is not great problem for you to help me. I even hope maybe it will be pleasure to help me because you are my knight, right? after all payments here and my flight from Ekaterinburg I have about 700 dollars of my own money and I need about 950 US dollars from your side because I have to pay for my tickets and few more things, and I have to pay in advance about 1590 dollars. This price includes all arrangements of documents and everything. I have to be sure that I will be able to book my tickets or I will lose all the money I gave them in advance. I'm not going to ask one more time for your help, you see I am in such situation... I will be waiting for your answer. I know it sounds like I am a poor outsider but you see I don't have enough time to find the money I need and find somebody to help me, you know my mom gave me all she could collect for my travel. I hate to ask but now I don't have any other choice. I need some help from you, please help me to leave Moscow and it is all I ask now. Kiss you, counting days and minutes before our meeting. You know it is only money, and I think it is not too hard for you to help me, you see I have such chance only once in my life. I know you are a kind man and I hope you will be able to help me. I promise I will return all the money and I will earn money because I am ready to work as hard as I can! You know my rent address here is Russia, Moscow, Suschevskii Val 56, flat - 26. Remember my full name is Daria - (first name) Salnikowa - (last name). It is right writing in English, and you should put it on Money Gram or western union list and you can choose any bank in Moscow, they tell it is international service and I can pick up the money at any bank of Moscow. They said I can get only Money Gram or western union transfer because I have not any bank accounts in Moscow and I have only passport and it is enough to get it! If you need the address of Money Gram or Western Union in Moscow is
LOCKO-BANK
SUSCHEVSKII VAL, 16
Moscow, 127018
+7-495-7390725


Actually I've been told you can send it to any of their offices. I can call you as soon as I receive the transfer to let you know about it. And please after you complete a transfer write me the number of your transfer, I'm not sure how it's call but they will give you a number of your transfer.
Million of Kisses,
Your Daria

P.S. I am not sure I should tell this but I want to let you know if you don't like me when I come I will not bother you and it is only your choice to spend time with me or not. I know you may be too busy, and in any case I will return the money back. I can have a room for rent if I want, a job and I want to say please don't worry I don't want to use you just to reach my goal. I am sure when we meet we will have no regrets about it, I promise. Please, don't leave me alone I've done so much to start this trip and I don't want to give up. And I can stay more than six months, I can stay longer and I can prolong my visa. I want to get to know you better.....
to learn more things about you, to touch your hand.. look in your eyes..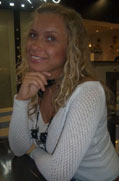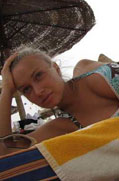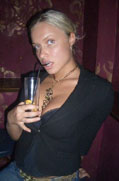 ---
Elena Syhanova (Vilkova, Ukraine)
I am a single man, 63 years old living in the USA. I began writing to "Lena" in December 2007 after seeing her on the Cherry Blossums website. After several months of letters to her email address, mirovae@rambler.ru, I sent her $200. by Western Union to buy a phone so we could talk. For some reason, Cherry Blossums her profile was no longer on Cherry Blossums site. I did talk to her on the phone for a while until her phone was "stolen". After that I did not hear from her for a while. In July 2008 I got an email from "Elena Mirova" using the same email address as before. She asked for money for her "internet account". I did not send her money at that time. She later asked for more money to help pay her rent. I declined. Late in 2008 we re-established contact when I was planning to visit Ukraine. When I was in Kiev she called me on my cell phone and asked me to send $50 so she could come to Kiev. I sent the money by Western Union but for some reason she was unable to get it. In 2009 I planned another trip to Ukraine and emailed her. She asked me to send $50 so she could celebrate Woman's Day with her girlfriends. I sent her the money by Western Union. Before I went to Ukraine in August 2009 I sent her $50. so she could travel to meet me in Nikolaev. When I was in Ukraine she emailed me asking for another $100. for travel expenses since the price of gas had gone up. I sent her that amount by Western Union. Up until the day she received the final payment, her phone was working and I talked to her and sent txt messages. On the day she received the final payment, she stopped answering her phone. She had promised to come to Nikolaev on Sept. 1 but did not show up at the designated site, did not call and did not email. I waited for 1.5 hours before going home. I had previously told her I would be leaving Nikolaev on Sept. 3rd. She sent me an email that she would be in Nikolaev on Sept. 2nd, but again did not show up at the agreed time and place. No email or call from her. All my calls to her cell phone that day and the previous day were unanswered. I left Nikolaev on Sept. 3rd. When I arrived in Odessa and checked email, surprise surprise, she had sent me an email (not a phone call) telling me she had arrived in Nikolaev and was ready to meet. At that point I knew I had been scammed, because she knew I was leaving Nikolaev that same day. I will attach some of the photos and emails from her. Her last phone number was 380507795792.
Letters:
Hello my dear David!

I am sorry my dearest David that you are so very busy with this trial. I feel pity for you. I wish I could help you with something my dear. I am sorry I can't. I hope everything will go ok my dear David. Please look after yourself. I will be keeping my fingers crossed for you dear. keep me informed.
David,I am very ashamed to bore you but may be you will be able to send me some money to be able to celebrate Women's Day with my girlfriends. They are looking for as cheap place as possible. I'd like to go and share my girlfriends company. You know that I am very lonely here and on this day I would like to meet my girlfriends to talk to them and to show myself too as I dream to make a good make up and a hair-do and of course I will take some pictures for you sweetie. May be you can help me so I will be able to go.
David dear yes of course I still want to meet you very much. Yes I can come to Kiev and then we can go to my town and I will introduce you my family. You will see where I live. We can stay in my house as long as necessary dear David. It is not a problem. yes of course I will help you and I will take care of you my dearest. yes we can also explore Kiev if you want. It is a very beautiful city.
Well my dear David, I kiss you for now. I will be waiting for your news so very much. Please don't overwork my dear. I wish you luck and success.
Yours only Lena.


Hello my dearest David!

Sweetie I am sending you a picture and I hope so much that you like it. Sweetie yes my girlfriend has a very good camera, her boy friend gave it to her. I also took some professional photos from the studio. To tell you the truth my dear I don't find myself so beautiful but I like taking photos so very much. I like to pose :) But I think any woman like posing for the camera.
Sweetie you are so lucky to have so nice weather. As for our weather it is not so very nice unfortunately. It was snowing in the morning. But now the snow is melting and it is so messy around. We have a lot of water too my dear.
As for my news they are the same dearest and nothing so special is going on.
I am glad to hear you have already planted some vegetables!!!!!You are a good hard-working boy my dear :)
Well my dearest David I kiss you for now. Please look after yourself and take care.
I hug you very tightly.
Yours only Lena.


Hello David!!!

Oh dear David they promise two weeks already that the gas will be back 'tomorrow". 14 days we hear that the gas will be back "tomorrow". All the people are so tired with all these political intrigues!
I have not found a new job. People are laid off and no new workers are needed. I agree to clean toilets but I can't find even such job my dear :( Horrible and terrible! I am crying.
The phone number is the same dear David. +380990520468. David my dear you can call me of course.
David is it possible for you to help me with some money for the Internet. I am so miserable now. Don't worry when i find a job I will pay you back. I will be so grateful to you dear. I am waiting for your news very very much.

Yours Lena.


David, my phone is on, may be the battery was discharged. And I did send you my travel plans to your email. But it really surprises me that you are so panic for your money and you always make an accent that I should give it to you back. Are you a gentleman David? So it means I have pay you back all the travel money you gave me? That's ok but you forgot that I paid for the correspondence myself and you never cared that I was hungry because of it. Anyway David of course I am for real and of course I wanted to come and see you because I thought you were serious and sincere with me. I sent you an email that I was leaving today and I had to arrive to Nikolaev at six approximately. But may be you want me to send you the money back now? Do you care for me or for the money? I am sorry to say you this David but I think we should think it over. If you still want to see me please let me know where I should come and if you still want to meet me near McDonald? If there is any very cheap hotel I can stay at? I have very small amount of money and if I pay you back from it I can afford only very cheap hotel to stay in. Please let me know.

Lena.