Anastasiya Sokolowa, (Tulun, Russia)
I am a single white American, 40 years old. This person contacted me on singlesnet.com, a dating site. The profile said she was living in New York City. I wrote to the email she provided. I am informed by this person that they are really in Russia and were trying the dating site out as a joke to practice their English. We wrote back and forth. They sent me four letters before the "money letter" arrived today. It was about the third letter that I started doing a search on the name and found out about Russian scammers.
I went back over the letters, and it all fit after that. This was the typical "visa/tickets" scam. She seemed smart, and personable, but never did really answer any questions. She also doesn't know her own bust-hips-waist size, and actually tells you this. This seemed strange to me.

I was told to send $1000 directly to Anastasiya Sokolowa via Western Union, with an address in Moscow (Moscow,109479, Bratislavskaya street, build 35,room 78) I was also given the famous "the bank here won't help me but they told me to ask you" line. She supposedly bought a nice dress beforehand and was down to her last $400 since her family paid for everything else.
The ticket was for $1290. And it has to be round trip according to some law that was adopted this year. Oh, and she applies for a J-1 Student Visa and then plans to change it to a regular visa when she gets to you. Claims it's faster and easier to get.

I decided to simply report her to as many sites as possible. I don't know what I'm doing after that yet.

Bill

Letter

(Complete with Travel times and layovers)

TRAVEL INF0 "SOLVEX - TOUR" client : Ms.Sokolowa
----------------------------------------------------------------------------
This reservation will be automatically cancelled if the ticket is not
purchased until 21 July 2007.
Travel dates for: Ms. Sokolowa.
Reservation code: KD2LMS
Please label the inside and outside of each piece of baggage to be checked in with your name and where possible your address.
Suitable baggage labels and stickers are available free of charge. In advance of your journey, please note the current free baggage allowance included in your ticket price.
You can find this information in the internet or via your Airline contact person.

In case you booked a special fare please note that it can be subject to restrictions.
Should you have further questions please call your Airline contact.
J-1 Visa,Travel.
Travel Abroad: When preparing to travel abroad for less than 5 months, it is important to ensure entry to another country and reentry to the U.S. Depending on the country to be visited and the student's nationality, it may be necessary to apply for a visitor visa.
In order to return to the US, a student must have: a valid passport or travel document, valid visa and an DS-2019.
Furthermore, page 4 of the DS-2019 must be signed by the RO.
Travel to Canada, Mexico or adjacent islands other than Cuba for less than 30 days, does not require a valid J-1 visa in some cases.
Travel Within the U.S.: No special permission is needed, but it is important to have a valid passport, DS-2019 and I-94.
Thank you for your booking and have a pleasant journey.

Kind regards,"Solvex-Tour", 129265 Moscow, Timyryazeva 54
office 21. e-mail: solvex-tour@narod.ru <mailto:solvex-tour@narod.ru>

Please use our service. Managers Ms.Victoriya Melina. Mr.Zverev Aleksey.
----------------------------------------------------------------------------
Moscow to Binghamton
Flight 1 Sunday, July 22, 2007

Departure: 12:15 Moscow, Russia - Sheremetyevo Intl, terminal 2
Arrival: 14:40 New York, USA - John F Kennedy, terminal 3
Airline: Delta Air Lines DL031
Aircraft: Boeing 767-200/300
Change of plane required. Time between flights = 3:45

Flight 2 Sunday, July 22, 2007

Departure: 18:25 New York, USA - John F Kennedy, terminal 3
Arrival: 20:09 Binghamton, USA - Binghamton
Airline: Delta Air Lines DL6038
Aircraft: De Havilland DHC-8 Dash 8

Binghamton to Moscow
Flight 1 Sunday, October 21, 2007

Departure: 13:28 Binghamton, USA - Binghamton
Arrival: 14:47 New York, USA - John F Kennedy, terminal 3
Airline: Delta Air Lines DL6130
Aircraft: Embraer RJ145
Operated by Freedom Airlines
Change of plane required. Time between flights = 1:43

Flight 2 Sunday, October 21, 2007

Departure: 16:30 New York, USA - John F Kennedy, terminal 3
Arrival: 10:10 +1 day(s) Moscow, Russia - Sheremetyevo Intl, terminal 2
Airline: Delta Air Lines DL030
Aircraft: Boeing 767-200/300
Price: USD 1290.00+ Round trip tickets.Eco.class.
----------------------------------------------------------------------------
Bill hello, this is the info I have got from agency and I think I have the
problem and it seems to me I need your help because I must get this flight. I hate to imagine if something goes wrong, I have done too much to lose all now.I know it sounds like I am pooroutsider but you see I have not time or somebody to ask about help, you know my parents gave me all that our famile could collect for my travel.
I hate to ask but now I don't have any other choice.
The things that everything is getting more exspensive because so many people want to travel abroad and they tell I need to have round trip ticket,it is new rule from this year. I thought that I have to bye only one trip one. I can promise that I will return all the money I borrow as soon as I can. I will get salary and collect the sum I own you, it is only money, and I think that it is not too hard for you to help me ,you see I have such chance only once in my life. I know you are kind man and I do hope you will be able to help me.
I was in the bank to try to ask them about credit but they tell I have to have something to stay them and I have nothing to stay because I have only a few dress and shoes, some parfume and it is all I have, and small gift for you from russia with love. I was so silly, yestarday I bought nice night dress, it is so exspencive here but I could't travel to you because it is a shame that it was on me, I have never seen such wonderful things for women.
People in the bank gave me an advise that if I have good friend (I told them about my problems and you ) that you may send me money very fast,they tell that there is the system western union and it works very fast, I am not sure I know how it works but they tell you need only my name and address here in moscow and I have to have only passport to get it in any bank of moscow and nobody can get money only me, I think it is good way.
I have about 400$ yet and I need about 1000$ from your side (roundtripticket,visa,interview and some papers yet). After getting money I will make all payment and I will have an interview, it is nesseary thing.
And I have good news too, they tell that I can stay longer than three months I can stay about six months for first time.
I will have to change the date of my returning flight only and I want to say that you have not to worry if you don't like me or something in my charachter I will not disturb you, you know I will have rent room to live and it is only your wish to share your time with me, and money is money, I will return it all in any case.
I am sorry to send so dry and cold letter but I am getting crazy to think that you can just don't reply and I will stay here without any result of all my hopes and dreams ,and hard work too.
you know my address here in moscow is Moscow,109479, Bratislavskaya street, build 35,room 78. You know my full name is Sokolowa(last name)Anastasiya(first name).
You should put this info on their list and send me info that you sent it.
well I will close this letter I am a little tired and feel not too well, I know that it is hard decision for you because you know me not too well, but dear please help me and you will be not sorry of it I promise. Please don't leave me alone in hard minute I will pay the same when we meet.
And I will have paper with my and your names when I will be in your airport I don't want to miss you, Kiss you with hope Anastasiya.
---
To send your own story, click here
Click here to support Black List
READ ALSO: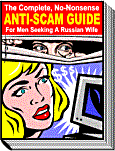 Met a Russian woman over the Internet?
Thinking about finding a Russian wife?
Russian woman wrote to you? Don't move any further until you read The Complete, No-Nonsense ANTI-SCAM GUIDE For Men Seeking A Russian Wife. Too many men were caught up in a scam and lost great deal of money - want to be one of them? Ensure your safety and peace of mind - read the ANTI-SCAM GUIDE.




Scam-free search - GUARANTEED! - Looking for somebody truly special but have had it with scammers and scam agencies? Let professionals to do the job for you.

The Universal Crib On Finding A Russian Wife - the most compressed, step-by-step guidance on finding, courting and marrying a Russian woman.
Reliable Dating Services - where to look for a Russian wife
The shocking truth about Russian Brides - E-book by Marina Smiley. Find out things about Russian brides that marriage agencies will never tell you.
Why Russian Women? - If you decided to find yourself a Russian wife, you would be inundated with questions of the type "Why Russian Women?" from everybody you cared to share your idea with. Surprisingly, every Russian woman you are writing to will ask the same question: "Why do you want to find a wife in Russia?" After a while, you might start questioning your own sanity in doing the thing which everybody, including your dates in this Internet rendezvous, consider strange enough to request explanations. Here you will find some ready-to-use answers for your family, friends and Russian women you are writing to.
Cheap Russian Translations - Russian-English/English-Russian translation: fast and comprehensive. You are not sure she understands what you mean? Translate your letter to Russian! Reasonable rates and highest quality.
---

New E-book by Elena Petrova:
"How To Find And Marry A Girl Like Me"
Comment from the reader:
"This may well turn out to be the best purchase I have made... I hope not too many of my competitors find this book!"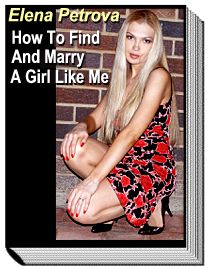 Discover how to find, court and finally marry a beautiful Russian woman!
This is the only book written by a beautiful Russian woman married to a western man - for more than 5 years! - and who is also the owner of a highly successful Internet dating agency.
Find out once and forever what Russian women are really looking for, why they are looking for it and how you can give them exactly what they want!
Get responses on your letters to beautiful Russian women - 9 out of 10, GUARANTEED!
With "How To Find And Marry A Girl Like Me" you'll learn knock-out techniques that will instantly boost your success rate in dating Russian women - online and in real life. You will have more beautiful girls that want to be with you than you can handle!
And not just ordinary girls! They will be beautiful, intelligent, but most of all - honest and sincere! You will be the one to take your pick!
STOP wasting your time and money in search for a Russian wife... Get it done - painlessly, easily, and certainly! Moreover, have lots of fun along the way!
Yes, you too can marry a girl like the one on the picture... Click here!
---
JUST RELEASED!
New Ebook You Cannot Afford To Miss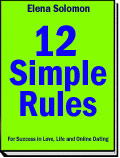 Dating can be complicated... it doesn't have to be! You can jump start your love life - or you can keep wandering in the dark; the choice is yours!
When it comes to dating, most men make the same silly mistakes with women - over and over, with disastrous results.
Do you want to do BETTER than 99% of other guys? Click here
---
New e-book by Marina Smiley (the author of famous "The shocking truth about Russian brides"):

"Sex and Love With Russian Women"

Discover where so many guys fall short when visit their girlfriends in Russia;

Learn how you can dramatically improve your success with Russian women and win when others fail.

Most intimate questions answered by a Russian woman - Medical Doctor.
---
Comments, suggestions? We want to hear from you!
Click here to Contact us
Seek a reliable Russian Dating Agency? Why not check www.elenasmodels.com - RECOMMENDED
---