Natalia Mochalova (Cheboksary, Russia)

I am divorced, father of 2 children, not living with me (adults), white, living in Spain, 54 years old, self-employed. Original contact started in March: http://www.global-date.com (today she operates with other names on several Websites).

25th April: She asks me to send money for the ticket: 500 dollars, saying: "I want to engage with you."

26th April: I send her 600 dollars for ticket and expenses via Western Union.

27th April: A letter full of love with: "your bride Natalia".

30th April: "I have arrived in Moscow … yesterday. Now I live in a hotel … Tomorrow I shall go to Embassy for manufacturing of my visa …Then I shall go to buy tickets."

1st May: She writes: "I just from the airport (Moscow)" (to buy the ticket): and she writes also that the Embassy demands to bring on Wednesday 1500 dollars to prove that she is financially secure for the stay. – I refuse to send her that amount of money. 2nd May: She repeats asking me 1500 dollars for a 30 day-stay (30 days x 50 dollars).

2nd May: Second letter: She confirms: "I have tickets. They are in Embassy."

3rd May: She gives me the address and phone number of the hotel, including her room number. And she mentions arguments from the Embassy why she needs to present 1500 dollars. She is asking again that I have to send her 1500 dollars; and writes that she will give me the money back when she arrives. She invites me to call her. – I send her 1500 dollars via Western Union. Evening: I call to the hotel. They don't know N.M. Nobody with such a name stays in the hotel. I write a mail to N.M. asking, where she lives now.

4th May: She confirms having received the money and that the 1500 dollars are now deposited at the Spanish Embassy. She writes: "Excuse that did not inform you that I was written in hotel not as my name. Not all employees know about me."

I made 2 transfers via Western Union: 600 dollars and 1500 dollars. Western Union confirmation:

From : <International.Customer.Service@westernunion.com>
Sent : Tuesday, May 23, 2006 12:27 AM
Subject : Re: Western Union Money Transfer(R)

Hello Sir, Our records indicate that the money transfer you sent on 04-26-06 to Natalia Mochalova was paid on 4-26-06 in Yoshkar Ola, Russia. Our records further indicate that the money transfer you sent on 05-03-06 to Natalia Mochalova was paid on 05-03-06 in Yoshkar Ola, Russia as well. ….. Regards, Mary opr 079 International Dept.

This is the final story:

7th May: She writes that her mum had a heart attack and is now in the hospital; she needs a very urgent operation to be done in Moscow. This operation costs 2800 dollars; and the state will only pay 1400 dollars. She needs now 1400 dollars. "Could I use money from embassy for the help of my mum?" She never came to visit me! --- Conclusions: She was not in Moscow the 3rd of May! Logically she never bought a flight ticket in Moscow and she was never in the mentioned hotel (confirmed by phone). Therefore she has never applied for a visa at the Spanish Embassy. She doesn't live in Cheboksary; she lives in Yoshkar-Ola! The Spanish Embassy confirms me (mail) that they never take any ticket or any money in deposit.

Letters: Natalia Mochalova, Address: Street Kirpichnaya (Brick) 2-7, Cheboksary, Republic Chuvashia, Russia

From : nataliakitty <nataliakitty@bk.ru>
Sent : Monday, March 27, 2006 1:11 PM

Greetings my new friend!!! ……. I want to tell to you a little about myself. I work In hospital. I the pediatrist. I have the high medical education. I specialities the expert in pediatrics. … I very much to like my work. My working hours from 8:30 till 18:30 . … me of 28 years. I was never married and I do not have children. …. … I live in Russia, in city Cheboksary. … Your friend Natalia.

From : nataliakitty <nataliakitty@bk.ru>
Sent : Saturday, April 22, 2006 10:36 PM

Hello prince … if you will send to me it I only I shall be glad because they will carry out our meeting. Today I found out cost of tickets in your country. It costs hardly more than 500 dollars. Is it a problem for you? As in each of days last weeks I am constant to think of you. I am simple may not more think of anything. ……..You also are my happiness. …….I want, that you always were near to me!!! … I very much love you. My kisses and embraces. You're Natalia.

From : nataliakitty <nataliakitty@bk.ru>
Sent : Tuesday, April 25, 2006 8:59 PM

Hello my fine king … as I shall receive money I shall buy tickets and to move to Moscow. ……………………. I to want to engage with you love. I for a long time to not be engaged in love with anybody and to want to give you all that in me have collected. We shall be happy only together. I to know, that we with you to be together fast, my love. When I to think of you my heart come to life, I wait yours kiss, your love, your touches. You my destiny, my life. Know, that I wait only for you and your love. I to want to be with you. Natalia madly in love with you.

From : nataliakitty <nataliakitty@bk.ru>
Sent : Wednesday, April 26, 2006 12:18 PM

Hi my love. I just from work. Many thanks for a sending to me of money. Now I shall go in bank. As soon as I shall receive money I shall write to you the detailed letter. Well? Yours Natalia...

From : nataliakitty <nataliakitty@bk.ru>
Sent : Sunday, April 30, 2006 11:36 PM

Greetings my love Edward. ……………I have arrived to Moscow the day before yesterday. Now I live in hotel. Excuse that I write to you just now. But the Internet of cafe has been closed before. Tomorrow I shall go in embassy for end of manufacturing of my visa. Then I shall go to buy tickets. I shall inform to you details tomorrow. Well? I today think of you about me and about us much. When we shall be together? That we shall do in our free time. I know that we shall never miss when we shall be together. We shall think out different entertainments and games. Including sexual. …….. Then we to accept together bathing and to be engaged in love. …… Know that I to love you and you are constant on mine opinion.\ Successful to you of day. My passionate kisses and embraces. Your Natalia.

From : nataliakitty <nataliakitty@bk.ru>
Sent : Monday, May 1, 2006 5:05 PM

Hi my Edward. I just from the airport. I want to inform you of 2 news. One news will be good, Other news will be bad. I do not know from which news to begin? Well, I shall start with good news, because this most important!I should tell, that soon day of our meeting. My visa will be ready on Wednesday. I was been told told, that all goes well and I shall receive mydocuments!!! I bought my tickets and now everything is all right! But I should you tell, that On Wednesday I should bring 1500 dollars.I do not know what to do. The matter is that the embassy speaks, That I should be financially secure. I should have money with myself During stay in Spain. The Minimal sum of money which should be on me Makes 1500 dollars. It is bad news because I understand your situation of money now. It is very inconvenient for me to ask so many money to you but when I arrive to you I to return this money. I should bring only in it during flight. To me so it is sad now. I did not know as it to speak you... So it is a pity to me to ask you again money, But I anyhow should you tell it. I am sure, that it will be the latest Step to our meeting. I love you more life and I do not know what do. I with hope shall wait your the letter. Only yours forever, Natalia. (my question: do you go back home or do you take directly the flight to Spain?) Her answer here: "ps No, I shall not be back home. I have already taken all necessary things."

From : nataliakitty <nataliakitty@bk.ru>
Sent : Tuesday, May 2, 2006 7:54 AM

Good day my love Edward. I am glad to see your new letter. It let's me feel your affinity and care. I very much regret that I bring to you many problems. I did not want it. Simply I very much love you and I want our meeting as soon as possible. Thanks for the help to me. Now I shall take your papers and I shall go to embassy. Yes I have tickets. They are in embassy. They will have date of my departure after registration of my material ability to live at you. I shall try to take it from embassy and scan it. I shall send it as soon as I will made it. …. (yesterday I asked her to give me the Hotel phone number and address in Moscow); her answer: Today I shall find out the exact address of hotel where I temporarily live and its phone number. I love you and I dream of you. I want be with you to embrace you and to give you all tenderness and love. I know that soon we shall together. We like each other and should be together. I am sure that God will help us with it. At me all is normal. I feel well and your letters cheer up me and give pleasure and happiness. I love you. I wish you happiness. Your Natalia.

From : nataliakitty <nataliakitty@bk.ru>
Sent : Wednesday, May 3, 2006 9:16 AM

Hello my honey Edward. ………….. Excuse that has not written to you yesterday. I have come from embassy very much late. ….I am told that I should to have cash for confirmation of my material ability to live at you. One more reason of it is the big sum of money. …. I do not know what do. I very much want to arrive to you. Therefore I ask you that you have sent me of money. Do not worry about yours a material condition. As soon as I shall arrive to you I give back this money to you. Yesterday I have found out the address of hotel where I live temporarily. Its Name is "Tourist". Its address: Moscow, street. Agricultural (Selskohoziaystvennaya), 17/2 Its phone numbers are (495) 980 7391, 1877045, 181015. To communicate with me you should to ask to call Mochalova Natalia Petrovna from 34. … the international telephone company. I much think and I dream of our future. I can not wait that day when we can meet each other. I can not wait day, when we can have the first conversation, ours first Embrace, and our first kiss together. This day we shall remember all The life. I want to inform you .... , that I never felt so much a lot of by love in my life. I know, that I can trust you, respect you and that you Always will be with me. You that which man the god has created for me. That I have shared with you the life. I love you my prince. Your bride in Russia. Nataliaps Tomorrow I shall receive copies of my passport and my tickets. I shall sendit tomorrow to you.

From : nataliakitty <nataliakitty@bk.ru>
Sent : Thursday, May 4, 2006 11:53 PM

Hello my love Eduard. ….I have received your money. Now they in embassy. They will establish date of my departure you. …..I could not take away a copy of my documents and tickets. It will be soon ready. I very much miss on you. Thanks that you are at me.When I have met you I has changed. You have opened the new world for me, world of love. Now I rise in the morning with a smile on my person, because I know that not one. In this large world is The man, who thinks of me. I want to tell you a thank. With you I feel myself by the woman, which wants to be happy to love. I have lost the hope on happiness, seeing the rough Russian men. When I have met you you have given Me Hope for happiness. My love even the colleagues at work speak, that I have changed.They speak, that I more often smile also my eyes burn by light of pleasure. Iam very grateful to you for it. Eduard I am very happy, that you do not leave me and estimate our correspondence. You the present man, which is not afraid of problems, which can care. I am very happy, that you have chosen me and have given me chance to give you all love and tenderness. I think of you my love. Eduard I need in you in my life. My honey I shall finish this letter, I wish to you all best and good mood. I very much wait your answer and I send you the warm embraces. Love on always. Your bride. Natalia.not inform you that I was written in hotel not as my name. Not all employees know about me. I shall try to call to you again tomorrow again.

From : nataliakitty <nataliakitty@bk.ru>
Sent : Saturday, May 6, 2006 6:12 PM

Hello my love.I am in Kazan. I have just arrived from Moscow. I have run in the Internet ofcafe that you did not worry about me. I feel well but I worry for my mum. I shall move to Cheboksary soon. I shall write to you the reciprocal letter as soon as I shall be there. My documents are made. My documents and your money are now in embassy. Therefore you should not worries about it. I shall write to you tomorrow. Yours Natalia. ps I very much miss you...

From : nataliakitty <nataliakitty@bk.ru>
Sent : Sunday, May 7, 2006 11:16 PM

Hello my love Edward.Excuse that I did not write to you but at me misfortune now. At my mum now ather intimate insufficiency and her it is very bad. She has received heart attack. She lays in city hospital at us. In hospital to us informed that very urgent operation is necessary for my mum that she has survived. But for this purpose it is necessary to carry mum to Moscow as only in Moscow there are doctors which perform this operation well. But it is very expensive operation which there are 2800 American dollars. In hospital have told that our state will pay only half of cost of operation. And we should pay other half.We should pay 1400 American dollars. My dear Edward I do not know what to do.Our family has no such big money. Could I to use money from embassies for thehelp to my mum? Edward it is very inconvenient for me to ask you about it but I do not know to whom more to address. I very much love my mum and I do not want to lose her. Edward please do not doubt of words which I write to you. I wrote to you only the truth. I wrote to you with all my heart. Today I scaned my passport that you did not doubt of me. I trust you and so I shall not worry if I shall send you my documents. (PS: she never sent me these documents!) I all time set to myself one question: why it happened with my mother? Ithink that the god sees her sufferings and helps her. On it I finish the letter. Now I shall go home and I shall a little have a sleep, I am very tiredfor these days. With the big love Natalia.

Edward (Spain)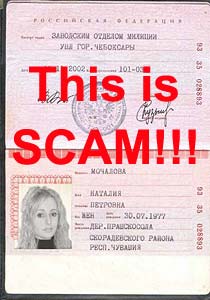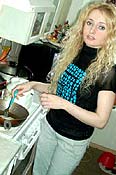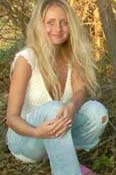 ---
Natalia Protasova (Irkutsk, Russia)

I'm Eugene from California, and I would like to share my story with you to pull risk down of scam. Month ago I received a short letter in my e-mail box from Natalia Protasova. I don't save that message and the e-mail address the message was sent from because I didn't think about the scam in that period of time. There were two sentences in that particular letter about her trip by student visa to the USA. She asked me for help while she will be in America. I'm originally from Ukraine and wanted to help her a bit, so I replied her back. No more letters had been received during next couple weeks. Four days ago I got a letter from Natalia from the e-mail address niceone@freemailworld.com where she wrote me the information about herself. My reply to here was with information about myself. She didn't get embarrassed about my marital status and told me about her dream to meet right man in the USA; she said that she didn't want to go back to Russia. In her next letter she told me that she is going to Moscow to US Embassy to get a student visa and could not be able to answer on my e-mails for short period of time because of her way to Moscow. Next letter she sent me from Moscow, but I'm sure she has never changed her location; in "Date" line in all her e-mails the time region has never been changed (+ 6). I caught this fraud but decided to continue the game. In next letter she informed me about the successful trip to Moscow and told me that she is waiting for the interview in the US Embassy. She told me that she needs some money to book a ticket to America. Based on her e-mail she has $500 and it's not enough for the ticket, so she asked me to mail her $700 via Western Union. At that point I decided to stop the game and "opened my cards". So, I did not send any money to her. Please find her letters below.
Having checked the site www.womenrussia.com I found her photos under names Lyudmila Butenko (page 480) and Anna Golovacheva (page 461 & 456). She sent the same letters to all people, just changed names and cities of living.

I would like to thank you for the site which can help me to identify the bad person.

Regards,
Eugene

Please feel free to contact me at masterjeka_yahoo_com

Letter 1
Hello my stranger
I am so happy to see that you have decided to reply,I see it is very short letter.
It is all right because you are astonished to get my letter.
I want you to know that I have only good intentions and I have not any secrets.
The thing is that I will work in your country for three months or so and I would like to meet a nice man to fall in love or just be closest friends. I don't want to live in Russia because I have not any chances here,it is hardly possib le to explain from first time but I want you to know my plans.I will work in any shop, bar or restaurant the agency that i am going through will suggest me some locations. It will be my choice in the end as to what option to go for.
So I will have a simple work till I improve my English. And I can choose any town of your area,agency will only help me to get a visa and all travel documents + some suggested placed to work in. My best friend last year met the man from the USA when she worked there for three months, too. She had two jobs. From morning till 4 pm she worked in amusement park and after it she worked as a waitress in some bar till midnight. She was very tired of course but made very good money there. It is special programm for young people who wants to work abroad and I think it is the right way for me ,I am lost here,and I think that I look pretty enough to find a better place .I want to repeat the same &nb sp;way,it is only my chance to meet a nice man.I want to work in USA or in Europe or any nice country. I am full of plans and different dreams and I want to share my life with good man because I'm also full of love and tenderness,I know that I am not so beautiful like Hollywood Princess but I do hope to meet my Prince and I am sure he will be not be disappoined to meet me in the real life! This is why I am going to go through the same way. Well,I will close this letter and I do hope to get your reply. I will leave russia in two weeks or so (I can't tell you everything exactly right now) and I would like to be sure that I have the man who waits for me there. I will work all day and I want to find a man to spend all free time together to get to know each other better.if you have any interest to meet me I will be more than happy to meet you too. I will tell you all details about me and my life if you like my pictures and want to meet me! please send picture&nbs p;of you too!!! Now I write you from my personal mailbox niceone@freemailworld.com, please write me back here and here only. I will be checking it often. Kiss you , Natalia (this is my name)!

Letter 2
Hello my dear Eugene, thank you for your answer!
At first I think I have to say that I am new in internet and I have only good intentions.
you should know that I am not very good writer in english, please be patient to read my messages and see many mistakes. to be fair I don't know what you want to know about me,in principle I am usual girl.I think I should tell you about me, my interests,tastes and hobbies.I think I will tell you about things I want to know about you and you will know my future questions. I am 25 years old,my birthday is December, 25, 1980. I so much don't want to get older ,when I can see old women I am getting crazy to think that it is my future .I do all the best to keep my youth and I keep my body well.In spite of all difficultes here I am trying to be in good condition and I do a lot of exercises to be in good shape! I am about 172 cm tall (5.6) and my weight is about 56 kg. I've been told I look well enough , and I think that all women have own beaty. I have never been married and I don`t have children. I have one youngest sisters and it is great problem for us because we have only two rooms flat.you can't imagine what does it mean to be born in small town in Russia,there are not any chances to live well,to get a good job.All young people leave towns to search great luck in big cities but nobody waits for them there. I want to leave Russia,I know it sounds ugly but I know that I will be lost here like many young girls before me. It is not place to grow children and have stable future.I want to meet my right man . I think in future I can work as fitness trainer I have a certificate. My mother is my great problem too,she has a great dream to see me married and she wants to make me happy but I think it is only my business I am not a little child. She tells me every day that I should get married very soon... To be fair I am not sure I am able to explain all in first message I want to say so much! I just want you to know that I am not afraid to work,I am fairly goal oriented and I am sure you will be not disappoined to meet me in real life.I am going to spend three months abroad to work in any good place,agency promises to help me because it is only the way I can leave Russia.I will have all documents to travel in a few days and i will travel to moscow then,from moscow I will travel to you and they ask me about name of the city i am going to work, if you don't mind to meet me please tell me the name of your city and nearest international airport! I will book my flight from moscow! I think it would be so great to meet my love and stay there forever.I know that it is not so easy like I think but I think it is possible that I meat my real love. I want to love and to be loved I want to build our own happiness,only me and my man there. I don't smoke,I tried to smoke when I was younger. I may have a glass of red dry vine,sometimes it helps to relax. I try to take care of my body and face. I know it is all I have. My soul may have any itnterst for you later, I thinkso.I am not a little girl and I know that at first almost all men look at body ,legs and face.God created males such persons. Well,I think I am lost in my letter,I am not sure you understand my goals,please feel free to ask. I live in Russia,town Molodezhnyi, Lenina street 7, flat 18 ,it is near big city Irkutsk. My town is rather far from Moscow. Moscow is a capital of my country. I want you to reply if you understand my mind,my intentions,my soul,if not please reply too, I will continue my searching. Well, I will close this letter,I think you are tired to read it.and If you think that I should write shorter letters please tell me. I write from internet cafe in Irkutsk because there are not cafes and possibility to use internet in my small town,we have 4 digital phone number and we can't call abroad.Even to call in any big town here in Russia I have to order the call in advance.and I would like to say please don't worry if I keep silence sometimes I have no time to travel ,it is about 25 minutes by bus from my town till Irkutsk Please tell me more about you,your tastes,likes and dislikes .also I have a few impotant questions do you like strong drinks too much?can you be very drunk?very ofthen?can you be rude with women? Well,I have to stop or I will write without ending.Kiss you !see you later. In my next e-mail I will write you more things about myself and more details about my trip and work. I will miss you, your Natalia

Letter 3
Hello my dear Eugene
I am so glad to see your letter again,I think I am a lucky girl to meet such man and I will do my best to meet you in real life!
you know I can work in any city of your area because it is free choice and agency only helps me to get only travel documents (visa)and ticket, and I do hope that we will like each other and now I have the destination.
The agency will also suggest some places to work in. I do hope I have met my right man!you know I have told you before one of my friend worked abroad last year and have met right man,now they live there and they are going to marry. by the way now they are arranging the trip to Russia,(he wants to meet her parents and friends) I think if I feel that you are my dream and you have the same feelings we could think about our future together. if not I will just work and return back when the time to travel back. you know I am new here and I am afraid to make any mistake. I have one great lack,I am very impatient sometimes I can act without thinking. Sometimes I think that my dream is getting for real and it is so bad to be disappointed later. I want you to know all small things about me because it shouldn't be any misunderstandings between us. I want you to know that I am not angel and sometimes I can show my character.And I don't wait that you to be angel too, I just want to meet a kind man . I am very kind and I can forgive almost all I can't forgive if my man sleep with different woman, I don't know many nessesary words in english. I hope you can read between lines. little more about myself! my favorite activity is fitness. I wanted to be as fitness trainer but I finished The Irkutsk State Univercity, trainers faculty as fitness trainer but I don't work on my profession because there are no good fintess clubs in my city, I used to sit at home and to do all housework,helping my mom. I would like to have good job, I may work dancing teacher, or trainer of fitness,you know I have a certificate. I worked as a trainer a year ago . and I would like to do it again .you know how many more younger girls want to get this job too!Alot of competition here. I want to tell you about things I like: I like to make barbecue and I so much want to have my own home with fireplace. usually I make very tasty ones and in principle I like to cook and it is not problem for me to cook something tasty and I don't like to visit cafes and restaurants, at first usually they can't cook weel(maybe only here) and second too high price. I like warm weather. and my great dream is to live somewhere on tropical island. Also I want to tell you about my dislikes: I hate our long winters it seems to me they will never end. I hate lies and unfaithfulness. I hate evil people and politicans I think they like to play wars, I hate any ars. What I like in a man: faithfulness, honesty. He has to be open- minded and open-hearted, also easy-going. and much more important he is kind,kindness makes our world! Are you kind and gentleman ????? I think my man should be kind ,it is great feeling after love,only kind person may be happy, all rude people are unhappy. or must be. A few questions yet, agency tells that I will have a room in nearest hotel near my future work but if we like each other may be is it possible to live together?I think we will enjoy life together. do you have your car?animals? I can't drive and I do hope you give me a few lessons, to be fair I have so many plans .I will find out all travel details about my flight this week. I will leave my town today in a two hours and i think I will be not able to write to you today or so. When I am in Moscow I will send you short letter to let you know that I am all right and they tell that it takes about two days to get all nesseary papers, please confirm your phone number and international airport, I want to be sure I have all your details and Please don't look at different girls. I am the best(joke). Well, I will close this letter I think I am bore today,and please feel free to ask. See you soon!I can't believe everything is for real. to be fair I am lost and my head is like any big station with a lot of voice! KISS and LOVE Natalia!

Letter 4
My honey ! it is me,can you believe I am in Moscow. I can't believe ,it was wonderful flight and they gave red vine in plane, wow,I have never tried such tasty one!!!!! I went the bus up to the Subway from the airport .In Subway long went, it was so is delightful I was in travel agency today, but my documents are not ready yet, it will be ready tomorrow. I will go to travel agency again to get all info about my trip. And of course, when I will get it - I will send it to you! It is such great city and it takes a few hours to travel from one end to other. I rented the flat for few days. People said to me some nice places in Moscow while he was Such a great city it is. I have no words to explain. you can't imagine how great Moscow is,to be fair I wouldn't like to live here,a lot of cars,people , voice and pollution.Ugly traffic and people with crazy eyes. When I get off plane in airport Moscow policeman asked about passport and he looked at me like I am any enemy, I think all people here are a little crazy at terrorism.Life here in Moscow is expensive. I was going through some shops today and it is much more expensive than in our town. Food and all the general things. It is the same country but different prices, what a great change. I think people living in Moscow are very cautious ,I think so. But I think that I have done my choice and to be fair I don't want to live here,it is not the city of my dreams. you know I am not coward I am not afraid I know it is my chance to meet kind man .I do hope I am right. and I think you are too kind to make any bad things I feel it. Well,I will close this letter ,please write as soon as possible!see you soon! KISS . Great kiss from moscow!!!!!!!!! Natalia

Letter 5
Hello my dear Eugene!
it is me again and I want you to know that you can't imagine how happy I am.
I have a schedule of my flight.you can't imagine how much crazy Moscow is. It is great fear to live here I think so!Our small town is more friendly . well,about our business, I tasted my blood,such rule for foreign visitors wanting to visit your country! Thanks God, I am in good health, all of my tests are all right,I only need some vitamins I think it is the bad foods and long winters problem.I have to eat much more fruits and vegetables.The doctor said! well,here is all info ,I do hope we will together in a few days! Info from agency!

INFORMATION MY FLIGHT FOR YOU !

Aeroflot
SU 321
Sheremetyevo (SVO), Moscow, Russian Federation
Terminal 2 14:40
Los Angeles Int'l (LAX), Los Angeles, California, USA
Terminal 4 16:50

HA 3095 OP
Los Angeles Int'l (LAX), Los Angeles, California, USA
Terminal 4 19:00

Lindberg Field S. Diego (SAN), San Diego, California, USA
Terminal R 20:02

Price: USD 1190.00+

Honey, I am so glad to see that I am almost near my goal,and our meeting wait for us. I think I will call you from airport and I will wait for you there so long as you need,I mean if you need any time to arrive in airport. it is not problem to wait there because I know that it is the end of my trip and I have time to improve my condition(some parfume)after long jorney.I want you to see me in good shape! I think everything will be all right.Rather I am sure everything will be all right!. My Dear, they have told in travel office that I have to show tickets when I will visit embassy after tomorrow before my flight. People from embassy must be sure that I am not going to stay illegally in your country and I have tickets with returning data.it is very strong rule. I have some money but my flight from Irkutsk to Moscow costed so much(about 500$) because so many kilometrs from there to Moscow. I didn't guess that tickets costs so much. and I have to book tickets till in less than 2 days , because of my interview. I have not written date of flight because I do not have all money to the ticket. as soon as I will have all money and I will buy the ticket I shall write to you date of flight. I will buy the ticket on this flight. May be you could borrow some money? I am sure I will be able to return it back in a few weeks after my arriving I will earn some money and at first to return all money to you. I also have not written this date of the flight because I yet have not bought the ticket, but if you will borrow to me money I will fly on this flight, in most nearest day, this flight flies almost each day. in Agency they have told me that you may send it by Western Union. It is pretty easy to use. The guy from the agency explained to me how their system works. It is instant worldwide money transfer system. All you need is my name and my surname to send me the money. Once you do this , I'll be able to pickup the money in any local Western Unuion office in Moscow. We need to do it pretty fast, because we have no time till my intervew, if everything will be all right I will be on this flight! I have about 500 US dollars yet and I think I need about 700 US dollars from your side with all travel needs and living here till my flight!If everything will be all right between us I can stay with you longer than three months,maximum I can stay about 6 months for first time! We should change only the date of my returning flight. Or I can return earlier if something is wrong! Here is more info about Western Union. You find any local Western Union agent, go there and send money to my name. Western Union will ask you for my full name and address in Moscow where I am staying at. Once you give them all the info they will initiate the transfer. In just less than 10 minutes I will be able to pick the money up at any Western Union agent here in moscow.

You will send me transfer info and MTCN( money transfer control number )
I will get cash. So I will need your full name and your address + the control number of the transfer. (MTCN)
Kiss you many times ,I am tired today,you know it is hard enough to be in foreign city. So many different emotions .
Kiss you many times! Natalia! see you soon!

Ah, silly me. Nearly forgot to give you my full name info and my address.

My address here (the flat i am renting)
Country : Russia,
City : Moscow,
Address : Moldavskaya 11-152
post code (zip) : 121467
Full Name Natalia Protasova!(right writting in English)

I am sorry to send so dry letter but it seems to me I am like any drunker I have lost my mind and my head works so badly,see you tomorrow. I am
sorry to make so many problems for you I only hope that you will be not disappoined to meet me.


Letter 6
Hello my dear Eugene
how are you?

It is a pity to me that so all has turned out
with money but without your help I can not arrive to you.
my mum does not have now money,
she has given me not which money to this trip,
But it is not enough of them.
If you can not help me I should go back
to itself home in Molodezhnyi
Your Natalia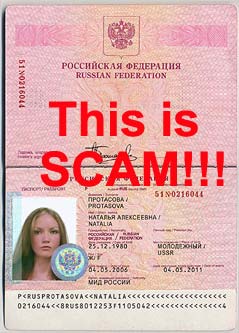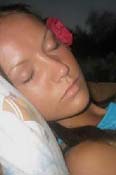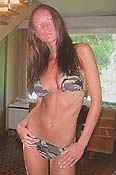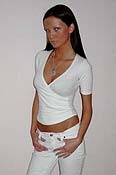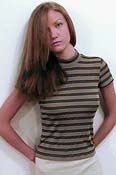 ---
Natalia Konarskaya (Tomsk, Russia)
Hi Elena, I came to your site because of my experience with this woman. Thanks for the tips, and the tipoff...
I am a single, 37 year old man who works in high technology in Boston. I do pretty well, In fact I fit into your profile of customers almost exactly. I don't make six figures, but I own my own home and I've had a good steady job all my life. I'm ready to share with someone special so I've been looking seriously for the last four or five years. Mixed results with the Bar scene and friends of friends and the like, so I've been dating online for about two years. Needless to say, the search continues following this little adventure.
I stick mostly to Match.com and a few free sites. Natalia actually sent me an e-mail from match.com. Strange for a scam since you have to pay to send e-mails. All together she wrote me for about a month, on the third e-mail told me she loved me and asked for $265 for VISA and medical exams. I would usually just laugh these things off if I hadn't found the EXACT same letters one of your correspondents reported from a lovely young woman from Bratsk coming out of the keyboard of my beautiful little blonde from Siberia. Charles reported a Natalia Lebedeva/Natalia (Natasha ) Nikitina (Bratsk, Russia) last year. Here's my e-mails from a Natalia Kornaskyia from Tomsk.
June 13, 2006
Hi sunshine!!! One thought came into my mind today. I would like to ask you what you value in a person most of all. And what you value in a woman most of all? Do you ever watch French movies, old ones and new? You know, there is something that I like about French women? Something in their eyes, how they move, how they look at you, how they smile. They are real women. Maybe it is only in movies, but I like this type of women very much. They are very sensual and sexy in their own way. Appearance is very important but what is more important is one's soul. When the soul is beautiful, a person looks more beautiful too. But when the soul is dark and dirty, you can always see it on his appearance. I appreciate very much honest, open, easy-going people. The one I could trust and tell what is inside myself. And also a kind person could always make you feel better with his kindness, care and love. I miss my mum so badly. She was a wonderful person, a very caring one. And she loved me very much. She will always be a very important person for me. I know she is somewhere there in the Heaven and she watches me and protects me. And I try to do good things in life so she could be proud of me. Sorry, I am trying not cry writing this. It is very difficult. Thank you for being there and listening to me. I feel your support even though you are far from me. But the distance is nothing when two people like each other and feel comfortable with each other. One day there will be no distance between us and we will look into each others eyes and will say everything we feel to each other. Sorry but I will close here for today. I feel very sad and vulnerable now. I will go home thinking of you. I want to get your letter very much, it will uplift my spirit and I will feel I am not alone any more. Miss you and your letters.
P.S. Here is my address:
Natalia Konarskaya
Post Office Box ¹ 3499, Tomsk, Russia, 634045
If you want please send me your full address
P.P.S. Also I have uploaded 3 new pics (2 old pics and 1 in bikini!)
http://photos.yahoo.com/nicegirly06
June 15th, 2006
Hi dear Pete
How are you today? I was waiting for your letter so much. I hope you already know how much they mean for me and how I wait for them. Unfortunately, I can't concentrate today. I could sleep yesterday and had been crying the half of the night. I felt very lonely. I feel better today. Please, don't worry. Next time I will try to be stronger and keep myself in hands. May be I am just too tired. I have to work some extra hours. My colleague is sick and she is at home. That's why I need to do her work too. I do massages instead of her. And you know it is rather difficult. Also it is necessary to be very patient. And you know people are different. Someone are very thankful to you for your help. And others think that should do everything they want. They can't understand I maybe tired too. I dream of a desert island. Sun, blue sky, warm water and you near me. Isn't it a wonderful dream. And nobody there, only you and me. Well, enough of my dreaming. Tell me something nice, please. Make me feel good. If I was there I would make you a massage with an oil to make you rest. You deserve. And you would pay me for it with a sweet kiss. Dear, I want to thank you for being in my life, for giving me an opportunity to share my feelings with you. You can't imagine what a relief it is and how important it is for me. I appreciate your moral support very much. I feel it between the lines of your letters. Please, be careful for me. I want to see your other letter very much. And to feel your warmth.
I send you my sweet kiss for free too.
She didnt send me another e-mail for a week. Then I sent her a message saying "congratulate me, I just closed on my new house!" This was the next message I got.
June 21, 2006
My dear Pete!!!
Please, don't be shocked with what you will read now.
I was scared myself when I understood it yesterday. I was thinking of what was going on with me. Every morning I get up with the thought of you and every evening I go to bed with the thoughts of you. There is some kind of chemistry in the air. I can't live without your letters. I got used to you so much. All I need now is to get a letter from you, to know that you are well and you are thinking of me too. I can't do anything, I can't concentrate. I go to work and it is a torture for me as I can't really do anything, talk to anybody. All I do is thinking of you. I think I am in love with you. I know what you think now. I am scared myself as it is unusual for me too. But I will die if you tell me you don't need me any more. I would give everything in the life just to be with you right now, to see your wonderful and kind eyes, to understand that you feel the same. Every part of my body aches for you. I am mad at myself. This shouldn't happen to me. At least I shouldn't tell this to you. This is wrong. But what can I do. I can't just stand aside. I need you to understand me. Perhaps, you don't feel the same about me. But I feel that you have something for me too. If you don't, I will understand. But I want you to know that I long for you. My love will be enough for two. I know I can
make you happy. I will be the best friend for you, lover and a wife if you only allow me. I am so much scared that you will not allow me to love you. But you should know this feeling will always be in me as you have captured the biggest part of my heart. And this will last forever, I know. I have never felt this before especially to the person I have never seen in real life. And I will be happy only if you say that you feel just a little of what I do for me. Please, take your time and write me. I will be counting minutes till the time I hear from you. Miss you badly.
P.S. please see my new pics http://photos.yahoo.com/nicegirly06
These two are exactly like Charles's. This is what made me want to send
you guys the letters
June 26th, 2006
How are you today? As for me I am not really in the mood.
I have a feeling that I did something wrong.
I have never thought this could happen to me. That I could fell in love with the person I have never seen in my life. I want to less the distance between us so much, to take your hand, to look into your eyes and to see that you understand my naive soul. I know I shouldn't be so open. I have to be strong and keep everything inside. I am too emotional but I don't want you to be scared and run away. If I could be closer to you and if I could show you my feelings. I want you so much to see me, to feel my touch. I would kiss your eyes and say how I love you. Again I am acting like a silly little girl. I am mad at myself. But at the same time I can't stop. I want you to know my feelings. I even thought of coming to you. And I have even went the tourist agency to check about the visas. And now I know that the best way for me to come to you is to get a tourist visa. It will not take much time. And they told me at the tourist agency that I have a very good chance to get it. Do you remember I told you once that I had been to America. And it is a very good reason for giving me a visa. I've checked that a visa will cost $265. It is the cost for the passport for going abroad, for the medical exam and for all the paperwork. You know with my salary I just can't afford it. And I will need your help. It's up to you, of course. But I really hope you will be able to help me with getting visa.
Please, think about it and let me know. Do you want me to come to you? Do you want to meet with me at last? I want it very much. Hope you too. I will give you the information for the case you decide to do it. The best way to send money is to do it via Western Union or Money Gram You need only need to get to Western Union and to send from money from there with a credit card!!! (please visit http://www.westernunion.com and http://www.moneygram.com for
more information) It is an easy and quick way to get it. It is necessary to know the full name of receiver. My full name is Natalia Konarskaya. And after sending money, the one who is getting money should know an MTCN or Reference numbers, your full name and the sum of money that was sent. Well, I hope that you will think on this information.
You have lots of food for thought.
Please, write me as soon as possible. I am waiting for your reply.
Love you.
I understand everything quite well. But you should understand me also. I have to pay for visa in some days(During 7 days). If I don't pay in time, they will just refuse me with it. There are many people who want to get visa and to leave Russia. So they don't pay much attention to you in the Embassy. You just need to do all the paper-work and to pay money, only after that they will talk to you. You should understand what to receive in your country the visa very difficultly!!! But now I can make all this very quickly and without problems, there is only one problem, these are money!! It is a shame to me to ask it you, and I never anybody did not ask money. It is very a shame to me. But desire to see you very big and consequently I ask your help. So, dear, please, try to do what you can and as soon as possible. You are my only hope. But of course, I will understand everything... I love you and wait for your soon reply.
P.S. do you read my last letter???
And another two in the same exact format of Charles's once I turned her down.
July 3, 2006
I am lack of words. I feel such a shame and I am very disappointed that a man of my life doesn't trust me. I already have some concerns that you really love me. But I want to believe in this so much. I believe in you and I believe in our happy future. This hope gives me forces to fight. So I am not going to give up. I will find the way to solve this problem. I only need to know that you still love me and you need me and you wait for me. Are you? Don't break my heart please. You are everything I have and the best I have in my life. Please, don't take a hope from me. I can't loose you. I don't want to have an empty life without you. I will find money, I promise. You should know that a woman in Love can do everything. And I will prove you how much I love you. There will be no distance between us and you will learn to trust me. I understand you very well and I am not offended. No way. I want to apologize that I asked you for money. I don't want you to have any bad thoughts about me. I love you very much and I need you.

Natalia Konarskaya
PO Box 3499,
Tomsk, Russia, 634045

This one surprised me! And even gave me a little hope.

July 7, 2006

I am doing the best for us as I want you to be happy. And I want to be happy myself too. Everything is done. I have money not only for tickets but for visa too. What do you feel now? I am very -very much excited and happy. I will be able to see you at last. I can't believe in it myself. I will pay for visa but it will take some time to get it. As soon as I get it I will let you know. All we need now is to wait. I will stay at your place for 10 or more days not to disturb you. But if you ever ask me to stay for longer, I will do it with pleasure. You will make me the happiest woman in the world. It is up to you. I hope you will not be disappointed. I will do
everything I can to make you love me as I do. I will give you all of myself. I will give you all my love and passion. All my care and tenderness. I will treat you the best way. You deserve it. I know. You are my life and everything. Never forget about it, please.
I need you badly.
Miss you.
Send you my hot kisses.
--
Natalia Konarskaya
PO Box 3499,
Tomsk, Russia, 634045

But, this last one was the clincher. Its the same as the scammer on Charles's listing, almost word for word.

July 12, 2006

My dear,
I will never stop telling you how I love you.
By the way, what is love in your opinion?
In my opinion, love is devotion. It is a feeling when you give all yourself to your partner. When you feel that he is sad or unhappy even being on a distance. And it hurts you when you know about this and you try to do everything you can to make him happy. Faithfulness is also very important. I can't live with a person if he betrays me even once. And I will never do the same to my partner. Mutual understanding is also a key to healthy relations. When you feel that something is wrong , you should talk about it. It is necessary to discuss problems but not keep silence. I hope We already understand each other very well though we haven't met in real. And I am sure that when we meet, we will do all we can to keep our relations strong. I always dreamt to have a strong family. The place where I can come and feel that my family love and understand me. I hope you understand what I try to tell you. Please, tell me your thoughts about it. Till our next meeting.
Love you......
--
Natalia Konarskaya
PO Box 3499,
Tomsk, Russia, 634045

nicegirly06@yahoo.com
Match didn't do anything, since we corresponded outside of the match.com system mostly. Yahoo didn't get back to me. I never sent any money and I cut and pasted the letter to Charles and sent them back to her to get her reaction. I'm thinking she's moved onto her next mark. It's sad, but I still have hope for someone special out there. The search continues, if a little more jaded!
I no longer have the original mail from last month, but here's the original money request as well as the form e-mail from some of your other already known scammers reported to your website. You can see how she (or whoever it is) doesn't reply to my questions or concerns. I just get blind form letters until the request for cash comes. It was almost word for word as you describe in your tips for spotting scammers.

I sent these back to her with the exact same copies from the scammer list on
the website asking for an explanation. I got another blind e-mail this morning saying she's going to the embassy for an interview on Monday in response. Its actually sort of comical at this point. Pictures attached as well.

I did, however, join your website last night in hopes of finding someone real. I don't mind spending the money if I know its going somewhere productive.

Thanks again!

Pete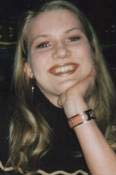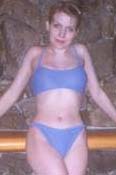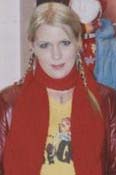 ---
To send your own story, please click here
Click here to support Black List
READ ALSO: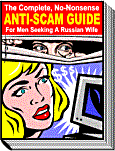 Met a Russian woman over the Internet?
Thinking about finding a Russian wife?
Russian woman wrote to you? Don't move any further until you read The Complete, No-Nonsense ANTI-SCAM GUIDE For Men Seeking A Russian Wife. Too many men were caught up in a scam and lost great deal of money - want to be one of them? Ensure your safety and peace of mind - read the ANTI-SCAM GUIDE.




Scam-free search - GUARANTEED! - Looking for somebody truly special but have had it with scammers and scam agencies? Let professionals to do the job for you.

The Universal Crib On Finding A Russian Wife - the most compressed, step-by-step guidance on finding, courting and marrying a Russian woman.
Dating Scams - The real picture of international introduction industry
Reliable Dating Services - where to look for a Russian wife
The shocking truth about Russian Brides - E-book by Marina Smiley. Find out things about Russian brides that marriage agencies will never tell you.
Why Russian Women? - If you decided to find yourself a Russian wife, you would be inundated with questions of the type "Why Russian Women?" from everybody you cared to share your idea with. Surprisingly, every Russian woman you are writing to will ask the same question: "Why do you want to find a wife in Russia?" After a while, you might start questioning your own sanity in doing the thing which everybody, including your dates in this Internet rendezvous, consider strange enough to request explanations. Here you will find some ready-to-use answers for your family, friends and Russian women you are writing to.
Cheap Russian Translations - Russian-English/English-Russian translation: fast and comprehensive. You are not sure she understands what you mean? Translate your letter to Russian! Reasonable rates and highest quality.
---

New E-book by Elena Petrova:
"How To Find And Marry A Girl Like Me"
Comment from the reader:
"This may well turn out to be the best purchase I have made... I hope not too many of my competitors find this book!"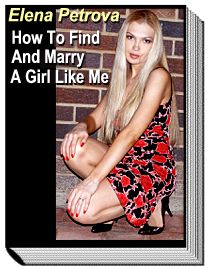 Discover how to find, court and finally marry a beautiful Russian woman!
This is the only book written by a beautiful Russian woman married to a western man - for more than 5 years! - and who is also the owner of a highly successful Internet dating agency.
Find out once and forever what Russian women are really looking for, why they are looking for it and how you can give them exactly what they want!
Get responses on your letters to beautiful Russian women - 9 out of 10, GUARANTEED!
With "How To Find And Marry A Girl Like Me" you'll learn knock-out techniques that will instantly boost your success rate in dating Russian women - online and in real life. You will have more beautiful girls that want to be with you than you can handle!
And not just ordinary girls! They will be beautiful, intelligent, but most of all - honest and sincere! You will be the one to take your pick!
STOP wasting your time and money in search for a Russian wife... Get it done - painlessly, easily, and certainly! Moreover, have lots of fun along the way!
Yes, you too can marry a girl like the one on the picture... Click here!
---
JUST RELEASED!
New Ebook You Cannot Afford To Miss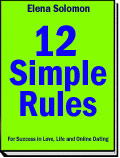 Dating can be complicated... it doesn't have to be! You can jump start your love life - or you can keep wandering in the dark; the choice is yours!
When it comes to dating, most men make the same silly mistakes with women - over and over, with disastrous results.
Do you want to do BETTER than 99% of other guys? Click here
---
New e-book by Marina Smiley (the author of famous "The shocking truth about Russian brides"):

"Sex and Love With Russian Women"

Discover where so many guys fall short when visit their girlfriends in Russia;

Learn how you can dramatically improve your success with Russian women and win when others fail.

Most intimate questions answered by a Russian woman - Medical Doctor.
---
Comments, suggestions? We want to hear from you!
Click here to Contact us
Seek a reliable Russian Dating Agency? Why not check www.elenasmodels.com - RECOMMENDED
---