To send your own story, please click here
DISCLAIMER: This page is compiled from visitors' comments only. All messages posted tell about personal experiences of their authors, and not necessarily reflect the position of Russian Brides Cyber Guide
Larisa Popova - Tomsk, Russia aka Anatoliy Nykolaevich Pustozerov and Avantix Tour Agency

This is very important.....This women has contacted me, and is now contacting men in America through (match.com & yahoo.com internet dating sites) She is well known scam artist now using a different travel agency. She is using photos from an famous actresses in Russia. Please who ever reads this, please do not disclose my name, or my email address. I will keep in contact with this women and keep you posted. Someone needs to put a stop to her scamming men across the world. I found her on a couple blacklist already....Thanks for your attention

Letter 1

her email she is using is (weanabeach@yandex.ru)

Hello my dear, How are you? My name is Larisa. I am pleased to receive your e-mail, I think, my letter to you too do not remain without the answer. I was very much interested with your profile. I want to tell to you that I have no computer at home. I attend Internet - cafe, therefore I cannot answer at once your letters. First of all, I should explain, that I live in Russia in Asino, village Ksenyevka. You know, I never was in the USA. I think, that it is the beautiful country with good traditions. I very much like to travel.
When I was small, we travelled with my parents on Russia much. And how about you? I hope, that you are not so sad that I live in Russia. But I want to be with you honest at once and that is why I tell you that I am from Russia. My profile shows that I am in the USA, but I never made it earlier, I do it for the first time, probably I have made something incorrectly. Now is spring arrives and it is getting warmer. It is -1 C (celcium) today. Winters are usually very cold. You know I hate cold weather. And what weather is in your place?

Well, I think, that you want to learn more about me and my family. Mum gone from us when I was the little baby. My father died a few years ago. I have not sister and brother. I feel lonely. I am one here, therefore I want to try to find my love in other country. I have no here any native to me people to remain in Russia. I have decided to place my profile in Internet because I want to find the special person. I am very lonely here in Russia. I have no my unique and favourite person, because I do not like mentality of Russian men. I heard, many Russian girls, have found the happiness and the love in your country. And I too have decided to try. My girlfriend has found the husband in Internet. He is from Germany, they have found each other and now they are happy together and they live in Berlin. I also want to be happy with my special person. I want to love and I want to find the person, which will love me. I want to be happy and to find the love.

Now there is some information on me also that I like:
- I have the Medical higher education. I have graduated from Medical Academy.
- I am surgeon.
- I am a christian;
- I do not have children and I have never been married;
- I love red roses;
- My favourite color is dark blue;
- My favourite music is Classical;
- I love animals (everything, without exception);
- I very much like to prepare (my favourite dish is an apple pie);
- I like to read books (Bulgakov, Nabokov);
- I like automobiles, but I have no the personal automobile;
- I love silent lonely places;
- I like to go to cinema, I look different films,
but especially I like comedies and melodramas;
- I do not smoke and drink socially; - I have no any tatoos or pircing.
You excuse me if, my letter has turned out big. But I hope, you have not got tired to read it!

Still there are some things which I do not love:

- I do not like to go on discos, there there are many people;
- I do not love winter because it to eat very coldly in Russia
I would like to learn more about you. What do you like and what you do not like?
That there are your favourite things, your favourite color and everething.
I hope, that my letter is not boring for you.
Unfortunately it is time to me to go, already is very much late.

Your new friend from Russia Larisa.

Letter 2

Hello my dear How are you today? I am very glad to see your email. And I would like to see all of your pictures, because it is very interesting for me. It makes my day. I am happy to read your emails. I see we have a lot of common thing and I like it very much. I think we are becoming more closer to each other. I chose your profile because I like you very much, when I read your profile I think you are very interesting person. And I think I am always looking for you. I would like to tell to you how passed Birthday my girlfriend. She have invited me to visit small cafe. She were with special the person. They embraced and kissed. I looked at them and me It became a little sad. I have no special the person, but I very much want to love. You know, I believe, that on the ground each person is created for someone.
These two half necessarily should meet. Even if they should pass big and difficult way but if so the destiny has decided, and from destiny we cannot run away. I want to meet the person whom I can love for ever. Unfortunately here in Russia I cannot meet my unique person, with which I want to create family and to be happy. But I necessarily meet him, even if he will be for hundreds miles from me, we shall find a way to be together.

By the way I have something more to tell you about me. I didnt tell you that I like travel. I have been in Moscow, I was been there some years ago with my friends. Also I have been in St.Peterburg. It was wonderful to see good places. My village Ksenyevka is small but beautiful, it is about 80 km from Tomsk.
But unfortunately I had no chance to visit any foreign country. I think its very interesting to know about culture of other countries.

Some more information about me:
- I have blue eyes; - I am 5'6; - I am 53 kg;
- my size (93-61-94) in cm.

Also I would like to tell you that I work in a hospital in my town. I am optional surgeon. But I earn not much in our country. About 200$ in your money per month. Its very little money. Now I would like to tell you about my last weekends. It was +2 C digrees ( this is a teperature in Celcius), and I with my friends
went to the forest for a camping. And it was very funny. Do you like camping?

By the way, I will be 35 years old soon. My birthday 7 of May.Can you believe it!!!. I am very lonely in my birthday because I don't have a man who loves me. Now I am very sad that you are so far away from me, because we could not be together on my birthday. I have a dream to have a family, to take care about my husband. It is all I want in my life, I just want to be happy. And it does not matter in what kind of country my future husband is living. I will be next to him, and I will find any job I can to help have a good style of life.

Ok, there are some more questions for you:
- what do you feel about such relationship as we can have;
- what did you do for fun;
- what did you do on weekend.
Please answer these questions, because it is very important for me.


I will be waiting for your reply very much. Goodbye for now, I have to go for a work.

Yours Larisa.
P.S.XOXOXO Sorry if I not answered all your questions because my English is not very good.

Letter 3

Hello my honey How has passed your day? I hope, that everything is good. You know, I am so happy to read all your letters. Your letters make my days. My friends are happy to see, that we have our correspondence. I should tell to you, that you make my life full of happiness. And now I know, that is the person who thinks of me and now I am not alone. Thank you for it. I do not know why, but I liked your profile. I cannot explain to you it. It is a difficult question for me.

Today we have +3 C. Now I have time to have a walk. But you are so far away and I do not like to walk alone. For this reason I am now in Internet - cafe and I write to you. I do not know, what else I can tell you about me. I do not have children and I have never been married. I think, you already know all things about me. I feel, that I know you very long time. Yesterday I and my girlfriend went to cinema. The film " National Treasure ". You should see it, because it is very good film.

You know, I very much would want to hear your voice. But I have no phone at home and I have no cellular telephone, therefore you cannot call me. But if you want, you can give me your phone number with zone area and country code and I shall try to find a way to call to you as soon as possible.I do not know how it will be, I not so well speak English. It is very difficult to use messenger because of time difference, and
I dont have computer at home. By the way, my timezone GMT+6.

You know, when I stay alone every evening, I think of our first meeting as it can be. I imagine, that you see me at the airport and you give me flowers. You take my hand and you kiss me, and we go in your house to celebrate my birthday. It will be the best gift on my birthday in the world. Or you can visit me and we shall celebrate it here, together, only you and I. I think of it all time. Did You imagine it or not? What do you really think of it? I want to ask you what is closest airport to to your place? My airport is located in the city of Tomsk, it is about 80 km from my house. I cannot stop to write to you the letter because I like it very much. But I should make some work on the house and I should go. I hope, that you think of me because I constantly think of you. I send you my photos. I hope, when you will look at them, you will think of me. And I hope, that you like to look at my pictures.

Kisses for you!!! I wish you good day!!!
From Larisa Popova with love!!!
Russia, Tomsk Oblast, Asino, village Ksenyevka,
Surikova street, 3 -15.

*SHE HAS CONTACTED A NEW TRAVEL AGENT TO HELP HER SCAM....
Anatoliy Nykolaevich Pustozerov "Avantix Tour Agency"

25 April, 2006

Dear Sir!

Due to the request of Larisa Popova we send you the information about the tour from Tomsk, Russia to the USA

Foreign passport - 100 USD
Tourist visa for a month , one entry - 120 USD

We can offer the next flight on 5 May. If this time is ok for You and Miss Popova, you should make payment balance sooner.

Since our travel agency has discounts, the total price for the trip 970USD is valid for 5 days only. Roundtrip ticket with the registration of all the documents for Larisa's flight costs 970USD. We can't provide you with the information about the exact time Larisa arrives to you until we get full payment for the trip.


| | | | |
| --- | --- | --- | --- |
| Quantity | Descriprion | Unit Price | Amount |
| 1 | Visa | 120USD | 120USD |
| 1 | Passport | 100USD | 100USD |
| 1 | Round ticket | 750USD | 750USD |
| | | | |
Total: 970 USD

We arrange all necessary documents and tickets in 5-9 days after receiving the full payment for the trip.

PAYMENT INFO:

You can transfer the funds for the trip of Miss Popova via WESTERN UNION systems. It is the fastest and the safest way to transfer the funds. Our travel agency is officially registerred as a private businessman
Anatoliy Nykolaevich Pustozerov, Tomsk, Russian Federation. As soon as you transfer the funds on the name of our director, will you please e-mail us your full name and MTCN (money transfer control number)
and we shall get the funds the same or the other day after transfer.

Payment memo: Payment for Invoice № 51-103-1007
Order Now

You can also transfer the funds for the trip of Miss Popova to our bank account and we shall receive the funds in 9-13 working days.

To be paid by Bank Wire:
Beneficiary's Bank Name: Parex Bank
Beneficiary's Bank SWIFT code: INDULT2X
Beneficiary's Bank Adress: K.Kalinausko st. 13, Vilnius, LT-03107, Lithuania
Beneficiary Account: LT917290000014702033
Beneficiary Name: DEGTIARENKO SERGEJ


To get any other information you may contact us by e-mail. It is
cheaper for you and comfortable for us, we will reply
after receiveing your letter or by phone.


Respectfully yours,
"Avantix Tour Agency"

------------------------------------------------------------

"Avantix Tour Agency"
Russia, Tomsk, Lugovaya 54
www.avantix-tour.narod.ru
email: avantix-tour@narod.ru
tel: +7 912-295-4558


HER 4th LETTER....

Hello my love How are you today? I think, that you are the special person for me. I am very happy to read your e-mails. You are very handsome man and I constantly dream of you. I have told all about our relations to my friends. They are glad to see, how I become happier, than was before. My friends say hello to you. I have some gift for you from them. I do not know, what else I can tell to you. I am full of words of love to you and nothing else. Every day I hope, that all this is real, that you are not only my imagination.

I wanted to learn, how I can arrive to you, I was in travel agency. I hope, we can meet and I have given your e-mail address to my tourist agent. He promised me to send you the information on my trip. But there is one thing If we want to celebrate my birthday with you in your place, you should tell to me, you will help me? They will sell cheap tickets if we shall meet. Tickets will cost much more for us if I shall depart later.
They say, that it will be much more difficult that apply for a visa which is valid during 1 month. I do not know why they have told to me that. You think of it, I cannot get it, because I earn only 200 $ here. But you should not worry because of money. I shall give you your money later when we shall meet because
I shall work in some hospital and I can earn a few money for you. I regret to tell you these things, but I very much want to be with you. I do not know what else to you to tell, you know all about me. Certanly, if I could ask, my friends to lend me some money, but they have no such money. Please, you understand me correctly. I can speak with you all the day long and all the night long, but I would better to speak with you face to face. So we can better learn each other. Do not you think so? If you want, I can arrive to you for a week and we shall see how things will go. Or I can stay with you for ever. All is in your hands. You live in my dreams, I want to be with you soon. I want to touch you and to kiss you. I give you many kisses from me and I give you my heart.

From Larisa Popova with love.
PS. I shall wait your answer.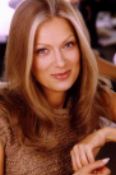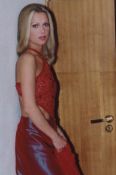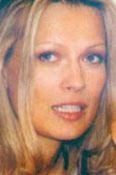 ---