Ekaterina (Arkhangelsk, Russia)
I am a 44 year old male from Florida with a Yahoo Personals ad. I was contacted a few days ago by this Russian chic that calls herself Ekaterina. I found her on your website as Olga Tregubova (Archangelsk, Russia) and I got the same email as Steve did on 20 Dec 2004. But she changed her name, her friends name, and her birthdate for some reason. Still finding soulmates from good old Arkhangelsk though. I have 2 of the 4 pictures that Steve posted and a couple of different ones. It was pretty obvious that this girl either had a screw loose or it was a scam. When she didn't answer my questions I realized it was probably a scam. Fascinating website you have though. I had no idea this was such a business. Haven't decided what to do about this yet. Maybe I'll waste her/their time for a bit. I'd report it to the host site but it's all in Russian and I don't speak Russian.
Letters:
On 04/01/2005 12:46 pm EST, "Personals Member" wrote:
Hello! I have seen your profile and your photo and I liked what I seen! I think that you are interesting person. So I decided to use the chance to get to know you better. Hope I will be lucky now. The most important for me what is inside you and how do you feel about the life. I know this life from many sides and I am rather mature already to know how to make a man happy. Life is too short to use it only for thinking and dreaming. I try to act but not only to dream. I will not write you much about myself now. I will just give you an idea of who I am. My name is Ekaterina. I live in Russia. I'm 26 years old. I want to meet serious man who would be like to have strong and loving family in the future. I never have married, and I have not boy friend at this stage of my life. I work to earn for my living. I have a higher education and I am rather intelligent. The only one I miss is a beloved person and I want to have a family. I have really many interests: music, reading, books, computers, movies, good conversations, sports and many other things which make the life wonderful. I like beautiful clothes and things. I can't say that I have many friends. I know many people but I am very picky about the friends. Friend is a person who will be with me all my life. And I am lucky to have some really good friends. But I am very sociable that is why there are many people I have good relations with. I am rather independent. And work to be able to pay for the things I want to have in my life. In some words I can tell you, that I enjoy the life as it is and I love the life with all its aspects. I am very kind (I am not boasting :-)) which hurts me often. But I am strong enough to overcome the hardships on my way. Well, now it is up to you to decide to write me or not. I don't know if you answer me or not but why not to try? I will regret if not to try. I think we should use every chance to find our happiness. You can write to me on my personal e-mail: "justdecentwoman (AT) yandex (DOT) ru" I shall tell you in more detail about myself and my plans for the future in the next time when you will reply. Best regards to you!!!!!!! Ekaterina!
Mon 4/4/2005 12:43 PM Ekaterina [justdecentwoman@yandex.ru]
Hi Robert! Honestly speaking Robert, I was very surprised that you have answered me. Now I understand that people in your country are really responsible! But I want to be honest with you Robert. I have a very close girlfriend. Her name is Valya. She has made me go to the computer club to find my soul mate in the Internet. Robert, may be you want to know how did I find out you? It did take very long time. When me and my girlfriend Valya did come to Internet - cafe we did ask help from manager of Internet - cafe. He told me that there is very good site a called www.yahoo.com, and this site have non-toll-free membership. Manager paid with his credit card. Of course Robert, I have paid him for it. Because there are many women who want to find their soul mate, and he helps them to pay for some sites. Then I did carry in criterion of searching. I did not carry many, only age. And my GOD, I got 1000 persons in results! It was interesting and fun to watch. I did flip through pages, next, next, next, but I did not like anybody. Valya did weary from this and asked me to go home, but I did not want it, I just always try to do commenced to finish! Valya did go but I did stay! And approximately on 500's or 600's page (I do not remember exactly) I seen your photo!!! I do not know why, but something did happen in my soul and I decided to know you more! Thank you that you did response to me! By the way Robert, I even did not know in which city I did find out! It was surprise for me. In general I wanted to write nobody. I understood that she wants me to find happiness, but, frankly speaking, I was not sure that it is possible to find happiness in Internet. I even did not think that you will answer me. May be, is it the fate? What do you think of it? I'll tell thanks Valya! Today I have come to the computer club and send you my photo and I hope, that you will like it. I saw your photo and I liked what I saw in it!!! I hope you will be able to send me else. Dear Robert, if you will be send me your photo I ask you do not send me that have very big size. System administrator of Internet cafe have warn me that Internet is very slow here and I will need to wait long time before I'll able to get it. Also he told that it will more better if you will send me photos which have size 100 kb but not more. So, I'll be receiving your letters fast. Please understand me and try to save my time. And so if you have interest in me after this letter, then I shall glad to know you better. We can become the friends, but, may be, and more. Time will show. Would you like to become my friend? Well, my name is Ekaterina, I am 26 years old and I was born on March 7, 1979. I live in Russia, the city of Arkhangelsk. It is not big but very beautiful and cozy city. I have brown eyes and blonde hair (true color is brown). But I try to change my image often since I always like to be different. In life I am very cheerful person and I have very responsible work. I work as a waitress in the local bar and I never should make a mistake neither in work nor in life. I am responsible person, I think, that the person should concerns about associates so how want that concerned about him. What do you think about it? If you come here, you will find an ensemble of different architecture here. There are also theatres, cinemas, cafes and many other cute places. Though I have a higher education, I can't find job on my profession that is why I work there to be more independent. My parents are on pension already. But pensions are so small that my father works sometimes a watchman in the car park. And now I would like to ask you some questions. Tell me more about yourself, please, everything you want me to know. Where do you live, what place do you work in? Tell me about your parents. Everything you write me will be interesting for me. Unfortunately, I don't have a phone and computer that is why I use the service of the Internet-Cafe that is why sometimes delays can be in my replies. I hope you understand me. Waiting for your reply. Ekaterina. mailto:justdecentwoman@yandex.ru
Ekaterina [justdecentwoman@yandex.ru]
Hello Robert!!! I am happy to hear from you again. How are you, Robert? I hope everything is Ok. In this letter I will try to tell you more about my life style. I like music, reading, movies very much. I often meet with my friends. Sometimes we go to the cinema or to the theatre. But sometimes I prefer just to stay at home, to read an interesting magazine or just to watch TV. I am fond of languages, I had a course of English in the University so I speak English rather fluently. I like to visit a sports hall. I engage in aerobics 2 times a week. And do you have any hobbies, what do you like and dislike? Robert, thank you for compliment about my beauty! It is very pleasantly for me! Thanks for your photos!!! I like it!!! You are so attractive man! I'll print this photos and will show to my parents! Robert, here it is else a little about myself: my height is 171 centimeters (5 feet and 7 in), and I weigh 52 kilograms (105 pounds). I have never been to other countries and I have no friends from other country. I live with my parents. I don't have any brothers, sisters or cousins. I have never been married and have no any children. Robert, you know, I decided to use the service of the Internet because I have a dream to create a family. It is my first experience of acquaintance through the Internet, but I have liked this way very much because I was answered by so good man. I hope you have already understood that I bear you in mind. I think what between man and woman always must be a confidence and consent. I do not understand the men, who are jealous, in Russia such men plenty of and I dislikes this men. I think that if man and woman together and they cut the mustard each other, that they no need in other man. Unfortunately I was not able to find a man here in Russia. They don't care about their women but I dream about a loving and care man. I would give him all of my love and tenderness in return. Well, I will close here for now. Waiting impatiently for your next letter. I send to you my air kiss. Have a good day. Your Ekaterina! mailto:justdecentwoman@yandex.ru
Ekaterina [justdecentwoman@yandex.ru]
Hi dear Robert!!! Again I have come to the Internet cafe just to get a letter from you. It always brings me so much joy to read what you write me, about your life there. Robert, may be I should tell you more about my job. As I already told you I work as a waitress in the a bar which is called Red Tub. It is a special bar for sport's rooters. In our bar have different kinds of sport too like football, hockey. I like different sports! You have soccer (American football) and in Russia we have English football which is very popular in Europe. In general I like my job, I see and communicate with many interesting people there. But it is a hard work because I have to stay there till late and walk from one place to another. But this job allows me to have an independent life and to make some money for my living. So Robert, I don't want to complain. It is better to work in such a place than not to have any work at all. I don't know, may be in the future I shall want to visit you Robert, and possible I will come to you some day but first of all we should get to know each other better with the help of the letters. Robert, I would like to come to you some day as your guest so you could see if you like me or not. If you like me and we feel that we are compatible, that we could be happy with each other, I would like to be your life partner and to stay with you, Robert. As we talk about work, tell me please, more about your working day. It will be really interesting for me. And now Robert, I need to say good-bye!!! Till next time. XXXXXXXXXXXXXXXXXXXXXXXXXX to you Ekaterina!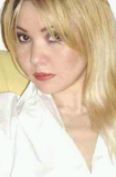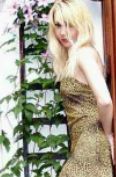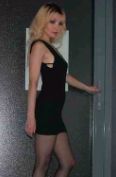 ---
Ekaterina Gulyanofa Ozersk, Russia
I was contacted through Yahoo Personals. She continued to contact me for about 3 months. Never anawered questions directly. I even through a few things in. If she cared or read them would have had to mention these items. Thank You for your website. Upon final letter(enclosed) I found one just like it including copy of her Visa. Dupilcated almost exactly. So I copied, pasted and sent it to her. In the end I told her Poka Poka. Scott.
Letters:
Hi, my far, but dear friend Scott. Yesterday I have bought new TV, it is good TV (Sony) for 290 dollars. But it not the main thing. Many thanks for your letter. It was the long-awaited letter. I am really madly glad to receive your letter. I am really glad that I have found you. Please, READ ATTENTIVELY THIS LETTER, and try understand me as it is possible better. Scott you are starting to get a hold of my heart all is closer and closer but please just dont break my heart again. I should tell to you that I have ocean of emotions and sensations which I had no in my heart before. And on this, my reason and my heart say me that I should answer by sincerity your constant sincerity. My heart and my reason says me that I should tell what I feel now because it is a part of our friendship and I should share it with you. I should tell that it was required some days to think over this letter, because I wanted to say just the right things to you. I didn't want to offend or upset you in anyway, and it really bothered me that saying something wrong may do that. I normally speak directly from my heart, and I am right now, but sometimes, words must be carefully chosen. I feel somewhat lost when I have no opportunity to use a computer to read your letter. In my soul, I feel contentment and joy when I think of you. I have never done this in my life, (tried to initiate a relationship halfway across the world), and I might have much to learn about how to proceed, but I am more than willing to learn whatever it takes to succeed if that is your desire as well. I also believe that couples should be the best friends possible, which trust and share with each other everything that they feel. I do not know if my word and thoughts make sense to you, and I try very hard to put them in typed words that you will feel and understand. I believe in God, and I believe that I have been put through trials to prepare me for meeting a man with whom I will spend the rest of my life loving, to better appreciate him, respect him and cherish the love, that he would give; only asking that I return the same. I hope that my words and letters are not boring to you, but they are much more than mere words, they are my thoughts and feelings, and I send them out to you. I very much desire that you find it in your heart and are comfortable with sharing your personal feelings with me, I wish to know you on a more intimate level, I would like you to share your dreams, your hopes, your feelings of the heart with me, I truly wish to connect with you on a level that goes way beyond mere friendship......Probably it is love??????????? A loving home and Family is the greatest gift we can receive. It is to know safety, peace, and freedom to discover who we Are. We pursue our dreams that speak of God and Nature, and lead us to a work and love that was destined. Competition does not measure our worth, nor wealth or popularity. Our beauty and joy is within, and we are content to be ourselves................ With tenderness, Ekaterina. Kisssssssssssssssssssssssssssssssssssssssssssss
Hi my long-awaited Scott! Today I a little glad and upset. Yesterday my boss informed me that I will have a compelled vacation, because of preventive works on my work (Mayak). All workers "Mayak", let off on a compelled vacation, for works on replacement of the equipment. Preventive works will last 2 months. Preventive works will begin approximately in a month. But I have not been pleased. I have begun to cry, because it means that I cannot write to you. I cannot use a computer during 2 months. I thought what I can do to see you. I decided to spend this vacation with you. I hope you not against? I thought what can I do to meet you. Today I have addressed visas agency. I wondered what documents are necessary for visit to your country. They told me that consideration of the application on reception of documents. I should prepare all necessary documents, and only then I can receive the visa to visit to your country (I can get a visa in a 3 or 4 weeks or little earlier). I shall have the tourist visa. which allows to be in america till 6 months, as the tourist. It is the most convenient visa to me. Since I have a secret work, I must keep the secret that I go to you Scott. About OUR CORRESPONDENCE, And About OUR MEETING, MUST NOT KNOW NOBODY. You also should hold in a secret our meeting. Nobody should know it. I know many Russian secrets about the Russian nuclear weapon. By the rules I must avoid the contact with foreign people. I do not want to lose my work. Therefore I should visit you as the tourist. I am a free person, and can travel in any country of the world, but I must avoid meetings and conversations on the nuclear weapon. I do not know, whether is correct I do, but you are truly the type of man I would love to meet. We cannot change our past, but we can hopefully make a brighter future if we have made poor decisions or if fate has just given us not so good beginnings. And I really have registered the visa application with great belief and with great hope that you will be glad to meet me, with belief and with hope that you want to meet me. You can meet me at this time? You will be glad if I will arrive to you? I have only known you for a short while, but in that time I have had many days to reflect on our letters, on our desires, and on our mutual need for eachothers love. I am hopeful that the time we spend together, will give us a step in the future, or will not give????? We find out it only at a meeting. I never thought I would feel the way that I do after only a short time. You can think that I hurry events. But I understand that until we look into each others eyes we will not truely know what the heart feels. For in order for us to fill our hearts and souls with joy we must first sooth the eyes with the sight of each other and know in our hearts and minds what we say is true. I must get rid of the self doubts and move to our future. We are separated by boundaries, by an ocean, but our souls are linked. I think there is what that cosmic connection between us, I also feel that there is something about our meeting that must be designed by fate. Much tenderness and kisses from Ekaterina.
My love Scott! Today I went to visas firm. I was told that my visa was ready at last, I was most happy the woman at that time. I also reserve tickets. The number of the flight on which I reserve the ticket, it would be on the April,18: 9:20 am Depart Moscow (SVO) Aeroflot-Russian International Airlines 317 Arrive Miami (MIA) 8:37 pm US Airways 6533. I reserve the cheapest ticket to Miami and cost 959.86 American dollars. But I had no this money. Probably I not was in a similar situation, but I recently bought new TV. So I went to pawnshop and pawned silver and gold embellishments which I had from my mom. I with tears on eyes, pawned my jewelry which were unique memory of my mom, but all this for the sake of you. I got 190 USD But it is not enough for full cost of the ticket. I have paid in whole 520 USD. It was my last money. It is very difficult for me to tell you about it. But I have done everything I can. I paid visa, passport for travel abroad, payment for medical survey, etc. I have bought the ticket on a train up to Moscow. I paid a part of the ticket. But this money is not enough. I don't want to burden you. I want to reach you with my own money but unfortunately I have failed. Now I have to pay the remaining part. It is only 440 USD. I must pay this money before April,8, Otherwise I will lose my money and reserve ticket. If you love me, and if you want to see me soon, please, send the money for the ticket before April,8, morning. I understand that it is a difficult decision for you. Of course if you don't want you can not help me. It is bad but not fatal. I will lose my money and our meeting. I speak so because I am in despair and confusion. Now, when we are divided only with one step, I am afraid. I am afraid that you will not help, and all my diligence will be gone. I love you and I want to be with you. I have not calculated my forces. But together we are much stronger. It is much easier to go through difficulties and barrier together. I want to present you all my infinite love and fidelity. I did not want to ask you. I thought, that I can make all itself. The loneliness has made me strong. I have got used to live without the help, and to rely only on myself. I very seldom address to somebody for the help, but now I ask you to help me. I THINK, BOTH OF US WANT THIS MEETING, means also charges we should divide for two. I THINK IT FAIRLY. I have made a step forward. Make also you a step towards to me. I hope that has not offended you. I love you and I trust. I know, that you will not throw me now when there is only one step. My love is boundless to you. I am confident, your love to me too. The love is not measured in money, money it only a small problem for us now. Tell me Scott, can you help me? If you have an opportunity please help me. If you have really decided to send me of money. I have found out about the western union (It is company the engaged money transfer). Western Union has website, called www.westernunion.com. Probably it will help you with the greater information on it. the western union to Chelyabinsk city (It is the nearest city to me where I can use services of the western union). You can send money to this address: CHELABKOMZEMBANK OKTYABRSKAYA 154, VARNA , RUSSIA For Ekaterina Gulyanofa. TO GET THE MONEY, I SHOULD TELL THE EMPLOYEE OF BANK : 1 your full name, 2 your full address, 3 exact amount money, 4 confidential numbers (Money Transfer Control Number), which will be given to you, when you send the money. Without this information, I shall be not capable to receive money. Forever yours Ekaterina.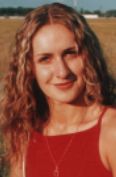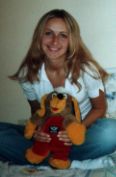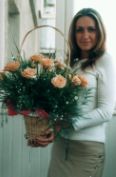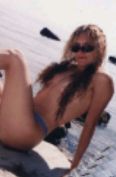 ---
Ekaterina Korobejnikova (Katya) _ Samara _ Russia

I am 29 yrs old. I have a profile on bigchurch.com, which is where she first sent me a hello greeting wishing to "start acquaintance" I was reluctant at first to respond, only because I didn't know what she meant by "acquaintance". I did respond with a "hi". This was on Mon. 3/21. I quickly received another email from "her" stating "I am glad to receive from you the answer. In this world there is a person who wishes with me acquaintance." From there we exchanged emails about every day totaling 8 days. Her emails were very hard to read, as should one be from someone who doesn't quite speak English, each of her replies to mine seemed as if she didn't even read my email, as she never answered my questions. She explained how she didn't have a computer of her own as "she no afford this luxury", so she used an internet café. With each email she expressed her deeper, and deeper feelings by the 5th she professed "I love you Brian" her falling in Love and not answering any specific questions. I was thinking she didn't quite understand my emails. After 5 emails with the subject "Hello" she changed the subject to "Hello my love" Now, I've had my fair share of women, and of psycho women; but I started thinking , at this point, something was strange. With each email was sent at least 1 new photo. They never were "adult" photos, but they did get sexier each time. In the 3rd email she asked if she could send me a letter. She gave me her address, and since I live in a nursing home I went ahead and gave her mine. I will be moving out of here soon, God willing. In the 8th email she stated the she was in love and could not wait to be in my country. She would go to the agency tomorrow to check on how. The next day she wrote the email requesting money emailed on 4/1, so the whole thing took only 8 days. I responded with an email stating that obviously she didn't quite understand or READ MY LETTERS; I was clear to say that she should slow down and answer some specific questions before I would be willing to meet her I was still trying not to hurt her feelings. That was the last email. I still didn't realize this was a scam until today (4/4). I didn't think about it that much. I knew I didn't send any money, I was still thinking that she must be crazy. I got suspicious today and did some research on the net when I came across your site. When I saw that the name Ekaterina was on you list, and other scam list I've seen. It was then I knew it was a scam. That was the end of it. I haven't had any further communication since, and I sent no money.
Letters:
3/21/05, 8:33am
Hello, I am glad to receive from you the answer. In this world there is a person who wishes with me acquaintance. Excuse me beforehand if my letter will be a little bit incoherent. I not able to begin acquaintance. But if I began, I shall write in this letter a little about me. Also I shall send one of my photos. I was born May, 22, 1978. And i have 26 years. It is a lot of. And I reflect on the future life. I want to have own family. I want to bring up own children. I was born and have grown in city of Samara. It is the big industrial city in the centre of Russia. Here nearby there is a huge automobile factory. The majority of inhabitants of Samara works at this factory. Including my father. My mum works also at this factory. She works there in a first-aid as medical sister. About my parents I shall tell in the following letter more. Now, as I spoke, I shall write about myself. As I spoke already, I was born in 1978. Up to 7 years i went to a kindergarten. As my parents could not be constant with me. Since 7 years I began to go to school. I studied very well. After leaving school in 1995, I have gone to the Samara medical institute. As I had the fine certificate after leaving school. I could study in Institute free-of-charge. In 2000 I have finished training in Institute. Since that year I work in children's hospital as the therapist. My task on work - to define the diagnosis of disease. If necessary I should send patients on various inspections. Work with children forces me to be more attentive. Work with children is more difficult, than with adult people. But I have got used. And more, my work is pleasant to me. And I have pleasure, that I can help children. Probably, the love to children has come to me with age. And I have understood, the children - our future. Therefore, I would like to have own children. You will ask me why I have chosen you? Why I shall not find the man in the own country? I do not know what to answer you. I already spoke, that I am not able to get acquainted. And simply in the street I can not strike up an acquaintance with the stranger. My girlfriend, the fellow worker, has offered me to find acquaintance with the help of the Internet. And now I write you from Internet - cafe. I have no own computer. It is expensive very much. And I can not allow this luxury. In own possession it is not enough computers in our country. Probably the level of our life does not allow to live so that to afford much. No, I do not complain of bad life in Russia. I earn enough to live in Russia. Well, I shall finish this letter. If you, having read my letter, agree to continue with me acquaintance. I was possible shall give for you one question: " You agree to have acquaintance with the Russian woman and if all will be good, you agree to have serious attitudes with her? " Yours faithfully, your new familiar Ekaterina (or Katya)
3/23/05 2:01am--
Hello my friend Brian. I am glad to receive your new letter. It means, that we can continue acquaintance. In this letter I shall speak about my parents as I promised in the first letter. My daddy was born January, 4, 1946. He also, as i, has grown and was life in Samara. I spoke already, that he works at an automobile factory. In 2 years he will be the pensioner. He waits for this moment with impatience. ( smile) He works as the simple worker on assembly of automobiles. I do not know as you to explain, he collects any part of the automobile engine. And so 40 years he works on one operation. He speaks, that it has very much bothered him, therefore he waits with impatience of the pension age. My mum was born February, 22, 1954. She was born in Vladivostok. The destiny has resulted her to Samara on distribution after study in school. (College) Earlier training was free-of-charge, therefore graduates of educational institutions should work 2 years there where the state will consider necessary. It as the tribute for a permission to study. Here in Samara mine mum and daddy have met. Date of their wedding - April, 1, 1976. In one and a half year in their family I have appeared. Unfortunately, I am one child in family. I have no brother or the sister. I remember, as I asked in the childhood mum about brother or the sister. Mum then has answered, that she and daddy will think of this question. In a result, I have all the same remained one child in family. I think of my parents enough. Unfortunately, I have no photo of my parents on the computer. Now I shall speak a little about myself. My growth 5 ` 6, my weight it approximately 120lbs, I try to support a figure, Probably when or I can, prepare for you something tasty of Russian kitchen. I very much like to observe films especially about love, This fine feeling. love-such simple word, but in it consists so much, I very much want to tell to you that I think about it. If all people though for one minute will this feeling that in the world will not be wars, fear, murders. Probably I yet still have not has felt it. I had the person with which I attitudes were had, but it was finished, I now do not want to tell to you about it, probably then... I never left for limits of the country, probably to me it would be pleasant to travel. If you want shall ask me something is I glad to answer you on questions, but I not so well know English, therefore do not take offence if I shall not answer a question, I can, not understand it. Now, when I have told about my family, parents and about myself, I shall ask from you too it I shall be glad to find out about you more and more. If you will write about yourself the same, that I write about myself. It will help us with continuation of our attitudes. Probably our attitudes can proceed to more high level. Yours faithfully to my friend Brian Katya.
3/25/05 7:33am
Hi my dear friend Brian! Thank for your answer, I very waited it I think constantly of you in free time of the work. I in a hurry in the Internet cafe to read your letters and to respond on them. To my Fortunately Internet cafe near of the my house. I can visit Internet cafe at any time. With each new letter we become more close to each other. That it is correct? I want to send you a card correct mail, you not against it? I think that it will be pleasant for you. I shall do it necessarily, and your address is necessary for this purpose. If you can give me your address that to write me it please. I want to warn you that the Russian mail unreliable very much The people speaks that the international letters very seldom reach addressee. And possible letters and photos will be lost. But I also shall give you my home address: Russia, 628401, Samara. Street Nagornaja, the house 22 apartment 17. Name: Ekaterina. Surname: Korobejnikova. At us today fine day, the sun shines very brightly, in the street is very warmer, it all attributes of spring. I love spring, it my favourite season, I like all seasons, but, spring for me unique, and when you go on park it is possible to see, people kiss. Today I went from work and have seen as the young male, looking at the girl as he speaks her something, he looked at her and it was clear that he speaks her about love. In my dreams, I go with my favourite person on a coast of ocean, we look each other in the face, and we are happy only because we together. I want, that when he came back from work I prepared for supper for him and we sat to have supper together. I have thought that everyone women wants it. I do not know there whether will be it when or, but I would like for it very much. I think that the Internet the fine invention if it was not, I could not learn you, I have got acquainted with such male as you, already because of it only I shall tell to the Internet many thanks! I know that many newly-married couple get divorced because do not know each other well, I do not want to make a mistake. You agree with me? I very much love flowers, especially red roses. But of them nobody already for a long time not give me. I dream that in such beautiful season I shall have the my love. hand in hand and shall be to kiss with my love all time. It is will be all so beautifully and romantically. I for a long time was not feeling this feelings and I want feeling it very! Now I alone and I search half of my heart. I want continue relation with you. I want believe that all may be very well. Though between us the big distance.I want see you beside with me and speak with you. While it only my dreams I also should return a reality. I want to wish you good mood these days and not forget me (smile). I shall wait with impatience your letter and miss you!!!! With all respect, yours Katya.
3/26/05, 5:12am
Hi my best friend Brian. I hope you not against, that I name you the best friend. Simply I very much to you attachment, and I think, that you my best friend! At us with you as I understand the new feeling arises I has felt such feeling at school when by studied in 8 class I then have fallen in love with one the boy, but at present he drinks alcohol very much In general in Russia, more people drink vodka, I do not understand why. I very big opponent of the use of alcohol and I in life of it shall never use! And still, I also against smoking and the more so against use of a drug I think, that this superfluous Recently happened so I was on funeral the classmate. All the matter is that he recently has died of that that he used drugs and he has died of the too many use. He was the excellent friend, he always came to me to the aid when it was bad. He was the successful businessman. But unfortunately he has given in to drugs and unfortunately there is no him more with us. I regret about it very much, and consequently I am categorically against drugs. It was very pleasant for me to receive from you the letter I start to be pleased lifes, and this pleasure is connected with you that we have found each other. You - remarkable male! With such male as you, I would agree to lead all life I know, that it is possible to rely on you, I completely trust you and I know that such male as you, never me deceive. The deceit is the most bad character trait of the person, it at all does not decorate the person! Probably it is interesting to you, why I in general began to correspond with you? I can tell you only one. Understand me I can not find male in Russia, which loved me and respected. As one wise man has told " when we live we are in search, in search that who can go with you on vital ways, because to one to go very much and very much Difficultly. " I think what you agree with me? I think of you very often and I recollect all letters which you wrote to me. In them I see many warmth and kindness. I want to hope, that I am not indifferent to you too. I send you my photo. I hope that it like to you. Please write to me as much as possible, I like reading your letters and communication with you makes me very happy and I look forward to it. It is also very exiting to believe that perhaps someday we might actually meet. I shall wait for your answer. Kisses. Your Ekaterina.
3/28/05 4:34am
Hello my remarkable Brian! I am very glad to receive your letter, I very much waited for it! I want to inform you that I think of you each minute and it is not surprising, you most remarkable male with which I ever met the in life. I want to inform you as my day go, I hope that it will be interesting to you. I do not like to sleep long in the morning, therefore I wake up in 6 00, I think of you, I very much would like to embrace you to kiss and tell you good morning, with this fine idea I rise from my bed. I would not like to let off an idea on you and I present that you in a bed and you look at me. I make some exercises, I already spoke that I keep up a figure, after gymnastics I go in bathing, it approximately in 6 40, I accept souls, I clean a teeth, and I think of you. I close eyes and I see as you have a shave, it is very beautiful, I want to be approached to you and to kiss, but it only the dreams. After a bath I go to prepare for breakfast, I love the easy foodstuffs, and I do not eat many, morning, I prefer sandwiches I drink tea, and I think of you, I think that you sit opposite to me and we speak about that that we shall do in the evening, I dream that sometime it will be real. After that I gather for work, I do not use a lot of cosmetics therefore it does not occupy a lot of time, a plenty of cosmetics renders bad influence on a skin, and I do not love it. I leave from a house approximately in 8 20, I should reach work by the bus, because I have no the automobile. I arrive for work in 8 50, and already in 9 00, I begin the work. It is very difficult to look that children are sick, and I am very happy that I can to help, I love children and I think that they should not be sick, because they defenceless, and very sensitive. Each morning I make detour, I examine each child, and I am glad very much, when someone is already healthy and leaves from hospital home. My detour proceeds approximately up to 11 30 sometimes up to 12 00, I not to save time and try to give a maximum of attention and time to each child. I have dinner there in hospital, there there is a dining room and we, all collective, have dinner. I have a few free time after dinner and I think of you, I think that it would be fine to call to you at this time and to speak you that, I very much wait when my work will be finished and we can be together. I have overlooked speak you that I can not to call to you from hospital, there there is a phone, but there is no line of the international negotiations, it sounds surprisingly and it is very inconvenient, but our government allocates few money to medicine, and we can call only within the limits of city. After a break for dinner I study records more in detail, I appoint procedures, or I give directions on operation, it is a lot of work. I finish in 18 00, and I at once go in the Internet of cafe what to write the letter to you. I am very glad that I have got acquainted with such fine the man as you, I think that we fine pair, and like each other very much, You agree with me? I come back home approximately in 21 00 today it will be little bit later, I have written very big letter but I think that you not get tired to read it. After the Internet of cafe I arrive home and we with my parents have supper, I feel very much tired, and sometimes at once I lie down to sleep, in other days I watch TV or I read the book, I lie down to sleep approximately in 22:30. I think of you, I mentally wish you good night and I kiss you, with these ideas I fall asleep. I shall finish this letter, and I wait for the answer with impatience Your Ekaterina.
-3/29/05 3:40am--
Hi my love Brian! I shall be possible to name you my love? Probably I hurry with conclusions. But I am sure that the love arrives to our hearts. You know, in the childhood I dreamed, that I shall find the prince , with whom I can come on edge of the ground. In a consequence, I have understood, that actually there are no princes. Ideal the man cannot be found. But close to an ideal which is necessary for you, you can find. I can not tell you with confidence, that you - my ideal. No. You too can not tell, that I - your ideal. But in it the reason, what people fall in love? No. The reason here in many respects. I can not explain an origin of love. I can not explain why the woman draws to the man. I can not explain why the man draws to the woman. It occurs at a subconscious level. Private world of the person informs to the person about it. And in a consequence, you understand, that it is the truth. I write you it, that you could understand what to be created in my ideas. I understand, that you are intended for me, but I am afraid to inform you about it. I also am afraid to tell you that the love to you has come in my heart. I am afraid to tell you, that I love you. I am afraid to tell it as the love should be mutual. My mum also speaks me, that I should be more cautious with the feelings. With feeling of love, the person does many nonsenses. And I not exception. You know, when I have decided to begin acquaintance through the Internet, I thought about myself. (for fun or seriously) It is interesting, if I shall find the love in your country, I should go in your country? ( it there were my ideas before I have got acquainted with you) Further, I did not think of it. But time has come, when I should think of it. I think that you agree with me. My lovely, my dear, I am afraid to speak you about it, but I LOVE YOU!!! And I shall wait for the letter from you with impatience. Your Katya
--3/30/05 7:08am--
Hi my love Brian. Today when I have come in Internet - cafe I was very glad to see the new letter from you. My mood became much better when I have read it. When I read your letter, at me even have appeared of tear of pleasure. When I began to correspond with you I had hope that at us with you all will be good. With each your letter I understood that I have found male which is necessary for me. I want to tell, that my feelings and the words in relation to you always were sincerely and I always understood that we put a lot of trust. Now I am sure on all 100% that I can trust you. When I read your letter I has seen your sincerity and fidelity. I think anything in life is so much better when you can share the moment with someone else. Sometimes just to hold the hand of that person you love can make all the worldly troubles disappear. A perfect evening for me is maybe taking a long walk with that special man in my life, the skies would be clear, the snow is fresh, and all the stars can be seen. The fresh snow crunches under our feet as we walk. The air would be cold and crisp and I can feel the warmth of your hand in my hand. And I feel that you get in my heart more and more. It is especially interesting to dream of it when in the street becomes colder. Your letter warms my heart and that once we can carry out our dreams allows to give up hope. My dear, my love Brian, in my last letter I told you about my love feelings to you. I wrote this letter with so close love feelings, my dearest, I didn't can to hide my love to you, my soul prompted me that I must to tell about my love to you, because it is so difficult to hide a close feelings. I love you, Brian, and I want to say to you it always. I want to say to you, my darling, that I can't without your letters Now your letters are necessary for me, I LOVE YOU VERY MUCH MY DEAREST Brian!!! It is pity that only our letters connect us, I want to see you in reality. I want it very much. Our letters connect our close love feelings to each other, but it only letters My love Brian, I want to say that my parents and my best friends are very happy for us, they are all time ask about you, about you feelings to me and I don't worry say about our love feelings now, because I don't want to hide my love to you my Brian, I have found sense of my life, I love you and I miss you my darling. My darling, on this I will finish my letter to you, I will wait for your next emails with my great love desire, you must know how I feel so happy myself when I read your letters my darling. Ok, I must go my dear, I will miss you, I LOVE YOU and I want to be with you for ever Thinking about you my love Brian. Your and only your love, truly, Ekaterina
--3/31/05 3:20am--
Hello my love Brian! Now I can name you my love with confidence. Your letter has brought to me this confidence. Also this letter has brought to me hope for that that I shall continue the life not in loneliness. And I can speak that my life only begins. And this life will be connected to you. I am happy. I can tell now with confidence, that I love you. I can not transfer this feeling in a word, it is difficult. But my heart is beaten more frequently, my breath becomes rough. Everything, that I feel, that I can do all, I can write in a poem. I have found fine poem Susan Polis Schutz. It refers to "Love is."
Love is being happy for the other person when they are happy, being sad for the person when they are sad, being together in good times and being together in bad times Love is the source of strength. Love is being honest with yourself at all times, being honest with the other person at all times, and never pretending. Love is the source of reality. Love is an understanding that is so complete that, you feel as if you are a part of the other person, accepting the other person just the way they are, and not trying to change them to be something else. Love is the source of unity. Love is the freedom to pursue your own desires, while sharing your experiences with the other person, the growth of the one individual alongside of, and together with the growth of another individual. Love is the source of success. Love is the excitement of planning things together, the excitement of doing things together. Love is the source of the future. Love is the fury of the storm, the calm in the rainbow. Love is the source of passion. Love is giving and taking in a daily situation, being patient with each other's needs and desires, Love is the source of sharing. Love is knowing that the other person, will always be with you regardless of what happens, missing the other person when they are away, but remaining near in heart at all times. Love is the source of security. Love is the source of life."
This poem defines - that such love. And I understand, that it so. I know this poem by heart. I also have translated it to Russian. And you can trust me, that she sounds in Russian also perfectly. As soon as I read your letter, I have made the decision. We should be together. Tomorrow in the morning I shall go in visa agency. I shall find out all how I can arrive to you. I think, I shall not have difficulties with official registration of papers. I solve it, having carried out all night in meditations. And your letter which I read today has confirmed my decision. I am sure, that we should have a meeting. We can not find out in completeness each other, hoping only on the computer. The computer has given much. He has given us hope. And we should not miss this hope. I am sure, that you agree with me. Therefore I shall be tomorrow in visa agency. I love you. With all heart, With all love, Ekaterina
4/1/05 6:15am
Hello my love Brian! Hello my Angel!!! I have received your letter and I understand that I am only begin to live. At us with you still only begins. Now I find sense in life. I not represent any more life without you, my Angel! I love you, and I am ready to repeat these words again and again! Please, to not think poorly of me, simply it overflow my feelings Today I talked to mum about us with you and about our future and that probably I soon leave in other country. You do not think that I solve it spontaneously, I very long think of it. I do not want to miss the happiness again. I talked to mum and she is very happy for me, she even bless me. It can is silly sounds, but today I represented our meeting. I think out very many interesting pictures. In the street there is a fine weather and you stand and wait for me in the airport and worry for my arrival. Then you approach to the plane, we look around And we search eyes each other in crowd, then with to become transfixed hearts we find each other and to rush into strong embraces. We stand having embraced, and all look at us. And for us as though nothing exist. Only you and I!!! It was a great day when I received the first letter from you I thank the God and I know that I found you and I love you. I am pleased with an opportunity to meet you soon, and I want it very much I think you want it too, your letters was the ray of light in my life. At first I was not interested in moving to other country but I will do it because I found my love and it's YOU!!! We have firm in our city which makes the documents for people who want to leave the country. I asked about moving to your country and I got the answer that I need the visa, foreign passport and some other documents for registration. We have defined a type of the visa and it's type which allows to marry in the future but if it will be not realize I must return to my country after ninety days it's limit for visa. I asked about prices and was very surprised, first I ask about time of performance and they said that there is many people who wants to make documents and leave the country But if I'll make the application now, and pay for it now, they will make all documents not more than two weeks, and if I'll not make the application, documents will be prepared not earlier than two or three months because there are many people who wants to do it. I was very much surprised with the prices of services. It cost three hundreds and twenty nine american dollars. It's make me little suppressed and disappointed I don't have so much now. I was make application but I must pay for it. I asked my mother about our savings she said that the money should not be a barrier between two people which love each other. I counted my sum and I found out that I have only about fifty dollars and my wages will be not soon. I asked my friends about helping me and they said that have not at the present moment. I asked the advice my mother and she said that maybe you can help me. I asked her how he can help me, because he is far from me. My mother said that you can send the money through company which make this service. I asked about it, on my work and I know now, that exists reliable and fast company which makes remittances in world and it's western union. I remember that I saw advertising this company on tv. I take a directory book and found the address of it and it's not far from me. I went there and appeared that my girlfriend works in it bank She said that sender must go to the western union, give them information: the name and last name of receiver, country they make transfer and bring the ten digits secret code to sender. The receiver must know ten digits for receiving money. She say that the branches of it must be everywhere worldwide. Here is the information about me:
Country: Russia
City: Samara
Name: Ekaterina
Lastname: Korobejnikova
Address of branch of western union: INKASBANK.
The address: street. Aminieva, 1, 443125.
I must know your full name, full address. You must know that I decide to ask you about it because I love you and trust you very much. I decide to come to you because I feel this way and you are very necessary to me, I decided to come to the unfamiliar country and I never be outside my country. But I decided to do it because now you are part of my life and I trust you in all. I think you trust me too and love me too. My love I need 300 US dollars I think you will help me because we found our love and we want to meet closer. You must inform me ten digits and I can receive it. You must know we must hurry because I can receive the documents soon and if we lost the time it is necessary for a long time. Now it's very difficultly to receive the visa to your country, and it's fact, but if I pay now I think I do it. I think about sense of money, and I'm very sad if this paper can prevent people to meet each other. In most cases the money play a main role in life but it's not right! I'm sure. And the quantity of money was and will not important to me I always not aspired to material enrichment and don't search specially for rich male. I appreciate human qualities and relations and I love you Brian!!! I love you all my heart, I want to be with you now... I want to be with you forever. If it's mutually we will be very happy in our life. I think you love me too and we will meet very soon. You are my love, my Angel. My heart is yours. I'm waiting good news from you, I hope everything will be all right and we will be together soon. Every day I think about our meeting, and I think it's real, we must use this chance of destiny. I LOVE YOU!!!!!!! Your love Ekaterina.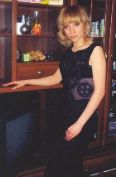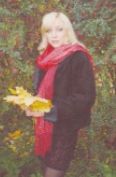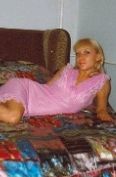 ---
Ekaterina Smirnova (Tomsk, Russia)

I am a 50 year real estate broker and just like Kevin, I was contacted by Ekaterina Smirnova. I won't bother to post the letters I received from this woman because they are exactly the same cut & paste letters recieved by Kevin. The only difference is she replaced his name with mine. I was contacted through "Amature Match". I did not have a picture posted but she is in love with you by the 3rd letter and so are her parents. I caught on after that.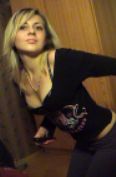 ---
To send your own story, please click here
Click here to support Black List
READ ALSO: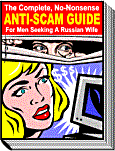 Met a Russian woman over the Internet?
Thinking about finding a Russian wife?
Russian woman wrote to you? Don't move any further until you read The Complete, No-Nonsense ANTI-SCAM GUIDE For Men Seeking A Russian Wife. Too many men were caught up in a scam and lost great deal of money - want to be one of them? Ensure your safety and peace of mind - read the ANTI-SCAM GUIDE.




Scam-free search - GUARANTEED! - Looking for somebody truly special but have had it with scammers and scam agencies? Let professionals to do the job for you.

The Universal Crib On Finding A Russian Wife - the most compressed, step-by-step guidance on finding, courting and marrying a Russian woman.
Dating Scams - The real picture of international introduction industry
Reliable Dating Services - where to look for a Russian wife
The shocking truth about Russian Brides - E-book by Marina Smiley. Find out things about Russian brides that marriage agencies will never tell you.
Why Russian Women? - If you decided to find yourself a Russian wife, you would be inundated with questions of the type "Why Russian Women?" from everybody you cared to share your idea with. Surprisingly, every Russian woman you are writing to will ask the same question: "Why do you want to find a wife in Russia?" After a while, you might start questioning your own sanity in doing the thing which everybody, including your dates in this Internet rendezvous, consider strange enough to request explanations. Here you will find some ready-to-use answers for your family, friends and Russian women you are writing to.
Cheap Russian Translations - Russian-English/English-Russian translation: fast and comprehensive. You are not sure she understands what you mean? Translate your letter to Russian! Reasonable rates and highest quality.
---

JUST RELEASED! New E-book by Elena Petrova:
"How To Find And Marry A Girl Like Me"
Comment from the reader:
"This may well turn out to be the best purchase I have made... I hope not too many of my competitors find this book!"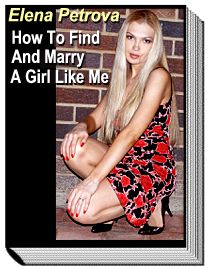 Discover how to find, court and finally marry a beautiful Russian woman!
This is the only book written by a beautiful Russian woman married to a western man - for more than 5 years! - and who is also the owner of a highly successful Internet dating agency.
Find out once and forever what Russian women are really looking for, why they are looking for it and how you can give them exactly what they want!
Get responses on your letters to beautiful Russian women - 9 out of 10, GUARANTEED!
With "How To Find And Marry A Girl Like Me" you'll learn knock-out techniques that will instantly boost your success rate in dating Russian women - online and in real life. You will have more beautiful girls that want to be with you than you can handle!
And not just ordinary girls! They will be beautiful, intelligent, but most of all - honest and sincere! You will be the one to take your pick!
STOP wasting your time and money in search for a Russian wife... Get it done - painlessly, easily, and certainly! Moreover, have lots of fun along the way!
Yes, you too can marry a girl like the one on the picture... Click here!
---
New e-book by Marina Smiley (the author of famous "The shocking truth about Russian brides"):

"Sex and Love With Russian Women"

Discover where so many guys fall short when visit their girlfriends in Russia;

Learn how you can dramatically improve your success with Russian women and win when others fail.

Most intimate questions answered by a Russian woman - Medical Doctor.
---
Comments, suggestions? We want to hear from you!
Click here to Contact us
Seek a reliable Russian Dating Agency? Why not check www.elenasmodels.com - RECOMMENDED
---