---
I am a single father, living in Portland, OR. Julia contacted me after seeing my profile on Yahoo personals. She has not asked for money yet, but as you can see from the emails, she was only one step away. I had just posted a blacklist warning for a girl named "Veronika from Samara" when Julia started, so I let her go a few emails, but I didn't feel like playing the game til she finally asked for cash. She never gave her name, but a mailing address (if it's real) address: 440044 Russia, Penza area,. Penza Communist street, 3 - sq. 9.
Letters:
First email :
Hello Mike. It's Julia. I am a little surprised, that you have answered me. It is surprising to realize opportunities of the Internet, it is surprising, that I can communicate with the person who lives on the other continent. I for the first time use the Internet as means of acquaintance to people and it is very pleasant for me that you have answered my message. Let me to tell a little about myself, the truth I do not know from what to start, because I have to tell much, but I think that I shall tell about myself gradually to be to you interesting. I'm 27 years old and all my conscious activity was directed on becoming of me as independent financially secure person, therefore I at all had no time for search of the person in which I could fall in love and become him the good wife and careful mother for joint children. Now it is 27 years to me and looking back in the past I can not tell that I have achieved some very big results. I have good work which I like, but I till now am single. But time does not stay on a place and I understand, that my time has come to find my beloved man and I want to become mother. I am very serious in detection my beloved, therefore I should ask you some questions on which I would like to receive your answers. Do you want to find your second half or you simple like to have friends in the Internet? What do you think of that I live in Russia? Are you ready to sincere and trusting attitudes? Yes, you likely have a question why I have decided to find the love abroad. All is very simply I have decided to get acquainted with the foreigner right after that as one my girlfriend has got acquainted with an American, she has fallen in love with him and has left to live to him. Sometimes she writes to me letters and I see that she is happy to live with the American husband. As to me I very well know Russian men and they are not interesting to me, because the degree is very high to fall in love with any alcoholic, but I very much do not want it. I do not know the American men and acquaintance with you is very interesting to me. Probably I can find in you that I really need. Probably our acquaintance is our destiny. Well I do not want to dream, let's look as our attitudes will develop. I likely have already tired you with my letter. I very much hope that you will answer me again. In this letter I send you the photo and I hope that you will send to me the photo also. I hope you have good day. Also I want to thank you for photo, You are very nice, it would be desirable on to get acquainted with you closer.. With the best regards Julia.
#2:
Hello, Michael. I am happy to receive your letter. I should tell that with impatience and some excitement I wait for each your letter. Probably now we change our destiny, our future, though certainly it is not known to me . I for a long time already wait when the man will appear in my life who will respect the family attitudes, and can make my life by happier. I have favourite work, I have the good parents, but for complete happiness I need in simple, gentle, man's love. As it would be pleasant to think, that you are necessary to someone else except for the boss and parents. As it would be pleasant to know that you are necessary to someone as the woman. I very much need in the simple human attitudes filled by trust, care and love. I think to you this condition of soul is familiar when want to love and to give tenderness to the beloved man. Your letters are becoming for me an island of "hope" at ocean of human indifference. I am very much interested in you and I very much hope for a possible happy outcome of our correspondence, which could develop in joint happy life. I hope that I don't frighten off you by these words. It would be perfect to wake up once in morning near to beloved and to begin day by a cup of hot coffee in bed and by long passionate kiss. I would be very happy if we could grow love to each other, but let's look that will turn out from our attitudes. I have not enough experience in love to the man. I can not tell that I ever loved rather strongly. But it's not because I'm the cold woman, it is simple I hadn't interest to the men while I was arranging my independent life. I was in love in some young people when studied at university. They were the amusing guys, but our attitudes haven't developed on that moment and I should forget them. After university I could not find the man interesting to me. Therefore I very much appreciate our correspondence with you and I want maximal and better to learn you. I very much hope that you want the same. Set to me questions and I shall answer them. Ok. Excuse but I should work further, therefore I finish own letter on today. With the best wishes Julia.
5or 6th email (with her address, but still no last name)
Hello my dear friend, Mike. Both of us are lonely souls, and so strongly it would be desirable to get rid of loneliness. With each day, with each your new letter I all more often begin to think of you. I with impatience wait for each your letter. I have feeling that I know you from the birth, though certainly I understand that we still are very poorly familiar with each other. I so like to receive your letters, each your letter is a gift for me, it decorates my day and lifts my mood. Therefore I all more often begin to think of us being together. I try to imagine what you do when I go to have breakfast. I try to imagine by which there would be my life if we were together. The ideas on you distract me from work. In the street now almost is summer and I want to sing together with birds peacefully admiring creations God. Do you trust in the God? If yes by which are you of religion? The majority of the people in Russia the christians and I'm christian too. The truth I do not see the special distinctions between Catholic and Christian churches. In a general result all of us trust in one God. And I think that the time will arrive and God will force our hearts to be filled by love to each other. I already know that I'm not indifferent to you. Each day I think of you and about that that I could tell you that at our attitudes always were present romanticism and trust. And as the proof of my trust to you I would like to give you my home address: 440044 Russia, Penza area,. Penza Communist street, 3 - sq. 9. Please if you want, you may write to me letters, the truth I'm not sure as our post service works, because it's state, and in our country there are a lot of state organizations which working badly. I shall be very grateful if in the answer and as a mark of trust you will give to me the home address and telephone. I very much hope that at us everything will turn out in due course and we shall cease to feel lonely. In one of the Japanese films I have heard a phrase which very much has liked me "people are not afraid the death so strongly as they are afraid oblivion". So it also is. The loneliness is much worse than simple death. While us still someone remembers we live, and if there is no man which remembers us that there are no also us. Also life is completely empty when in it there is no fond husband and children. I very much hope, Mike, that we can find in each other that what we searched. I shall wait for your following letter. With the best wishes Julia.
Her reply (obviously not reading my lengthy email! ) & she is now in love with me:
Nice day Mike, I speak you " Hello dear! " Today perfect day, because I have very iridescent, cheerful and romantic mood, because I have checked up my mail and again has found there your letter! Should tell that I strongly have become attached to you. You write the good letters and I can feel excitement and excitation, when I read your letters. I very long thought what to write to you in this letter, because I each day try to understand what to occur to me, since we have got acquainted I all time think of you. I began to look at the world by other eyes. Do you remember I spoke you about the girlfriend Nastya? I again spoke with her. She always very well helps me, when I should understand myself. And our last conversation has brought to me a lot of pleasures. We again spoke about you and I remember that I have come to a conclusion that I'm in love! After some questions I have understood that my heart was filled by love and tenderness, which force me to wake up happy, to look at the people in other more multi-coloured kind. At work my colleagues speak that I became prettier and that the smile doesn't descend from mine face. Many colleagues asked I whether have fallen in love. But now I precisely know that on mine face by the large letters is written that I love! And I love you, Mike!!! The truth, truth!!! Know, I slightly am confused to speak you about it. I don't know how you will apprehend my feelings to you and I very much am afraid, that you don't feel same as I. Well I have told. I very long could not decide to tell to you, but I love you, Mike!!! I love you by all my heart!!! I love you by all my soul!!! And I'm happy that I have fallen in love at last! Oh God... How I would like to be with you now, beloved!!! I could kiss you, I would whisper to you on ear about the love to you!!! I want to do you happy!!! I want to become your wife to give birth to you most beautiful children in the world, that they are making us happy up to the end of our days... I am tired from loneliness and now my search is completed, I love you, Mike!!! I very much hope that you feel also. I with huge excitation and excitement wait for your next letter, I hope that it will make me by happier else. I love you, Mike!!! To the most charming angel from in love him. Julia.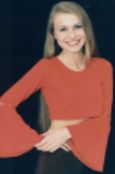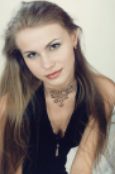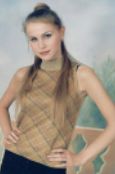 ---
Dilyara Sagdeeva (Astrakhan, Russia)
I am a single male, 42 from Madison, Alabama USA. I received a contact from this person through Yahoo Personals. I knew this was a scammer because the first two letters are almost identical to several others posted on womenrussia on page 273. I informed Yahoo Personals about the ad but nothing has been done yet, so I thought I would post it here. Different pictures are used and the person in the pictures is probably innocent. Thanks, John. The Yahoo profile is: lookingfordecentfriend Profile ID # personals-1092483221-762595. Web address is: sunrise@mabuta.com. The www.mabuta.com site is bogus and displays a Flash animation of a BSOD and system crash.
Letters:
Letter 1 ( 9-2-2004 ):
Hi, my new friend John! I am very glad that you have answered my letter. First of all I want to apologize for non-answering sooner. I haven't computer at home. It is difficult for me to answer your letter at once. Thank you that you have found time for answer. I think that you have many questions about myself. I will try to answer them. I don't know what to begin with to tell you about myself. OK, I will try to begin. My full name is Dilyara Sagdeeva. How your full name? I am 28 years old. My birthday is on the 21th of March 1976. My height is 5 feet 6 inches. My weight is 115 pounds. I live in the village of Kalininо.Kalininо is located in 80 kilometers from the city of Astrakhan, Russia. In Russia Astrakhan the big and known city located on the river Volga and Caspian sea. I began to get education in the secondary comprehensive school, in Astrakhan . After I finished it I entered the Pedagogical college. I finished it with excellent results and entered Pedagogical University in sports branch. Now I work in a rural sports hall, as the trainer athletics. I train children, to running and art gymnastics. We have a small collective, but very friendly .John, I shall have an opportunity to send you letters only from Monday till Friday, and sometimes on Saturday, because I haven't got a computer at home. I use a computer at my work. On work I can use a computer almost freely. So it is more convenient for me to write you from my work. Though it too depends not from me. With a computer works another employee. I have not bad relations with her, but she can give me a computer only when she has a free time.For this reason I hope that you understand me. Tell me a little more about yourself. I also shall tell about myself more in the following letter.I send you my picture. I hope to you it is pleasant. Many thanks for your picture. They have very much liked me. I will waiting for your letter with impatience. Dilyara.
Letter 2 ( 9-4-2004 ):
Hi John! I am very glad that I have chosen you from all the others who were at the site. I had no a lot of time to look all profiles on a site. I have chosen the first profile which I like. Probably my hand was directed with success. It was experiment. I have caught fortune for its tail. Smile!!! My friend Loren has helped me to register profile and I am very grateful to her for it. Loren is that student about whom I wrote to you. I did not know how to do it and Loren has made all. I am surprised, that she has written the American city, instead of my Russian city.Probably it is a mistake, or it is joke of Loren.I don't know it, because now she works in China, and we haven't communicated yet. I communicate with different people of different age. I noticed that I better speak with the people who older than me. They are more polite, intelligent and suave,so it is possible to hear bad words from young people, they are louts and boors. I never have been married and I want to marry the men who is older than I. I am sure that men of this age are good husbands and fathers. What I am looking for in a man especially is friendship, long term friendship. But, I dislike arguing, bickering and that type of stuff, someone easy going is good. I want someone who wants to have fun, but understands life is not always fun. I need someone who is honest and caring,warm and sexy. I believe there needs to be a good attraction between the two people too. I want to have a boyfriend for a while who later if everything is right could be more. The most important parts of a relationship is love, trust and communication.But, without trust the other two do not matter. You cannot communicate with someone, no matter how much you love him or her, without trusting them. Love is important, but you have to trust the other person implicitly to truly love them, because you need to know they love you back for it to be real. You have a question ''Why Russian women look for their husbands abroad". I think there are a lot of reasons and I will start with an economic level of Russia. Our country is not rich and it's very difficult to find a good job. Russian men can't earn enough money to keep their family. They begin to drink alcohol and become angry. It gets on divorce. Even if they get much money, they also begin to waste them on alcohol or other women. They are all "the ladies' men". In our country a number of women is more than men. Besides from the ancient times in Russia there is an opinion, that men have more rights than women. Even there is a proverb " A hen is not a bird, a woman is not a person". So men try to low women, though a woman is stronger physically and psychologically . She manages a household, brings up children and has a constant work in the same time. There is an opinion that Russian men in degradation now. I want to get married abroad as I'm concerned about my future. I want to have an ordinary, calm life though I must leave my friends and change culture. It's very difficult. There are many men here that would like to be a part of my life but a lot of them have been married before and have kids and are bitter about marriage all together. Some of them have trouble opening up and showing there true feelings and there are the ones who lie, cheat and disrespect any man they get involved with.These are only a few reasons why I am still single, I think it is better to be lonely than to be with someone and be miserable. So, my search for that perfect man continues, maybe my searching will end with you.I want to tell you about my opportunities to write letters to you.I hadn't time to say about it in my last letter, because I write letters to you on my job as I have no a personal computer. The computer is in an accounting department. Lady who works with a computer will allow me to use a computer sometimes in my interests, but only when she has a free time. It depends not on me unfortunately. I work five days in a week - from Monday till Friday. It is the standard established in Russia. On this I shall not be capable to write to you and to receive your letters on Saturday and on Sunday. But sometimes I work on Saturday and even on Sunday. It is called - maintenance standby. I like my job; I spend much time in the gymnasium, doing aerobics and shaping.I have no children but I would like to have them.I think that I would be a good mother. I have never seen my parents. I grew in the orphanage where there was a lack of parent's warm. I know, how it is hard to not have relatives. So I am ready to give my future husband and children everything. They won't be lonely, because I will encircle them with warm and love. Living in orphanage I've understood the real values of the life: do kindness to people and it will come back to you doubled. There are a lot of problems in Russia. People became evil and closed. That's why I decided to find a friend abroad Russia. So I have told you my dreams. May be they will not come true but these are my dreams. And what about your dreams? I like to listen to classical music:Dunaevski And Chajkovsky.I like to listen simply instrumental music. Such music allows to relax and have a rest. Under such music I like to think. I like to listen to guitar masterpieces of Joe Satriani. And my favourite movies - Siberian Barber and Tired by the Sun. They are masterpieces of the Russian cinema. The American movies in Russia have a huge popularity. They are considered to be the greatest. I like very much the American movies and I like many American actors. I often walk in the forest, I like to go camping or by bicycle on Summer.In Winter I go skiing and skating. All these distract me from everyday problems.So what do you do, when you have problems and when you are sad? My hobby, if it's possible to tell so is the English language.I have loved English long ago, when I studied at school. In Russia the program of training necessarily includes foreign language, as a rule - English, German or French. I entered in group of the English language and I am still happy that I've made it. I like very much your language. After school, I continued studying of English language in the institute. It is a very soft and easily-memorized language for me. Now I attend courses of the English language. I've been studing your language for 16 years. I want to learn this language perfectly. I know that now I admit mistakes, but I hope you won't angry. I have spent all my working day what to write this letter.(Smale) Thanks for the fine judicious informative, kind letter. I like to learn more you. By reading your letters I start to understand your heart, your soul. I have no opportunity to use the Internet. I cannot visit your website www.cinram.com , unfortunately. I have an opportunity simply to receive your letters and to send you mine. I am waiting your response John.I have many ideas, but I do not want to rush this precious moment when two souls are looking towards each other across the continents for an everlasting friendship. Yours friend Dilyara.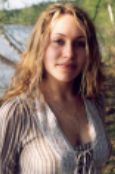 ---
Veronika contacted me from Yahoo personals (2 others are trying to work the same scam, but have not asked for money yet)
It only took her a week to "fall in love" Then she sent the request and : ..... After I got my email I pasted a couple of sentences of it in Google (It just did not look like her writing anymore) and your site came up on the first hit. I found the exact same story on page 209 (below) http://www.womenrussia.com/blackpage209.htm. So....watch out for her...she's good! Mikeю
Letters:
Friday, September 03, 2004 7:35 AM
My love Mike! I am glad you have understood me. You are in very high position in my opinion. I am happy to hear these words and explanation from you. It makes me cheerful to know you like the poem. We have common interest in many things. I like this. Now I am putting down one more poem. What happens to me When I see your eyes? What my red lips tell When I look at pic of you? Craving for your moans, Hiding all desires, I want to comprehend your points Of soul that attracts me. I want to hear breath, Press tenderly to bosom, I wish to see the heavens view When all will be gone. Will you hear sorrows, Will you know their sadness? Will you see the heart thaw out, Burn everything without pains. I hope you will like this poem. I want us to look into all positions. I enjoyed the discussion of love. And in this letter I'd like to express my view on sex. It is an important part of relationship as well. Is love an art? If yes, then it demands knowledge and efforts or perhaps love is just pleasant feeling that can be tried by chance - something a person gets as his fortune. Sexual desire demands union but physical attraction is based not only on desire to get rid of painful tension. Sexual desire might be inspired with love, trouble, solitude, craving to conquer and be conquered, and vanity, need to pain and even destroy. It turns out to be that sexual desire is aroused or easily united with any other strong emotion, only one of which is love. Therefore sexual desire in most people mind is combined with the idea of love. People are easily deluded that they love each other when they feel physical attraction. When desire of sexual union is evoked by love, love-making is deprived of greed, need to conquer and be conquered but is full of tenderness. If desire of physical union isn't produced by love and if erotic love isn't supplemented with brotherly love, this never leads to the unity that would become something more than orgy unity coming by. Sexual attraction creates an illusion of unity for a moment that burns down without love. Such a brief unity keeps people strange as they were not having been acquainted. They even hate each other cause after this illusion goes away they feel aloofness stronger than before. I want us to understand each other in bed. It is significant to me, you see. Sometimes I fall asleep and see erotic dreams where you act the main role. I take pleasure in doing this in my dreams. I may awake during night because of pleasure. Don't laugh at me, please. I think you know me and take in this seriously. I love you, I can't without you, dearest love!!! I can't be apart from you, it's so hard! My Mike , you are my life, , I want to hug you so much, to feel your warmth, to look into your kind and tender eyes, to feel myself happy and safe near you, dear. I'm sure everything will be well and the destiny will work for us and we will be happy together my Mike . I often think about us and try to imagine our life together. Sometimes I feel you so near and close to me. I even feel you on the distance. I feel when you are in a high spirit and when you are sad. I am happy when you are happy, my love Mike . I know that our hearts will together always, because our love is eternal, this great feeling connects the another people and us through a continents. My dear, my love Mike, as it seems, this feeling great love which includes a three basic feelings. These feelings are a trust, careful attitude to each other, and complete understanding to each other, sometimes even understanding without words,do you agree with me my darling? But not looking on that the love is very strong great feeling, it also is very fragile, realy my dear, because only one word or an not right action can destroy it and already anybody willn't can to restore this great feeling. Probably, you will think that a purpose of all my correspondence with you it's only desire to leave for USA. Believe me my love Mike, it's not so my love, the fact in that when I began to write to you, I couldn't believe what it is possible to fall in love through the Internet. I thank God and an Internet that we found each other in this so large world my darling. Only I have decided to try to do it and that from this it has turned out. We are me and you love each other very much and we should be together, because we can't withoiut each other my darling. I have learned much in the searches as we want to meet each other very much. My dearest love man!!! I have a good great happy news for us my darling !!! The fact in that my aunt Svetlana have learned about all information for my coming to you! Svetlana has informed that she has learned how much cost a visa and a foreign passport too. Svetlana have connected with Embassy and there have said to her that it will be better for us with you, , if I will have the visa of a tourist. This tourist visa B-2, the visitor visa will valid during six months. On this type of visa I'll can travel till USA without any restrictions. The price of this visa, as Svetlana was informed in embassy, is 220 US dollars. In this price includes the process of the registration of the visa which costs 80 US dollars. By the way aunt Svetlana as has taken an interest about other kinds of the visas too, as to her have said, that there is a set of kinds of the visas. For example, visa of a bride. Svetlana has thought that this visa of bride approaches to us, but her in Embassy have said that this visa costs more expensively and visa's registration costs a lot of money. It's around 750 dollars US and the registration of the visa will during seven months, it is very long and expensive! From it because the tourist visa B-2 is the betterest variant than visa of bride now for us my love ! My love , I want to ask you one thing my , I will need to ask your help with a financial charges for the getting all necessary documents for my coming to you, . As probably, may be you know an economic situation in our country, simply it's awful, and at our bar don't give the salary to work personal during a long time. Our government explains it to those that simply they don't have a money, it's a difficult financial situation, and they don't have a recourses on the salary for the any kind of the job in total. My dearest, my love , I have a great desire to come to you, to see you at last and only recourses separate us from each another. I love you so much, honey, and I don't want to lose you. Nobody can't help me with it. Of course, I asked my parents and friends to help me with this charges on the necessary documents for my coming, but my mother and father doesn't have such money though they would like to help us. My dearest Mike, in generally I'll need for 490 US dollars. It's certainly large money, you probably have thought what is it more than the total price of the visa and visa's registration, but I will must to get the foreign passport too of course the price of which is 170 US dollars. Also I will need to pay for medical exams too, it will be 100 dollars. By the way aunt Svetlana will try to find the cheaper prices of the air ticket for the fling to you. I want to ask you,Mike , what is the nearest airport (name of the airport) from your city? Also, please, tell me about the approximate price of the airplane ticket too, ok? Please, aunt Svetlana will need this datas! As Svetlana will try to find a cheaper airticket! I so happy from this so happy news from aunt Svetlana! But now, at first, my Mike, I will must to begin a process of the registration of all necessary documents, in total I will need 490 US dollars as I said. My dearest Mike, if you will send me this so necessary funds for this documents, it will be better to do through a system of Western Union, I have interested about this at my relatives. As the relatives have said me, Western Union is the beterest and fast transfer system in the world. Also my love , you will need in some datas from me, you will need my full name, if you remember, Veronika Andreisheva. My dearest Mike, I want to ask you, when you will sent this recourses 490 dollars, it will be necessary for me, that you must to send me an important information which required at a parcel of money. As to me have told, it is the control number which consist of 10 digits (Money Transfer Control Number-MTCN). This number you will have in the receipt which work operator will give you. My dearest Mike, you will must to send me this so important data in e-mail. Without this data MTCN I willn't can to get the recourses which are necessary for my coming to you my dear. My love Mike, I understand completely that it's a large money, but to me any more on whom I can to rely and on this I ask you about your help with this charges. My love , we are me and you love each other very much and we will together, simply, I sure in it my darling !!! I'm waiting and I'm dreaming for a moment of our meeting in your airport my ! I will cry in this moment, when I will leave from an air gangway and when I will see you my , because it will from our happiness my love. I close my eyes and I am imagining about this so happy picture. My love, I dream as we will live together my darling, to go for a walk, keeping for our hands my love Mike. I want that you will show me your native land, a places where you like to go for a walk and where you like to spend a more of your time, also I want to get acquainted with your relatives and closest friends so much! I want to be with you very much, so much my love Mike! I love you Mike, and I miss you my dearest love ! My dear , I want to say to you that I have spoke with my mom and dad about us again and again, especially about my coming to you! I want to say to you that my family have so many happy smiles for us and they approve our close love feelings with you my Mike, they are so happy because we love each other very much, simply they have said me that we will happy with you and they wish us a large happiness together! They see my feelings and my happiness from our love with you, and they understand me that we with you can't without each other and wish us a great love in this time and our future life too! Simply great greetings from my family to you,Mike, please, accept the love from my parents, they love you as a relative son! Well, my love Mike, let me to end my e-mail my dearest Mike, I'm waiting for your messages so much my love !!! I love you my darling !!!!!!! many many my warm kisses and hugs for you! forever, your love Veronika. See you. mailto:v_yahoop@mail.ru..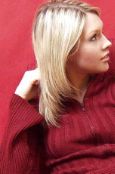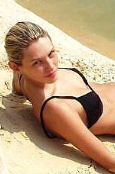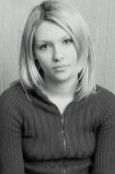 ---
To send your own story, please click here
Click here to support Black List
READ ALSO: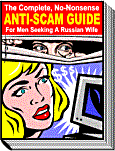 Met a Russian woman over the Internet?
Thinking about finding a Russian wife?
Russian woman wrote to you? Don't move any further until you read The Complete, No-Nonsense ANTI-SCAM GUIDE For Men Seeking A Russian Wife. Too many men were caught up in a scam and lost great deal of money - want to be one of them? Ensure your safety and peace of mind - read the ANTI-SCAM GUIDE.




Scam-free search - GUARANTEED! - Looking for somebody truly special but have had it with scammers and scam agencies? Let professionals to do the job for you.

The Universal Crib On Finding A Russian Wife - the most compressed, step-by-step guidance on finding, courting and marrying a Russian woman.
Dating Scams - The real picture of international introduction industry
Reliable Dating Services - where to look for a Russian wife
The shocking truth about Russian Brides - E-book by Marina Smiley. Find out things about Russian brides that marriage agencies will never tell you.
Why Russian Women? - If you decided to find yourself a Russian wife, you would be inundated with questions of the type "Why Russian Women?" from everybody you cared to share your idea with. Surprisingly, every Russian woman you are writing to will ask the same question: "Why do you want to find a wife in Russia?" After a while, you might start questioning your own sanity in doing the thing which everybody, including your dates in this Internet rendezvous, consider strange enough to request explanations. Here you will find some ready-to-use answers for your family, friends and Russian women you are writing to.
Cheap Russian Translations - Russian-English/English-Russian translation: fast and comprehensive. You are not sure she understands what you mean? Translate your letter to Russian! Reasonable rates and highest quality.
---

JUST RELEASED! New E-book by Elena Petrova:
"How To Find And Marry A Girl Like Me"
Comment from the reader:
"This may well turn out to be the best purchase I have made... I hope not too many of my competitors find this book!"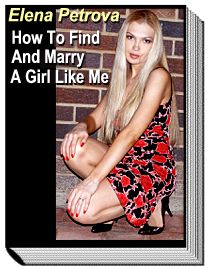 Discover how to find, court and finally marry a beautiful Russian woman!
This is the only book written by a beautiful Russian woman married to a western man - for more than 5 years! - and who is also the owner of a highly successful Internet dating agency.
Find out once and forever what Russian women are really looking for, why they are looking for it and how you can give them exactly what they want!
Get responses on your letters to beautiful Russian women - 9 out of 10, GUARANTEED!
With "How To Find And Marry A Girl Like Me" you'll learn knock-out techniques that will instantly boost your success rate in dating Russian women - online and in real life. You will have more beautiful girls that want to be with you than you can handle!
And not just ordinary girls! They will be beautiful, intelligent, but most of all - honest and sincere! You will be the one to take your pick!
STOP wasting your time and money in search for a Russian wife... Get it done - painlessly, easily, and certainly! Moreover, have lots of fun along the way!
Yes, you too can marry a girl like the one on the picture... Click here!
---
New e-book by Marina Smiley (the author of famous "The shocking truth about Russian brides"):

"Sex and Love With Russian Women"

Discover where so many guys fall short when visit their girlfriends in Russia;
Learn how you can dramatically improve your success with Russian women and win when others fail.
Most intimate questions answered by a Russian woman - Medical Doctor.
---
Comments, suggestions? We want to hear from you!
Click here to Contact us
Seek a reliable Russian Dating Agency? Why not check www.elenasmodels.com - RECOMMENDED
---