---
Foreign Brides - International Dating Club Anastasia Polinina 285 (Arkhangelsk, Russia)
There is an agency in Arkhangelsk that is currently operating under the name Foreign Brides - International Dating Club. Their address is foreignbride@bk.ru , and their *manager* is Elena Moroz. They send you an anonymously written letter with scanned photos from a beautiful girl. When you send a response they tell you that if you are interested in correspondence with this girl you have to pay them $50 for unlimited email messages, photos, and you get the girl's street address and phone number. Or, you can pay them $20 for just the girl's street address and phone number only. If you reply to them and say you are interested they give you the option of paying them through either Western Union or MoneyGram. You are instructed to put the *manager*, Elena Moroz under field of recipient. They promise you once you pay that they will give you the girl's home address and phone number, and a personal letter from her. After receiving the Western Union or MoneyGram transfer, they never respond or contact you again. Does this sound familiar anyone? This individual or group of individuals are very clever and know the English language very well. Men be careful, if you have registered your name and email address on any Russian online dating site they can get to you. That is how they got to me because many of those sites cooperate and work together, and if you have registered on several of them it's hard to tell one from the other. I have posted these pictures of the alleged 'Anastasia' so you can be alert of her. I am gullible when it comes to matters of the heart and they were able to sucker me out of $50 with this girl. Sincerely, George.
Letters:
Below is a letter that was sent to me by Anastasia Polinina ID: 285, followed by a letter from the *manager*.
Dear George, I am happy to have an opportunity to introduce myself, my name is Anastasia and here I am, writing to you for the very first time (not counting short introduction) from the other side of the world. I really think you are a person worth getting to know better and it seems to me we have some common interests and so I continue my introduction for you. I'm new to corresponding with someone on the internet, I don't quite know what to say so I guess I will just tell you about myself. First of all, I'm young russian girl, who wants to change the life, wants to love and to be loved. I'd like to meet the Gentlemen, strong and clever man, who can make me happy and to which I will present my heart and soul. I'm 21 y.o. My birthday is July 10, I'll be 22 years next month. My height is 170sm, weight is 55kg, my hair is natural and my eyes are grey. I was born in Arkhangelsk (and I'm living here all my life), It is a beautiful city on the northern European part of Russia, on the coast of the White Sea. But this is a very cold sea even in summer. The real spring becomes only in May (but sometimes even in May can be snow and snowstorm, but it happens rarely). So you can see I'm a northern girl and I like this town, but also I like to travel, especially somewhere where the climate more warm and there is a warm sea (the coast of the Black Sea for example). I'm the lover of swimming and seeing of underwater world. I like sunny days and watching the sun come up and go down. And I would like to do this things with my soulmate, but now I'm alone, in spite of having many friends. Maybe I'm too exacting in choice of man of my dream, maybe my ideas about my future husband are very idealistic, but I want to create the big and strong family. I like to create a cosiness in my home, to look after the flowers (window plants), to cooking something delicous using ancient recipe of my grandmother. And I'm dreaming of having a country-house with a fireplace and a garden. I believe in honesty, sincereity, loyalty, and the true pursuit of hapiness in every aspect of life. I am an optimist and I have a lot of energy. I enjoy good conversation, warm sunsets, and happy smiling faces. As all women I like to hear compliments and I like to be beautiful, therefore I prefer to stay in good shape and I visit the gym and swimming-pool routinely (3-4 times a week). But all in a man must be excellently: both soul and body. (This is the words of the famous russian writer Cheov) and I agree with him and I place high emphasis on my education. My personality I would describe as easy going, with a warm personality and at the same time I want to be well educated and multiple personality. So, this summer I will graduate the University. The psychology will be my profession. I am fond of psychology (It is always very interestingly to learn depths of human consciousness), therefore I have decided to make psychology by my future profession. Now it's time of passing a tests and examinations in my university and i often have to visit my local internet cafe for getting some information needed for my study. There, I met a girl who told about her correspondence with a man from USA and their recent meeting in California, with has liked both of them. And they are going to marry. My new friend has advised me to began the correspondence with someone from the other side of the world. So just casual talking suggested an idea to me about such a way of searching of a Right Man for me. I'm a very romantic person and I'd like to meet the man who can be romantic and in the same time can hold responsible and serious when it's necessary. I think this qualities are very important for real gentleman. What I value most is: honesty, loyalty, understanding, patience, a giving approach to your mate, commitment, positive attitude, a desire to be happy, devotion to family, a good sense of humor, and mutual passion. All of them are equally important to me. All I need is real love and I will give triple in return. I have been hurt in my life, but know my other half is still out there somewhere. I think you will be interetsed in my family background, because I tell to you about it. My family is small: my mom, my dad, and me. They are the closest people for me. My dad works as a professional cameraman on a local television. He manage a photo- and videocamera perfectly and my dad adores to photograph his sole daughter (it's me). He is very clever and intelligent man, he is always exemplar for me. Besides, it seems to me that my dad the best father, I never heard the rude word or shout from him, and I always follow dad's advice and admonitions as the right daughter. Undoubtedly he is the head of family. My mum is the teacher, she lectures the literature. My mum is very cheery person and simply radiates the festive mood. We have very strong relations in our family, we take care of each other and love each other very much. I was brought up in very friendly surrounding and I am a very family oriented person, cause my mother made her best to bring me up this way. As my mother is the teacher, she taught me a lot early on at home. My mom taught me to read at age 4. Through the years, she kept me flooded with books, so now I am totally addicted to them. I always will be obliged to my parents for given me best knowledge. I always was interested in cultures of other countries, many cultures and religions intrigue me. I am fond of learning English language and I'm going to learn French and Italian in future (in spite of my loving and appreciating of my native Russian). It seems to me that the people living in other countries have other way of thinking. I'd like to make an attempt to find native soul and someone especially behind the ocean. I hope my future foreign man don't beg to offend or underestimate his women. (maybe I'm wrong...) There are no other ways for me to find out about whether my waitings will come true. Only the most interesting invention in the field of connection of people - Internet. And if the angels of love let us to meet such a way so we need to try, why not? Please write back and feel free to ask any question you want to. Please tell me a little more about yourself. I hope to hear from you soon. Write to my address: foreignbride@bk.ru And please, send me your photos. Best Wishes From Russia, Anastasia
The letter from the *manager* requesting the money looks like this:
Hello George, We precisely know, that Anastasia Polinina ID: 285 is really interested in correspondence with you. Probably it will be interesting to you: Anastasia has written the letters only to three men. She has received the answer only from two men, but we know that she was more is interested in your letter. You can be sure, that Anastasia is very beautiful and good girl. Frequently our clients make a payment one time: after someletters man and girl agree about meeting or prefer to communicate on the phone or the girl finds a place in our city where it is possible to correspond per email free of charge. After you made payment you will receive the postal address, phone number of the girl. 1. Our agency accepts payments through the worlwide Western Union system (www.westernunion.com). In order to send payment for the service you have to call your local Western Union to make this payment directly with cash, debit card, or credit card. Send money on the name of the Chief Manager of our agency. Western Union will require the following receiver information: Name: Elena Moroz. Country: Russia. City of reception: Arkhangelsk. 2. Also our agency accepts payments through the worldwide MoneyGram system (www.moneygram.com) MoneyGram will require the following receiver information: Name: Elena Moroz. Country: Russia. City of reception: Arkhangelsk. You should fill her name in the field of recipient, and you have to point the location you send the money to. Fill everything in correctly, and don't forget to get the control number of your money transfer. Then send us the message with your full name, address (country), the amount of money you have transfered and the control number. As soon as we have received payment we will establish an individual email address for your girl and inform you about this. Then we will send Anastasia's letter to you as soon as possible. After that you can send another letter to her individual address. It will be more convenient and confidential. Only Anastasia will have access to this email address. You'll find out more information about our services, about all other ladies from our new site. It will be ready in two weeks. We'll send you an invitation. Only most beautiful and educated girls become our clients. We try to create an Elite Dating Agency. Best Wishes, Foreign Bride - International Dating Club, 163002, Russia, Arkhangelsk, Lenina Street, 48.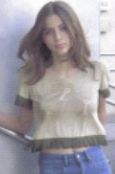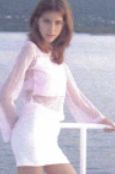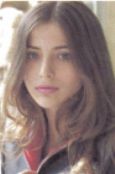 ---
Nastya Lebedeva (Nalchik,Russia)

This person was contacted thru www.friend finder.com. For 2 months we corresponded before the attempt of sending money was asked. We have been communicating since May of 2004. This person went by the name of Nastya. Anastasia Lebedeva. The email address used by this person was anastasia2004@nekto.com. If I didn't find this site in time, I was considering sending money to meet. Fortunately, this site helped me confirm this was an attempt to defraud me of money. Several emails I received were exact duplicates of some letters posted on this site. I did however send $30 once and checked where the money was picked up. Was supposed to be picked up at: Rial Credit Bank, Nalchik, Russia. Confirming the pickup, I contacted Western Union. They told me the money was picked up in Yoshkar Ola, Russia. Nalchik, Russia is a city 1200 Km. South of Moscow. Yoshkar Ola, Russia is a city 850 Km East of Moscow. That is the trigger that this was a scammer. Thanks for a great site to help in scams! Fred.
---
To send your own story, please click here
Click here to support Black List
READ ALSO: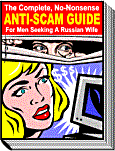 Met a Russian woman over the Internet?
Thinking about finding a Russian wife?
Russian woman wrote to you? Don't move any further until you read The Complete, No-Nonsense ANTI-SCAM GUIDE For Men Seeking A Russian Wife. Too many men were caught up in a scam and lost great deal of money - want to be one of them? Ensure your safety and peace of mind - read the ANTI-SCAM GUIDE.




Scam-free search - GUARANTEED! - Looking for somebody truly special but have had it with scammers and scam agencies? Let professionals to do the job for you.

The Universal Crib On Finding A Russian Wife - the most compressed, step-by-step guidance on finding, courting and marrying a Russian woman.
Dating Scams - The real picture of international introduction industry
Reliable Dating Services - where to look for a Russian wife
The shocking truth about Russian Brides - E-book by Marina Smiley. Find out things about Russian brides that marriage agencies will never tell you.
Why Russian Women? - If you decided to find yourself a Russian wife, you would be inundated with questions of the type "Why Russian Women?" from everybody you cared to share your idea with. Surprisingly, every Russian woman you are writing to will ask the same question: "Why do you want to find a wife in Russia?" After a while, you might start questioning your own sanity in doing the thing which everybody, including your dates in this Internet rendezvous, consider strange enough to request explanations. Here you will find some ready-to-use answers for your family, friends and Russian women you are writing to.
Cheap Russian Translations - Russian-English/English-Russian translation: fast and comprehensive. You are not sure she understands what you mean? Translate your letter to Russian! Reasonable rates and highest quality.
---

JUST RELEASED! New E-book by Elena Petrova:
"How To Find And Marry A Girl Like Me"
Comment from the reader:
"This may well turn out to be the best purchase I have made... I hope not too many of my competitors find this book!"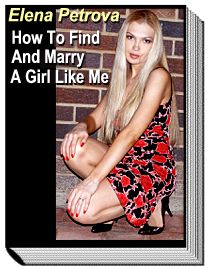 Discover how to find, court and finally marry a beautiful Russian woman!
This is the only book written by a beautiful Russian woman married to a western man - for more than 5 years! - and who is also the owner of a highly successful Internet dating agency.
Find out once and forever what Russian women are really looking for, why they are looking for it and how you can give them exactly what they want!
Get responses on your letters to beautiful Russian women - 9 out of 10, GUARANTEED!
With "How To Find And Marry A Girl Like Me" you'll learn knock-out techniques that will instantly boost your success rate in dating Russian women - online and in real life. You will have more beautiful girls that want to be with you than you can handle!
And not just ordinary girls! They will be beautiful, intelligent, but most of all - honest and sincere! You will be the one to take your pick!
STOP wasting your time and money in search for a Russian wife... Get it done - painlessly, easily, and certainly! Moreover, have lots of fun along the way!
Yes, you too can marry a girl like the one on the picture... Click here!
---
New e-book by Marina Smiley (the author of famous "The shocking truth about Russian brides"):

"Sex and Love With Russian Women"

Discover where so many guys fall short when visit their girlfriends in Russia;
Learn how you can dramatically improve your success with Russian women and win when others fail.
Most intimate questions answered by a Russian woman - Medical Doctor.
---
Comments, suggestions? We want to hear from you!
Click here to Contact us
Seek a reliable Russian Dating Agency? Why not check www.elenasmodels.com - RECOMMENDED
---