To send your own story, please click here
DISCLAIMER: This page is compiled from visitors' comments only. All messages posted tell about personal experiences of their authors, and not necessarily reflect the position of Russian Brides Cyber Guide
Anastasiya (Nastya) Pujdagonova (Voronezh, Russia)

Contacted me out of the blue (I was not seeking a Russian Bride), began sending letters frequently, very quickly professed her love for me, and in less than 3 weeks was asking for Visa money. The letters include verbatim segments in letters published here, including the Western Union request. Is a resurfacing of scams listed by the following names on this site: Iraida Belyaeva/ Julia Gorodnicheva (Ivanovo, Russia) ; Julia/Yulia, Yliana ; Julia Gorodnicheva (Bryansk, Russia): Currently using the name Anastasiya "Nastya" Pajduganova, (Voronezh, Russia), contact originated from a profile on eMode.com under the username adventurous_fun, emails originating from nas12@front.ru, with new photos(?). Fortunately, with common sense and the benefit of this website (many thanks Elena!) I did not lose any money, simply a bit of emotional investment in the process! Truly many thanks to you Elena!
Letters:
Hello my love man, my dearest Robert!!!!!!!!!!!!!!!!!!!!!!!!!!!!!! I'm really happy so much to receive your lovely answer again and again my darling!!! I love you, I cann't without you, dearest love Robert!!! I can't be apart from you, it's so hard! My Robert, you are my life, Robert, I want to hug you so much, to feel your warmth, to look into your kind and tender eyes, to feel myself happy and safe near you, dear. I'm sure everything will be well and the destiny will work for us and we will be happy together my Robert. I often think about us and try to imagine our life together. Sometimes I feel you so near and close to me. I even feel you on the distance. I feel when you are in a high spirit and when you are sad. I am happy when you are happy, my love Robert. I know that our hearts will together always, because our love is eternal, this great feeling connects the another people and us through a continents. My dear, my love Robert, as it seems, this feeling great love which includes a three basic feelings. These feelings are a trust, careful attitude to each other, and complete understanding to each other, sometimes even understanding without words,do you agree with me my darling? But not looking on that the love is very strong great feeling, it also is very fragile, realy my dear, because only one word or an not right action can destroy it and already anybody willn't can to restore this great feeling. Probably, you will think that a purpose of all my correspondence with you it's only desire to leave for your country. Believe me my love Robert, it's not so my love, the fact in that when I began to write to you, I couldn't believe what it is possible to fall in love through the Internet. I thank God and an Internet that we found each other in this so large world my darling. Only I have decided to try to do it and that from this it has turned out. We are me and you love each other very much and we should be together, because we can't withoiut each other my darling. I have learned much in the searches as we want to meet each other very much. Robert, my dearest love man!!! I have a good great happy news for us my darling Robert!!! My friend Vika have connected with her aunt Marina to Moscow at last. Marina has said to Vika that she has learned how much cost a visa and a foreign passport too. Marina have called in embassy and there have said to her that it will be better for us with you, Robert, if I will have the visa of a tourist. This tourist visa B-2, the visitor visa will valid during six months. On this type of visa I'll can travel till your country without any restrictions. The price of this visa, as Marina was informed in embassy, is 110 US dollars. Besides the process of the registration of the visa costs 75 US dollars. By the way Vika's aunt Marina as has taken an interest about other kinds of the visas too, as to her have said, that there is a set of kinds of the visas. For example, visa of a bride. Marina has thought that this visa of bride approaches to us, but her in Embassy have said that this visa costs more expensively and visa's registration costs a lot of money. It's around 650 dollars your country and the registration of the visa will during seven months, it is very long and expensive! From it because the tourist visa B-2 is the betterest variant than visa of bride now for us my love Robert! My love Robert, I want to ask you one thing my Robert, I will need to ask your help with a financial charges for the getting all necessary documents for my coming to you, Robert. As probably, may be you know an economic situation in our country, simply it's awful, and at our bar don't give the salary to work personal during a long time. Our government explains it to those that simply they don't have a money, it's a difficult financial situation, and they don't have a recourses on the salary for the any kind of the job in total. My dearest, my love Robert, I have a great desire to come to you, to see you at last and only recourses separate us from each another. I love you so much, honey, and I don't want to lose you. Nobody can help me with it. Of course, I asked my parents and friends Vika and Rudolf too to help me with this charges on the necessary documents for my coming, but my mother and father doesn't have such money though they would like to help us, Robert. My dearest Robert, in general I'll need for 350 US dollars. It's certainly large money, you probably have thought what is it more than the total price of the visa and visa's registration, but I will must to get the foreign passport too of course the price of which is 80 US dollars. Also I will need to pay for medical exams too, it will be 50 dollars. And of course I will need to pay for the coming from Voronezh to Moscow City, I have learned about the price of the airplane ticket Voronezh - Moscow, it will be 1080.00 russian rubles or it is around 35 US dollars. By the way Vika's aunt Marina will try to find the cheaper prices of the air ticket for the fling to you. I want to ask you, Robert, what is the nearest airport (name of the airport) from your city? Also, please, tell me about the approximate price of the airplane ticket too, ok? Please, Marina will need this datas as she said to Vika. As Vika said me, Marina will try to find a cheaper airticket! I so happy from this so happy news! But now, at first, my Robert, I will must to begin a process of the registration of all necessary documents, in total I will need 350 US dollars as I said, Robert. My dearest Robert, if you will send me this so necessary recourses for this documents, it will be better to do through a system of Western Union, I have interested about this at my friends Vika with Rudolf. Robert, I want to say to you that when Rudolf asked Vika to come to him in Germany, and he helped to Vika with the necessary Vika's charges for her coming, Rudolf have sent the necessary recourses on the documents and airplane ticket to Vika through the sistem of Western Union too. Rudolf trust to this sistem Western Union, as Rudolf have said me, Western Union is the beterest and fast transfer system in the world. Also my love Robert, as Rudolf said me, you will need in some datas from me, you will need my full name, if you remember, Nastya Pajduganova, also here is an address of the nearest bank where is situated the sistem of Western Union in Voronezh: VORONEZH BANK, CHELYUSKINTSEV, 149, VORONEZH, 394006. My dearest Robert, I want to ask you, when you will sent this recourses 350 dollars, it will be necessary for me, that you must to send me an important information which required at a parcel of money. As Rudolf said me, it is the control number which consist of 10 digits (Money Transfer Control Number-MTCN). This number you will have in the receipt which work operator will give you. My dearest Robert, you will must to send me this so important data in e-mail. Without this data MTCN I willn't can to get the recourses which are necessary for my coming to you my dear Robert. My love Robert, I understand completely that it's a large money, but to me any more on whom I can to rely and on this I ask you about your help with this charges. My love Robert, we are me and you love each other very much and we will together, simply, I sure in it my darling Robert!!! I'm waiting and I'm dreaming for a moment of our meeting in your airport my Robert. I will cry in this moment, when I will leave from an air gangway and when I will see you my Robert, because it will from our happiness my dear Robert. I close my eyes and I am imagining about this so happy picture. My love, I dream as we will live together my darling, to go for a walk, keeping for our hands my love Robert. I want that you will show me your native land, a places where you like to go for a walk and where you like to spend a more of your time, also I want to get acquainted with your relatives and closest friends so much! I want to be with you very much, so much my love Robert! I love you Robert, and I miss you my dearest love Robert! My dear Robert, I want to say to you that I have spoke with my mom and dad, also with my sisters about us again and again, especially about my coming to you. I want to say to you that my family have so many happy smiles for us and they approve our close love feelings with you my Robert, they are so happy because we love each other very much, simply they have said me that we will happy with you and they wish us a large happiness together! They see my feelings and my happiness from our love with you, and they understand me that we with you can't without each other and wish us a great love in this time and our future life too! Simply great greetings from my family to you, Robert, please, accept the love from my parents, they love you as a relative son! Also hi from Vika and Rudolf to you too! I so thank Vika and Rudolf, because they are my closest friends and because thanking to them, especially to Vika, we have found each other, Robert. Well, my love Robert, let me to end my e-mail my dearest Robert, I'm waiting for your messages so much my love man Robert!!! I love you Robert, hugs and kisses, Truly, your love man for ever....Nastya.
P.S. I want to see that you love, that more it is pleasant to you.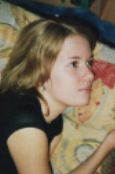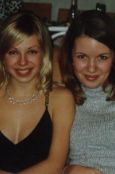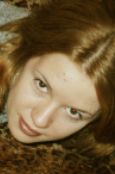 ---
Irina Alexeevna Mosunovo (Zvenigovo, Russia)

I am a White American, no children. inbetween jobs.I'am not sure from what web site.We have been corrsponding sence mid April.She said that if I sent her money for a visa and plane ticket that she would come here.I first sent money for visa then when I though that the copy of her visa was real I sent money for plane ticket.all together $1,650.00 U.S.A. dollars.I'am working on the pictures, but I'am having a problem with them. Her name is Irina Alexeevna Mosunova. Her address is Tarxanovo House 28 street, Zvenigovo, Russia, 424037. She says that she 26.her birthday Feb.2. Her other picture shows that she has fake red hair color. Her email is: dsa174@land.ru.