---
Ekaterina Shvets (Nizhni Novgorod, Russia)

Contact was from MillionaireMatch.com correspodence from From Feb. 10, 2004 to April 30, 2004. about 25 emails. Very demanding for requests to write back. She needed money to obatain a tourist visa. I explained was very difficult to obtain a visa, and after a few more emails did not respond. Did not report comments to MillionaieMatch since not a paid member. Alex Peper
Letters:
Hi! I am the girl from Russia! I have gone on this site of acquaintances to find persons for friendly attitudes and more. I chose from many profile and have found yours. It has very much liked me, you have very interestingly written about yourself. It would be desirable to tell slightly about itself: My name is Katya, I live in Russia, in city of Nizhni Novgorod. It is ancient Russian city, with many sights. Well, I shall tell to you about it in the other letter. I hope, that you will answer me with reciprocity. Write to me please on mine email: poceluy_25@mail333.com Yours faithfully Katya!
Hi my loved and charming Alex! I feel as every day the spring comes nearer. And both the spring enters the rights and my feelings grow to you my magnificent beloved Alex. I is glad to write to you the letter again. When I look at the firstbeams of the spring sun I so would like to you!!! I think that you will warm me just as also these beams. I want to get in your warm embraces. I already talked to mine the aunt about the visa. And she has told, that the visa literally for a week can issue to me. She to agree with other people in embassy and they will help me to make to me the visa. Therefore if I shall start to make out tomorrow already the visa in a week we can be together. I so am glad, that at us all so wonderfully turns out!!! My aunt has advised me to issue the tourist visa. The tourist visa lasts 90 days. I think that it will suffice us time to be defined in our relations and to decide that us to do further. My lovely Alex I want to create family with you and tolive with you all my life. I very strongly love you and I want to be with you!!! My charming Alex to issue the visa, my aunt will agree with people in embassy which will make to me documents about my financial position because papers will be necessary for me about what the salary at me and other similar documents. My aunt has promised to me, that all these documents will be made in the near future and that I did not worry for it because she already many times id such things and already many people has departed in the USA in such a way. But my loved Alex, my aunt has told to me, that to issue the visa to me it will be necessary to pay 400 $. But unfortunately I do not have such money. These are very big money for our family. I already talked to mine mum that she the help and has given me of money, but my mum has told, that she does not have such money. Therefore I ask you the help to me and to send me 400 $. As soon as you will send me of money I at once I shall start to make out my the visa in embassy. My lovely I ask you to try the help to me. You my unique hope. As soon as I to arrive to you, I shall try to find work and I hope you to me the help in it. As soon as I shall earn the first money I necessarily to you them I shall give. I wanted to make to myself the visa, but unfortunately my family is not rich andcannot allow myself of it. But I believe that you the help to me. In fact we like each other and we shall overcome all obstacles to be together. I hope you too so you think. I really would like to leave for you in marriage. I all heart have grown fond of you. You such fine, kind and noble the man, that I shall be always grateful to heavens, that we have grown fond each other. I cannot live without you. Only now I have understood, that such love. I in the whole days think of us with you. I dream of our future family and a life. We will have the best family in the world. As soon as you will send me of money, I at once shall go to embassy and I shall start to make out my the visa. I want to tell that the money better to send by the bank system called Western Union. This system is very reliable also transferring money is carried out during 15 minutes. By the way you must send the money on my passport data. Here is my data: Ekaterina Shvets, Russia, Nizhni Novgorod, Chehova street 17, apartment 27. After you will send money you in bank will tell ten figures (MTCN, control number) and you should inform me it. I wait your answer as soon as possible. Please, help me. I know, that you good man and you correctly all understood. I wait you. See you soon. Your forever Ekaterina.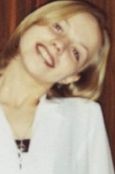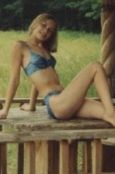 ---
Letters:
Dear Nere! I was very surprised to get your answer! Unfortunately I don't know a lots about you, but I hope to know more! I did not have a lots experience in usingcomputers and communicating through Internet with another people. But hope it will work. First of all please let me know can you understand me or not. I don't sure in my English. I was not best student in our group learning English, but I hope you will understand me and may be help me to study English more. So, something about me: I am Russian woman, I live in town Miasskoe. It's a very small town, its situated about 3200 km from Moscow to the east. There are no much big cities near it. The largest is Chelyabinsk. And what about your city? I am curious about it, about culture of your country. I am 29 years old, my birthday is 11 November. And when does your birthday? How do you spend it? I graduated from our States University, which is situated in Chelyabinsk. My specialty is economical managment. I did not like this science a lots, but it was very popularin Russia when I was ready to choose specialty after graduating school. So, about a reason why I am here. I will write you more later, now Ijust would like to check does it work or not. I search for my soulmate, to share with him all my happyness and troubles. And love. I do not searching for long extended correspondence, and I dont like to play in any soul games. I need to find real man for love and I hope its you. That's a little about me and I hope to know more about you. Unfortunately I don't sure did I done all fine to send you this letter and will you receive it or not. Its will be so pleasant for me to get answer from you! I will be waiting it with impatience! P.S. My fotos are attached. I am very curious about you. Please send me more of your pics. Even if you dont have it, please do it, its so important for me!Ludmila
Ludmila, I'm sending this written correspondence to you mainly to see if I got it correct. I would enjoy very much to become acquainted with you. You are an very attractive woman, and yes I would love to see more photo's of yourself. What part of Russia are you from? I'm not very good at writing about myself, I would prefer that you ask me the questions and information you desire to know. Sincerely, Nere' H. Ourso
My dear Nere! Forgive that I so for a long time to you did not write. Unfortunately I had no opportunity to write to you. I had business trip to another area. My shop works from furniture factory and we have received the big order. I should go in city Vladimir together with other managers from shop. Trip should borrow only two days. We went on the bus. But in a way the bus has broken. This day there was very bad weather. There was a rain and it was very cold. In my city I was warm also has put on very easily. The bus stood broken the whole night and I have strongly caught a cold. I strongly coughed and there was a high temperature. When we have arrived in Vladimir I has lain in hospital. In hospital to me long time was necessary to stay. When I have recovered, my father has arrived for me and took away home. While I laid in hospital, I thought of our relations much. They came very far. My dear, I very much missed your letters. You became very dear to me. I thought of you and about our meeting. I cannot precisely tell to you my ideas yet. My dear Nere,I am not yet sure in the feelings. Tomorrow I shall write to you the big letter that I think of our relations. Now I should go. Ludmila
Hello Nere! I live in Russia. I so ready today to receive a mail from you! And I so glad to see, that you received my mail and answered! And I so happy that you understood my entire letter! Thank you for your photo. It likes me very much. I would like to continue our correspondence and I hope you too! So, I will write you more. Dear Nere, I understand most in your letter! But I not sure now I have no much time to read it more carefully. I undesrstood all words but I dont know grammer well. So, I have to write you a little about my situation. As you know I live in town that named Miasskoe. It's a very small town and only a couple of people here have their own phones and Internet access. But we have Internet club here and its very popular. The only way for me to write you is to get here and pay for time at computer to write you. But I so happy to do it! I printed your letter and I will read it more carefully at home with dictionary, when I will have more time. I hope its ok, but I can miss some of your questions, please don't worry, I will write answer in one of my next letters. And sometimes (for example some parts of this letter I will prepare at my work and just then type it to you). So I think I have to tell you more about me and what I am doing here. I can't describe myself, its not easy but I will write you all that my friends say. They say, that I am very cheerful, attractive and devoted woman, and I will not leave my friend in trouble. I do not smoke and I don't drink often. I can drink Champaign, vine or a little beer. But I don't drink a lots, only sometimes at holidays. I was not married and I have no children. I like only honest and open people even if its bad. My father works likes driver in hospital. He has a lot of business trips, but its not very far, as a rule, not far then to Chelyabinsk. Everybody knows him in my town. I have no mother. It not easy for me to say about it. She died when she gived birth to me. My father love her very much and its a very big loss for him. I know a little about she, only from my father told me. Now my father has another family, but we love each other very much and I am always going to him at weekends. Now I living with my aunt. When I was a young girl I lived with my father. And all home businesses depended on me. That's why I think I am independent woman. I am proud for this, because it helped me to find out how to cook and how to make homebusiness. I like to cook very much and I am cooking always only by myself. I like to cook something unusual. I like to prepare fish and meat delicious for my guests and guests of my father at holidays. He always asking me to help him because he know that i coocking very good. I hope I can be good housewife. And I would like to find a man to give him all my care and love and to get this back. Most of all I like fruits like grapes, persimmon, peach, appricot. I would like to tell you about how I get idea to write you a letter but its seems I have no much time now. I will write you about it at my next letter. Its very pleasant for me to write you letters. I like it very much. Looking forward to hear from you,Ludmila
Dear Ludmila, I just recieved your email and pictures and they are showing me a very attractive and desirable young woman. I don't think that I'll have a problem with your English. I seem to understand you very well. Are you presently in Russia or in the USA? I'm also from a small town named Jena,Louisiana of about 2500 people. It's approximately 240 miles from New Orleans,LA. I raise horses..(pets mainly) I usually ride a 4-wheelers since they don't have minds of their own like the horses do. I really enjoy living in the country away from the hectic daily life of the city. I also enjoy boating, watersking, fishing, movies, cooking outdoor BBQ. I'm 47 years old my birthday is August 4th. I'm retired now I used to work for Shell Oil Company. I took and early retirement package. Are you sure that you may or might be interested in some one older than you by quite a few years? Sincerely, Nere'
My dear Nere!!! Today I just can't wait to read your mail! Its seems it become mean for me more and more! So, how are you today? I am really surprised how Internet helps us to get close! Now I so thanks to my girlfrind and I am so sad that I did not know you early! I become so attached to your letters! Today my aunt and I make general cleaning of house. We do it every three-month and it takes whole day. I like to make cleaning with aunt. She is very hardworking woman and to clean house with her is very chearful. We always like to be incompany of each other. We spoke a lot and I told her about our relations. I said her that I did not believe it early and I am so happy to see that it works now! She was very surprised and wishes us luck and she hopes that our relations will grow up in future in more seriouse. Also we do small cleaning every week by Saturdays. Today we wash windows, walls, floors, and cleaned carpets. It was really easy for me to do it thinking about you. Today we decided to change a carpet in a bedroom, so we needed to change pinth. When we broke old, we finded od wooden board. The house of my aunt is very old, so there are a lot of such boards. Under this board I founded old coin. I was really curiouse what does it mean and my aunt advise me to go to specialist. He told me that its very valueable coin which is dated 1704, its 1 ruble. I was really happy to know it. It has great quality. He told me that it may costs from 400 till 700 dollars USA. And they said that it can cost more at some other countries. I decided to save it for future. I hope that sometime this coin will help me. My dear Nere, its a little confuse me, but I would like to share my dream with you. Today night I saw that we sat together at a coast of a big lake. I have not seen this lake early, but it wasso beautiful and quiet, and barrels an easy warm breeze. We looked at night sky and we see nice moon and a lots of stars which was reflected in a mirrow of water. It was so good and I feeled your strong arms on my shoulders. We spoke about us and about our feelings to each other. I imagined that we had to tell each other something important, that will change all our future. But at this moment I waked up but I had impression from this dream for a long time. It was so real, that when I understood that it's only a dream, I was very sad. I have never feeled such feelings. And I believe that someday this dream become true! My dear Nere, I often think about you and about our relations. It seems to me that every day we become closer. We know more about each other and I like all that you wrote me. So, I will go home now to think about this all. I hope I did not confused you with my dream.What do you think about this all? Hug you, my dear Nere, P.S. I am thinking about writing post mail from you. I have not wrote it to someone, so I dont sure what I have to write at envelope. Please write me and let me know. So, my post adress is: Russia, 456000 town(city): Miasskoe Street: SadovayaHouse: 29 Ludmila Tarasova
Hi Nere!!! Thank you for your letter. I becoming attached to your letters and I like it very much. Can you write me more about your work? What is most intresting in it? How do you resting? I was born at Staroutkinsk town. My mother was born there and lived there for all her life. My father took me out there for not having trouble thoughts about my mother. I like my town Miasskoe very much. I have no brothers and sisters. I have only a cousin she lives in Moscow now. Her name is Nadia. Now I am working as seller - adviser at biggest company at our city. This is firm that sells furniture. My duties are to show furniture to clients, to tell them all about it, to take orders. My heads very proud for me, they always say that I am best. They are very good and strong people and I like them a lot. My work is not very far from me, and I always go there by myself. And how long from your home your work is situated? So, I would like to tell you about how I get idea to start to write you. The reason is I met one of my old girlfriends, which was my classmate. We spoke a lot and she was very happy and told me her story. One day she with our girlfriends comes to Internet club just for kidding. They did not know lots about Internet. They asked a manager of Internet club what they could do their intrsting. He shows them one of Internet dating cites. My girlfriend (Galina) wrote only one not serious letter to a man from United States, Illinois. She did not wait something seriouse. Then she began to go every day and write him. She did not let her girlfriend to come with me. And after one month of communicating she told them that she will go to USA soon and that she love that man. She went to USA for one month and when she returned she were happiest woman of the world. I did not see her such happy before! I was really shocked. It looked like a fairy tale. I was speaking a lots with her and I was so surprised to knew that would like to marry and to come to USA for all her life. I asked her why she did not choose Russian man. She said that American men are best then Russian and that does not drink a lots. They more polite, culture, and kind. They more oriented to a family then Russian. She said, that she had no any problems with living there and she will not share her Stephan with someone else. He is 54 years old, and Galina is very happy with him. She says that difference in ages is not just a little problem. She has advised me to choose only American man. I thought more then one year and only now I know, that I am ready to fallow her advise. I am so sad now that I have no her e-mail now; I have so much questions to her! Unfortunately, I have never been outside Russia, but I hope someday. And I dont know a lots about a trips though a countries. But I so happy that I meet you and I hope to know more about you. My time is over now and I have to go now. Hope to hear from you soon.Ludmila
Dear Ludmila, I hope this letter finds you doing well today and happy. I notice that you have removed your photo from Imatch. I was online to see if by some chance you were on line. I have had a busy day today, I had to repair a section of fence. The horses had broken through and where close to getting on the highway. I also had to go to the city, Alexandria, Louisiana around 35 miles away to the Dentist. So, how has your day been? And you are and very attractive woman....and you can cook! I enjoy cooking myself especially outdoor bbq's. We also have crayfish and shrimp boils also during the early spring months. And always during the cool fall months we have "hog roast" which are very good.I'm sorry that it's been a day or so since I've written you. I have really never been much on writing. You are an exception since you live on the other side of the world from me. I hope to hear from you soon. Sincerely, Nere'
Today after I wake up I had only one dream. It was to check a mail from you and to receive news from you! I so attached to you now! I run to Internet club before work but there are no any free computers there. It make me a little sad, so I decided to go to my father to tell him about us at launch brake. I prepared launch for him, he does not at business trip now. At a lanch I tald him about us and about our correspondence. He was really surprised to know that I meet you through Internet. He asked me how I did it and asked who are you? He asked where you work and asked a lot about you. He asked if I wrote you first or you first wrote me. I answered for all his questions I sayd him, that I make my choice by myself and I am very happy that I did it. He was really shocked and surprised because he knows that I am modest woman. He likes you very much and he askes me to say hallo from him. My dear Nere! What do you thinking about our relations? What does it mean for you? Please tell me, it's very important for me. How do you imagine our relations at the future? How much does it serious? Please say true for me, as you know, I like always true, as bad it can be. As for me I think, that I found a man which I seeking for all my life. You looks like very seriouse, intelligent, reliable and responsible man. A man of my dream. I understand that may be I mistaken, but I believe that you are that man that I imagine from your letters. I am so sad that we have no any other communications that e-mail. I so would like to hear your voice!!! But I hope that soon I will make a usiness trip to Chelyabinsk and may be I will have a chance to call you from there. I so cant wait for that moment! Today I baught a book about your country, about your culture. And I found a map of you country and I searched for a place of your living. I know that we are at another parts of earth now, but it did not make my feeling less. Its seems for me sometime that we so close! And I saw that dream about lake once again! Kiss you, your Ludmila
My dear Nere!!! There is no something more pleasant for me then to receive mails from you. I did not receive your letters for a long time and thought that you do not want to write to me more. But I am glad that it not so. Iam so happy that I have you as my friend! My heart was really ready to jump out when I saw your mail in my mailbox! How are you today? What is weather today in your country? Taday is a best weather here. It's a lots of sun and I like such weather very much. It's not very cold now. I like spring when snow become thaw and birds become to sing, when its a little cold, heart waits first warms days. And most of all I like summer when warm days come and its so pleasant to come home from work thinking about work today is finished and weather allow to do it. We have a great and very nice street at my town and I using it to go home. Air smells very tasty and sky is very nice those days. I like to look very much there. What seasons do you like more. I would like to know more of your hobbies. Do you like anymals? What anymals do you like more? I have a hamster at my home. Do you know what is it? I call it mr. Homa. It can dance when I turn on music on and take his forward paws in my fingers. I hope to show it someday to you. What kinds of sport do you like more? Now in Russia sport become more and more popular. Best of all I like valleyball, waterpool (pool), swimming, bicycle. Please tell me more about you, what do you like more? Music. I like RHCP (do you know it?), Scorpions, J.Lo, Tony Braxton and a lots of Russian groups but I dont sure that you heared it. For example Kino, Splin, Mumii troll' and a lots of other. What films do you like more? What new films now there? About flowers. I like chrysanthemums, lilies, snowdrops, camomiles and roses. Do you like flowers? Which flowers do you like more? At all my life I had only two boyfriends. I am very attached person and if I becoming love someone I am ready to be with him for all my life. I always thinking that if people love each other they have to fogive another's mistakes. My first boyfriend was at school till second year of univercity. Then he had to leave with his parents to Ukraine, and we left. We was a good friends, and he wrote me couple of letters but now he is married. We lived like a brother and sister. Then I met another boy, but after three months of communicating he became to drink a lot and became very ungry for anyone. He leaves from univercity and he lies me a lot. I did not imagine what happened with him. Then they take him to army and after last talk with him, I understood, that its not my choice. I dont think that he loved me. Anyway I would not like to continue any relations with him and to say a true, I would not like to have any relations with any Russian man. And I am so happy that I met you and its mean so much for me! Dear Nere now every day when I go to bed I reading your letters before sleep and I am always thinking about you when I waking up. It's my first thoughts! Please write me more about you, about your mood, about what are you doing these days! Your russian friend, Ludmila
My dear love Nere! It was so pleasant for me to get your letters! With every your letter I feel that we bacoming more closer and closer! Every time, when I reading your letter, my mood become well and my heart is knocking so strong! I miss you very much and all my thoughts last time only about you! When I coming to Internet club and saw a letter from you, I pleasing as a small girl. You are the unique man that can understand me now and can support me in difficult situation! I am sure in you and I can trust you in any case. I dreming about that time when I will be helping you in all about house, to work and rest together, laughing and solve common problems, because your problems will be my problems and on the contrary. I think, it has to be so if people love each other. I thought a lot about this all and what we have to do now. I think, that we have to meet in person and I am ready to arrive to you for us. How do you think about it? I dont see more best ay to know each other, I think, we cant get such result just communicating through letters. But I am very serious about you, and about our meeting. We did a big step for making serious and longterm relations. I think we dont have to stop here, we have to make next serious step, the meeting which will let us to know each other better and it let us to continue our relations. I talked to cousin what do I need to come to you, is it real or not. She know about it because she visiting sometimes another countries. She sayd that I need visa and air ticket only. She sayd that it's not a big problem to make a visa for one or two month. She advised me to go CMVA (Chelyabinsk International visa agency) and to ask there about it. So I will ask my chief to go home early tomorrow and I will go to Samara to the CMVA to ask more about it. My sweetheart, how do you think, if I will come to you, where is the best place for my living? At your home or at a hotel? I would like to stay at your home, if its not a problem and if you want it. I hope my wish to come to you to meet in person is not confuse you. Please tell me the true. My dear Nere! I do not have a big salary but it's not bad for Russia. I saved some money for any case, but I was not sure for what. I think, that this case is come. I dont sure if this help us for visa and ticket both, I dont know how much does it all cost, but I hope it will help us. Also I would like to go to cash departments of airport to know how much tickets cost. My dear Nere, I need some information for this. Please write me closest airport to you and what date is better for my visit? My love, what do you think about duration of a trip? Please write me you opinion about this all. I shall be waiting it with impatience. Forever yours, Ludmila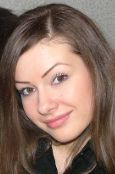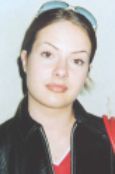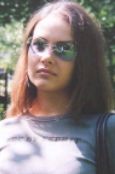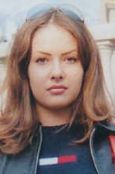 ---
Natalya Kisyala (Chelyabinsk, Russia)
Bogacheva,19-25,K.Marksa,ulitca,Chelyabinskaya,Ozersk,Russia Hi Iam A single guy white Australian 29 years old I was first contacted by this woman on the 10th of April through findsoneone.com. We emailed each other from the 10/04/04 through to 9/05/04 we talked about our lives and our interests and then it became serious Natalya was telling me that she wanted to have a family and to get married witich I also wanted.I then said that I wanted to vist her and i was now planing the trip to Russia,she then informed me that it would be very difficult to vist her because she lives near the town of Mayak and there's A "Nuclear Factory" there and it would be impossiable to vist.Natalya then said that she wanted to visit me but she had little money and asked me to help with her airfair here,well I myself being new to this thought nothing of it and sent over $2,300 AUD through a western union money transfer.Natalya then gave me her flight details so I checked them and they all checked out and she told me she had to go to Moscow to get a visa to travel here.Then she sent me another email saying that she has to have money in the bank before she is given a visa so I then sent over $1,400 AUD to her then a few days went by and I didnt hear from her,2 days later I got a repley from her surposed friend Olga saying that Natalya had been hit by A drunk driver while returning from the bank and was in hospital and could die.Well thats when I started to think that this was A scam I contacted the Australian Embassy an asked if any one by the name of Natalya Bogacheva had applyed for a visa thay said no one has by that name,since then I had found A new profile on friendfinder.com of hers with the same photos.I have informed both agencys about her and soon to send A formal statment about it all to the Australian Embassy and to the Russian Embassy and now waiting for a reply from them.Iam still looking for A Russian wife but this time I will be prepaired and i shall be going through an agency Sincearlly Brendon
Letters:
Hello Brendon! I am very glad to start to communicate with you. I am a newcomer in such relation in internet and it is all very difficult for me but I hope thet I will know about internet more and it won't be a problem for me... Anyway I want to tell you about myself...I am afriad of that it sounds ridiculos but I really don't know how to start :) My name is Natalya and I am 25 years old but everybody tell me that I looks more yonger. I live in Russia in city called Ozersk)first namewas Chelyabinsik-65 but since 1993 it called Ozersk) I think that you have never heard about this city. I was born here and all my life bound up with this city. I live with my parents - my mother and father. My mother's name is Maria.She is 54 years old and she is best mother in the world :) I think that every children tells same words about mother...My fathers name is Leonid and he is 53 years old. I love my parents very much and I am doing my best for their happy. I am a single children in my family.When I was a little girl I wanted to have a brother or sister but my parents decided that I will be a single children in our family. All our family live in apartment which we rent.First of all I want to tell you that I don;t want to play game and I am serious in my search and I want you to know all truth about me. I hate liars and I hope thst you will be honest with me. Anyway I am optimist and I trust in light future. I forgot to tell you about my work. I work as a seller in parfume shop and I have been working here for 5 years. I like my work and here is very friendlyy labour collective.My boss...sometimes I have problems with him but I understood that he strict but equitable man.My free time I spend we my friends and we sometimes go to clubs or bars.I have many friends and here in Russia we have a proverb:"Don't have 100 rubles but need to have 100 friends..."I agree with it 100% and friends often help me in hard minuites of life. Oooooooff, :) I type very slow and i just tired to type. I will write to youu more soon. Please tell me about yourself, what do you like to do, about your friends and family what you like and dislike in yourself... Also please send me your pics.May you will write me soon.bye. Natalya
Thank you for your letter my darling Brendon and I am very glad that we will meet each other soon! I am feeling myself the happiest woman in the world that I will spend my vaction with you and I am sure that it will be a great time in our life.I am glad that your mother don't mind if I stay with you.My dear I have just returned from Olga's work and found out all what I need for trip to you.Olga told me that it is very difficult to get a visa in your country for russian citizens but she has friends in Moscow who are able to help me with it and I think that it is great. Olga told me that for getting visa I will need to go to Moscow in embassy personally any way but if I will make a payment in the beginning of week then i will be able to go there with Olga (she will go there with her business)and she told that the best if Iwill go there with her and it is a great chance for me because I am new with such things and it is great that she will help me. But I don't know if you are able to help me this week>Olga told me that preparing all documents will take about 2-3weeks and so I need to make a payment in the beginning of next week if I want to get all papers in time and I really want it because I want to spend as more tine with you as possible. She told me that all documents (foreign passport, visa, tickets to Moscow, tickets to ypo and back to Russia, medical insurance, different inquires, etc) will be cost 1625 USD. Also she found a flight which she can book for me immediately after the payment. But when I heard such amount of money I became very sad because it is terriable money for me and for you I think and I dont know if you are still want to help me with my trip to you... I really don'y know what to do now but I really want to me with you my darling and hope that we will find a way for solve this problem.I also asked Olga if you want to help me with expences then how you can do it and she told me there are two wats for it:first - you can make a wire transfer on the companys bank account and the scond you can transfer monry directly to me by transfer systems called money gram or Western Union.I don,t know what it is if you don't know about it too I will go to Olga once again and found out it in deitails and imform you. Olga told that second way is faster because I need to make payment as soon as possible if I want to have my documents in time. She told me thant if you will use Western Union then you need to know my full name and home Address and I need to know the same information from you too. My name:Bogacheva Natalya Address Russia, 456787, Chelybinskaya., obl.,Ozersk, ulitca K.marksa,19-25 Also Olga gave me an information about flight which they can boo on my name after payment and here is it: To Brisbane: Company: Aeroflot Flight number:SU521 Departure: 11 May,12:00 Sheremetyevo Arpt Arrival: 11 May,17:04 Dubai Intl Arpt Change city:Dubai Cpmpany:Malaysia Airline Flight number MH157 Departure:11May.20:35 Dubai Intl Arpt Arrival: 12 May,08:00 Kaula Lumpur Intl Arpt Change City Kula Lumopur Company: Emirates Airlines Flight number MH135 Departure:12 May,09:20 Kula Lumpur Intl Arpt Arrival: 12 May,18:49 Brisbane Intl Arpt Back to Russia: Company:Emirates Airlines Flight EK431 Departure:12 June,20:29, Brisbane Intl Arpt Arrive: 13 June, 06:24 Dubai Intl Arpt nange city Dubai Company:Emirates Airlines Flight EK133 Departure:13 June, 09:30 Arrive: 13 June, 14:55 Domodedovo Arpt
My darling I have to go now I willbe waiting for your answer soon. Just remember that I am missing you very much and want to be with you...Hope that you have a common feelings for me and I am wating for your letter with great impatience. Your Natalya. Next sent to me 3/05/04 Hi my love Brendon. I have just recived aletter from you say that I am missing of you too. Me and Olga just returned from meeting with his friends and I have two news- one bad and one good. First f all I want to tell you that everything is fine and I wont have a problem with visa and I will get visa on Friday out of turn and thanks Olga very much for it But my love we really have a problem now because he told that there are some rules for getting visa and one of this rule say thet everyone who wants to go to anada need to show 100 australian dollars pre each day of staying in your country.I have already filled the form out of turn that i will be with you for 2 weeks and so I need show 1400 australian dollars for getting my visa and I need to have this money befoer Saterday.I just dont know what to do and I am really in a panic now because it is terriable amount of money and I can't imagine where I can get this money :( Olga's friend told me that need to have this money only to show that I have them and also I will need to show them in the airport.I dont know what to do because I don't have any resort excapt you but I dont know if you are able to help me but if you can please try to do it because I need to have this money for getting visa and without them I won't get it. I don't want to lose you because I can't imagine my future life without you my dear Brendon and I am afriad that I will die if we won't meet each other...I am missing of you and I am in bad mood now because I have this problem and it became a wall between us but I want to tell you that I needto have this money only for showing them and return you immediately when we will meet each other in the airport.I understand that I created a great problem for you but please my love try to understand and help me because if you won't help me then nobody can do it...You are my the only resort and I promise that I wont waste this money and return you immediately in the airport when we will meet with a lot of kisses. I will be sit here and wait foryour answer.Please answer me as soon as possible... I love you my darling Brendon your Natalya
Hi My name is Olga and prpbably Natayla told you about me - I helped her to prepare necessary documents for travel.We have terriable news new. Ywo days ago Natayla came from bank also was brought down by car.Behind a rudder the drunk driver was.Now Natalya is in very heavy condition also in reanimation.Its her mum has asked me to write to you the letter because you had very warm relation.She is not overlooked about the aunt and before failure constantly spoke that you soon will meet also she shinned happiness, But now she can die. These are terriable words but unfortunately it is o.All our friends by turns are on duty in hospital. Doctors of nothing speak particularly.All of us pray for her ,and we hope that all will be good. Natalya's mum asked me to come by the library each day and I hope that you will recive this letter and will pray too for your love.She really loves you .Excuse me for my english - I use the Translator,but I hope that you will understand about what I have written.
Well I have sent 3 emails since I recived this one and still no reply I also asked for my $3,700 Aud back and havnt heard back she has currently has an active profile on friendfinder.com by the name of kisylya I hope that no one else gets scamed by her like I did. Yours Brendon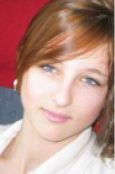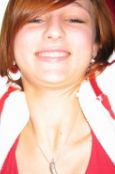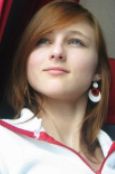 ---
To send your own story, please click here
Click here to support Black List
READ ALSO: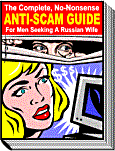 Met a Russian woman over the Internet?
Thinking about finding a Russian wife?
Russian woman wrote to you? Don't move any further until you read The Complete, No-Nonsense ANTI-SCAM GUIDE For Men Seeking A Russian Wife. Too many men were caught up in a scam and lost great deal of money - want to be one of them? Ensure your safety and peace of mind - read the ANTI-SCAM GUIDE.




Scam-free search - GUARANTEED! - Looking for somebody truly special but have had it with scammers and scam agencies? Let professionals to do the job for you.

The Universal Crib On Finding A Russian Wife - the most compressed, step-by-step guidance on finding, courting and marrying a Russian woman.
Dating Scams - The real picture of international introduction industry
Reliable Dating Services - where to look for a Russian wife
The shocking truth about Russian Brides - E-book by Marina Smiley. Find out things about Russian brides that marriage agencies will never tell you.
Why Russian Women? - If you decided to find yourself a Russian wife, you would be inundated with questions of the type "Why Russian Women?" from everybody you cared to share your idea with. Surprisingly, every Russian woman you are writing to will ask the same question: "Why do you want to find a wife in Russia?" After a while, you might start questioning your own sanity in doing the thing which everybody, including your dates in this Internet rendezvous, consider strange enough to request explanations. Here you will find some ready-to-use answers for your family, friends and Russian women you are writing to.
Cheap Russian Translations - Russian-English/English-Russian translation: fast and comprehensive. You are not sure she understands what you mean? Translate your letter to Russian! Reasonable rates and highest quality.
---

JUST RELEASED! New E-book by Elena Petrova:
"How To Find And Marry A Girl Like Me"
Comment from the reader:
"This may well turn out to be the best purchase I have made... I hope not too many of my competitors find this book!"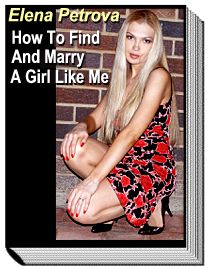 Discover how to find, court and finally marry a beautiful Russian woman!
This is the only book written by a beautiful Russian woman married to a western man - for more than 5 years! - and who is also the owner of a highly successful Internet dating agency.
Find out once and forever what Russian women are really looking for, why they are looking for it and how you can give them exactly what they want!
Get responses on your letters to beautiful Russian women - 9 out of 10, GUARANTEED!
With "How To Find And Marry A Girl Like Me" you'll learn knock-out techniques that will instantly boost your success rate in dating Russian women - online and in real life. You will have more beautiful girls that want to be with you than you can handle!
And not just ordinary girls! They will be beautiful, intelligent, but most of all - honest and sincere! You will be the one to take your pick!
STOP wasting your time and money in search for a Russian wife... Get it done - painlessly, easily, and certainly! Moreover, have lots of fun along the way!
Yes, you too can marry a girl like the one on the picture... Click here!
---
New e-book by Marina Smiley (the author of famous "The shocking truth about Russian brides"):

"Sex and Love With Russian Women"

Discover where so many guys fall short when visit their girlfriends in Russia;
Learn how you can dramatically improve your success with Russian women and win when others fail.
Most intimate questions answered by a Russian woman - Medical Doctor.
---
Comments, suggestions? We want to hear from you!
Click here to Contact us
Seek a reliable Russian Dating Agency? Why not check www.elenasmodels.com - RECOMMENDED
---