---
Dzeni Krylou (Minsk, Belarus)

My name is Michael, I am single, 36 yrs. old. The original contact came from Lavalife, where her handle was Luck4. Her messages were all about moving to Chicago on Oct. 26th and she even had right information on flights from moscow to chicago for that day. She wrote 15 email messages and I called her 2 times before she then asked for $800. At this point I went online to check out as much of her information as possible and found your site. Attached is a copy of her first and last email message to me, and 2 photos of her.
Letters:
I sent message at lavalife to you. First of all I want say sorry for long silence , I was very busy and had not time to check my e-mail box. ow, let me introduce myself. My name is Dzenis , but all my friends call me Dzeni , so you can call me Dzeni too. I am from Belarus ( It is small country in Eroupe ), but at the end of october I will come to Chicago for a very long time and I hope I will stay at USA for all my future life.(I will write more about it at the end of my letter) I live in Minsk , it is a capitol of Belarus. It is very beautiful and old city, and I like it very much. Have you know something about my country and about Minsk? I rent small one-room flat at the center of Minsk, it is small (one room,kitchen and bathroom) but very convinient and I like it very much. And it is not far from my work. I am proffessional photographer , and I work at good photo-studio .Sometimes I work at studio,where I make portrait photos , but very often I work at weddings,presentations, at hollydays of different firms and at many other placeses. I like my work very much, I like make photos, and I like say that life is a photos , sometime happy photo , sometime not.(I hope you understud what I mean). Also I like drawing very much and most of all I like draw people portraits.I like drawing , but past time I am very busy and have not time for it. When I was little girl I wanted be artist , but at 17 I decided to be photographer , because it is more interesting for me. And that is why I finished Minsk Art Academy , it was very interesting time for me and I will never forget it. Also I like sport very much. My favorite kind of sport is tennis. I like watch tennis championships on TV, and I like all about tennis. Do you like tennis?What is your favourite kind of sport? I like be in a good form , that is why 3 times in a week I visit swimingpool , I like swiming very much. I have only one close human in my life - my grandma. I love her very much, I love her more then my life. She is very good, kind and interesting person.I trust her on 100% and I can talk with her about all , she always understand me.She is my mother and my father in one face , because my parents died when I was 2 years old and I did not remember them , all I have is photos. My grandma live in Brest (5 hours from Minsk by train) , I was born there and I lived there till I came to Minsk. I visit my grandma every weekend , because she need my care now and I miss her very much. Soon I will be in USA , and it will be very hard for me without her, but life is life..... I like movie very much , and most of all I like comedy films and romantic films. Last film I watched was "Gangs of New York" and "Hulk", I liked it very much. I like go to cinema , but now I have not time for it , because I am very busy with my trip. What kind of films do you like? What is your favorite film? What is your favorit actor and actriss ? As about me , my favorite actors are Tom Hanks, Anthony Hopkins and Al Pachino, and my favorite actriss is Julia Roberst , Demi Moor. As about music , I like different kinds of music . I like pop music , I like classic music , I like rock , jazz , and better say "I like all what I like". For example I like some songs of Metallika , Ramshtein , Scorpions , and I like some songs of Eminem , Madonna , Jenifer Lopez , and I like some songs of Miles Davis, Frank Sinatra and B.B.King. I hope you understand what I mean. What kind of music do you like ? I decided to sent message to you , because I like your photo when I looked thougth men profiles.Soon I will come to USA and I will live there all my future life and that is why I decide to meet a friend.And that is why I sent message to you. Now , about my trip to Chicago. I will come to Chicago at the end of october (25-30) , now I do not know when , but at october I will know the date of my arrival. So at the end of october I will come to Chicago. I will work as babysitter in russian families at first time,it will be easy for me because I like children very much , but after I will try to find job of photogtapher, I hope I will find it and all will be good. So, I want finish my letter at this time. I hope you will answer me ,I will be glad and I will wait for your answer . If you still interesting , please write about you and your life in your letter and send photo. As about me I will write more about me in my next letter ,if you will answer me, and I will send many of my photos and my telephone number(we can talk by phone if you can call me.),and my adress. I am waiting for your answer. Dzeni. P.S. It is my photo from lavalife , I will send many of my photos at my next letter. Please write me to ra3366@yandex.ru , because I have some problems with my email at hotmail.com.

How are you ? I am not very good now , because of problems with my director. First of all I want say sorry that I did not write you at weekend, I was very busy and internet club was closed at sunday. I hope you understand it. My weekend was terrible , because all weekend I tried to solve my problem. At saturday I tried to talk with director at studio again , but he said the same to me, he will pay me at 22 of october. He is bad human. When I started work at that studio he wanted have relations with me , but I said NO and he was very angry. That is why I wrote in my letter that I do not like him. He know that I must go to US soon , and I think that he did not pay me ,because at past I did not want have relation with him. He is very bad human and I hate him. Today at morning I was at agency. It was very hard meeting for me. I asked them about my trip and what if I will pay at next week. That said that they cant wait till next week , they give me time to pay till friday. I tried to explain my situation ,but they said that it is my problems and they cant help me.It is a pity. I tried to find money to pay to agency all weekend. I asked to borrow money to me all people whom I know , but they only say that they have not money or that they cant borrow it to me now . It is a pity because I helped to many of them many times. And my friend from Moscow is in St.Peterburg now and I cant talk with her.Every time I thougth abou my trip and it was very terrible when I think that I will not go . I waited for this trip for a 9 months,and it is great chance of my life, and now I meet you. I did not sleep this night , because I thougth about agency and what to say to them. I thougth about how to write about it to you, I thougth about you and me. I did not say about it to my grandma, because I dodnot want she worry about me. I thougth about how to write this letter and what to write all night , and I decided to ask for help from you. It was not easy for me but I have not other way . I want ask you to help me and borrow me 800 us dollars to pay to agency for servise and ticket, I will give it back to you, I swear. It was very hard for me to write about it. When I was work at Germany, I use "western-union" to send money to my grandma . And we can use it too, it is very easy and fast. As about me I will send it back to you at 22 of october or I can give it back to you when we will meet, how you will say. My dear sorry me that I ask you for it , but I have not other way, and I have not other people who can help me,but now I need help ,because if I do not go now , it take very long time to go there again. I will give all money back , I swear!To send money by western-union you need my full name and country where I live.So my full name is Dzenis Krylou and country Belarus. My adress is : ul.Necrasowa, d35/2 , kw.92, g.Minsk. Phone number is #375-29-7782812. And I need your full name and adress to get money from western-union , so please send it to me without errors, if you will help me. And western-uniom will give you 10 numbers , and you must send it to me , because I need it to get money from them. Sorry me that I ask you for help , but I hope you will understand me.I asked you because I have time to pay till friday ,but if I will not pay it will take long time to get to US again ,but I cant wait , because I lost my work and I cant go back to studio, and I do not know what to do. But I will give all money back to you as I wrote in my letter. I hope you undersatand me... Now I must go home to sleep 2-3 hours because I tired very much and did not sleep all night.I will check my mail soon , so please answer me as soon as possible. I am thinking about you...and waiting for our meet with impatience... With tender kisses to you , your Dzeni.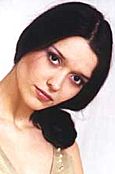 ---
To send your own story, please click here
Click here to support Black List
ANTI-SCAM GUIDE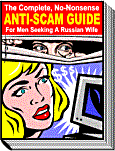 Met a Russian woman over the Internet?
Thinking about finding a Russian wife?
Russian woman wrote to you?
Don't move any further until you read The Complete, No-Nonsense ANTI-SCAM GUIDE For Men Seeking A Russian Wife. Too many men were caught up in a scam and lost great deal of money - want to be one of them? Ensure your safety and peace of mind - read the ANTI-SCAM GUIDE.
READ ALSO:

ANTI-SCAM GUIDE - Are you corresponding with a scammer? Read this and find out.

Scam-free search - GUARANTEED!

The Universal Crib On Finding A Russian Wife - the most compressed, step-by-step guidance on finding, courting and marrying a Russian woman.
Dating Scams - The real picture of international introduction industry
Reliable Dating Services - where to look for a Russian wife
The shocking truth about Russian Brides - E-book by Marina Smiley.
Why Russian Women? - If you decided to find yourself a Russian wife, you would be inundated with questions of the type "Why Russian Women?" from everybody you cared to share your idea with. Surprisingly, every Russian woman you are writing to will ask the same question: "Why do you want to find a wife in Russia?" After a while, you might start questioning your own sanity in doing the thing which everybody, including your dates in this Internet rendezvous, consider strange enough to request explanations. Here you will find some ready-to-use answers for your family, friends and Russian women you are writing to.
Cheap Russian Translations - Russian-English/English-Russian translation: fast and comprehensive. You are not sure she understands what you mean? Translate your letter to Russian!
---
JUST RELEASED! New E-book by Elena Petrova:
"How To Find And Marry A Girl Like Me"
Comment from the reader:
"This may well turn out to be the best purchase I have made... I hope not too many of my competitors find this book!"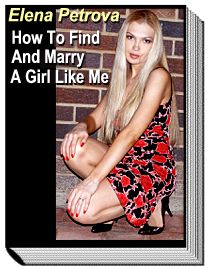 Discover how to find, court and finally marry a beautiful Russian woman!
This is the only book written by a beautiful Russian woman married to a western man - for more than 5 years! - and who is also the owner of a highly successful Internet dating agency.
Find out once and forever what Russian women are really looking for, why they are looking for it and how you can give them exactly what they want!
Get responses on your letters to beautiful Russian women - 9 out of 10, GUARANTEED!
With "How To Find And Marry A Girl Like Me" you'll learn knock-out techniques that will instantly boost your success rate in dating Russian women - online and in real life. You will have more beautiful girls that want to be with you than you can handle!
And not just ordinary girls! They will be beautiful, intelligent, but most of all - honest and sincere! You will be the one to take your pick!
STOP wasting your time and money in search for a Russian wife... Get it done - painlessly, easily, and certainly! Moreover, have lots of fun along the way!
Yes, you too can marry a girl like the one on the picture... Click here!
---
New e-book by Marina Smiley (the author of famous "The shocking truth about Russian brides"):

"Sex and Love With Russian Women"

Discover where so many guys fall short when visit their girlfriends in Russia;
Learn how you can dramatically improve your success with Russian women and win when others fail.
Most intimate questions answered by a Russian woman - Medical Doctor.
---
Comments, suggestions? We want to hear from you!
Click here to Contact us
Seek a reliable Russian Dating Agency? Why not check www.elenasmodels.com - RECOMMENDED
---