New Scam Alert!!
There is a new scam from Russia similar to the infamous Nigerian money scam: someone contacts you pretending to be connected to a jailed Russian boos of a large oil company, and asking for help in retrieving his hidden millions. Like with any emails from people you never met that ask you for money (or promise lots of money for nothing), just BLOCK THEM and never reply to them.
Below are the examples of the letters you may receive.
---
Name: Larisa Sosnitskaya.
Email: larisasosnitsk@netscape.net

Dear friend,
I am Mrs. Larisa Sosnitskaya a personal treasurer to Mikhail Khodorkovsky the Richest man in Russia and owner of the following companies, Chairman CEO: YUKOS OIL (Russian Largest Oil Company) Chairman CEO: Menatep SBP Bank (A well reputable financial institution with itís Branches all over the world).
SOURCE OF FUNDS:
I have a profiling amount in an excess of US$28.5M, which I seek your Partnership in accommodating for me. You will be rewarded with 10% of The total sum for your partnership. Can you be my partner on this???
INTRODUCTION OF MY SELF:
As a personal consultant to him, authority Was handed over to me in transfer of money of an American oil merchant For his last oil deal with my boss Mikhail Khodorkovsky. Already the funds have left the shore of Russia to an European private Bank where the final crediting is expected to be carried out. While I was on the process, My Boss got arrested for his Involvement in politics by financing the leading And opposing political parties (the Union of Right Forces,led by Boris Nemtsov, and Yabloko, a liberal/social democratic party Led by Gregor Yavlinsky) which poses treat to President Vladimir Putin Second Tenure as Russian president.
You can catch more of the story on This website:
http://www.yukos.com
http://news.ft.com/cms/4bb9612a-d254-11d8-b661-00000e2511c8.html
http://www.hoovers.com/yukos/--ID__53700--/free-co-factsheet.xhtml
http://newsfromrussia.com/main/2003/11/13/51215.html
YOUR ROLE:
All I need from you is to stand as the beneficiary of the Above quoted Sum and I will re-profile the funds with your name, which will enable The European bank transfer the sum to you. I have decided to use this Sum to relocate to American continent and never to be connected to any Of Mikhail Khodorkovsky conglomerates.As Soon as I confirm your readiness to conclude the transaction with me, I Will provide you with the details. Please reach me through this email address larisasosnitsk@netscape.net for further corresponding.
Thank you very much.
Regards
Mrs Larisa Sosnitskaya.
---
DEAR FRIEND,
MY NAME IS MRS.LARISA NITSKAYA, PERSONAL SECRETARY TO MR.BORIS MIKHAIL KODORKOVSKY, THE ARRESTED CHAIRMAN/CEO OF YUKOS OIL AND BANK MENATEP SPB IN RUSSIA. I HAVE THE DOCUMENTS OF A LARGE AMOUNT OF FUNDS WHICH HE HANDED OVER TO ME BEFORE HE WAS DETAINED AND NOW BEEN TRIED IN RUSSIA FOR FINANCING POLITICAL PARTIES (THE UNION OF RIGHT FORCES, LED BY BORIS NEMTSOV AND YABLOKO, A LIBERAL/SOCIAL DEMOCRATIC PARTY LED BY GREGOR YAVLINSKY) OPPOSED TO THE GOVERNMENT OF MR.VLADMIR PUTIN, THE PRESIDENT THEREBY LEADING TO THE FREEZING OF HIS FINANCES AND ASSETS.
AFTER SEARCHING THROUGH THE BOOKS OF YOUR COUNTRY'S CHAMBERS OF COMMERCE AND INDUSTRIES HERE IN RUSSIA I AM CONTACTING YOU TO ASSIST ME TO RE-PROFILE THE FUNDS AND EQUALLY INVEST SAME ON HIS BEHALF. THE TOTAL AMOUNT OF FUNDS TO BE RE-PROFILLED IS EIGHTY SIX MILLION DOLLARS (USD$86,000,000.00) AND YOU WILL BE PAID 30% FOR YOUR MANAGEMENT SERVICES.
AS SOON AS I RECEIVE YOUR ACCEPTANCE, I WILL SEND YOU THE NECESSARY DETAILS AND MY IDENTIFICATION.
YOURS SINCERELY,
MRS.LARISA NITSKAYA.
Email:larnit01@mail.ru

NB: YOU CAN READ MORE OF HIS ORDEAL FROM:
http://newsfromrussia.com/main/2005/03/29/58914.html
http://www.interfax.ru/e/B/politics/28.html?id_issue=11261041
http://www.supportmbk.com
http://www.nationmaster.com/encyclopedia/Mikhail-Khodorkovsky


READ ALSO:
NEW!
Angels in Russia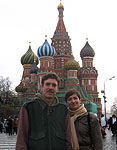 There are probably a few hundreds of Russian dating scammers on today's Internet - but there are also thousands of real Russian women with usual women's dreams of love, marriage and family: A true-life Story of Dan and Val, who met each other over the Internet and fell in love: "I subscribed to an internet dating service a couple years ago, expecting to only communicate with American women. I did that, met a few, had a girlfriend from Germany for about a year, but I also received a couple interests from Russian women (which turned out to be scams). They intrigued me enough to make me wonder if I should look outside our country, Russia in particular..."
ANTI-SCAM GUIDE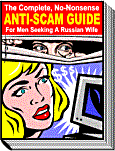 Met a Russian woman over the Internet?
Thinking about finding a Russian wife?
Russian woman wrote to you?
Don't move any further until you read The Complete, No-Nonsense ANTI-SCAM GUIDE For Men Seeking A Russian Wife. Too many men were caught up in a scam and lost great deal of money - want to be one of them? Ensure your safety and peace of mind - read the ANTI-SCAM GUIDE.
READ ALSO:
---
Comments, suggestions? We want to hear from you!
Click here to Contact us
Seek a reliable Russian Dating Agency? Why not check www.elenasmodels.com - RECOMMENDED
---