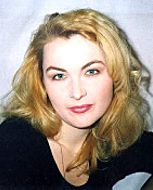 Tatiana (Kazan) 25/ 5'7"/132 lbs
From the weekly ladies catalogue, issue 4 (ID: 4/51)
| | |
| --- | --- |
| Hair: | Blonde |
| Eyes: | Green |
| Status: | Divorced |
| Children: | no |
| Education: | University |
| Occupation: | Economist in a bank |
| Religion: | Christian |
| Smoker: | No |
| Interests: | Sport (swimming, skiing, aerobics), music, to read books, magazines, newspapers, sewing and knitting, caring by my cat, travel, communicate with people. |
| Personality: | Feminine, beautiful, slim, elegant, intelligent, well educated, honest, loyal, confident, romantic, sensitive, sincere, caring, reliable, cheerful |
| Languages: | Good English |
| Partner: | 25-39 Well-educated, intelligent, honest, without bad habits |
I live in Russia in Kazan. Kazan is an industrial and educational center of Tatarstan. Kazan is situated on the famous Russian river - Volga. Life is rush and diverse here. On weekends I visit my mother. She lives not far from Kazan in the small town Zelenodolsk (Greentown). It is calm and cubby place. There are no big buildings and parks. My father died two years ago. We still are in deep sorrow about him. My elder sister was married to a foreigner. They have a charming girl; I love her very much. They live in Yalta, which is located on the Black Sea. I visit them every summer. Such way, I combine two pleasant things: meeting with with my sister and her daughter and a sea vacation.
I adore swimming, diving, and observing submarine world. Sun and Sea give me so much energy. I like to travel. Wild nature, mountains, forests, and rivers attract me. I prefer skiing in winter. I love to visit different cities, and research architecture and characteristics of people living there. I spent my childhood in Zelenodolsk. I graduated from a college and music school with awards. I graduated from the Kazan Financial-Economics University with the best results. Currently I work in a bank as an economist. I know computer very well. Now I study English to communicate with you.
My parents gave me a good education, and I am very grateful for this. I can play violin, piano, and guitar. Music education allows me differ and feel good music, no matter, classic or modern music. I am fond of reading books, magazines and newspapers.
I like sewing and knitting. My friends said dresses made by me are more beautiful and show my best. Creation of a new suit or dress from an ordinary piece of fabric gives me a lot of pleasure. I like homemaking. I love to cook something tasty, especially cakes. I love to socialize with people. My friends say that it's a pleasure to talk to me. I like new acquaintances. It enhances my life experience. However, I value old friendship, too.
I appreciate people who are honest, kind, faithful, considerate and reliable. I try to act in this way myself. All good things come back to me. I hate treachery, weak-willed, imbecility, and insincerity.
I wish to meet a man, whom I will give all my generosity and love I have, and who will give me the same. My dream is to find a soul mate. I could run for him to edge of world. I want raise children with him and have happy, friendly family, comprehension and support each other. Because sadness divided by two becomes twice less, but happiness multiplies by two - twice stronger.
If you feel the same, please answer me. I will be waiting for your letter. Write about yourself, your preferences and hobbies. Please send me your photo.