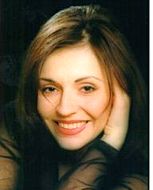 Do YOU want to be the first to contact beautiful marriage-minded Russian girls?
Click here for more information about the weekly ladies catalogue
Inna (Nerungri, Russia) 24 y. o.
From the weekly ladies catalogue, issue 11 (ID: 11/148)
Hair:
Brown
Eyes:
Hazel
Status:
Single
Children:
no
Education:
University (foreign languages)
Occupation:
secretary
Religion:
Christian
Smoker:
No
Interests:
I enjoy sports- fitness, skiing, skating, bicycle, swimming.
I like to listen to different music. I like to cook different tasty things.
Personality:
I am honest, kind, romantic, intelligent person. I have a good sense of humor. I am cheerful, optimistic and I love have fun! I have many friends
and I like to meet them.
Languages:
Good English and French
Partner:
intelligent, caring, kind
I graduated from State University (Faculty of Foreign
languages-French and English)and I have a diploma of a teacher. Now I work as a secretary.
Most of all I like to travel. I have visited Bulgaria, Turkey, Greece,
Switzerland, Egypt, France. I am very curious about different
countries, their traditions, cultures, customs. I like to meet interesting, cheerful people. I have a dream to see all the world!

I am looking for a man who is intelligent, clever, caring, kind,
loving, faithful, with a wish to have children. I don't like men who have bad habits such as drunkenness, drugs, cruelty, greed, laziness. I dream to meet a man to whom I will give all my love, tenderness. I want to share with him all problems and pleasures. When two persons look the same way it is very good and it will help them in future life.
I am very serious about marriage and I would like to create a happy family based on love, truth and mutual understanding
and to have many children. I think that the family is the most important in this life!
I tried to tell you about myself. If you have any questions do not hesitate to contact me!
Best regards,
Inna