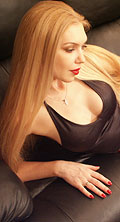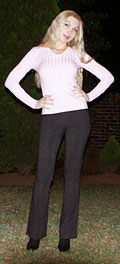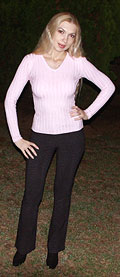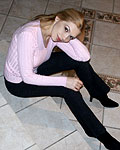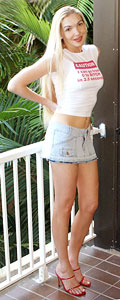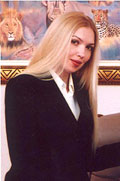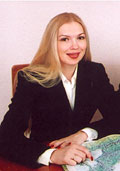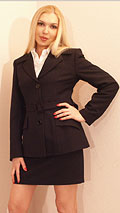 Still not convinced?
Let me tell you this...
Get "How To Find And Marry A Girl Like Me" today, and you can try it for the full 60 days, and if by the end of this term - for any reason whatsoever - you feel this book did not worth every penny and even more - just ask your money back and I will give your money back with a smile!
NO QUESTIONS ASKED!
Get the book NOW, and try it!
You will be surprised how simple are the techniques that will really get you The Woman Of Your Dreams!
All you will need to do - just go and get her!
I am so confident that this book will work for you that I give you the full 60 days to try it!
This is what the readers of "How To Find And Marry A Girl Like me" said:
The book is great. Anyone who is seeking romance in Russia should read it.
Chris (USA)
Your ebook "How to find and marry a girl like me" is invaluable for anyone who is considering a woman of former USSR background. I have used the material and had recent confirmation from someone recently (<4 years) married to a Russian lady locally as to how factual and on target your information is. He was surprised at how much I knew about the situation in Russia and proper dealings with a lady from the former USSR and I can say that 95% of that came from your book. Thank you a hundred times over.
Eric
I just finished reading "How to Find and Marry a Girl Like Me". This book is a captivating read. It is filled with eye opening facts and dispels many, many myths about Russia, Russian people in general, and Russian women in particular. Any American man that tries to marry a Russian woman without the knowledge that you so eloquently outline in your book is most likely doomed for failure. Considering the substantial expense of international courting in general, it would be foolish to not invest in this book. You do a great service to the woman of your country and also to the men who pursue them.

Many thanks,
CF
Thank you for writing the "How To Find And Marry A Girl Like Me" book. I was very skeptical that there would be info inside that I had not already come across on the internet during my searches about meeting Russian women. But to my surprise, there was a TON of great info that I would have never found anywhere else.

Sincerely,
Dan
Long Beach, CA
Hi Elena,

Your book has helped me understand the Russian woman I write and talk to. It has been an amazing relationship of 3 months and we have decided to meet in 2 months in Barcelona. She lives in Izhevsk. Your book prepared me for the questions she would ask, and the correct way to reply. I've never met such an open, honest, and sincere woman in my life! She is a diamond who has been left undiscovered… until now. And I won't let her go! Now I'm starting to believe in soul-mates because I believe she is my one-and-only.

I have read your book from cover to cover and have explored your website thoroughly. The Russian culture has been most fascinating to learn and now I'm learning to speak Russian. I never would have discovered the inner beauty of Russian ladies if I hadn't found your website. I discovered your website when I got an email from an "Anastasia Osipova", a scam artist. I almost sent money, but found Internet sites with the same emails I was getting. This was humiliating, but at the same time I found Russia intriguing. I read your, "9 Simple Rules for Dating Russian Woman" and then "How to Find and Marry a Girl Like Me" because I was planning to use your site to meet a REAL Russian lady. I was most impressed by your book because my girlfriend showed all the fears you mentioned. She also asked all the questions you said she would ask. Thank you so much for preparing me for this. We have a solid relationship and I'm looking forward to meeting her. Is she my soul-mate? I'm starting to think so. Our phone conversations are getting easier. (We have talked 4 times)

In an email, she asked me if there was anything from Russia I would like. After much thought I told her I wanted to hear her voice. She surprised me with a phone call from Russia! I was in shock thinking how thoughtful and sensitive she was to do that. And she did that for me!

Although she treats me like a king, I feel I am getting the better bargain and she is my better half. She is a most considerate, intelligent, insightful woman with a wonderful personality and good sense of humor. And on top of all this she is 29 and beautiful. I am 42. I am taking your advice and considering proposing to her on our last day (or next to last day) together in Spain if this relationship feels right. I'm not going to waste any more time! There is every sign she is the one, and I feel like the luckiest man on Earth.

Paul (Idaho, USA)
Elena,

After reading you book, I took your advice about writing a very long, and detailed introduction letter in English and translated in Russian. I sent this letter to only several women I was interested in and a few weeks later in late January, I began corresponding with Natasha from Rostov-nu-Danu on a daily basis. Our correspondence by email and phone got better each day. After two weeks of correspondence, I knew I wanted to visit her.

I just returned from my 3-week vacation to visit her. We were with each other 24-7 for 3 weeks. Natasha took the train from Rostov to Kiev and met me at the airport in Kiev. We took the train to Rostov and we spent 8 days in Rostov and Azov where her wonderful parents live. I met her friends and family and liked her friends and family very much. We then took the train back to Kiev and spent 11 days in Kiev. We visited some of my friends in Kiev and had a fantastic time. Natasha and I are very much in love with each other. She is the most wonderful woman I have ever met; kind, caring, cheerful, intelligent, loving, energetic, friendly, selfless, calm, attractive with a beautiful smile. She will be coming to California via a fiancé visa and we will 99.9% likely get married. She is my dream come true. This was my 6th trip to Russia/Ukraine. I have spent thousands of dollars and hours of time trying to find my future wife. My hard work and perseverance finally paid off. Natasha is a dream come true.

Natasha was recently divorced from a loveless 5-year marriage and told me that she did not like any of the men's letters except mine. She absolutely loved my first letter to her.

Thanks so much for you invaluable information regarding the introduction letters in your book!

Tom
Dear Elena,
What a fascinating book! I was riveted to reading it, I started reading it when I got home and it is now 4.30 in the morning and I have to go to work in a few hours without any sleep. I could not put the book down; thank you, it is brilliant.
I have been writing to a beautiful lady in the Ukraine for 3 weeks and we are about to meet for the first time in 6 weeks time, we are both very excited and looking forward to the meeting but Anna is a little worried as you state in your book that she might not come up to my expectations, now thanks to your book I can answer her in a more reassuring way.
This is the most valuable book I have read in years.
Thank you very much for all your useful tips and may God bless you and your family.
Yours Respectfully
Terence
Dear Elena,
I have read your ebook, "How to marry a girl like....."
Thanks to you I listed "mandatory" and "wishes", as I call it. To save time and work, I think there is no other way. I searched the Net for 5 years and I think now it is the time to do it the right way.
I have been doing exactly the opposite way before and wondered what was wrong. Now I know that I did the wrong way all the time, thanks to you and your ebooks.
I propably spent 10 000$ US, on something that wasn't going to lead anywhere - and it didn't. For the 2 books, "anti-scam guide" and "how to marry a girl......" I paid 60$US and I think now it is the best investment I ever made.
Thanks again,
Pelle (Sweden)
Dear Elena,
I am sure you receive many glowing reports on your book, and this one will be of that category. There are many mistakes I have made up to this point, mistakes that were unintended, yet very foolish and with disastrous results. Your book would have made a world of difference to me.
After about four months of writing to Russian women, I was becoming a bit frustrated by:
Not getting much in the way of replies back to my first letter,
Believing that things were going well when she would write and say she has fallen for someone else (and then her profile appears on another site, suspicious, but obvious!:-),
My inability to understand some of the golddigger/scam issues.
It got to the point that I was about ready to totally forget Russian women, not because they were unworthy, but because I could not understand what was happening. If I had read your book first I would NOT have made those mistakes, and I realize now how some of the women must have thought of me. It is sad to think they ended up either thinking wrongly of my intent, or that their feelings may have been hurt, unintentionally.
From the bottom of my heart I say, "Thank you," Elena, for your book has made me realize that this can work out. My initial thoughts in beginning this adventure were true and valid, that now, with your book, I will be successful in my quest, and I will not cause any unintended discomfort to the wonderful women I will come in contact with.
I've memorized the Seven Truths, and they're becoming a part of my life. It was never for a lack of trying, but application, and your book has provided me with the practical techniques and basic understanding of the Russian psyche that I need to make it work.
Thank you, Elena
Most Sincerely,
Rick
Well I must say that your E-book was very incisive and helpful in better understanding Russian women.
I live in the USA and met a woman from Russia where I live, but unfortunately I had not read your book when I was trying to win her heart. Every day I regret the mistakes I made and just wish I could start over especially after reading your book.
Thanks,
Matt A. (USA)
Elena,

I just completed your e-book "How to Find and Marry a Girl Like Me". The information contained is priceless. For the first time, I fully understand my failures with Russian/Ukrainian ladies. If only I knew about this book earlier. I can't "Thank You" enough for this. Time, money and most important, heartache was prevented from happening or wasted.

A Satisfied Customer,
Mio
Hello Elena,
I must say that without doubt, the book is excellent, well written, it had me completely hooked as once I had started reading, I didn't stop until the end, and thank you so much for writing it, because having made a good start with my lady a few months ago (without even knowing it I was doing all the right things), I now realize that I have recently been coming across quite badly and potentially ruining what I think could be the perfect relationship (we really are compatible and flight and hotel are already booked for 2 weeks at the beginning of June) because of all these cultural differences you have highlighted. Now I will know better.
Thanks and regards,
Robert (UK)
"Dear Elena,

I have just read your ebook, "How to find and marry . . . ", and enjoyed it. I read your book about scammers before my trip to Ukraine, and now I wish I had also read this one!
I spent 10 days in Ukraine, and learned some of the things you wrote about for myself, the hard way!
Having read your book on scammers, I was wary of women wanting gifts, and I still don't entirely understand this part of the culture. Fortunately, the woman I met in Ukraine is, I think, a decent and understanding woman, and tried to explain things to me. My camera died while I was there, and she thought it would be a good idea to buy a new digital camera, which I could use while there, and then leave with her to have when I am gone. Her request raised my suspicions a little, and I believe I conveyed this with body language. I should have simply said, "No, I don't want to buy it," as you suggest in your book. Instead, we had a significant conflict over this. Not because I wouldn't buy her the camera, but because she perceived me as being "greedy" (which I only later came to understand means "stingy" to her!).
We have had some other misunderstandings which could have been avoided by a prior reading of your book. Fortunately, she is very understanding, and I have been able to explain to her that we have cultural differences that I am trying to learn. Also, her mummy loves me very much and understands some of these things, and has helped me (us) out.
Your discussion of sexual expectations is very much appreciated. Of course, every man wants to have sex, but that is not what I mean. I want sex to be in accordance with what she expects, and comfortable for her. So this was something I wondered about quite a bit, but it is not something that is easy to get good information on! Your straightforward explanation was most useful.
Kevin Andrews (USA)
This was a great book, I have read it at least 3 times. And every time I reread it I learned something different.

This Book is a must for any Man that is planning on looking for a Russian wife.

John T.
Hi again Elena,

Just a progress report, after using your techniques for less than one
week I am having trouble beating away so many lovely Russian women that it is difficult to find the time to do anything else. So far I have had only one clear rejection, and she is a 30 y.o. internationally-renowned supermodel (I know her face from magazine covers, no kidding) who specifically did NOT want someone from either Canada or Australia. And even then, she couldn't find anything exactly wrong with me in her reply.

There is one girl I mentioned in previous email to you. After less than two weeks she wanted to jump on an airplane immediately to be with me. I cannot thank you enough, my lonely days are gone for sure.

Rob
Dear Elena,

I found your book to be entertaining and well worth every penny and more. Your advice and insight contained in "How to find a girl like me" are priceless.
The advice regarding content of introduction letters, formatting etc. and how to respond after receiving replies is something I have spent considerable time and energy and more than a few dollars trying to find and finally I feel like my search has been rewarded. This may well turn out to be the best purchase I have made.
Your insights on agencies especially that offer free profiles and the pitfalls associated with so called FREE PROFILES is dead on and yes I figured it out the hard way I wish I had found your book a few weeks ago but it is a not a great tragedy just an unpleasant learning experience which hopefully having the benefit of your book will help me avoid in the future.
On one hand I hope not too many of my competitors find this book :) on the other I think it qualifies as a must read for any Man who is serious about finding his Russian Bride.
Sincerely 
Les Alton
We have PAGES of testimonials like these!
Click here to read them

This book is completely different from any other e-book on dating Russian women that is available on the market. It's truly unique. Simply put, the advice given in this book is fully usable and it works.
As you read it, the worrying confusion inside you will change into understanding and clarity: things that seemed complicated become simple; things that sounded contradictory become clear, and you have the feeling you are doing the right thing. Everything makes sense. You have an easy path to follow right in front of you and you have certainty in your mind you are doing the right thing.
Once you know what Russian women want, you will immediately dump all those "clever" techniques that you thought were working (well they were... working against you!), and start doing the things that really work. You just won't be able to do it differently! And I promise you that you simply cannot "unlearn" it - it will become a part of you.
You will learn about the fears and emotional insecurities that every Russian woman seeking a husband abroad has, and how to deal with them in the way that brings you miles ahead of your competition.
You will be able to have your letters to beautiful women answered - 9 out of 10. Really!
Yes, there is no hype... you WILL be able to find and marry a girl like me.
ANY man can! (You may not believe it at the moment... but just wait until you finish reading this book - and you will see it is not only possible but attainable for you.)
You are not young?
Not rich, either?
Don't have a body like Schwarzenegger?
Never been called "handsome" by anyone, except your mum back in babyhood?
-- Who cares? --
You can still meet a wonderful Russian woman and marry her!
So, just go ahead and do it.
Get the book NOW.
Try it for the full 60 days.
If you are - for any reason whatsoever - not happy with your purchase, simply ask your money back - and I will pay it with a smile!
This is my personal GUARANTEE to you.
The information in this book is unique, and you will only find it on THIS SITE.
Even the owners of other Russian and dating related websites say that the book was a discovery for them:
Elena,
Perhaps you will not remember me, but I have ordered from you a profile ad to be placed in Russian media quite some time ago. (Very happy with the response - no problem.)
I just took a break from reading your E-book which I purchased yesterday. It is very well done and is very informative. You have very good insight to human nature and your explanation of what should be done or avoided in finding a Russian woman makes great sense. I have learned a lot.
Andy Panish (USA)
www.cossackconnection.com
Dear Elena,
I just purchased you new ebook which I am promoting on my website. I have also been a customer of many of the foreign dating agencies, including yours, and I wanted to tell you I think your ebook is a great resource for anyone considering a search for someone abroad.
I had to smile, knowing what you mean, when in the ebook you mentioned a website you found which reviews dating sites, where the woman reviewer joked about all of the doctors, lawyers, and engineers found on the Russian bride sites.
Before I was more informed, I read those comments at SageHearts.net and felt that the ladies on these sites were mostly scammers, but I have come to realize that this is the exception, not the rule.
Obviously, it is that "reviewer" who is not very well informed. I am considering a new website for the review of only Russian and Asian dating sites.
Thanks again for a really informative and quality ebook!

Sincerely,
Steve
www.ACutAbove-OnlineDating.com
Elena,

What a wonderful book!!! It was so informative. I learned so many things that I had no idea were so different about our cultures. I am positive that what I have learned will help me find my soul mate and make her transition to the US easier.

Thank You so much. I will be recommending this to my single friends.

David Mosley, LP
"Of all the roads in life you take,
make sure some are dirt !!!"
If the owners of Russian and dating-related websites say this information was of great help for them, you know what a world of difference this information can make for YOU!
By now, if there were any doubts before, they all are gone by now and you know this information could make a great difference in your search.
Let me ask you 3 simple questions:
Is it clear for you how this information can make you more successful in your search? YES/NO

Do you want to be more successful in your search? YES/NO

When do you think is the best time to start using this information in your search?
The information that can make you more successful in your search is here, right now, in front of you.
You can access it in less than 5 minutes.

Today's special offer only
$49.95*

ORDER ONLINE VIA SECURE SERVERS PROVIDED BY CLICKBANK:
PRIVATE AND CONFIDENTIAL - Your credit card will be discretely billed by ClickBank. This is what will appear on your credit card statement.

FULLY SECURE - ClickBank uses secure servers and 128 bit encryption for all transactions.

NO SHIPPING CHARGES - This is E-book. No shipping required.

INSTANT ACCESS - You will have access to this invaluable information in just minutes!

Click here to order online with a credit card
or
Click here to order online with USA check
or
Click here to order online via PayPal
or
Click here to send your order by mail