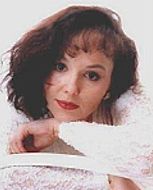 Do YOU want to be the first to contact attractive women from East Europe?
Click here for more information about the weekly ladies catalogue
Postal / email addresses and phone numbers are included.
Victoria (Chelyabinsk, Russia) 27/ 5'2" /132 lbs
From the weekly ladies catalogue, issue 7 (ID: 7/97)
Hair:
Brown
Eyes:
Brown
Status:
Divorced
Children:
Male 8
Education:
University
Occupation:
librarian, teacher
Religion:
Christian
Smoker:
No
Interests:
I like many things that life has to offer. I am keen on Latin music and good at Latin dancing, like dancing in general. I adore action movies, hate soap operas. Going out anywhere is always fun. Cooking is not only a duty for me - it helps to relax and release fantasy and creativity.
Personality:
Emotional, sometimes as changeable as English weather. But very creative and sensual. I think I am very adventurous. People say I am interesting to have a chat with.
Languages:
English, fluent; Swedish - basics (currently learning)
Partner:
30-43, serious, well educated

I am a seriously intended, lovely and mature lady from Russia - looking for my soulmate.

I am a secretary and a former teacher and taught English at school for children from 7 to 15 y.o.

I think that solid relationship are based on trust, both respect and self-respect. Common interests (at least one) are a big deal. And - I think that there should be mystery in everyone - this keeps attraction.

I am looking for relationship with you - my strong, reliable hero, ready to protect and help me to release my femininity. Are you serious and well-educated? Education is a very important in a man, indeed. Do you believe that a lady should remain weak? I am far from searching for a "porcelain guy" and I always appreciate when a male looks good and takes a good care of his style - this is more important than to brag with natural features. I take off my hat to those who are self-made and are not afraid to be straightforward. Down to earth, sexual, smart and patient - this is my expectable mate. Please write with photos.