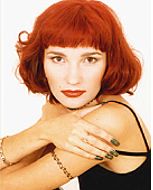 Do YOU want to be the first to contact beautifull women from Eastern Europe?
Click here for more information about the weekly ladies catalogue
Svetlana (Moscow, Russia) 25/ 5'9"/123 lbs
From the weekly photo catalog, issue 13 (ID: 13/211)
Hair:
Red
Eyes:
Brown
Status:
Widow
Children:
daughter, 1 year and 2 months
Education:
I have completed a Bachelor's Degree and the emphasis of my studies was in
Bank accounting
Occupation:
student
Religion:
Christian
Smoker:
No
Interests:
The activities I enjoy are: backgammon, camping, intimate conversations, cooking, listening to music, partying, sewing, shopping, traveling, watching videos, writing, weekend trips, flying, dancing, adventure travel. I like these kinds of music: Classical, Classical Rock n' Roll, Modern
Rock n' Roll. I usually read: non-fiction, poetry, magazines, newspapers. I go out to: art galleries, the beach, restaurants, the movies, concerts, clubs, shopping malls, parks, bars.
Personality:
adventurous, artistic, easygoing, eccentric, flexible, highly energized, humorous, liberal, musical, practical, romantic, sensitive, simple, talkative, serious, unconventional.
Languages:
English, German, French
Partner:
27-40 I want to create a family with a trustworthy,
well-to-do, virtuous, honest man, who dreams as I do about a friendly family and children born in love. I wish you all the happiness.
Hi,

My name is Svetlana.
I am studying at the Economical-Financial College, the department of Accountancy. It's my second education. I have a variety of interests. I like to keep house, to make it cozy, to cook tasty food. I also enjoy sport, I go to fitness club, massage, I swim in pool, I often visit a beauty saloon. I like new acquaintances and socializing. I know French and German. I like to sew and to knit, listen to classical music, read books about love. I'm very romantic and love candle-lit suppers. I want to create a family with a trustworthy, virtuous, honest, financially secure man, who dreams as I do about the friendly family and children, which would be born in love. I have a daughter, she is only 1 year old.