Russian Brides Cyber Guide
http://www.womenrussia.com
- NEWS RELEASE -
Contact: Elena Petrova
Tel.: +617.55787977
Fax: +617.55787944

FOR IMMEDIATE RELEASE

Love Stricken Men Send Millions To Internet Dating Scammers Posing As Russian Women Seeking Marriage
Mail Order Brides Expert Warns About Popular Scam Pattern

Summary: Elena Petrova from Russian Brides Cyber Guide (http://www.womenrussia.com) says online dating scams are on the rise. Some scammers' gangs from Russia managed to extort as much as $1.5 million from thousands victims, posing as Russian women seeking men for marriage.


Gold Coast, Australia, February 12, 2004 -- Gold Coast, Australia, February 12, 2004 -- Elena Petrova from Russian Brides Cyber Guide (http://www.womenrussia.com) says online dating scams are on the rise. Some scammers' gangs from Russia managed to extort as much as $1.5 million from thousands victims, posing as Russian women seeking men for marriage.

Russian Brides Cyber Guide is the home of the famous Russian Women Black List (http://www.womenrussia.com/blacklist.htm), online since 1999. The Black List features names and photos used in the scams and provides links to anti-scam resources.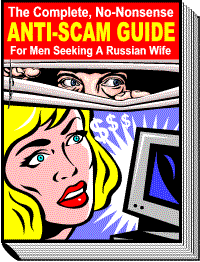 Due to her involvement with Black List, Elena has seen how Internet dating scams developed and evolved for the past years. Based on this experience, she authored the highly popular "Anti-Scam Guide" that is distributed in a form of e-book and is constantly updated to combat the latest scam techniques.
From time to time, Elena is contacted by police, FBI and other authorities seeking to question scam victims. For example, last week the USA Embassy in Kiev, Ukraine, asked Russian Brides Cyber Guide to assist them in purchasing a license for Anti-Scam Guide to educate their personnel about fraud in Internet dating.

There were a few arrests of Internet dating scammers in Russia that caused a great steer in Russian media -- and new waves of scamming as more criminals learned the scam technique, due to exposure. Some sources consider those arrests as publicity stunts, and criticize Russian authorities for not taking more vigilant approach in regard to computer crimes.

The modus operandi of Internet dating scammers is elegantly simple: they post pictures of pretty girls in large Internet personals and then contact thousands male members a day, offering love to the end of eternity. After a short correspondence, the "woman" asks the man for assistance in buying visa and tickets to visit him in his country; the money to be sent via a wire transfer. The scammers use prewritten letters and photos of women that have no idea their photos are used to perpetuate fraud. To collect money transfers, they use low-income females, pensioners and single mothers, paying them a small fee (about $50) for each transfer they receive. The same set of prewritten letters may be used with different photos and under different names. Some photos are used under dozens aliases.

It's a pure fraud scheme with no real things involved: photos are of one woman and name of another; letters are prewritten by men who know what makes other men click, and sent by a computer program. The program creates a database from the letters arriving to a specific email address, and sends responding letters inserting men's names into specifically marked places. This is how Internet cons manage to correspond with hundreds potential victims at a time. After a while, a new name and set of photos will be used, and the same men who did not fall for the scam previously, may be contacted again and again.

Scammers have become a real problem for Internet personals. Every man who ever placed his personal ad online will confirm receiving dozens unsolicited requests from "Russian women" seeking serious relationships.

According to Elena Petrova, such unsolicited contacts are nearly always scams: "In large personals, anyone is invited to place a free ad; but to answer ads, one has to pay a membership fee. The average salary in Russia is only about US$100, with online personals charging about $30 for one-month subscription. Naturally, a real woman with her real salary cannot afford to pay this fee. Moreover, the fee is to be paid by a credit card, and it is only top-income people in Russia that have credit cards -- an average woman won't have it and won't be able to become a premium member of the site and send letters to men.

"I am often told by men that all Russian women ask them for money. When I start questioning where they met those women, it is always in response to a free ad they placed online. Those men cannot distinguish between real women and Internet criminals.

"A real woman will send her profile to several specialized Russian dating agencies that are free for women to join, and expect men to write to her, or answer men's ads in gentlemen's catalogues of those agencies. She will never write to a man who did not express a desire to meet somebody internationally.

"In contrast, con artists prefer to email men that did not seek international contacts and know nothing about Russian realities. Men who place free ads online but don't purchase membership are usual targets of scam artists because they know those men receive very few responses on their ads and are prone to fall for the scam.

"Scammers are excellent psychologists and compose letters that sound sincere and sweet. Most men that have been scammed admit that there were some red flags such as the "women" never answering their questions and falling in love way too fast, even without seeing men's photos. Cons also never make any references to the contents of men's letters. Letters from scammers usually arrive with a new photo every time, more and more revealing as they progress to the money request, to ensure the man's interest."

Elena wants to warn men using online personals about this scam pattern: "There are thousands sincere and real Russian women seeking partners for marriage in the west, and there are valid reasons for that: Russia has one of the highest women to men ratio in the world, with 100 women for 88 men. But those women will not contact you out of blue through a free ad in online personals and beg to marry them tomorrow. Real Russian women are not desperate and seek love and partnership, not just emigration by any means. You will have to make an effort to win their hearts, just as if you were dating a local woman. If someone wrote to you through a free ad in large personals, then quickly fell in love and asks money for visa and tickets, it is a scam for sure. It is not a real woman; it is a gang of criminals preying on lonely men."
Russian Brides Cyber Guide receives emails and phone calls from men that are in contact with scammers on daily basis, says Elena: "For example, yesterday morning I received a call from somebody in the USA who said he was contacted through a famous personals site by "a woman from Volgograd, Russia". I described him straight away what kind of letters he was receiving, the format they were sent in, and how his "relationship" has developed, before he had a chance to say anything else. He was dumb folded. He could not believe it was a scam. He was already asked for money for "visa and tickets", after 2-weeks correspondence. He was asking, if there was any chance this was for real, and I had to tell him, I was two thousand per cent sure it was a scam. He still did not want to believe it."
Afterwards, men project this representation on all Russian women, and never realize they were in contact with a criminal, not a real person. Elena is concerned with the image of Russian women and Russia in general that is being severely damaged by those scams: "Those cons not only scam men; they scam Russian women, too -- scam them off their hopes for love."
But what is done to prevent this type of scams?
Some large dating sites ban all profiles placed from Russian IP addresses; but scammers manage to break this defense by faking IP addresses and stating USA or European locations in their profiles, then explaining men that it was somebody else who placed the profile for her, and made a mistake.
Other dating sites limit number of letters a member can send per day, thus making it difficult for scammers to reach a mass audience.
But generally, the anonymous nature of Internet makes it easy for scammers to sneak into large personals sites where thousands members join every day and the accuracy of submitted information is not checked.
According to Elena, men seeking contacts with Russian women will be in better off using specialized Russian dating agencies that list only 100-200 new profiles a week, and are capable of checking submitted information through their net of representatives in Russia: "If a woman is serious about finding a partner abroad, she will use a marriage agency -- not a personals site. She wants to be sure the men who contact her are interested in a serious relationship and not just entertaining around."
But what about authorities? Are those criminals allowed to run wild in Russia?
According to Elena, much can be done in this regard. The wire transfer systems may warn their clients against of sending money for visas and tickets to people they have never met in person. Internet personals may contact police when a scam attempt is identified with IP and email addresses used. At the end of the day, police may simply place fake profiles and fish for scammers "undercover" as they are doing with other crimes. Personals sites will cooperate, as they are interested in cleaning up the dating scene for sincere people.
Elena Petrova is well known in the Russian dating industry by her website Russian Brides Cyber Guide (http://www.womenrussia.com), which was founded in 1999 as informational resource for men seeking a Russian wife, and became the first website about Russian women designed by a Russian woman. The site offers a range of articles, reviews and true-life stories for anyone interested in the subject of international marriages, as well as extensive Black List with information on Internet dating scams and links to anti-scam resources.
# # #
If you'd like more information about this topic, please call Elena Petrova at +617.55787977 (9:00-16:00, GMT+10, Australian Eastern Time) or contact us here.
---
Back to Press Room