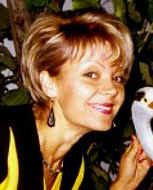 Do YOU want to be the first to contact beautiful women from Eastern Europe seeking love and marriage?
Click here for more information about the weekly ladies catalogue
Ludmila (Kishinev, Moldova) 38/ 5'3"/114 lbs
From the weekly ladies catalogue, issue 21 (ID: 21/465)
Hair:
Blond
Eyes:
Green
Status:
Divorced
Children:
son 17
Education:
university
Occupation:
business owner
Religion:
Christian
Smoker:
No
Interests:
I like nature, music, dancing, traveling and driving. I like dogs very much and like to play with them. My hobby is gardening and decorations in the garden.
Personality:
I am cute, faithful, frank, generous and graceful.
I like people and people love me- it is written in my name .I am really persistent and so very often I have that things in the life that I want to have. I can be stunning and witty in one situation and childish and naive in another situation. I am a great optimist and believe in good people. I am a great romantic in my soul and like marvelous things. In the evening I can be intriguing and cuddly. In two words I am a little easy-going pussy-cat with people that I like and can be a tiger if I want.
Languages:
English, Romanian, Ukrainian, Russian - fluent, Polish - good
Partner:
35-50 I want to find a considerate, nice and generous man. I want to admire him and to love him. He is a strong person and his age is not a problem, he is young in his soul. He has his own hobbies, hi likes his work and he knows well what he wants in this life, because he is over 30 already. He likes to sing and dance and is a very interesting person. It is very nice if he has children and he is a good father, I will love his children too.
Hi,
My name is Liudmila. I live in the capital of Moldova, in Kishinev. Originally I am from the Ukraine and lived there for a long time. I am divorced and live with my son. He is 17. I graduated from the Odessa University and worked as a teacher of English. So my English is good.
Now I am an owner of a small business. I am confident, cute and generous. I am also a very modest person. I like nature, music, traveling, Internet, and driving. I am independent, full of energy and attractive person. But my dream is to meet a real gentleman who will be kind and generous, interesting and clever. And I hope that he will love me and respect . I want to love and to be loved. I have so much love to give to my future husband. My dream is to have a happy family and to make me and my husband happy.