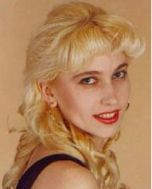 Do YOU want to be the first to contact gorgeous Russian women looking for marriage?
Click here for more information about the weekly ladies catalogue
Irina (Odessa, Ukraine) 27/ 5'4" /108 lbs
From the weekly ladies photo catalogue, issue 8 (ID: 8/100)
| | |
| --- | --- |
| Hair: | Blonde |
| Eyes: | Blue |
| Status: | Single |
| Children: | no |
| Education: | College, University, post-graduate |
| Occupation: | astronomer |
| Religion: | spiritual not religious |
| Smoker: | No |
| Interests: | astrophysics, physics and mathematics, programming, fitness and aerobics, studying English, French, web-design, surfing the Internet, sewing, cooking tasty food, baking cakes, listening to pop- or classic music, sing romances (or bard tourists songs) and accompany on guitar, traveling (also to conferences in another countries), hiking tours, visiting museums, concerts, art-galleries, theatres |
| Personality: | I am attractive, charming, kind, tender, caring, well educated, intelligent, serious, quiet, well-mannered, modest, easygoing, flexible, liberal, intellectual, romantic, sensitive, musical, witty, with good sensor of humor. |
| Languages: | Fluent English, some French |
| Partner: | 25-45 |
I am attractive, well educated, intelligent, charming, tender and modest Russian lady from beautiful city Odessa on Black Sea.

I was born in Voronezh city (Russia) in October 21, 1972. Most of my relatives are from Voronezh and Voronezh region. But all my life I live in Odessa (Ukraine). My father is a seaman (senior assistant of captain) and my mother is economist (she teach economics at college). My brother (two years younger than me) is system programmer (he graduated Polytechnic institute) and works now in a bank. I was musical child and spend a lot of times in musical school (piano) and singing chorus (since I was 4 years old). But when I was in 7th form I interested in astronomy. I graduated physical department of Odessa State university and post-graduate course in astronomy department. Now I am finishing my thesis on stellar astrophysics and working as Research Fellow in Odessa Astronomical observatory. Also I graduated Economical college as an accouter.

I never been married. But as every woman I would like to meet man of my life and create a good family. I would like to make him happy and dream that we will be together and love, understand and respect each other all life.

I love children very much and would like to give my future children everything they need. First of all my love and care. But I can't have children until I find husband and man who loves children and will be good father for them.

I think that in an ideal relationship both partners should have enough common interests to spend lots of time together. However, both of them should also have some freedom for their own development. Besides love, for me the most important qualities of a long term relationship are honesty and trust in each other. Should be friendship, loving, tender, romantic, ability to talk about problems, mutual support and encouragement.